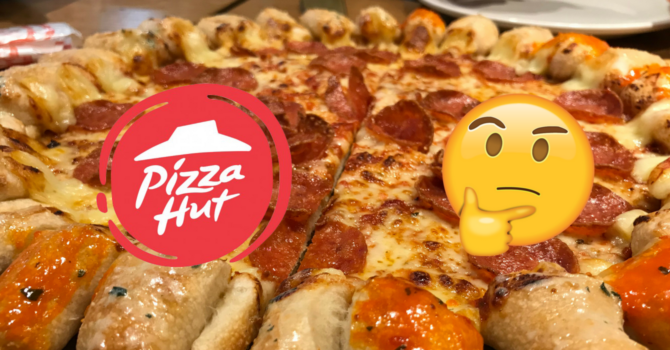 Let me tell you a story about 'influencer marketing'.
I'm sure you're well aware of Pizza Hut. 'The Hut'. They're specifically named in my Best Pizzas in Newcastle piece – as the antithesis of what this blog has been about for the past 7+ years. Bland, mass produced, 'don't know any better' food that pervades identikit shopping centres up and down the country.
Their PR contacted me recently asking if I'd like to help promote their new menu item – Chilli Cheese Roulette. 'We love your blog!' despite having so clearly never read it. This happens All. The. Time. You don't usually see the dozens of those that I ignore each month.
This time, I threw it out to Twitter. I know what yous are like though. Sadists.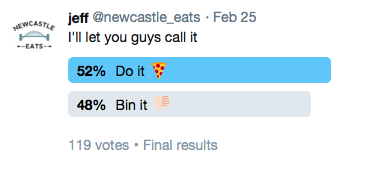 And I mean, I like to think I can approach these things with a clear and balanced view. My last trip to Pizza Hut was nigh on a decade ago. I did used to frequent the buffet as a teen, and I've definitely come to live by the phrase 'there's no such thing as bad pizza'. Amiright…?
I love crisps too. There's something on the menu hilariously badged 'Hot Crisps', which seems to be a bag of crisps, topped with US-style cheez whiz and some fried onions. They're a bloody fiver!! I'll cite my usual and obvious example of people whinging about the price of Cal's Own's £8ish starters. Y'know, the sous-vide-and-cooked-again chicken, or the homemade sourdough, or the cooked for about 40 hours pigs cheeks. Or the sen-sational ragu. This, ⬇ borderline insulting.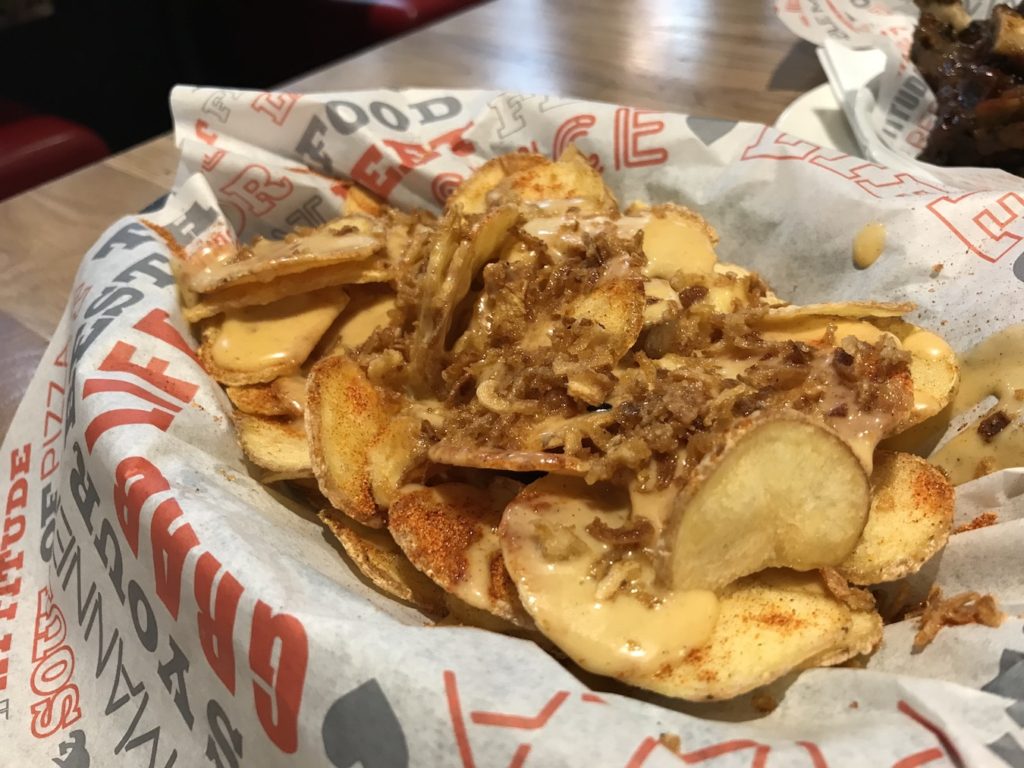 Better were the ribs (£5.65). Obviously boiled(?) for a long time as very, very tender, though the mucus-gloop BBQ sauce did them no favours whatsoever. Sweet potato fries, again the best part of a fiver, just OK, not quite as crunchy as I'd dreamed of. But as long as the pizza is alright?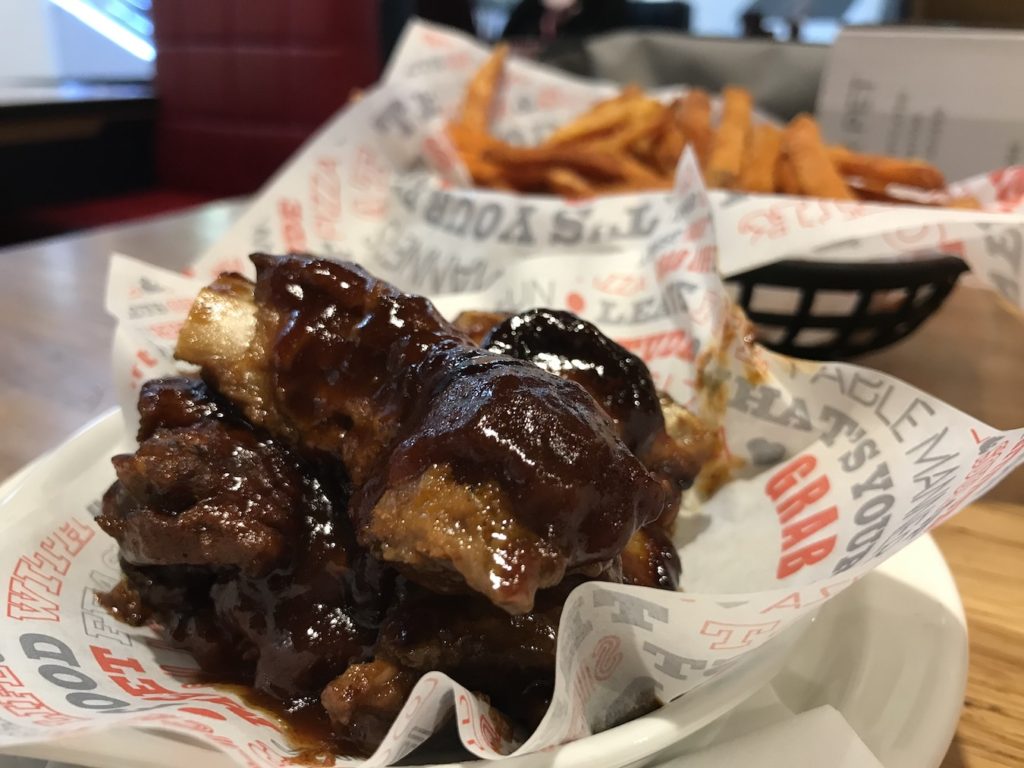 The main event and our reason d'être, the 'cheesy bites roulette'. The cheesy bite upgrade to any pizza (+£4.25) adds 26 of these little nuggets instead of your regular pizza crust. A quarter of them naga sauce-coated – the former 2011 hottest chilli in the world. Take turns and laugh at the people who find it too spicy, I think.
I've definitely retained good memories of Pizza Hut, albeit from being a kid who knows no better. And the 'main' part of the pizza is alright. Of course, it's US-style heavy on cheese and with a cracker-like churned-out crust. The pepperoni, and in fact the whole shebang is very sweet. It qualifies as pizza, but in the same way that those microwaveable Chicago Town things do. We finished it.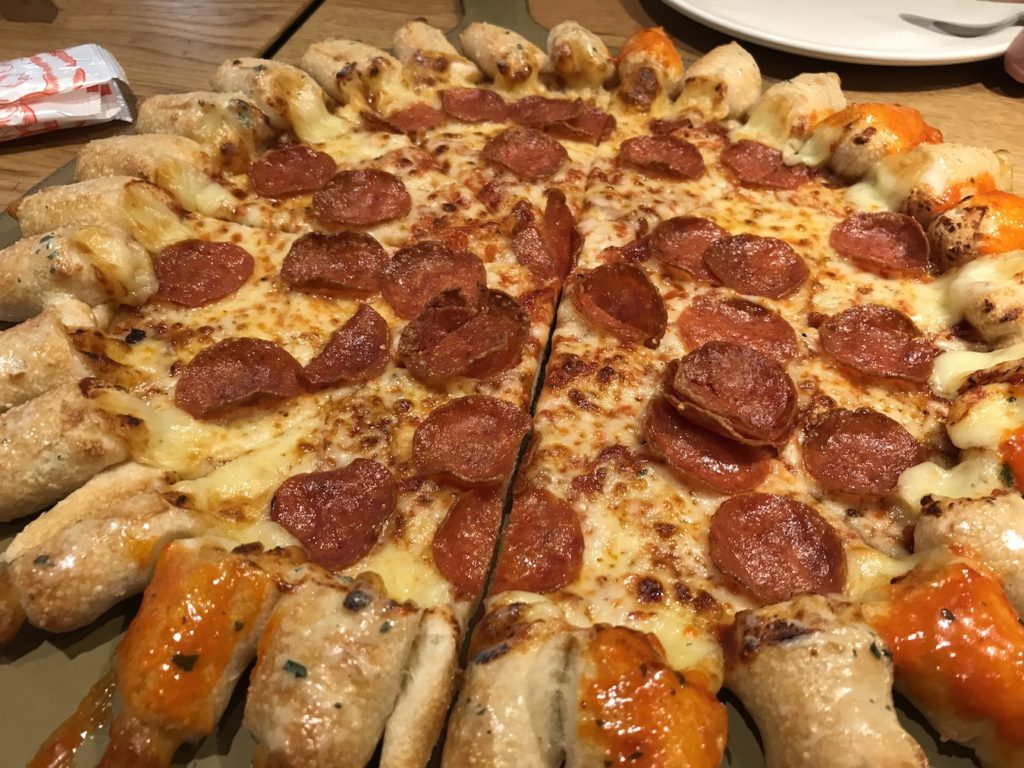 The cheesy bites though, just no. They're barely bread, and barely congealed rubbery cheese. They're not even that hot. It's a mild tingling on the tongue after the last piece, but no more. Just serve a regular crust, and the sauce on the side. People will have more fun that way.
One thing I wouldn't fault, they're got some stars in their team (Metrocentre) and we couldn't have asked for more from our young servers' sheer enthusiasm, general #bantz and product knowledge. They go a long way to improving the overall experience ????

Though there's a multitude of offers available, this pizza is normally >£21 which is most surprising of all. People happily pay this? Blissful in their ignorance? It's not even that any of it's bad really, it's just so dreadfully bland and unexceptional. There's more to eating than this, and you know it.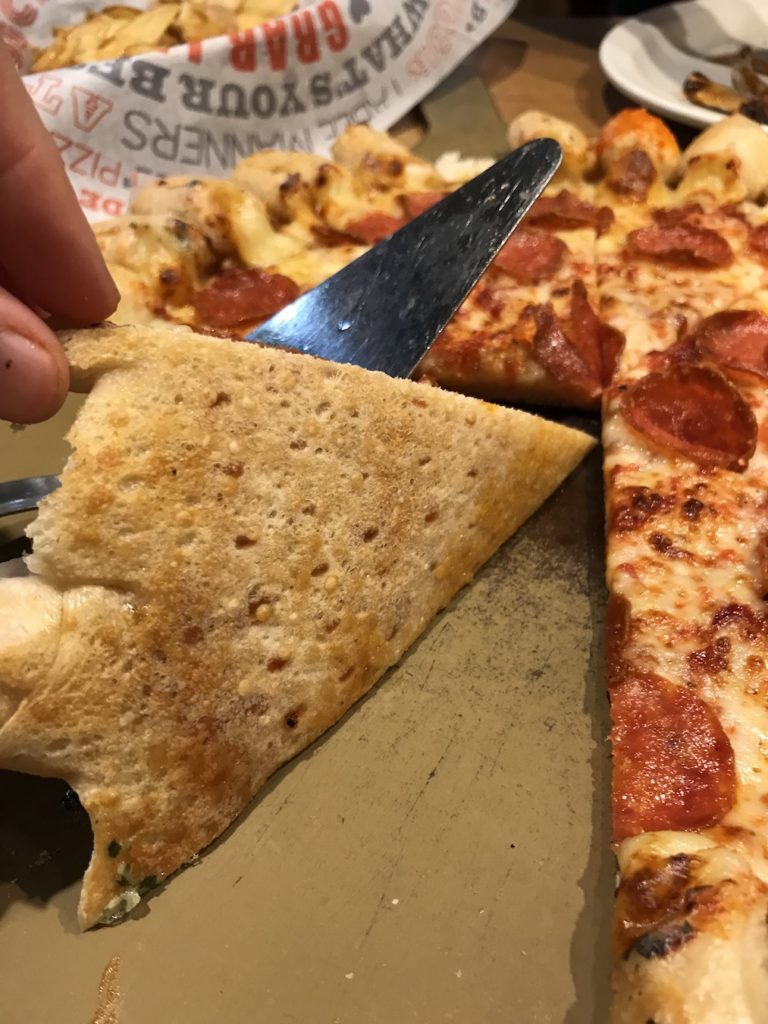 Most can probably don their rose-tinted glasses for childhood memories of their creations at the 'Ice Cream Factory'. At 33, it's just ice cream with a few handfuls of sweets. That said, the s'mores cookie dough ice cream (below) give me equal parts of diabetes and delight. If I was coming back, I'd go straight for this candy-shop sweet and sickly dessert ?
The bill was £45. We were of course, eating on the house. Which is a good job because if I'd spent that much on this (no alcohol, even), I'd have considered doing a runner. Again – Mr. Cal's Own spends hours of his day defending the £12-ish price of his AVPN-accredited pizzas, made truly with care, and love and respect for the art. That which I now value even more.
So, what this is really about is a link to the website, the holy grail of PR companies who can report back to clients on the number of links their campaign achieved. Here you go.
I'm sure many will question the value of this post at all. It's this. Bloggers/blaggers have been on the receiving end of increasingly-negative press – and often rightly so. I can easily link you to a dozen shitposts from local bloggers just from the past month, but in my view, it's PR companies who are getting it wrong and fuelling the fire. Without PR companies giving away freebies left, right and centre,  there'd be no shitposts. The low-end blogger doesn't regularly pay for many interesting meals out – see the lack of posts on things like The Patricia or even the aforementioned Cal's Own for reference. There's tons of shite on Bella Italia, or The Botanist.
PRs should do their research to carefully match relevant, on brand, potential opps to their client. People who are existing ambassadors of the brand, or whose values are remotely aligned with their clients, or have expressed any love whatsoever for their client. They'd see better results, and the net result would be less blaggers just signing up for any old bullshit 'cos it's free.
As it stands today, run off a tool which finds local 'influencers' (See: well ranking sites/lots of social followers), mass email, and see what sticks. And more often than not, it's only the bottom-feeders who will jump at the chance. Giving bloggers good and bad a poor rep ("we were invited to ___ and it was AMAZING!"), and delivering shite results for the client. I encounter this so frequently. Here's a good one from last month, which would have taken <60s to find out my thoughts on:
So PR companies of the world, do yourself a favour – spend a little more time researching potential partners, and you won't end up with content like this for your client. The rest of you, check out my updated Best Pizzas in Newcastle post for my recommendations, which I've invested a lot of time, bad pizzas, and cash into researching. The Hut? It might be another decade by the time we return. As ever, I'd be keen to hear your thoughts below, or on Twitter.
*received a £50 Pizza Hut gift voucher to share this post. I'm now awaiting the next great 'opportunity' to land in my inbox…