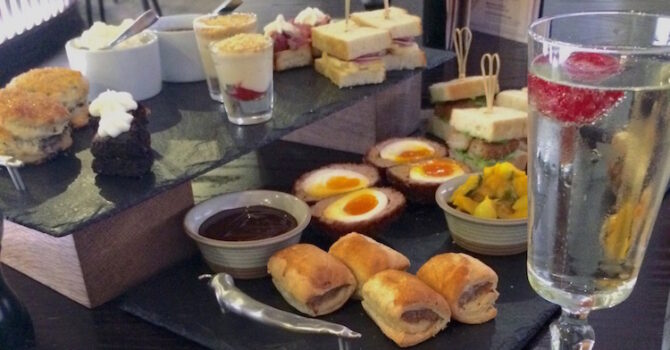 Another afternoon tea!

Now that we've done pretty much every afternoon tea in Newcastle, it's getting harder to find somewhere original anything original and worth the £££. Bonbar (NE1 5XU) wasn't exactly somewhere that sprung to mind when thinking of decent food, never mind the quaint English tradition of afternoon tea – given it's usual guise as a "VIP" nightclub. I'd seen some nice pics of the Sunday dinner on Twitter, and the afternoon tea, too which piqued my interest. So, we went along on Saturday afternoon pre-Boiler Shop binging to see if the reality lived up to the pictures.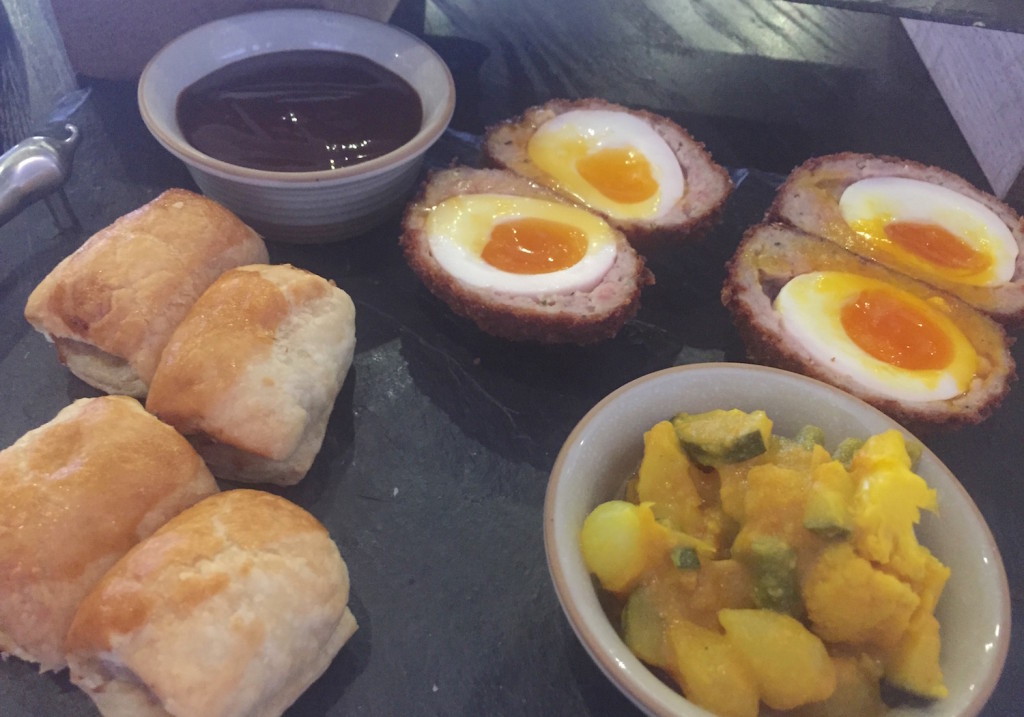 There's no way to put it, it just feels wrong going into a club like this in the daylight and requesting food more associated with a stately home. Last time I was in here, well…I don't remember too much from that night. Let's just say, the bar is very well stocked…… It is a nice bar too, I think it divides opinions, but I like what they've done with the space (when it's not full of dickheads).
Anyway, they've just launched a "gentleman's" version of their afternoon tea offering, so we tried that. Nebbing at a few other tables, the regular one looks quite fun/full of gimmicks too. You have to book and pay in advance, which I hope tells a story about it's freshness. For £17.50pp you get a pint of beer, and the usual arrangement – sandwiches, scones, cakes.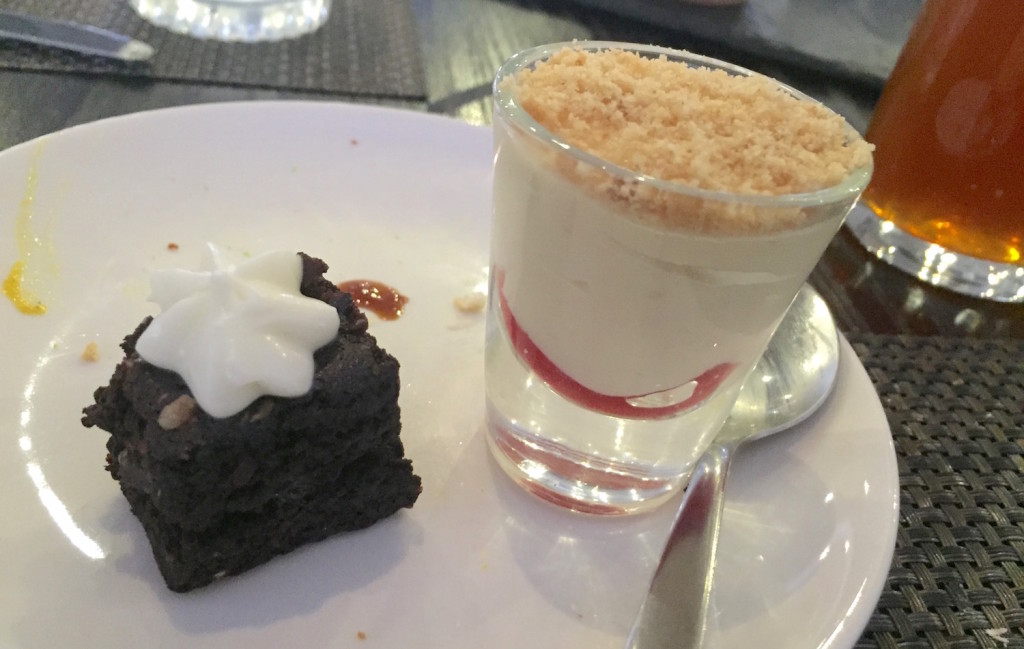 Sandwiches: there's none of that dainty cucumber finger stuff, you get rare roast beef (nicely pink) with a whipped horseradish cream on top of a always-too-hard crisp bread thing (just put it on some bread). Also, an old-school fish finger sandwich on sliced white, with a pea puree that didn't taste of much (stick some mint in there?), and a stilton and red onion on focaccia. All good, not really groundbreaking, but you do get two of each, hallelujah.
Then it gets more interesting ("manly"?) with Scotch eggs and sausage rolls. The scotch eggs were actually pretty damn good with a good salty and savoury flavour, the right amount of crunch, and a just-soft egg. Same goes for the sausage roll – expected something pretty poor but was pleasantly surprised. Add in the piccalilli and the brown sauce ??.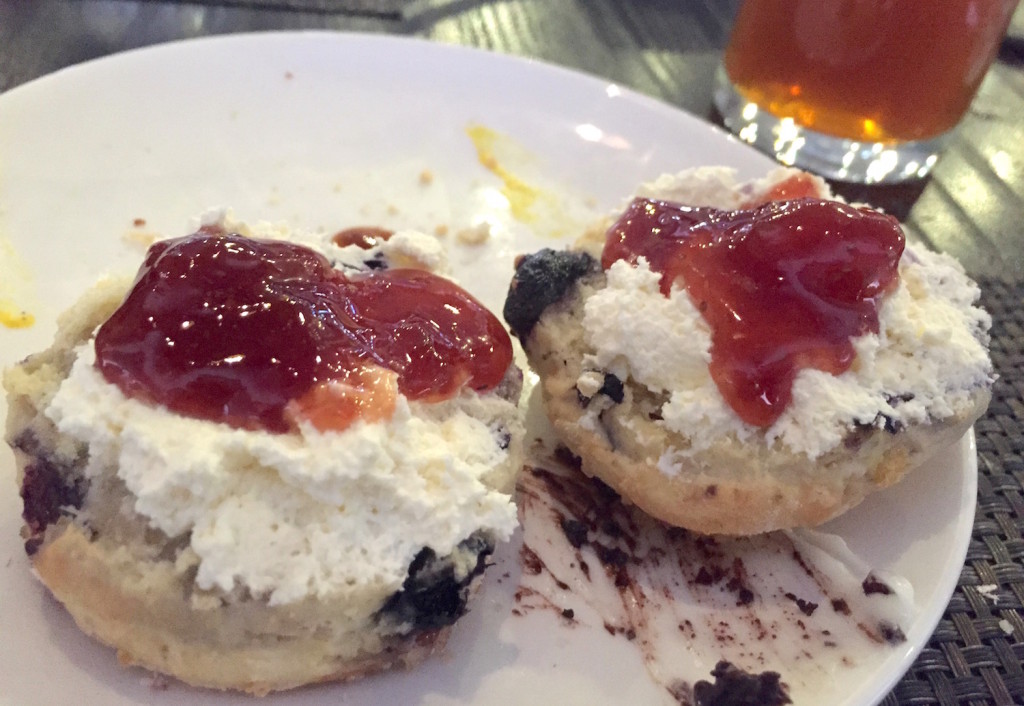 As you can see, one plate and one set of cutlery means shit gets all over, so try and avoid getting that brown sauce on your scone. These are of the blueberry variety, and though the blue-fruited flavour doesn't come through very much, it keeps them from being too claggy. You get whipped cream instead of clotted (boo!) but the jam is alright. I don't think it would have been asking too much to get two scones? And at this point, I couldn't help but feel that a cup of tea was definitely a necessity. High five to our waiter, who was attentive, canny, and a little bit outrageous.
So yeah, cakes mustn't be for "gentlemen" – compared to the sugar celebration of say The Running Fox afternoon tea, there is a tiny dot of brownie which was pleasantly rich and gooey, despite being the slightly healthier type (made with beetroot). Kate really enjoyed the "upside-down cheesecake", me, eh it was "OK".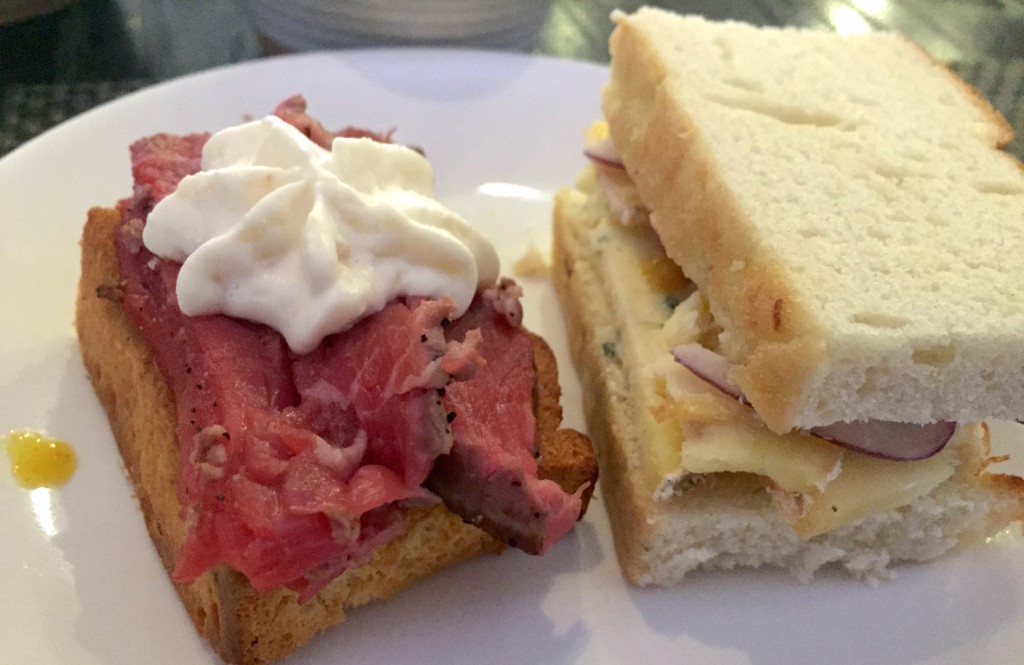 As I mentioned, you don't get tea, but you do get a pint. Which you don't mind so much when the luscious Jakehead IPA is normally £4.50 a pop. If you still haven't had this beer, or seen that it recently topped the list of 100 best beers in the world, give it a go. It's just lush.
It's easy to have preconceptions about Bonbar, and it does always feel little bit wrong dining out in a nightclub, but this is an afternoon tea which gets a thumbs up from me. Depending if you're into the "gentlemanly" aspects of it, YMMV.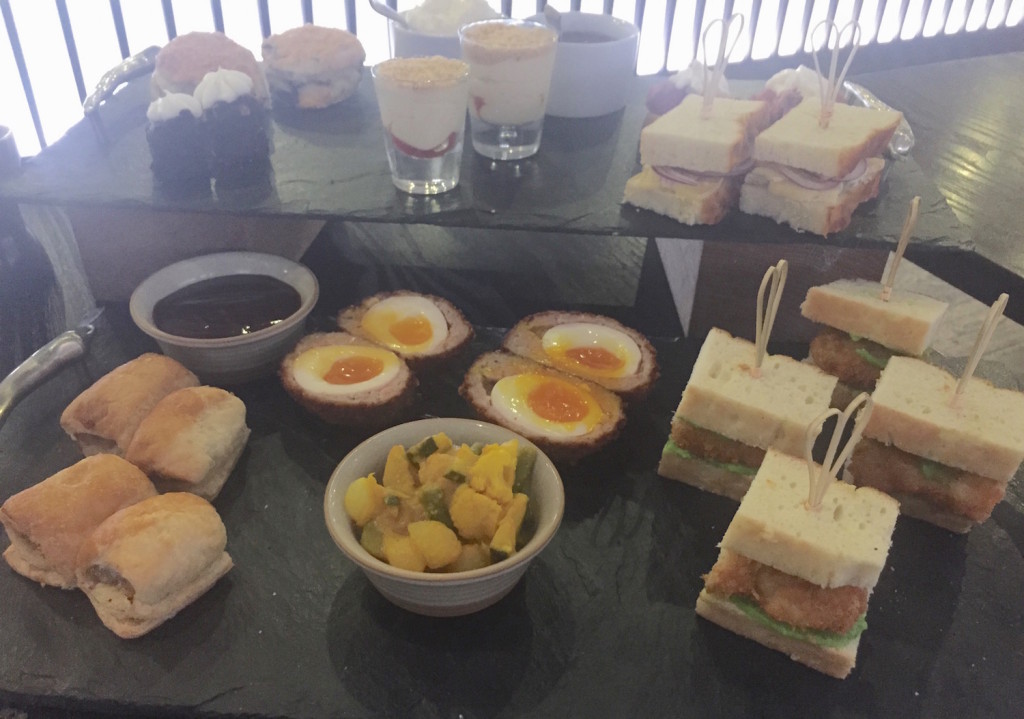 The gentlemen's afternoon tea is Weds-Sat 12-5pm, £17.50pp and includes a pint. Regular afternoon tea is £14.50.
Contact: http://www.bonbar.co.uk
Food hygiene rating: Not yet rated