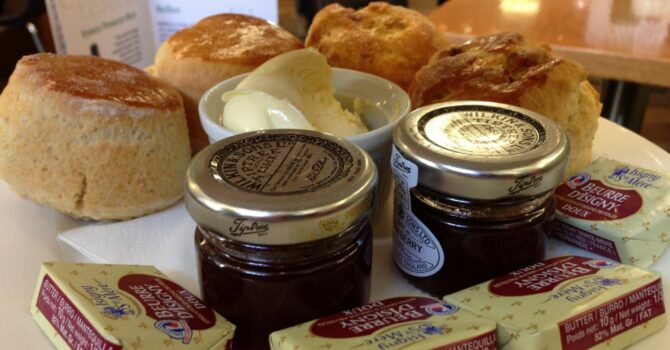 As we've said before, everything Terry Laybourne touches seems to turn to gold, and before even clicking on this, you've probably already guessed that afternoon tea at Cafè 21 in Fenwicks is nigh on perfect.
Still, we haven't been for afternoon tea for literally weeks(!) so we decided to see if the restaurant-in-a-shop can match our other 21 Group favourites.
Located on Fenwicks first floor, the restaurants is packed with shoppers and of course, the ladies who lunch; you know the type, "my dress was more expensive than yours". It's clean and smart inside, not a million miles away from Cafè 21 itself. Believe it was the GFG that said in 21 establishments you "feel in a safe pair of hands", and that's absolutely spot on. We manage to resist the allure of champagne afternoon tea (£30), and go for the plain jane variety – very reasonably priced at £17 for two, though you can go cheap for just cream tea (£5.80ea).
Service is slick and attentive enough – though you expect no less as the standard 21 Group 10% service charge is applied. Others are having some good looking breakfasts and sandwiches, not that we were staring them out or anything.
This is a classic afternoon tea: sandwiches, scones, and cakes. Sandwiches are fresh, typically dainty, and have solid, traditional flavours – we like the little curry hit on the egg.
Scones are first class. These are as light and airy as you will find anywhere, maybe the best in Newcastle? Love the buerre d'isigny, though just about our only complaint is that it's a bit disappointing to not have home-made jam, or at least a choice.
Cakes, well we've been over these tons this year – the 21 Group pastry girls have been at nearly every foodie event this year with the ever-expanding 21 at Home range, and we've followed them, mopping up the salted caramel tarts (a MUST-try), individual rhubarb crumbles, and indeed everything else. Our favourites this time round are the amazing carrot cake – sweet, cheesy and not too much cinnamon, and a superb raspberry-filled macaron. Tea is refilled, and despite what the menu says, only English is offered.
We leave satisfied for pretty much the rest of the day, though later on a certain infamous pork pie is consumed. If there's one thing you get from a 21 Group restaurant it's reliable consistency, be it The Broad Chare, and even in the middle of our biggest department store too. Great pricing as well, so really, the perfect excuse have something decent to eat while everyone else is going crazy christmas shopping,
Afternoon tea for two £17
Contact: cafe21fenwick.co.uk
Food hygiene rating: 5