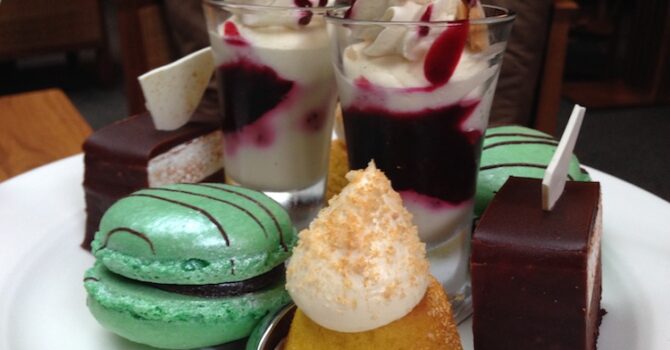 If I had a quid for every time I've been asked, "where is the best afternoon tea in Newcastle"…I'd have a few quid to spend on another afternoon tea, of course. Can't get enough!
It's a hard life, but over the past few years, we've tried most of them in the North East.  Here are links to some 20-odd of my favourites, as well as some pics from some of the others too. Prices indicate "traditional afternoon tea per person" or thereabouts. [Updated September 2016]
My favourites:
Best afternoon teas in Newcastle NE1: SIX at the Baltic, Jesmond Dene House, Mason & Rye, 
Best afternoon teas (North-East/further afield): Cleveland Tontine, The Running Fox, Seaham Hall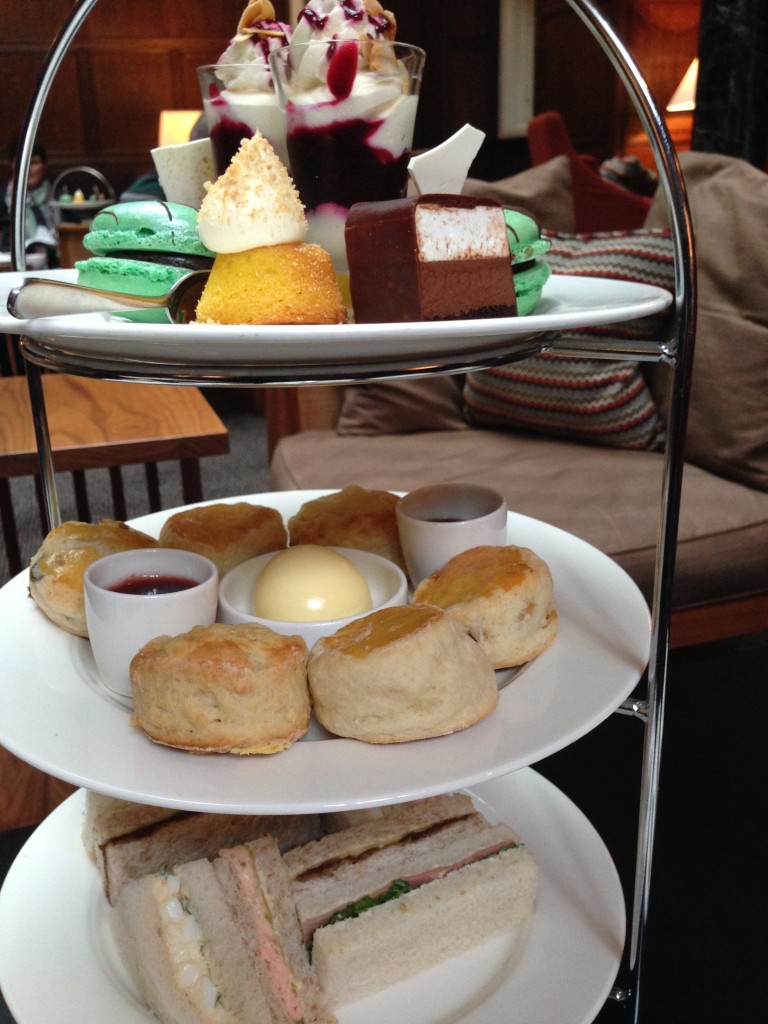 It wouldn't be a champagne afternoon tea in Newcastle list without these guys. Technically the best, ideal for those who want to park their Ferrari outside the hotel and spend a few hours without any worries other than when the next refill of tea is coming. Dedicated pastry chefs make all the difference – so you get scones that are never more than a few hours old, and some of the most reliably fancy cakes in the city, which help make this the best "traditional" afternoon tea in the North East.
Best bits: plush surroundings, made on that day food guaranteed, dedicated pastry team
Food: 5/5 ~ Vibe: 3/5 ~ Value: 4/5
Contact: jesmonddenehouse.co.uk  (£19.50pp) [click here for the full post]
---
The Cleveland Tontine
OK, OK, it's not really Newcastle. But this is the best afternoon tea just outside of Newcastle, and genuine contender for best afternoon tea in the North East. We're visiting again soon in 2016, so I'll have some more details for you then…
Best bits: bit of a hidden gem, the best scones, quiche of your dreams, great cake layer
Food: 5/5 ~ Vibe: 3/5 ~ Value: 4/5
Contact: theclevelandtontine.co.uk (£15.95pp)
---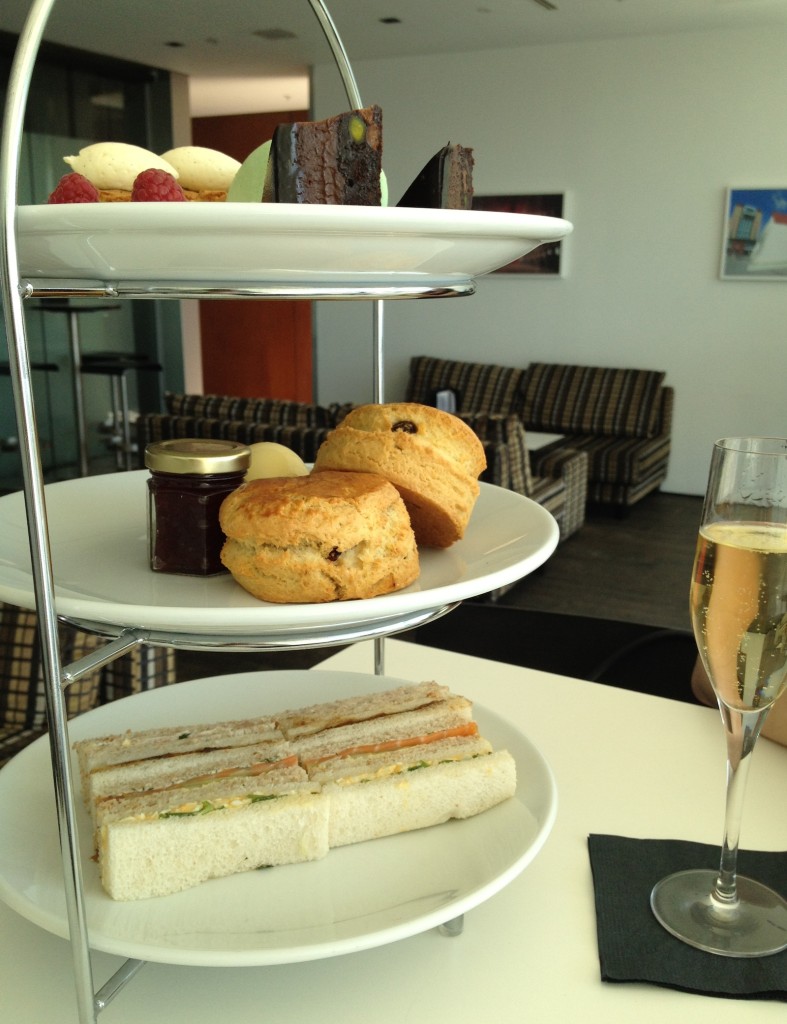 The viewing box at SIX must have had seen tens of thousands of Instagram tags, but really, you should come here for the bait as well. If you're not next door in the main dining room (also great BTW), the view, impressive as it is, is matched by the quality of the afternoon tea. The kitchen here doesn't mess about, and for those who are looking for something slightly less traditional, this is where it's at. Bonus points: have a look around one of the best modern art galleries in the country afterwards.
Best bit: best views in Newcastle, great patisserie, free art gallery attached
Food: 5/5 ~ Vibe: 4/5 ~ Value: 4/5
Contact: sixbaltic.com (£14.95pp) [click here for the full post]
---
Seaham Hall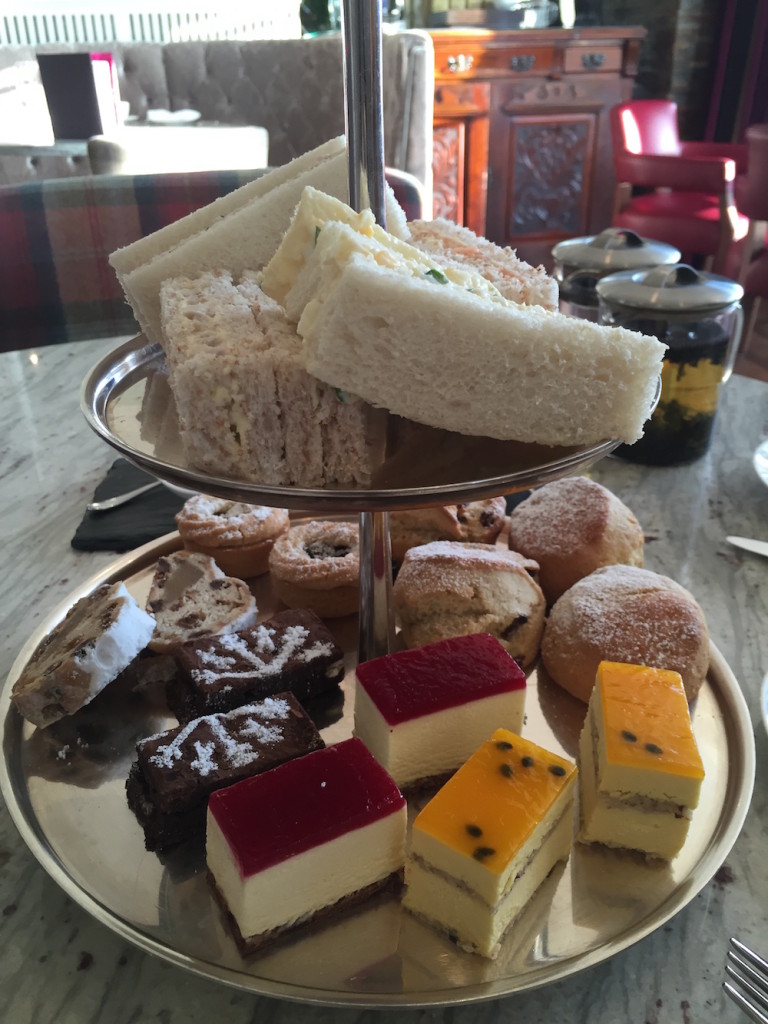 Seaham hall has changed hands and parted ways with a number of high profile chefs inthe past few years, but they seem to have settled into a decent groove if their afternoon tea is anything to go by. Yes, it is one of the most expensive in the NE, but also one of the best. Great from start to finish, and some top patisserie make it a one worth the journey.
Best bits: great tea selection, lovely dining room, very good cakes
Food: 5/5 ~ Vibe: 4/5 ~ Value: 3/5
Contact: seaham-hall.co.uk (£22pp)
---
Matfen Hall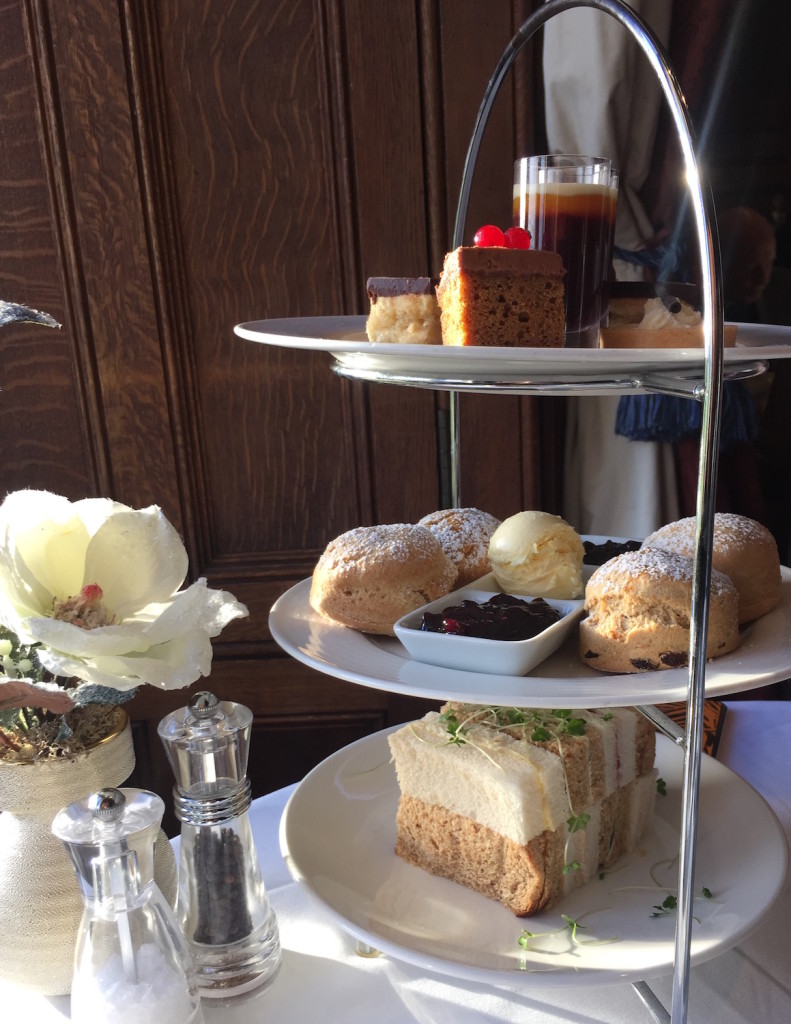 High tea in nice hotels tend to be disappointing – see below for many examples – but Matfen Hall offered one of the better ones with their 2015 festive offering. Great, fresh sandwiches, perfect scones, and lots of mulled wine and cinnamon flavours in a grand setting made this one of our favourite this year.
Best bits: lovely scones, pretty views, great facilities in grand surroundings
Food: 4/5 ~ Vibe: 4/5 ~ Value: 3/5
Contact: matfenhall.com (£16.95pp)
---
97 & Social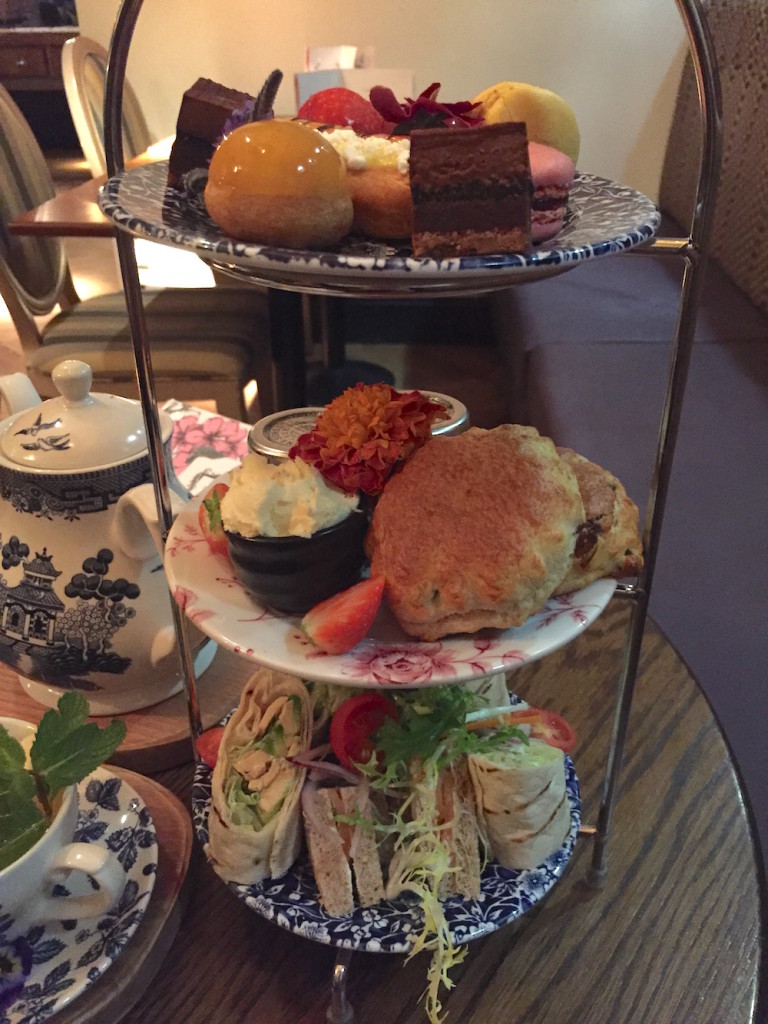 Another in the emerging trend of bars offering afternoon tea – 97 & Social's "tipsy tea" serves up dry ice cocktails alongside their fairly traditional cake stand. Really quite well done all round, and even better considering it's a steal at £16 for two people, which includes a generous amount of alcohol. There's a lot of bad choices on Osborne Road, but this is definitely a good 'un, and probably the best afternoon tea in Jesmond, barring the obvious ?.
Best bits: get drunk on good cocktails afterwards, not your typical English tea, includes alcohol
Food: 3/5 ~ Vibe: 4/5 ~ Value: 5/5
Contact: 97social.co.uk (£7.95ea)
---
Hawthorns @ Crowne Plaza
The way the local press and bloggers go on, you'd think Hawthorns, the in-house restaurant at the Crowne Plaza, was doing the best food in Newcastle, never ind the afternoon tea.
We've not eaten in the main restaurant, but when we visited for afternoon tea earlier this year, we found it very, very average. There's some good local sourcing, and you do get good value for money. The hotel is of course, brand spanking new, so it's modern, clean and is a nice place to be. But floury scones, slapdash sandwiches, and (barring a lovely bit of marshmallow) cheap cakes – we didn't find too much to love.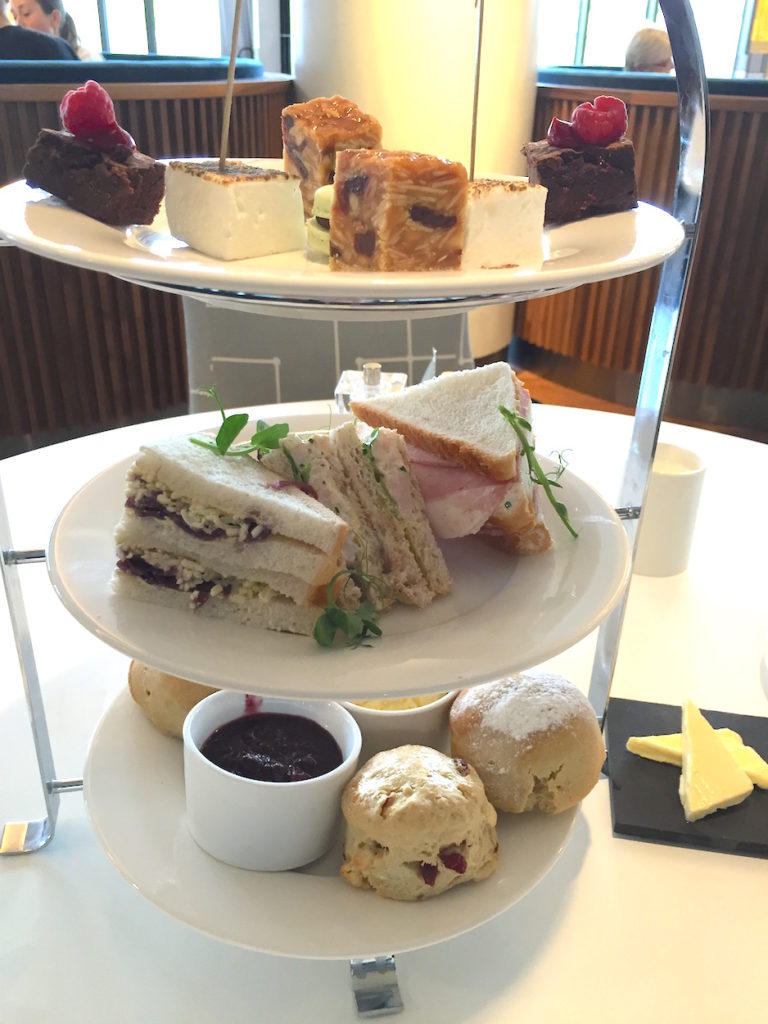 Best bits: good central location, smart surroundings, big sandwiches.
Food: 3/5 ~ Vibe: 3/5 ~ Value: 3/5
Contact: hawthorns-ncl.com (£14.95ea)
---
If you don't mind dining in a hotel lobby with MPW himself looming over you, you'll find a quality afternoon tea menu here. The tea selection from Ringtons is top drawer, the cakes are home-made, and it's an ideal escape from the hustle and bustle of the city. You can often find it on the voucher sites if you want to save a quid or two.
Best bits: savoury bits and bobs, extensive selection of Ringtons, home-made cakes
Food: 4/5 ~ Vibe: 3/5 ~ Value: 4/5
Contact: mpwsteakhousenewcastle.co.uk (£15.95pp) [click here for the full post]
---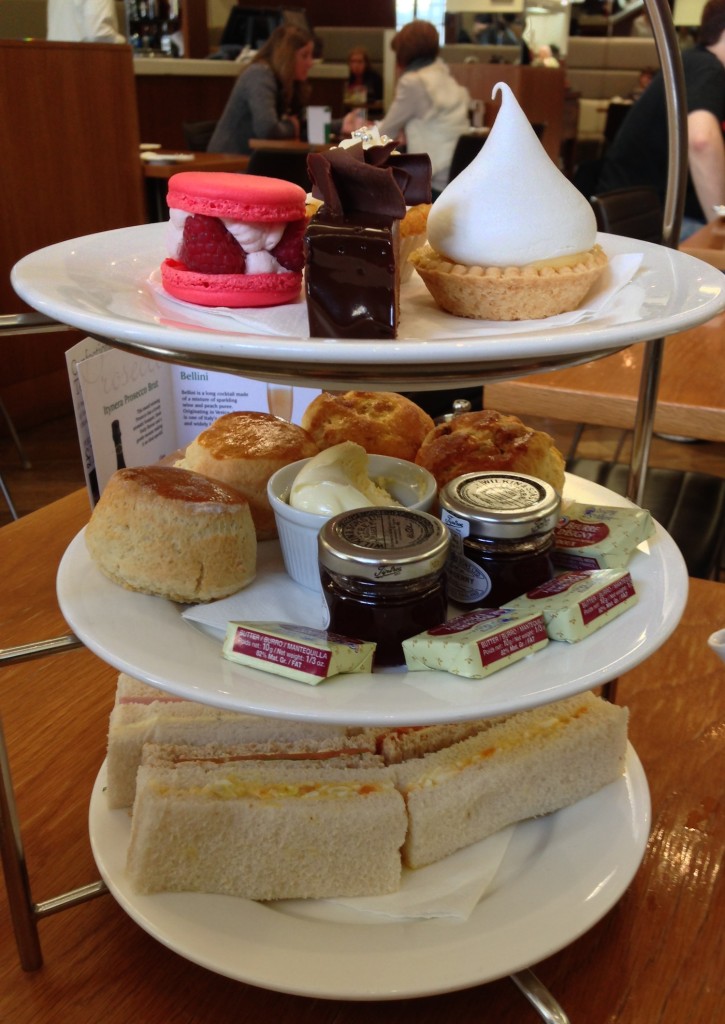 Located inside Fenwick on the fourth floor – you'd never know it was there unless you were looking, but this is one of the best. Coming from the prestigious 21 Hospitality Group ensure standards are always maintained, and what's even better, it's one of the cheaper options here. A definite "must try" for fans of afternoon tea.
Best bits: supreme reliability from 21 Group, great patisserie, quality ingredients (that butter)
Food: 5/5 ~ Vibe: 3/5 ~ Value: 5/5
Contact: cafe21fenwick.co.uk (£10pp) [click here for the full post]
---
The Running Fox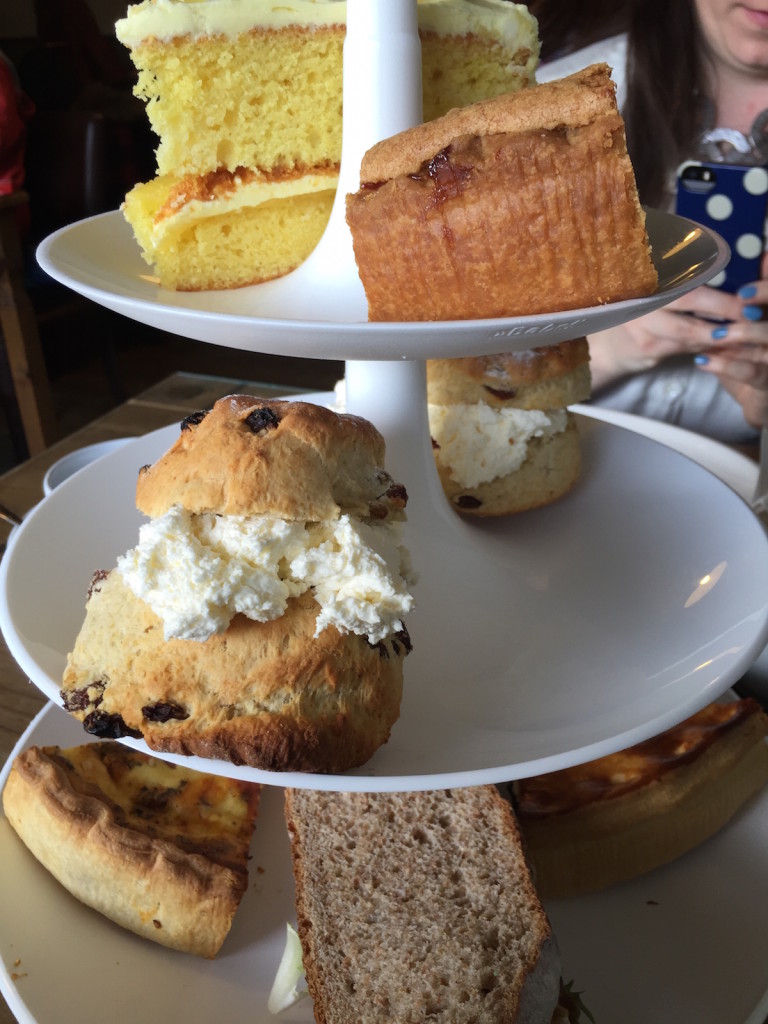 It's not exactly of NE1 city centre – Felton in Northumberland in fact, but this one is worthy of a mention. Everything is home-baked, there's tons of  it, and most importantly, it all tastes fantastic – this is one of those afternoon teas which is well worth a trek for. Must visit, and one of the very few which has *nearly* been boxed up and taken home.
Best bits: insane portions, all home-made, choice of savouries
Food: 5/5 ~ Vibe: 3/5 ~ Value: 5/5
Contact: runningfoxbakery.co.uk (£25 for 2) / [click here for the full post]
---
Mason & Rye
As part of the Fenwicks food hall revamp, Mason & Rye is now Fenwick's modern take on the classic. While before (and to be fair, still, at upstairs cafes) you might have had peach melba and other granny classics, the swish afternoon tea now offers a modern twist on all the classics. Key thing is, they're all well made, fancy enough, and above all, taste great. It's the mecca for ladies who lunch, and it's one of the best city centre afternoon teas. One thing to note: when we visited, tea wasn't included in the price(?!), so add that one.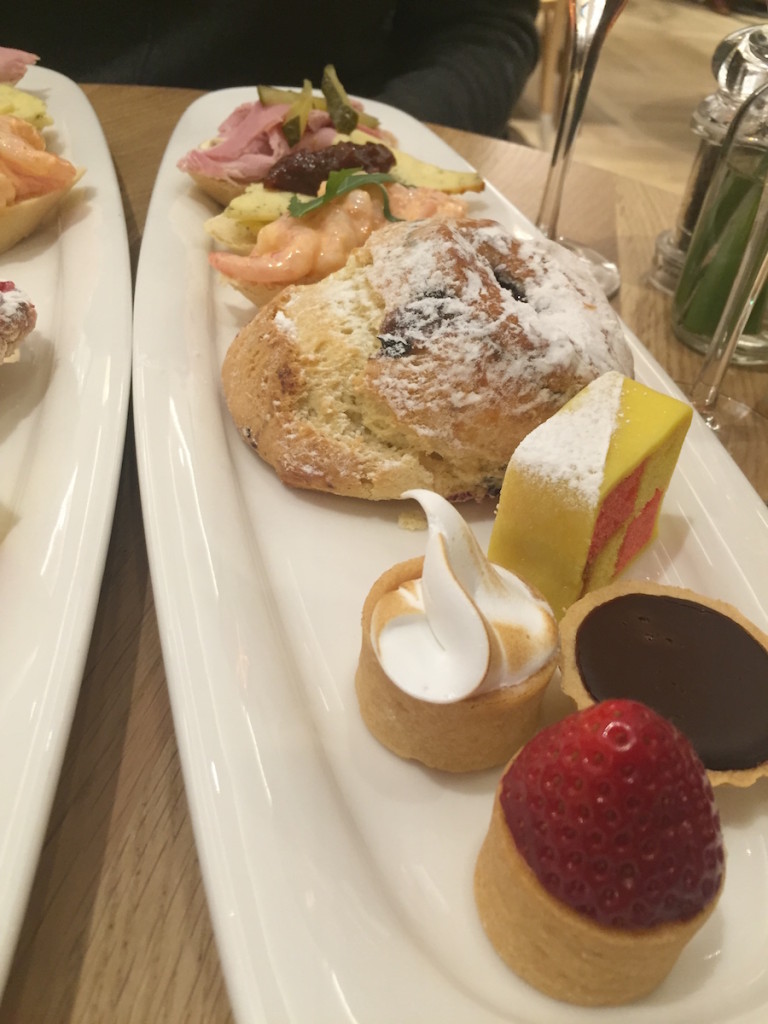 Best bits: smart patisserie, great sandwiches, classic Fenwick-vibe.
Food: 4/5 ~ Vibe: 3/5 ~ Value: 3/5
Contact: fenwick.co.uk/stores/newcastle/mason-and-rye/ (£9.50pp)
---
Olive & Bean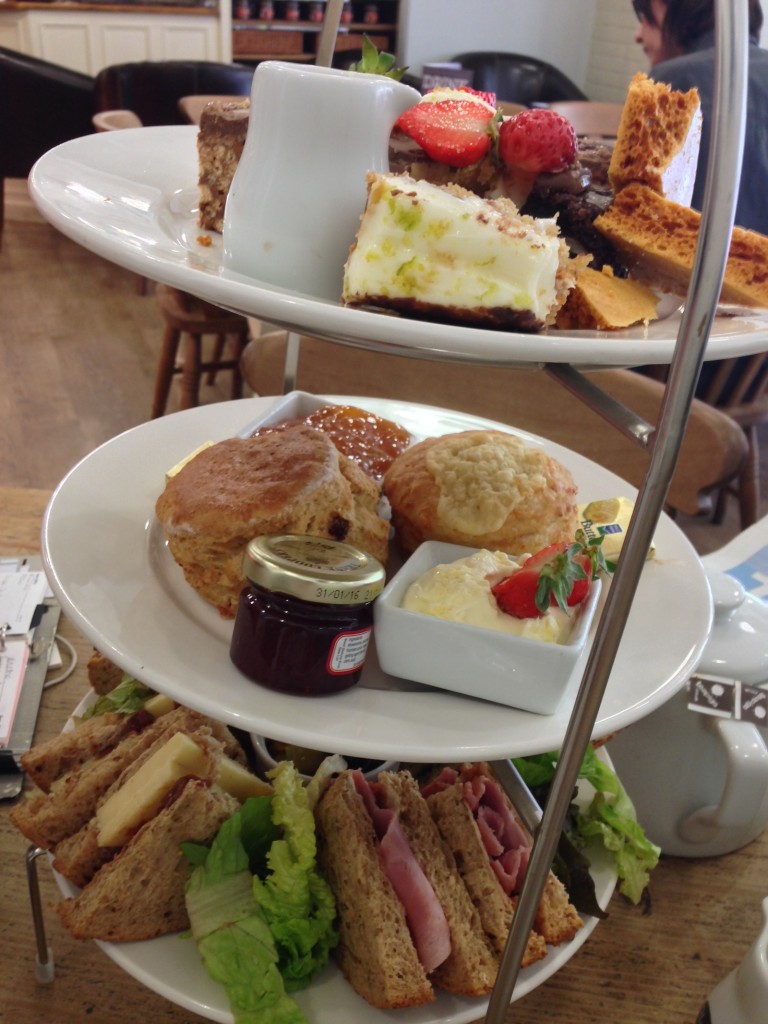 One of my surprise favourites and best value afternoon tea choices available. Known for their chunky sandwiches and even chunkier cakes & tray bakes – expect more of the same and while it's not silver service, neither is the price. Not fancy, but filling and fresh.
Best bits: choose your own cakes, proper wholesome sandwiches, most central location
Food: 3/5 ~ Vibe: 3/5 ~ Value: 5/5
Contact: oliveandbean.co.uk (£7.95pp)
---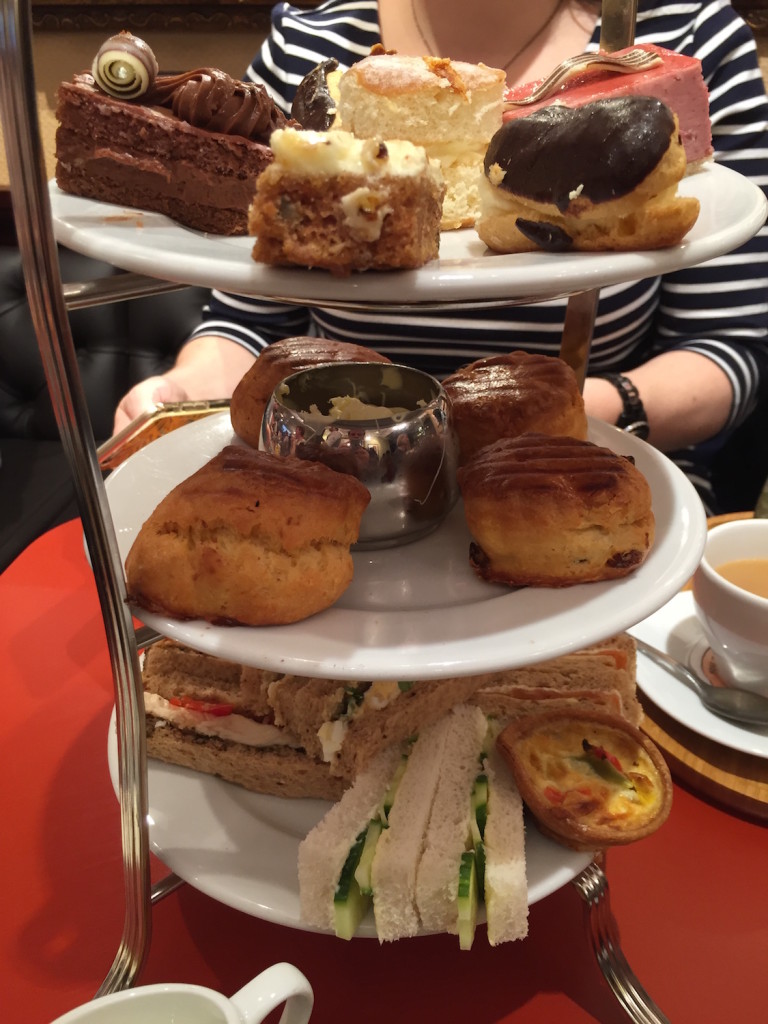 Queen of all things sweet on most high streets, Patisserie Valerie has offered excellent cakes for years, but we found their afternoon tea a little disappointing. Maybe it was the spongy quiche, or the cake-y scones, but this didn't hit the mark, and though it's reasonably priced, you might be best off getting a big old slice of millefeuille or something from their delectable window display instead.
Best bits: fantastic service, (some) fantastic cakes
Food: 3/5 ~ Vibe: 2/5 ~ Value: 3/5
Contact: patisserie-valerie.co.uk (£12.50pp)
---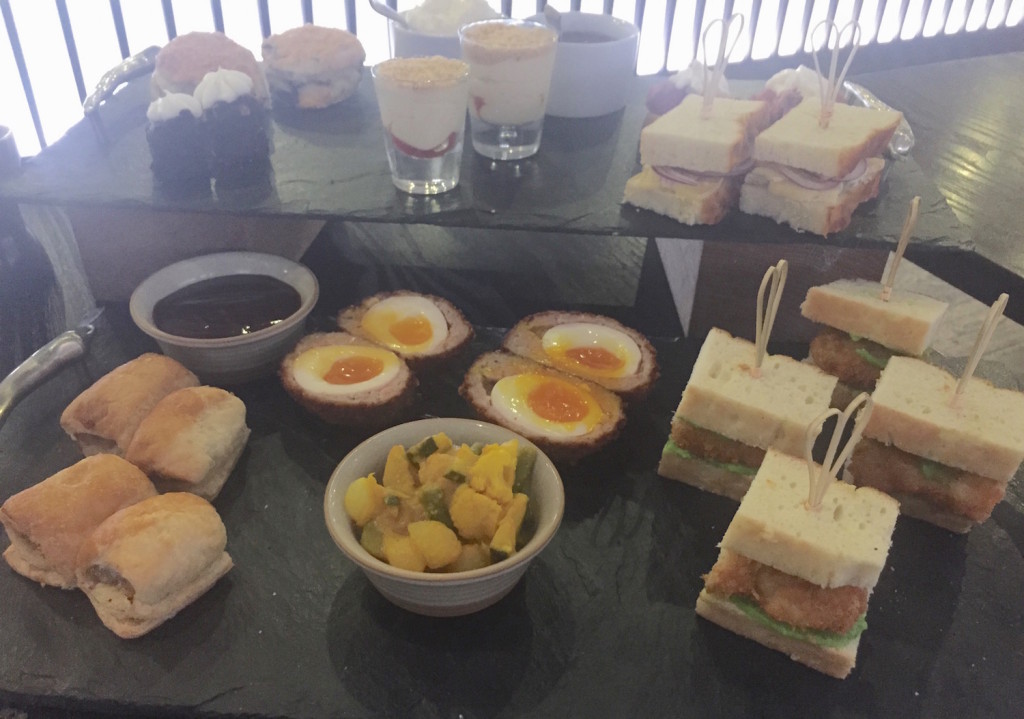 Yes, it's a nightclub, but you'd be surprised at the quality of the afternoon tea which Bonbar puts out. We had the "gentleman's" version which substituted finger sandwiches for rare roast beef, scotch eggs, and sausage rolls. It's a different take on your traditional Newcastle afternoon tea, and we liked that.
Best bits: better sweet vs. savoury balance, interesting options
Food: 3/5 ~ Vibe: 3/5 ~ Value: 3/5
Contact: bonbar.co.uk (£14.50pp) / [click here for the full post]
---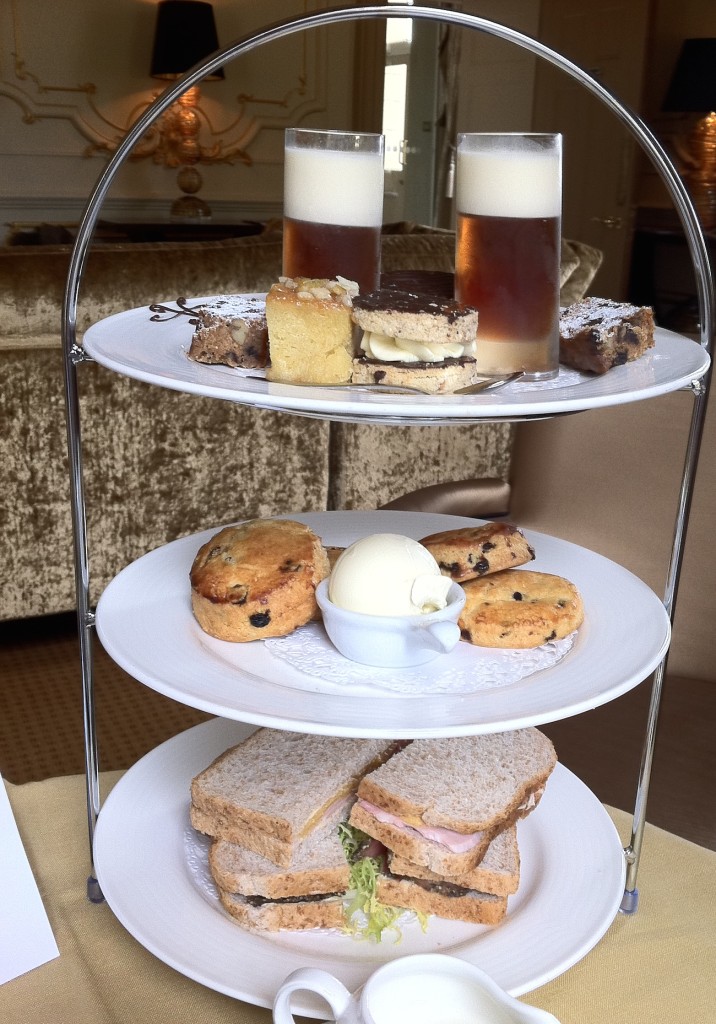 One for a special trip out perhaps, Close House is an ideal setting for afternoon tea (just about) in Newcastle. As relaxing and comfy as it gets, it's not as fancy as your Jesmond Dene House tea, but with special offerings such as the "gentleman's" tea above, and of course, somewhere great to have a round of golf, it's worth a shout. This was in the original restaurant which is now closed, but tea at No. 19 in the clubhouse should be of a similar standard.
Best bits: singin' hinges, boozy desserts
Food: 4/5 ~ Vibe: 4/5 ~ Value: 4/5
Contact: closehouse.com / [click here for the full post]
---
Hotel du Vin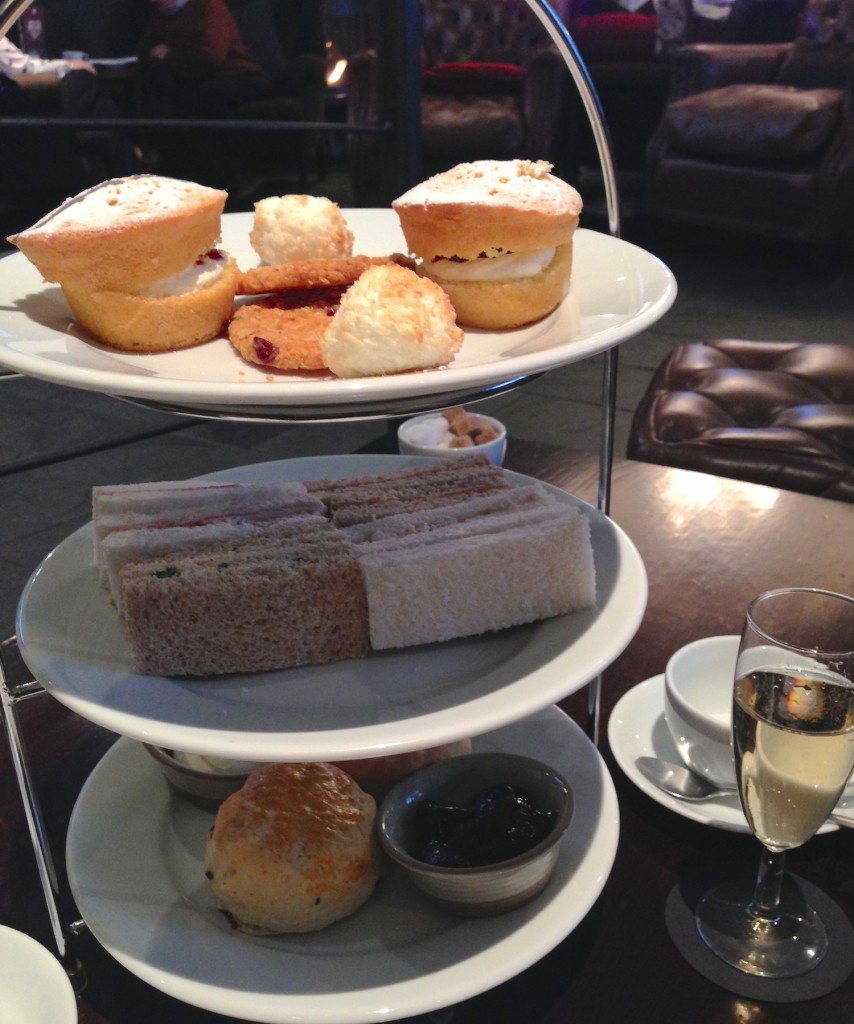 We were left a little disappointed by the Hotel du Vin afternoon tea offering to be honest. The stylish lounge is ideal to pass away a few hours, and while it's not technically awful, the usually elegant Hotel du Vin afternoon tea was a bit bland – and the cake tray entirely forgettable. May have better luck with sister Malmaison?
Best bits: comfy surroundings, lovely hotel
Food: 2/5 ~ Vibe: 3/5 ~ Value: 3/5
Contact: hotelduvin.com/locations/newcastle/ (£13.75pp)
---
Blake's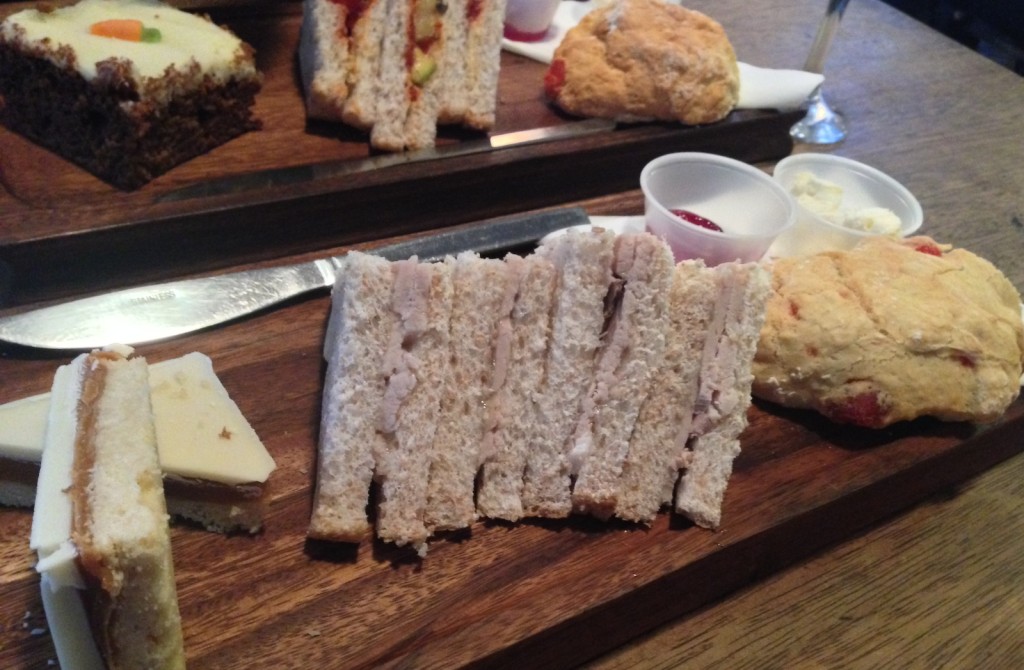 Blake's is a bit of a Newcastle institution, popular for their breakfasts and  sandwiches, but unfortunately, the afternoon tea just didn't stack up. More like a sandwich and a bit of cake, but luckily it was only a few quid.
Best bits: city centre location, very cheap
Food: 2/5 ~ Vibe: 2/5 ~ Value: 4/5
Contact: 0191 261 5463 (£5pp)
---
The Vermont Hotel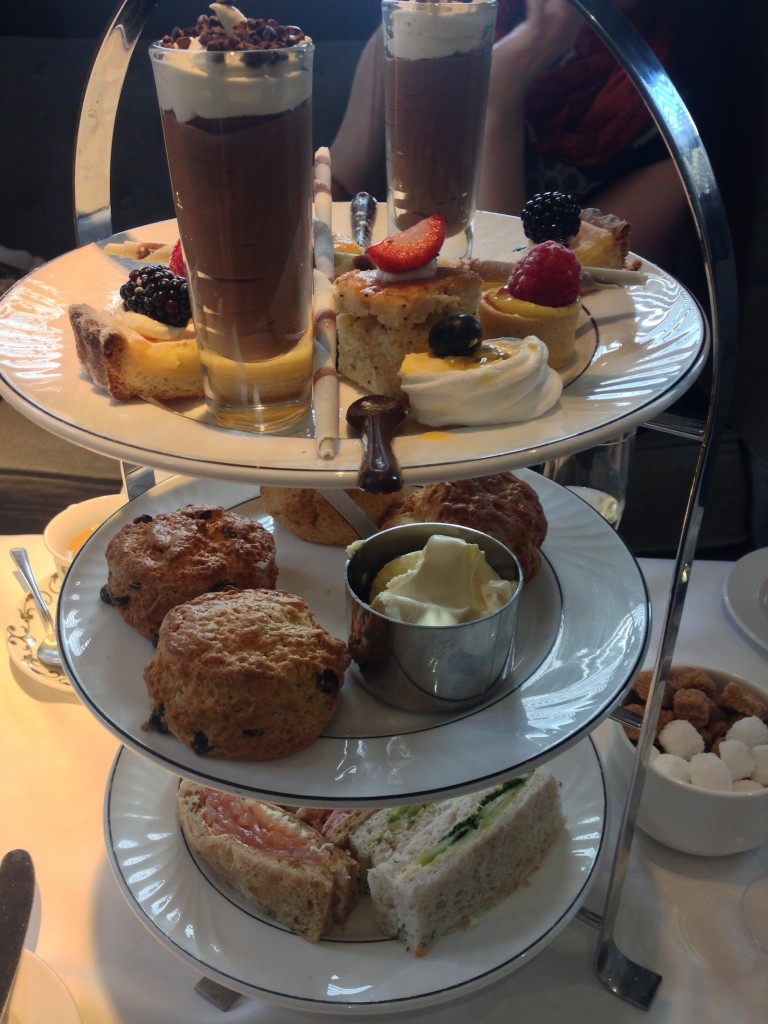 Bit of a surprise hit this one. The Vermont has recently undergone extensive refurb, and it shows. From the huge sofas and cute Hendricks teapots, to beautiful warm scones and lashings of clotted cream, this is a one for the traditionalists that won't disappoint. There are much better cakes elsewhere, mind you.
Best bits: good portions, plush dining,
Food: 4/5 ~ Vibe: 4/5 ~ Value: 4/5
Contact: vermont-hotel.com (£14.95pp)
---
GB Cupcakery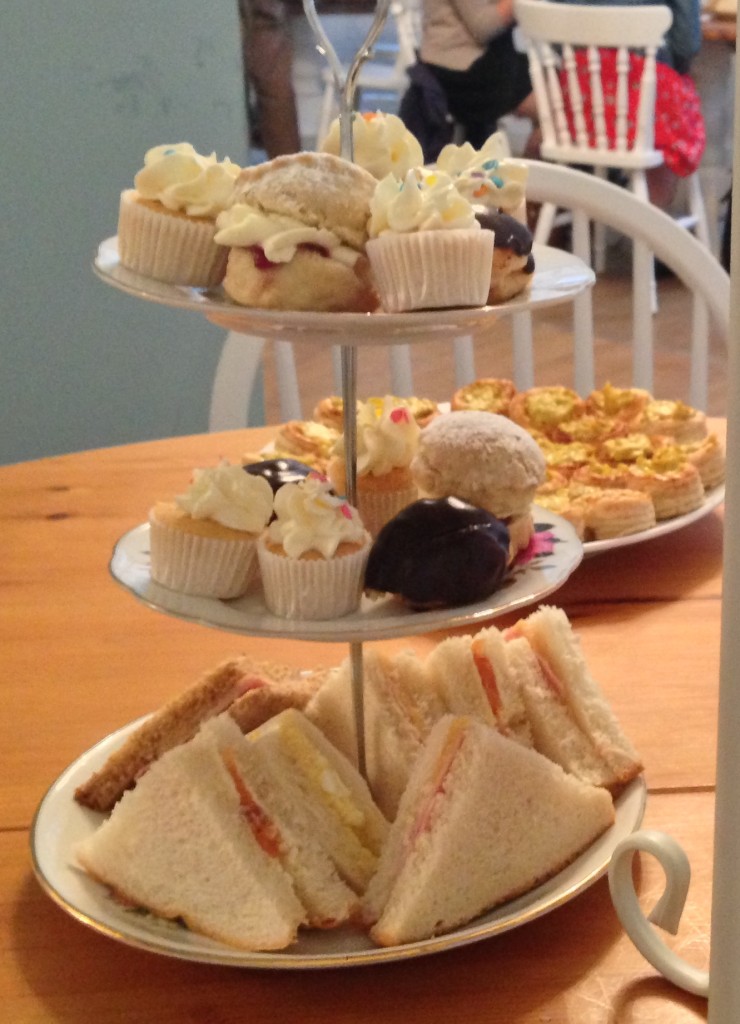 These girls know their cake, and it shows. It's kinda pricey, but if you're looking for some mega cakes which are fresh, full of cream and all things naughty, Queen street is your place. Come for the scones, stay for the cakes, take some home because you get absolutely loads.
Best bits: huge portions, sugar lovers dream
Food: 4/5 ~ Vibe: 3/5 ~ Value: 3/5
Contact: thegreatbritishcupcakery.co.uk (£19.95pp)
---
Slaley Hall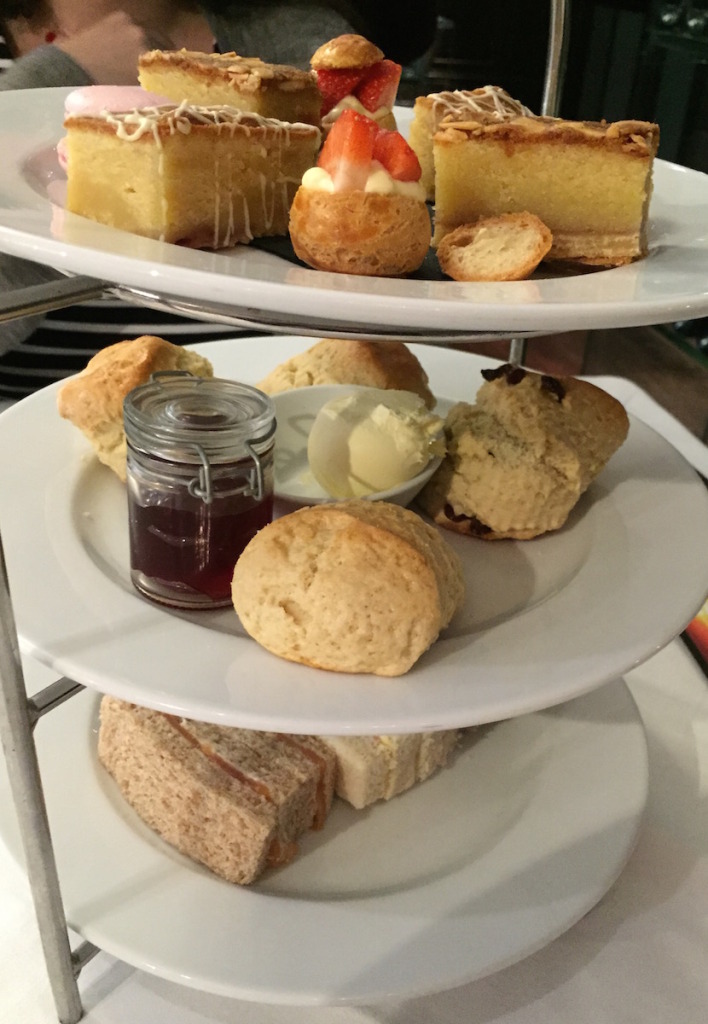 Like Close House, Wynyard Hall, and all of the other posh country hotels, you expect the very best from the plush, luxurious locations, and more often than not, they fail to deliver. Slaley hall was no different – a great "tea trolley" is interesting, and while sandwiches and scones are very much OK but nothing to shout home about, the cakes are a complete let down. If you're going to put on afternoon tea – people are here for the cakes. Buying them in, when you've presumably got a pastry chef in the kitchen, just ain't good enough.
Best bits: tea trolley
Food: 2/5 ~ Vibe: 3/5 ~ Value: 2/5
Contact: qhotels.co.uk/our-locations/slaley-hall/ (£15.50pp)
---
OAK Newcastle (in Barker & Stonehouse)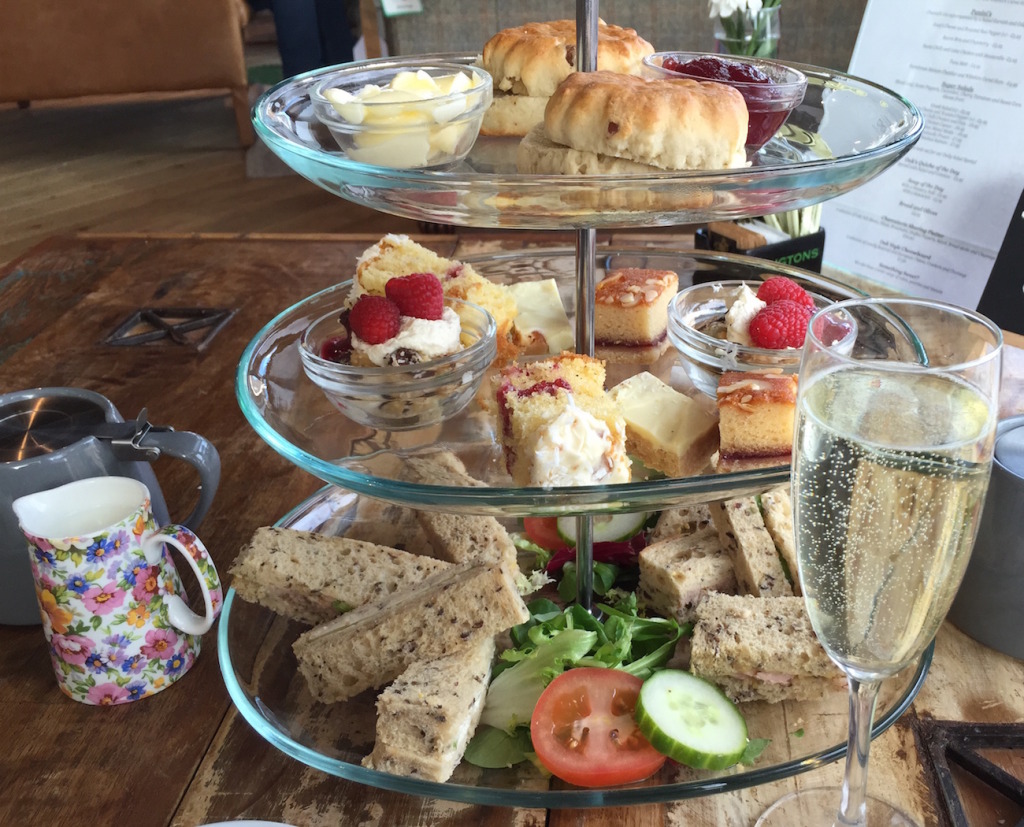 Just off the Gallowgate, upstairs in furniture store Barker & Storehouse is not where you might expect to find a quiet spot for cake and tea, but thanks to an unusual partnership between the furniture giant and OAK Newcastle (yep, the guys formerly on Dean Street), you can find exactly that. Bit of a surprise package, the afternoon tea is actually a pretty good shout, with Rington's tea, decent finger sarnies, and one of the best people watching locations in Newcastle. Bonus – buy all of the furniture you're sitting on, if you're made of money.
Best bits: decent value, people watching, do some furniture shopping
Food: 3/5 ~ Vibe: 3/5 ~ Value: 3/5
Contact: barkerandstonehouse.co.uk/stores-newcastle.php
---
Wynyard Hall
Wynyard Hall is a lovely place just to visit – the walled gardens are a brief getaway, and a quick mooch around the grand hall is pretty impressive. They charge a premium because of this – one of the >£20pp afternoon teas here – and it doesn't really justify the cost. The "gentleman's" version here – whiskey, scotch egg, etc. was all alright, just not knock-ya-socks-off. You get a snifter of whiskey, but it still felt like a bit less than what you get if you're presumably a lady. One more for the surroundings and great service than the joy of the tea itself.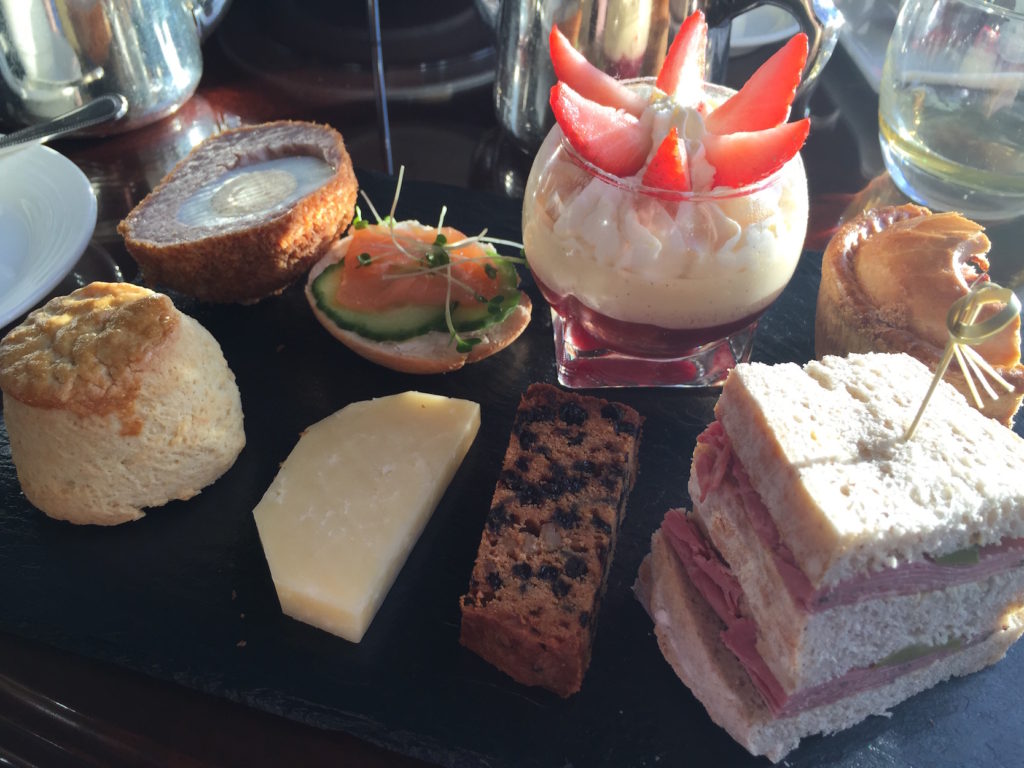 Best bits: genuinely lovely hotel, good tea, pro service, nice alternative for overly-sensitive blokes
Food: 4/5 ~ Vibe: 4/5 ~ Value: 2/5
Contact: wynyardhall.co.uk (£25pp)
---
The *TeaShed at Blackfriars
Bit of a cheat really, as this was a special event as part of the EATfestival a couple of years back, but coming from two of my favourites – Blackfriars, and The TeaShed, it was hard to ignore, and hopefully some future events are planned! Quality teas and traditionally made treats joined forces with a sunny day in July to make one of the best teas there was.
Best bits: traditional treats from Blackfriars + lovely TeaShed tea = win/win
Food: 4/5 ~ Vibe: 5/5 ~ Value: 4/5
Contact: blackfriarsrestaurant.co.uk / the-teashed.co.uk
---
Gregg's Moment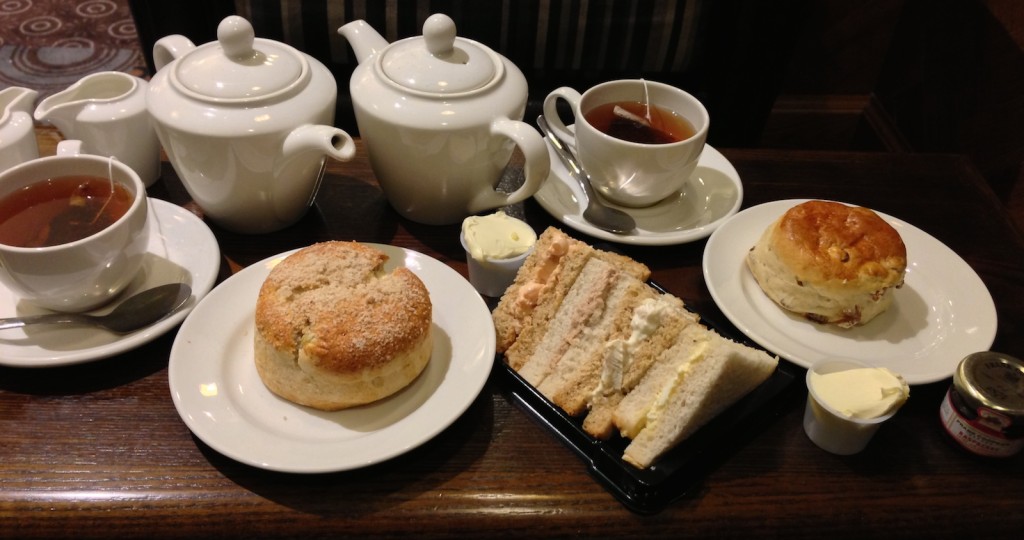 Greggs might not be the first name that springs to mind when considering afternoon tea, but hey, it's all fresh enough. Gregg's Moment was maybe a bit ahead of its time – the new store refreshes have borrowed the best bits of the upmarket side of our regions flagship pastry shop, but honestly, there are worse choices that charge more. All "Moment" stores are now closed, but what they did do, was always fresh, and always tasty™.
Best bits: cheap as chips
Food: 3/5 ~ Vibe: 2/5 ~ Value: 5/5
Contact: greggs.co.uk (£5.95pp)
---
Oldfields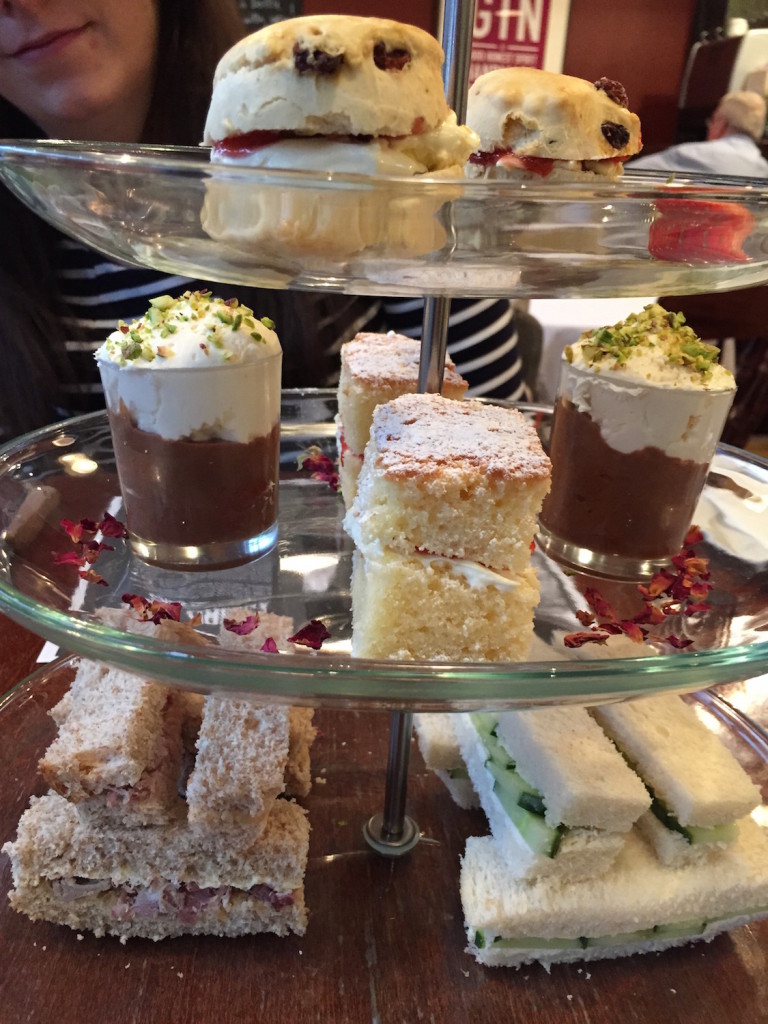 Oldfields is a bit of a funny one, seeming very hit and miss. We've had some lovely meals there, but this, the most recent, missed on nearly every front. Flaccid, cheap sandwiches, a shot of chocolate and a dry victoria sponge could barely be saved by the chalky scones. Give it a miss, even on the daily deal voucher sites, which is where it is most often seen.
Best bits: struggling…
Food: 1/5 ~ Vibe: 2/5 ~ Value: 3/5
Contact: oldfieldseatinghouse.com (special menu)
---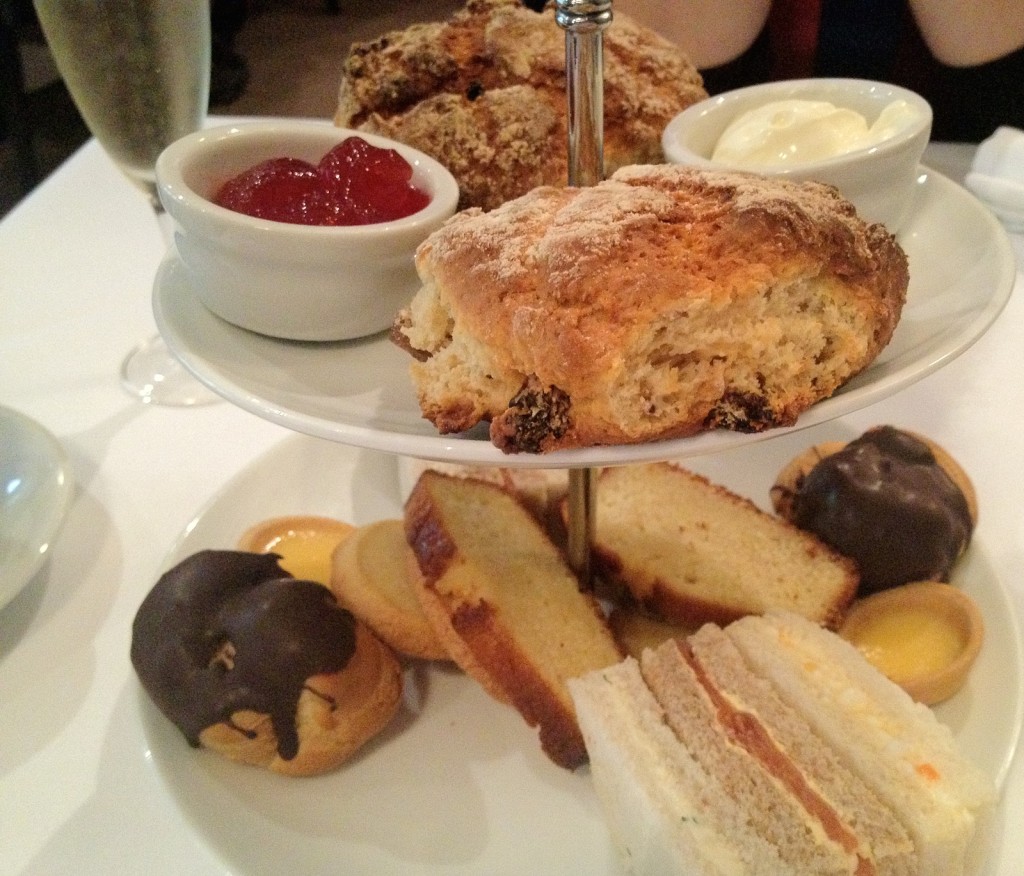 Saving the best for last – the best laugh, that is. One of the few times I've been dumbstruck by how bad something was while writing for this blog, the pastries were laughable, the service was non-existent, and the entire experience a bit of a farce. They've had many issues since that time, and I believe they're closed for the time being. Real shame.
Best bits: provided laughs for years since
Food: 0/5 ~ Vibe: 3/5 ~ Value: 1/5
Contact: ? [click here for the full post]
Afternoon tea in Newcastle is always super popular, though as you can see, it varies a lot. If you've been anywhere decent for afternoon tea recently and it's not on here, let me know! Will be adding to this page as more are sampled and the waistline expands – Café Royal, Biscuit Factory, and more coming later this year…