I tend to try to keep my content on here where I can control it, but I will occasionally do an article or two for another site, especially if it's a brand I love like Waitrose or Ringtons.
Here's where else I've put some words online, or been featured somewhere worth shouting about:

Waitrose
Waitrose worked with bloggers across the country to produce some recipe ideas for a certain summer football event which Germany won. I got tasked with making a Spanish-themed burgers which was awesome.
http://www.waitrose.com/content/waitrose/en/home/inspiration/waitrose-summer-partyideas/football-party-ideas.html
---
The Guardian
When The Guardian were writing a piece on an alternative city guide to Newcastle, I was asked for a little input into where's hot. It's a great piece, and worth a read if you haven't caught it already. Oh to have Tony Naylor's job…
https://www.theguardian.com/travel/2016/dec/21/alternative-city-guide-newcastle-food-drink-bars-clubs-culture
---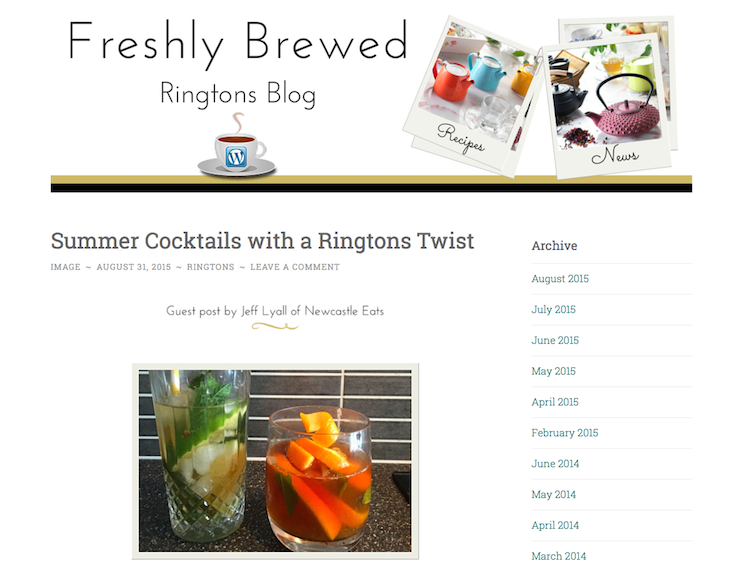 Ringtons
Ringtons worked with bloggers to produce some summer-themed recipes for their smartly named blog "Freshly Brewed", including a cocktail and tea mashup, and a Christmas checklist. Still the daddy of North East tea, they're a great brand to be have been involved with.
https://www.ringtons.co.uk/blog/summer-cocktails-with-a-ringtons-twist/
https://www.ringtons.co.uk/blog/top-5-tips-for-a-stress-free-christmas/
---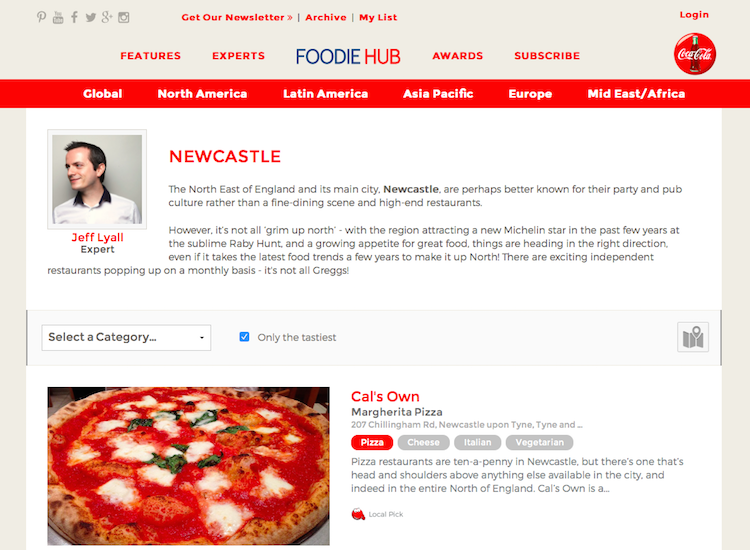 Foodiehub / Xtreme Foodies
Foodiehub uses local knowledge to find the best dishes from around the world. They picked me as the expert to represent Newcastle, and so I put together my "must-have" local dishes. Easy!
http://www.foodiehub.tv/features/essential-eats/newcastle-england
---

Blog North Awards / The Northern Blog Awards
In 2012, I was chuffed to have been commended in the Food & Drink category for this hyper-local celebration of Northern blogging. In 2013 I was runner-up in the very same category. A really nice event which would be great to see the return of. 2018 saw me nominated in the Northern Blog Awards under the 'Foodies & Cooking Blogger' category. Didn't win, like.
---
WOW247
WOW247 is an online magazine with a local focus which I produced a couple of articles for: favourite Newcastle restaurants for any budget, and my top 10 bars in town.
http://www.wow247.co.uk/2014/03/25/best-restaurants-in-newcastle-58894/
http://www.wow247.co.uk/2013/05/14/the-knowledge-jeff-lyall-eating-out-in-newcastle-4471/
---
NE1 – Get Into Newcastle
It's always nice to work with the Newcastle BID to help showcase their latest work to bring people to the city, so when I was asked to write a few pieces on Restaurant Week, of course I agreed (and helped promoted some indies vs. chains)…
https://www.getintonewcastle.co.uk/news/newcastle-eats-one-a-day-guide-to-ne1-restaurant-week
---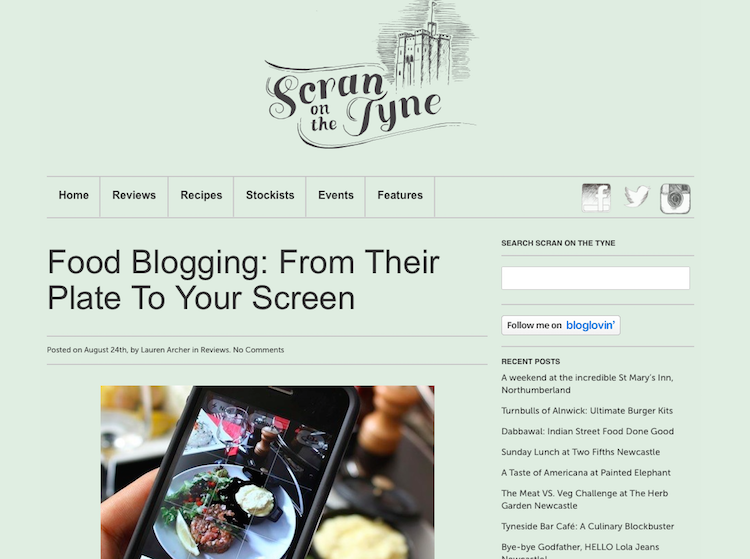 NARC Magazine
Gone, but not forgotten Newcastle arts mag kyeo originally put together a piece on the region's best food bloggers, citing me. While kyeo might not longer be alive, contributor Lauren shared the post on her award-winning food blog.
http://www.scranonthetyne.com/food-blogging-from-their-plate-to-your-screen/
Others
I'll work with larger brands too – see what I did with Arla as part of their ChooseGoodness campaign, Alcohol Change, or Lea & Perrins here. I've also been a judge in the English Italian Awards from 2016-2018, which is great fun.
If you've a project you'd like some help with, or are looking for that regional expertise, please do get in touch and I might be interested in working with you.