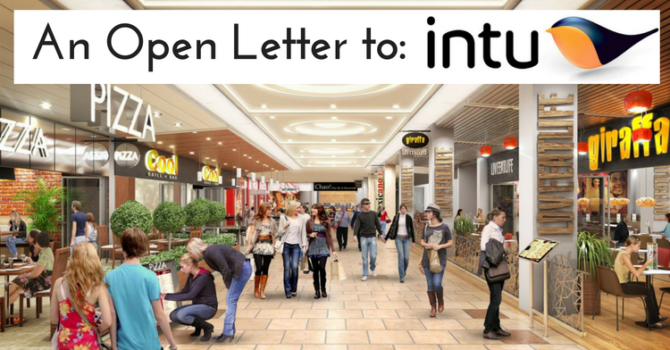 Dear intu Properties plc,
Can we just call you Eldon Square? I mean, the whole intu thing has beeen the most popular co-branding exercise in Newcastle since the whole "sportsdirect.com @ St James' Park Stadium" debacle.
As a lifelong Newcastle resident and someone excited to see what you'd be bringing to the ultra-glossy new 'Grey's Quarter' I've gotta say, I'm among a growing glut of disappointed Geordies.
I know, it's hard to turn down those eye-watering rents you'll be collecting from Bella Italia, etc. but couldn't your choice of tenants have been a little less, well, grey? The refurbishment is impressive for sure, and 100% a positive move for the city. We've got world class retail and all that.
But – where are the opportunities for smaller, independent food businesses?
Does Newcastle really need it's third branch of Frankie & Benny's? There are NE-based traders desperate for city centre retail space, who don't even stand a chance. Increasing competition between large chains makes it harder to get any local spend back into the city. A huge chunk of your invested money will become turnover for The Restaurant Group… great 😕. Instead, offer this spot to independent retailers at a reasonable cost, and hell, I'll personally get those units filled for you.
We don't want the intu Eldon Square Grey's Quarter to be Camden Market, we don't even want it to be like the really great, trendy (and financially viable) Leeds Trinity Kitchen.  Just a smidgen of your retail space, And not the old "food court of the 90s", space for 3-4 'street food' vendors. Nowhere near the 100+ seats you've sold Reds True Barbecue, or your similarly missed-opportunity at the Metrocentre.
And you're missing a trick. these small local businesses could be your big 2020-2025 tenants, you'd be supporting the future of food business in the UK, the chain restaurants of tomorrow even. The next ASK, La Tasca, whatever. You can position yourself as supporting the little guy, getting behind the underdog. It'd give you a credibility which you're never going to get by putting the 50th branch of Giraffe into the next intu property.
I get it. Big-name brands = more money and that recognition factor which shoppers require. But honestly, we've got all the chains now thanks. Maybe when the first one inevitably closes after 24m, you could open some of the better ones – where's Wahaca?
We can compromise and have the best of both worlds. Huge retail names alongside up and coming local business.
We need a more #DiverseGreysQuarter
— jeff
Newcastle Eats no longer supports comments directly on posts, instead, why not fire up the discussion on Twitter, Instagram, or email me directly.