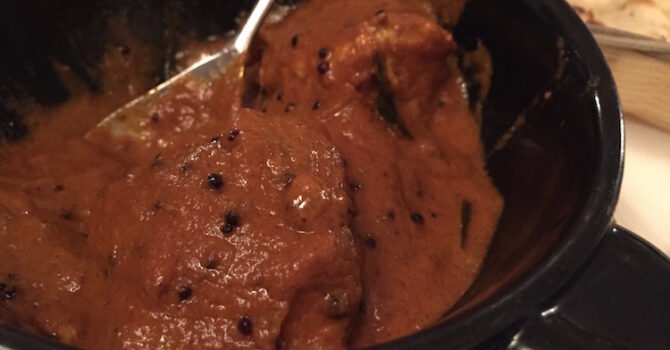 Curry & wines?
Angeethi in Gateshead/Low Fell (NE9 5HY) is one of those restaurants that I always hear high praise about, but always forget to visit, despite living just around the corner. That changed when I was recently invited to a one-off "Spice & Sommelier" evening, aiming to to prove that wine and curry can live together in harmony. Eight courses, eight wines – sounds like my kind of night…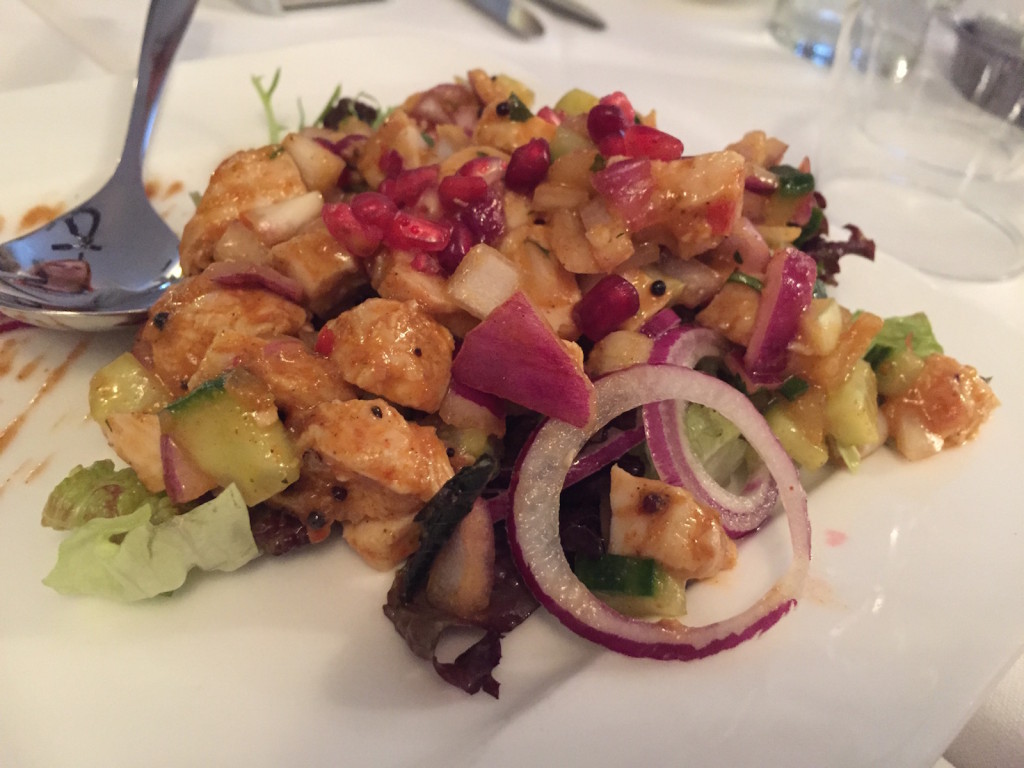 The belief that curry and wine just don't belong together is one that I've long been guilty of holding. Curries, especially of the particularly saucy, and/or spicy kind, can be way too overpowering and a bit of a waste of a good wine, so I've often preferred skipping wine and going for a cold beer or cider.
It doesn't help that many Indian restaurants seem to stock the crappest bottles in the world, but Angeethi have partnered with a serious merchant to try and dispel that myth, and presumably make an effort to sell more wine at the same time.
After the obligatory papadums, we had chicken chaat which is a favourite of mine. Saying that, it's easy to love, but rare to get a definitive version and while this was generous with the pomegranate, I found the sheer amount of raw red onion a bit woah. It was matched with a Round Hill white zinfandel rosé, which, yes, I'd normally turn my nose up at, but was a world away from the £2.99 Blossom Hill we all know and gulp on a night out.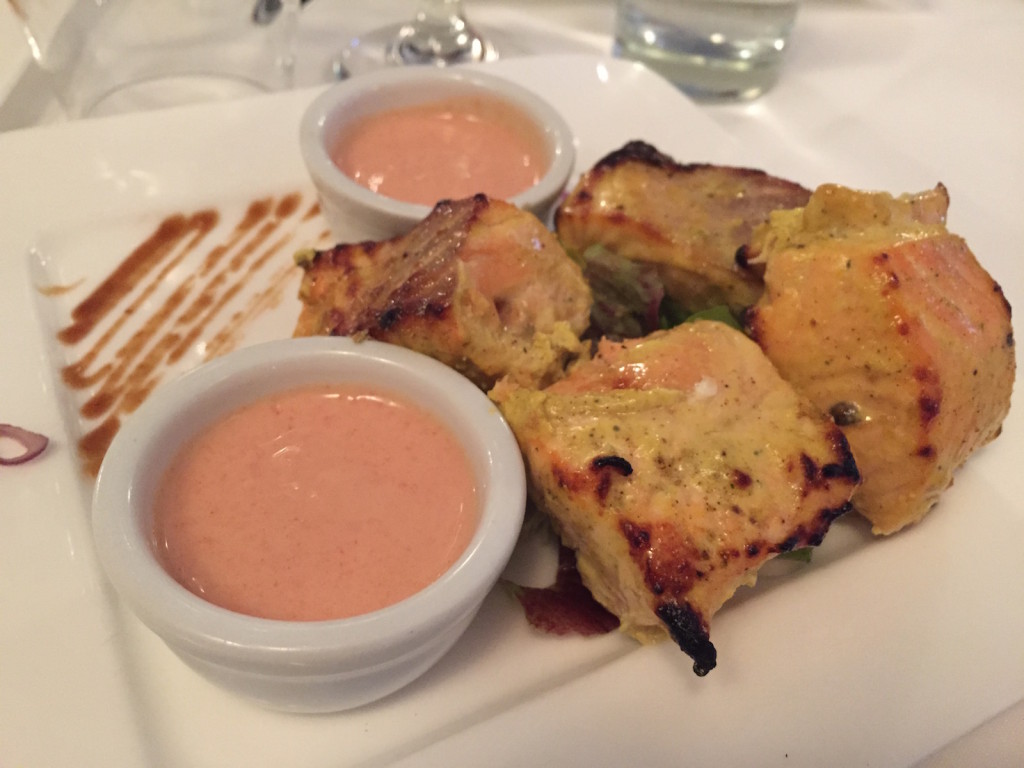 Zaffrani salmon was good enough to make me think about getting a tandoor oven for home again – keeping the soft flesh so succulent and getting that smoky hit is something you just can't do at home, and marinating in saffron is never going to be a bad thing – I could have eaten this all day. Sauvignon blanc is an easy match for salmon, but with good reason. While I prefer something oaked, we had Babich Label which was pleasant enough.
Hara bhara kebab isn't something I've eaten before, but think Indian version of falafel and you're about right. An interesting deviation from an onion bhaji, and the Siegel Riesling was a perfect match. Don't quite recall what the red sauce here which, tasty though it was, came with everything.
Also delicious were the grilled lamb chops – presumably marinated for a while in yoghurt as they were super soft, then again scorched in the tandoor. While others struggled with a knife and fork, I dug out every blackened morsel caveman style and gulped a fruity Nostros Reserva pinot noir which again, is the match you'd expect, but that's because it's tried, tested, and delicious.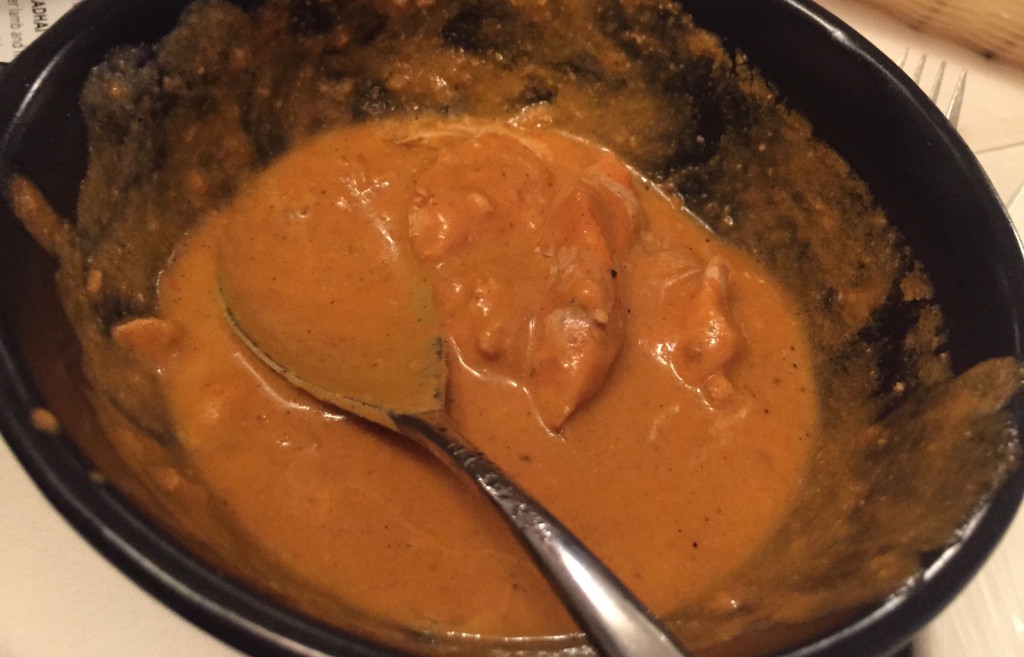 Then came the curries – mild, medium, and hot – chicken tikka makhani, lamb kadhai, and fish madras. We were served Casa Silva Cabernet Sauvignon, El Coto Rioja Cranza, and The Landings Shiraz Cabernet and advised to just mix and match the three reds as we like and "find out what works for us". The three curries were rich and deep with flavour, some way better than the dozens of very average Indian restaurants which populate the city, and while I've had softer lamb, the kadhai was my favourite and the one I'll be getting to takeaway at the weekend.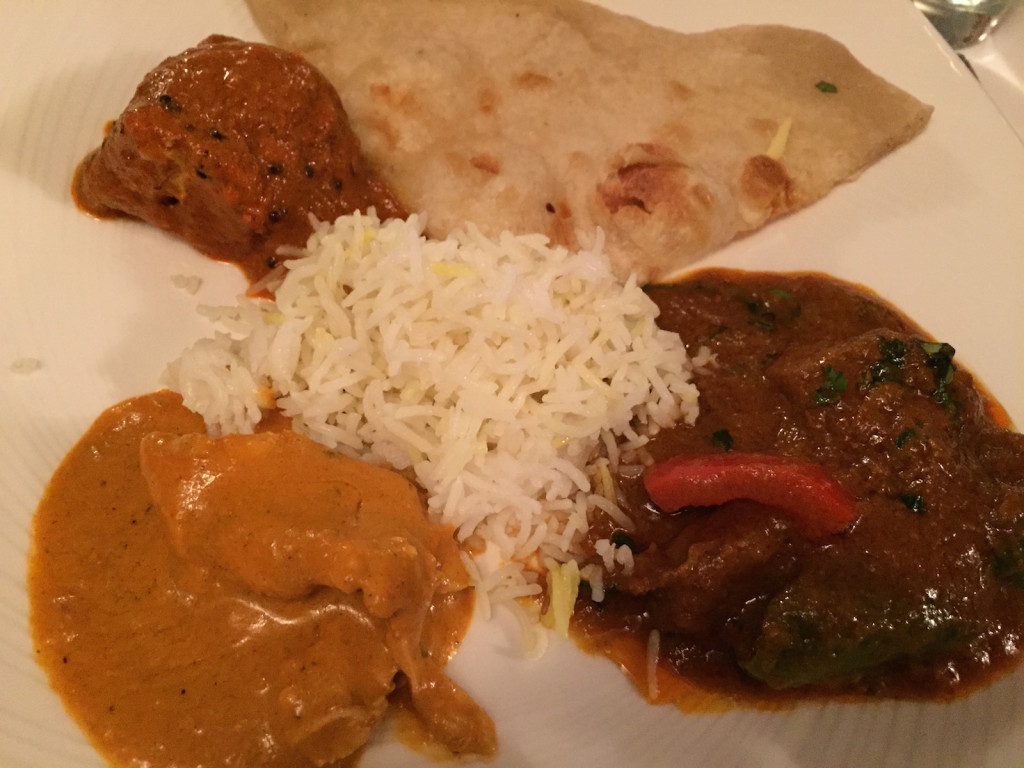 Typically overbearingly sweet gulab jamun isn't my favourite Indian dessert – and matching a dessert wine sounded like overkill for even my sweet tooth, but the Principe de Viana Late Harvest Chardonnay wasn't sweet at all. Will be seeking out a bottle of this.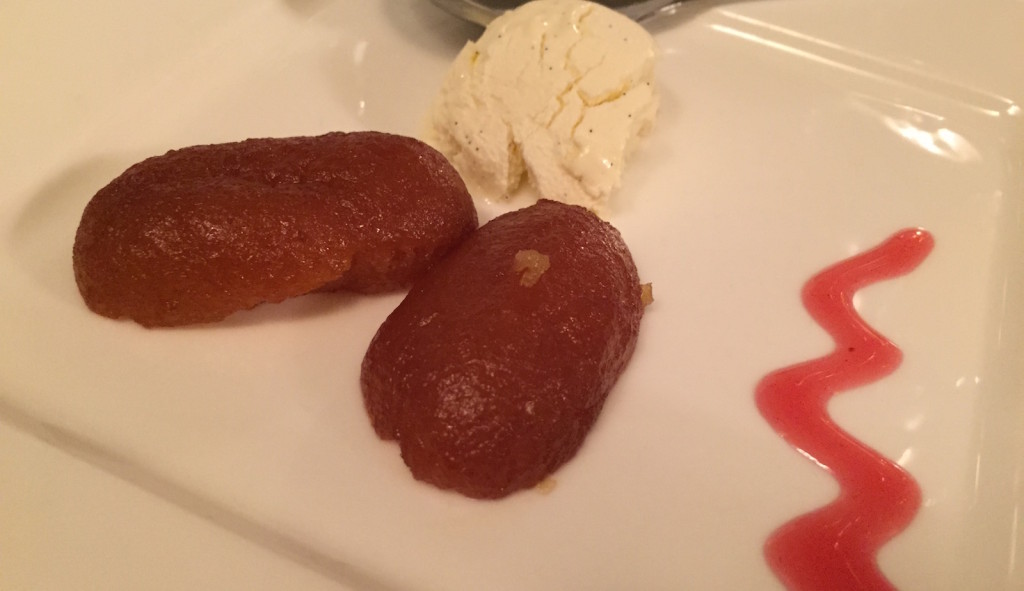 So…I'm not entirely sold on matching wines, particularly with gravy style curries, but salmon & sauvignon, lamb & pinot noir – it all makes sense. I heard somewhere that the best wine for curry is "whatever you fancy" and I'd tend to probably agree with that. Either way, it's good to know there's another solid Indian just around the corner, so I'll be back at Angeethi soon (with a beer).
Contact: angeethi.co.uk
Food hygiene rating: 5/5