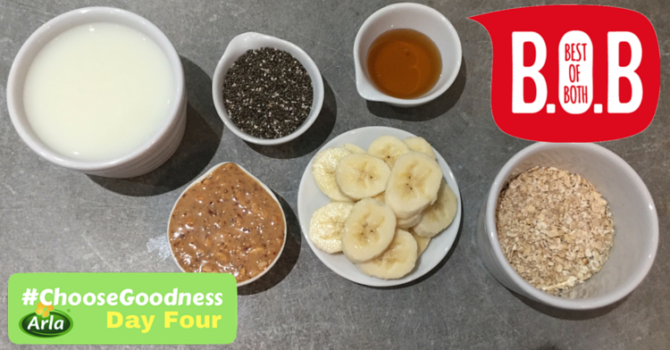 Another easy and filling breakfast recipe for you peanut butter fiends ??
Friday's Great Breakfast: Overnight oats with Arla BOB
Ingredients
150ml Arla BOB milk
as much peanut butter as you like
half a banana, sliced
1tb chia seeds
drizzle of maple syrup
handful of porridge oats
This one is equally parts cold and filling. Some people can be funny about the claggy sensation of peanut butter, but even Kate – the biggest peanut butter hater wolfed this one down.
Add the peanut butter (gotta be extra crunchy, right?) to your milk – Arla BOB has all of the creaminess of a whole milk but with the fat of skimmed – and swirl it in. It doesn't fully combine, but that is fine.
Add in the oats – I used our regular porridge oats, but whatever you have to hand is good. Add the chia seeds too, then give it a quick stir so that some of the peanut butter swirls through the oats, and then compact it all down so that there's no "dry" oats sticking out of the top. You might need more milk if it doesn't all get submerged, just make sure it's wet.
This should only take a couple of minutes, and shouldn't get you too hungry before going to bed. So stick it in the fridge, and come back to it in the morning.
When you get up, the oats should have soaked up all of the lovely milk and become thick and creamy. It'd be good warmed up, but right out the fridge it should be super cold, so quickly add your chopped banana and drizzle over some maple syrup. Add some more chia seeds, and you're done. It keeps in the fridge for a day or two fine, though might get a bit mushy (you may or may not like this).
This is super filling, and might sound heavy, but the ice cold milk made it a lovely wake up this morning. And if you don't finish it – it is fairly rich, it keeps in the fridge for later. Swap out the peanut butter and banana for raspberries and almonds, or whatever your fruit/nut combo of preference is.
Click here for more information on Arla BOB / view more #ChooseGoodness posts