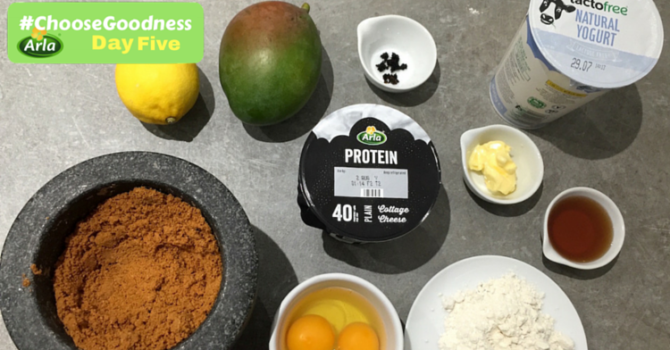 Something a bit naughtier for the weekend.
As it's the weekend, people tend to spend a little longer than the average six minutes preparing breakfast. As tempting as a full English can be, it can also be a lot of work, so try these instead. Bonus: you can keep eating them for days afterwards.
Arla Protein contains 20g per serving which is ideal for you clean eaters trying to build a little mass. And sticking it in a cheesecake might sound unusual, but trust me, you wouldn't really tell the difference between this and the three tubs of full fat cream cheese you'd normally put in a cheesecake.
Saturday's Great Breakfast: Healthy-ish cottage-cheesecake bars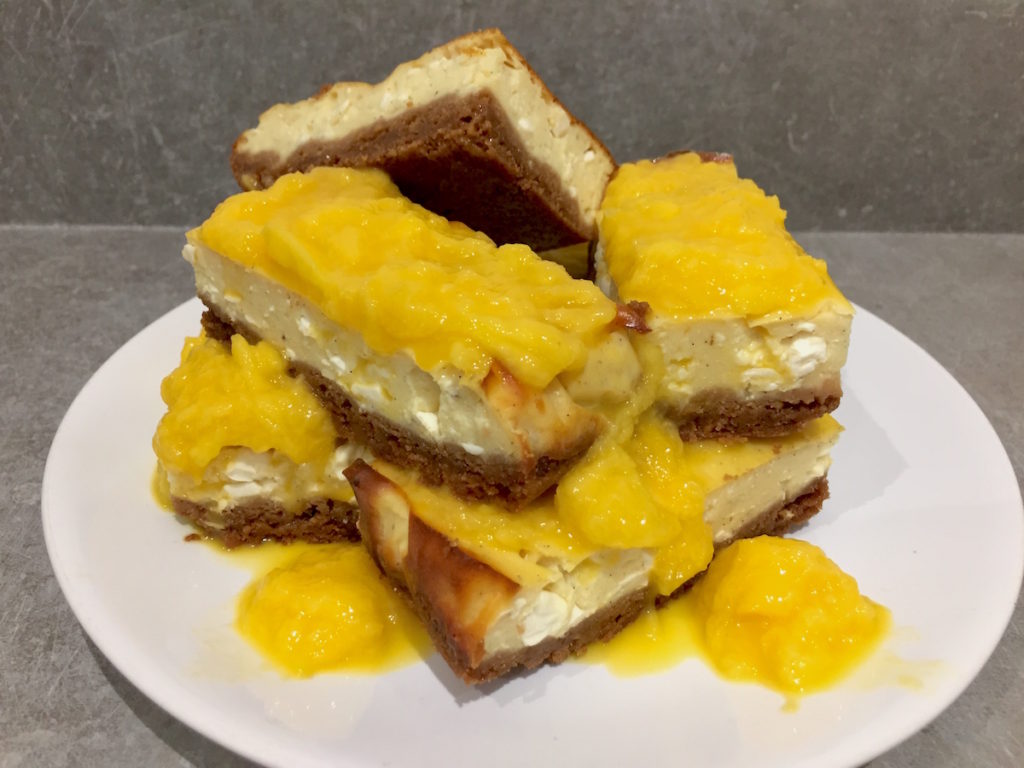 Ingredients
the base
half a packet of Lotus biscuits
butter
the filling
1 tub of Arla Protein cottage cheese
half a pot of Lactofree yoghurt
1 vanilla pod
2 eggs
2tb plain flour
2tb maple syrup
the topping
mango, cornstarch, water, lemon juuce and zest
To make the base: smash up biscuits of your choice – whatever you have at hand really, bourbon would be good, or simple digestives. I had some Lotus biscuits, which add another element of spice to the equation. Mix this with as little melted butter as will bind it, and squish into a brownie tin – mine is about 8″ square.
To make the filling – blitz together all of the ingredients until you have a smooth paste. I was lazy and didn't, so I get some bits of cottage cheese in the final batch: doesn't affect the eating and saves you washing up a blender, which no-one wants to do on a weekend.
Pour this over your biscuit base, and you're done for now – stick it in a pre-heated oven at 170 for an hour.
The aroma that fills the house when these are baking is almost as good as the eating – I don't know how vanilla gets a bad press as being boring – I think it's easily a top three flavour in the world.
After about an forty-five minutes, keep checking in unit the edges have browned a little bit. Check that it's not wobbling just in case you've had your oven too hot.
Leave to cool for as long as you can, then again in the fridge. I know – but these won't cut well straight out the oven. When they're cold, mash up your mango and mix with the cornstarch and lemon. Slice up into bars, and enjoy for the rest of the week, or at least the weekend.
Click here for more information on Arla Protein / view more #ChooseGoodness posts