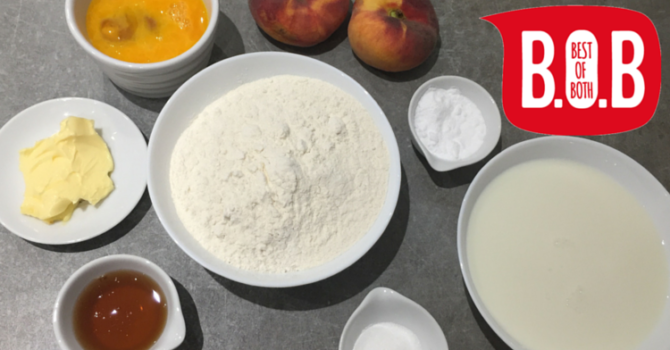 Who doesn't love fluffy pancakes?
We're not in the United States, so when you do make proper pancakes, it is easy to try and make them a tiny bit healthier – that way, you can enjoy them more regularly.
I based this off Nigella's bulletproof pancake recipe – though a smart move would be to add a touch of wholemeal flour, and skip the Nutella, using some yoghurt and fruit instead. I added some chia seeds which are imperceptible in the final taste, but add that little extra protein to your morning.
Sunday's Great Breakfast: American-style pancakes with peaches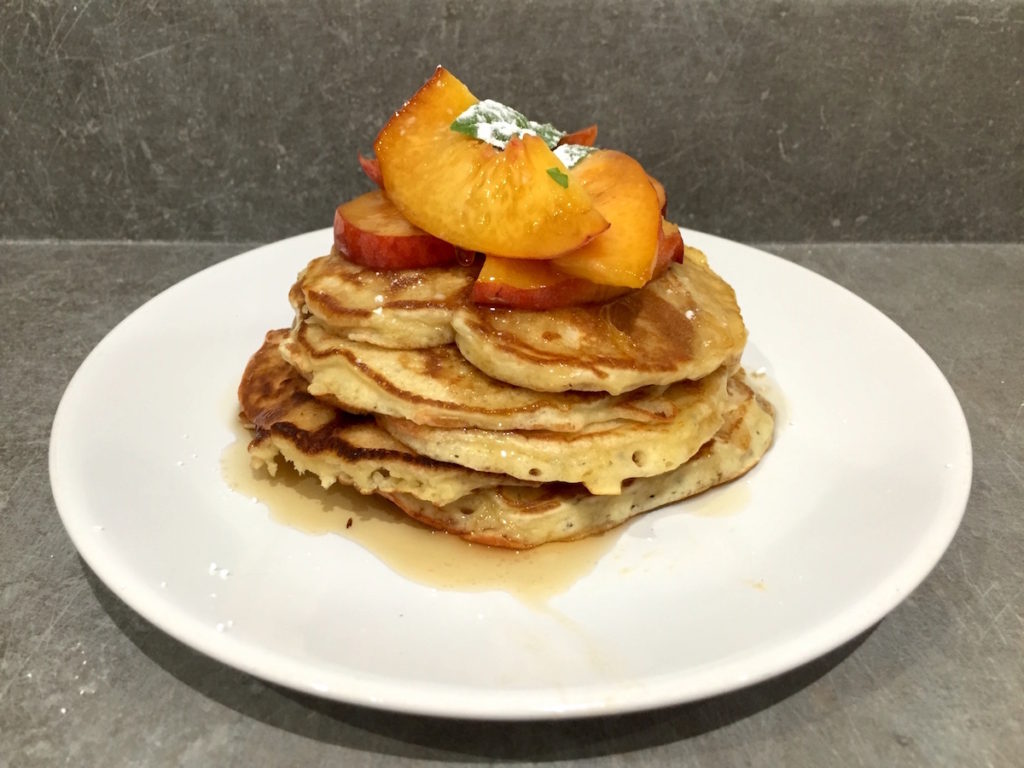 Ingredients
300ml Arla Best of Both milk
2 eggs
200g plain flour
1tb bicarb
pinch of sugar
pinch of chia seeds (optional)
small amount of butter for frying
pinch of cinnamon (optional)
peaches/other soft fruit
maple syrup for pouring
There's a lot of different methods for making pancakes, but this one is pretty stress free, and can be prepared the night before to give your batter some time to settle.
Mix all of the ingredients in a bowl! It's as simple as that. Some recipes will have you blending wet and adding to dry, but honestly spend your time cooking these, not preparing them, and if you're organised, you can get them all done on a regular morning.
Whisk up the mix as smooth as you can be bothered with – it doesn't have to be perfect. Get your pan up to temperature while doing so; it's ready when butter melts immediately. A dessert spoon of batter makes a good size pancake, so add a small amount of butter to the pan and fry in batches as big as your pan will hold. The secret is all in pan temperature – low/low-medium is best for consistency.
Cook for one minute until they can be freely turned and cooked for a further minute – these are not crepes, so keep your pan-flipping for Shrove Tuesday. They're done when bubbles start coming from the top of the pancake. Place on kitchen paper when cooking the next one, and try to limit yourself to three or four…
Top with your favourite soft fruit – these donut peaches were perfectly ripe and great dolloped with some Lactofree yoghurt, and as it's the weekend, just a a little more maple syrup. Enjoy.
Click here for more information on Best of Both / view more #ChooseGoodness posts