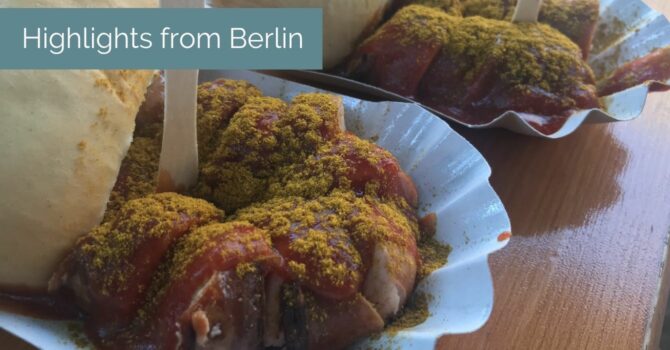 Das is gut ??
Taking advantage of some very cheap flights, we took off to Berlin for a few nights over my birthday last month. We came out to see a friend as he recently moved to the city for work. Wow, his apartment is spectacular. Check out the JLL Residential Development Germany website if you want to see what I'm talking about. Wasn't really sure what to expect from the city other than what was on Rick Stein's Long Weekends, but five nights in the German capital consisted entirely of eating and drinking to absolute capacity, and well not a lot else really. We're just not the type to visit the Holocaust Museum while on holiday. I never really get that ?????
Berlin is an expansive city, so we got tons of recommendations from hole in the wall kebab joints, right up to 2-starred places. We did it on a relative budget, so the below are mostly low cost, but while Berlin might not be quite as international as some other similar cities, it's so large it should have something for everyone. Much of it is of a pretty good basic standard, too.
One big thank you to Per for the fantastic resource that is Berlin Food Stories which guided us through out much of the trip ?? So aside from the multitude of currywursts available, here's some of my highlights from our trip, and a to-do if you're heading over there anytime soon – enjoy.
Burgermeister
When asking for general recommendations, there was one that came up time and time again, and is really the epitome of how the pervasive German street food culture works. Burgermeister is a small chain of burger takeouts which offers cracking patties, fries, beer, and not much else.
There's no tables, lines get pretty long (but move quickly), but for the €6-7 that the burgers are, totally worth a 10 minute wait.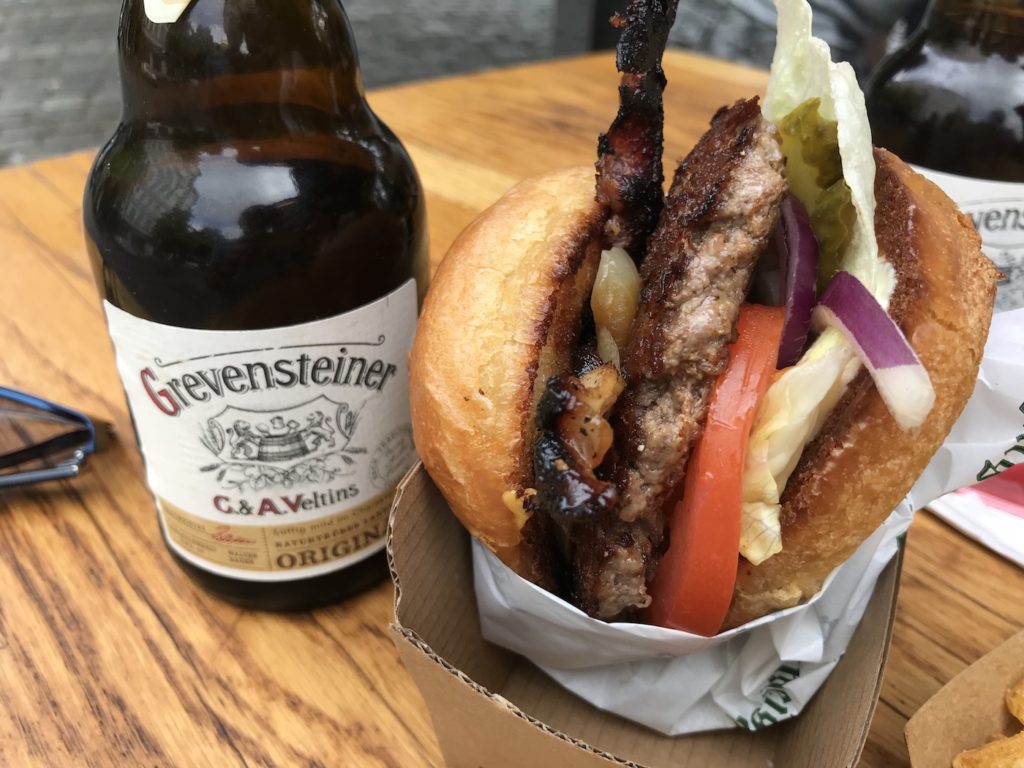 Get the meisterburger, some fries (also spot on), and this damn good malty German beer for around €12 all in. More than enough to sustain you for an afternoon, and a bloody good burger. Worth a diversion, especially after one too many steins. Drinking on the streets in Germany is incredibly not frowned upon, so knock yourself out.
Nearest U-Bahn: Kottbusser Tor / Schlesisches Tor
Mikkeller Berlin
Craft beer hasn't necessarily gone full steam ahead in Berlin yet – the traditional German beers are notoriously hard to displace. Solid though they are, there's not a huge amount of style/variation. Berlin does, however, hold plenty for the more more discerning beer drinker who needs some hops.
I couldn't help but notice a Mikkeller bar not too far from the central area of Mitte. They've got about two dozen beers on tap – all of a high quality as you'd expect; about half of Mikkeller's own, and half guest taps. This week featured, of all things a Wylam Brewery takeover ?. Not cheap, but you'll struggle to find a better beer in the city. If the shutters are open, or you can grab one of the outside tables, you're sorted. Really, the kind of little bar we could learn a lot from here at home.
Nearest U-Bahn: U Rosenthaler
Mogg & Melzer
One recommendation that came up a few times was simply The Reuben at this converted old girl's school deli/cafe/late night space. Have a gander at this…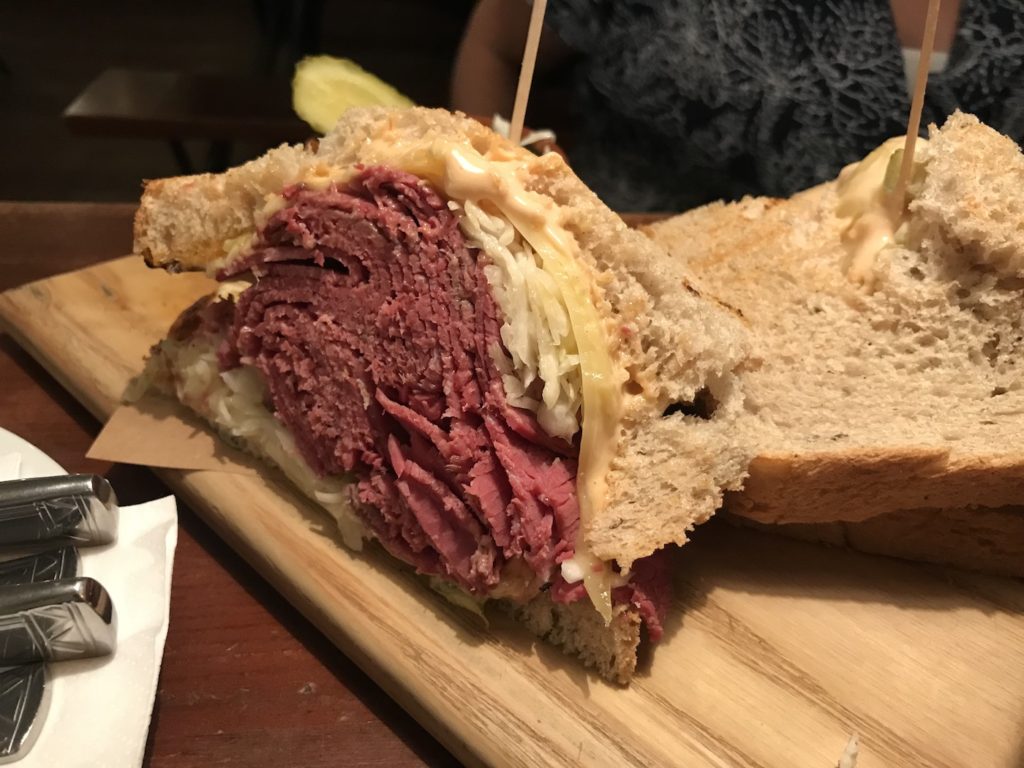 Literally one of the best sandwiches we can ever remember eating. They make their own salt beef and must dole a lot of it out each day. The cheesy, Russian-dressed, sauerkraut packed Reuben is about €15 and you literally get that and a pickle, but it's 100% worth it. Can't even remember what else was on the menu.
Shout out to our server for the night who was more than happy for us to taste a few wines before deciding, keeping the place open long after closing, and generally being A Good Guy. A great little place, the kind I'd definitely be telling you to head to if you're Deutschland-bound.
Nearest U-Bahn: Oranienburger Tor
Lebensmittel in Mitte
I'm sure there's a whole other world of German food outside of what you see here, but I was trying to tick off the best versions of the stereotypical classics. For weinerschnitzel, German neighbourhood Lebensmittel in Mitte restaurant came out trumps.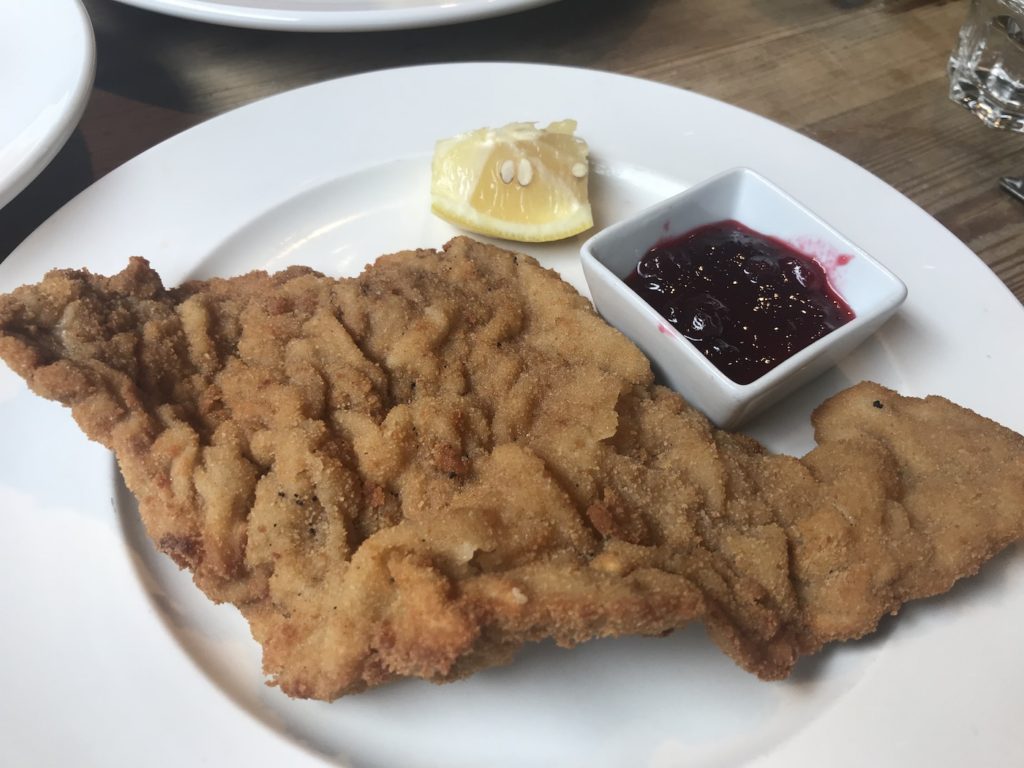 Serving traditional, feel-good German food – we also enjoyed the meat-stuffed cabbage with onions & mash – the place has a cracking selection of (German) wines too. The schnitzel, €15 comes with potato & cucumber salad and is a damn fine interpretation of the breaded veal cutlet. The rest of the menu looked pretty good, so if you're after a hearty, homely meal that's not gonna break the bank, Lebensmittel in Mitte is a good shout.
Nearest U-Bahn: U Weinmeisterstraße
Markthalle Neun
Think a German Grainger Market and you're not too far away from Markthalle Neun, an old warehouse enclosing some of the cities street food stalls.
The market features a few non-food vendors, but the focus is squarely on feeding people inexpensively. The sandwiches from Big Stuff Smoked BBQ were pretty legit, heavy on smoke and generous on meat. This pork belly beast was about €6 and substantial. It was something daft like add a pint half-litre for an extra €1.5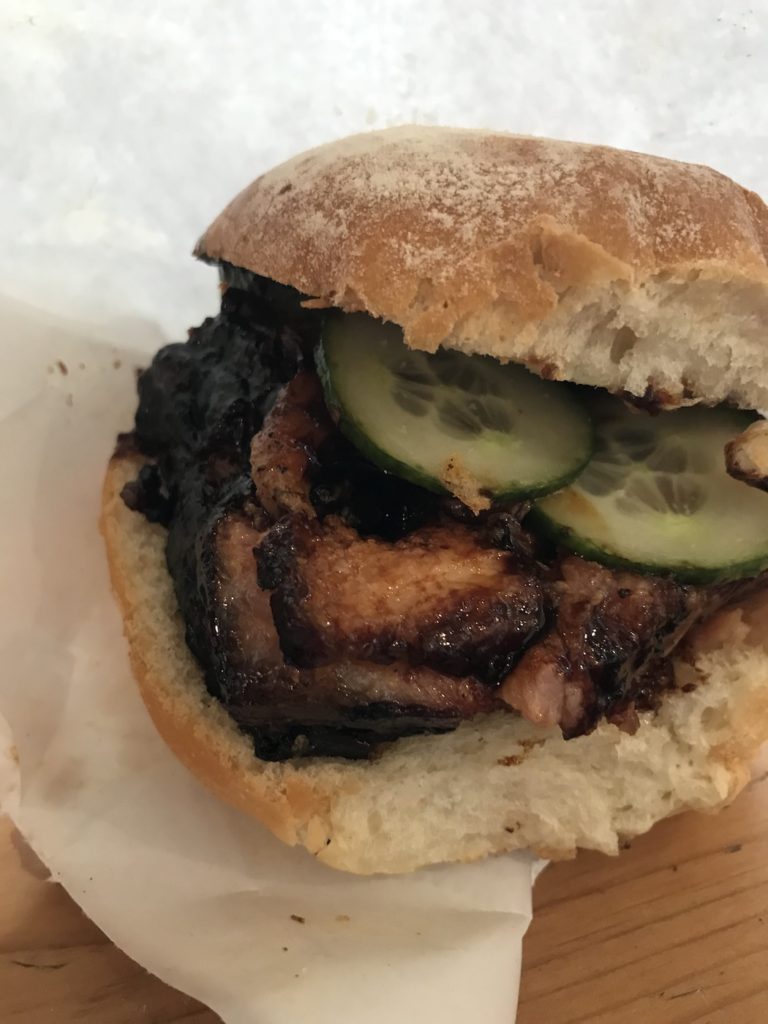 See also ice cream/gelato/waffle stall Rosa Canina which serves absolutely beautiful gelato for less than a couple of Euro. We had the sensational tonka bean and sesame, and a raspberry and basil sorbet – really, very, very good.
Elsewhere there's tapas, the usual German faves, bread, and lots of sweet things. We weren't around on the right day, but Thursday is your day/night to go – when Markthalle Neun stays open late and transforms into a Boiler Shop kind of venue with even more traders, and lots going on.
Nearest U-Bahn: Görlitzer Bahnhof
Standard Pizza
Gotta seek out those best pizzas in the world wherever we go, and Berlin actually had a few good shouts. We went for the casual and inexpensive Standard Pizza. Here's the margherita, which I'm sure you'll agree, looks bang on.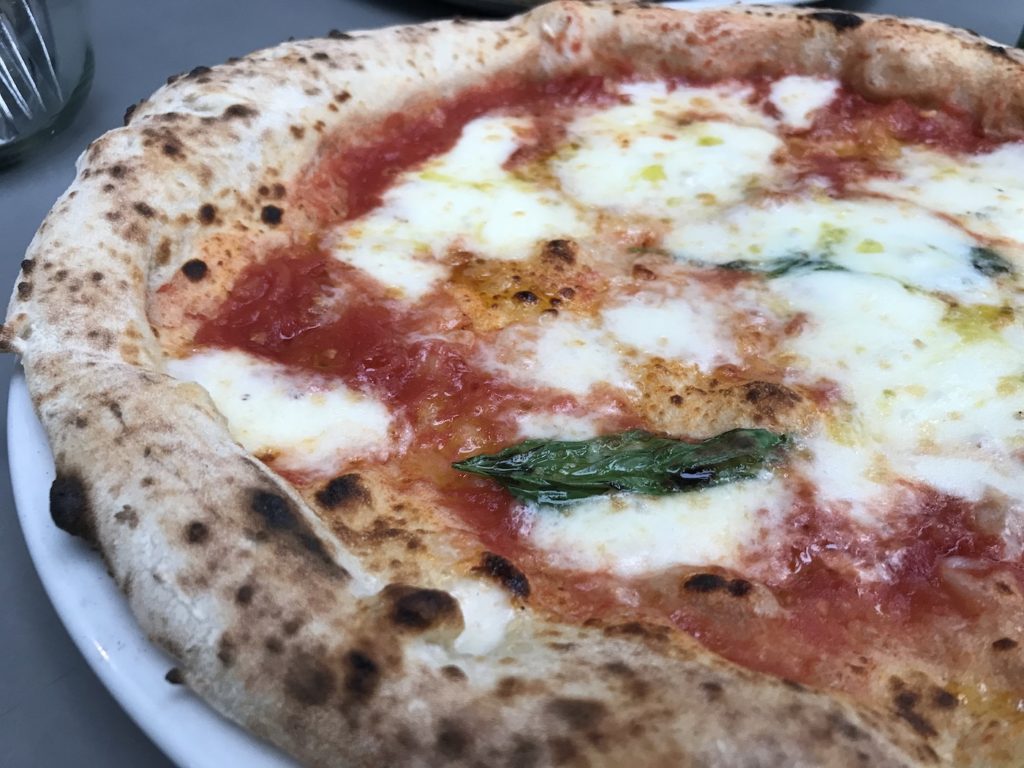 Because it was really bloody good. About ten pizzas on the menu, and they're trying hard to get AVPN status, which doesn't seem too far from their grasp if this was anything to go by. There's not much I would have changed about this pie, apart from saving some room for the nutella calzone for afters. Or a second one.
One thing I loved about the city was an unwavering dedication to local wines, with more German bottles than you'd expect. Try as much of it as you can, 'cos there's some stonkers. While the beers – even the lighter and lager-styles are mostly of a high quality, the German Rieslings in particular, on a warm July day, are absolutely stellar.
Nearest U-Bahn: Senefelderplatz
Stone Berlin Taproom
I'm still rueing the fact we didn't quite make it along to the much-touted Stone Brewing World Bistro & Gardens – it's just a little way out of the city centre – that said the transit system is exceptional – but the more centrally located taproom is a happy tradeoff.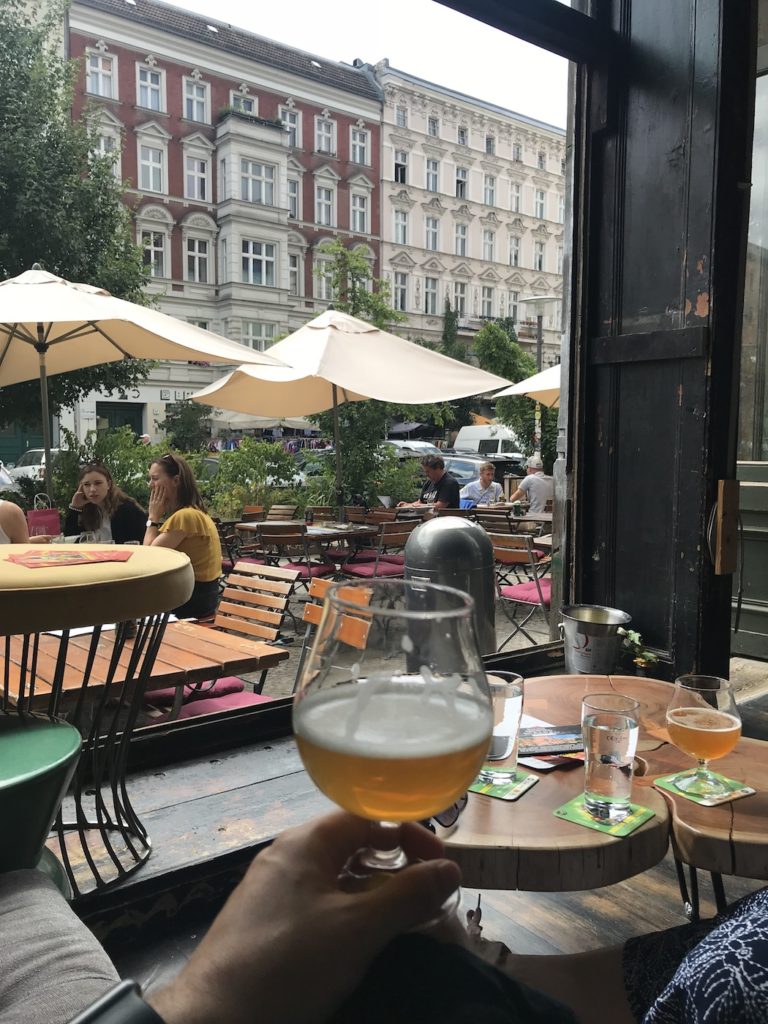 About forty beers on tap, with pretty much all of what's hot from Stone Brewing themselves at the moment, as well as guests, and a cracking indoors/outdoors vibe. Stone have never been a first choice for me, but trying their take on a Berliner Weisse, or one of their very good IPAs right on their doorstep is right up my street. Table service too, making it far too easy to order yet another 12% impy stout.
Came home saying I was on an alcohol ban. Lasted <24 hrs. Nearest U-Bahn: U Eberswalder Str.
The Barn Cafe
Coffee wasn't high on our agenda for this trip, but after a night of heavy excess following England's defeat in that World Cup semi-final – we could learn a hell of a lot from the way Berlin handles the epic 1-million person capacity Brandbenberg Gate Fanzone, by the way – a colossal caffeine hit was in order.
Barn Coffee Roasters was the Pink Lane Coffee of Berlin, and it's easy to see why. They'll make your coffee exactly how you want it, there's not too much an air of pretension – despite an info card telling you more than you could ever want to know about their bean of the day – and really friendly, knowledgeable staff who were happy to provide tasters of some drinks they had coming up.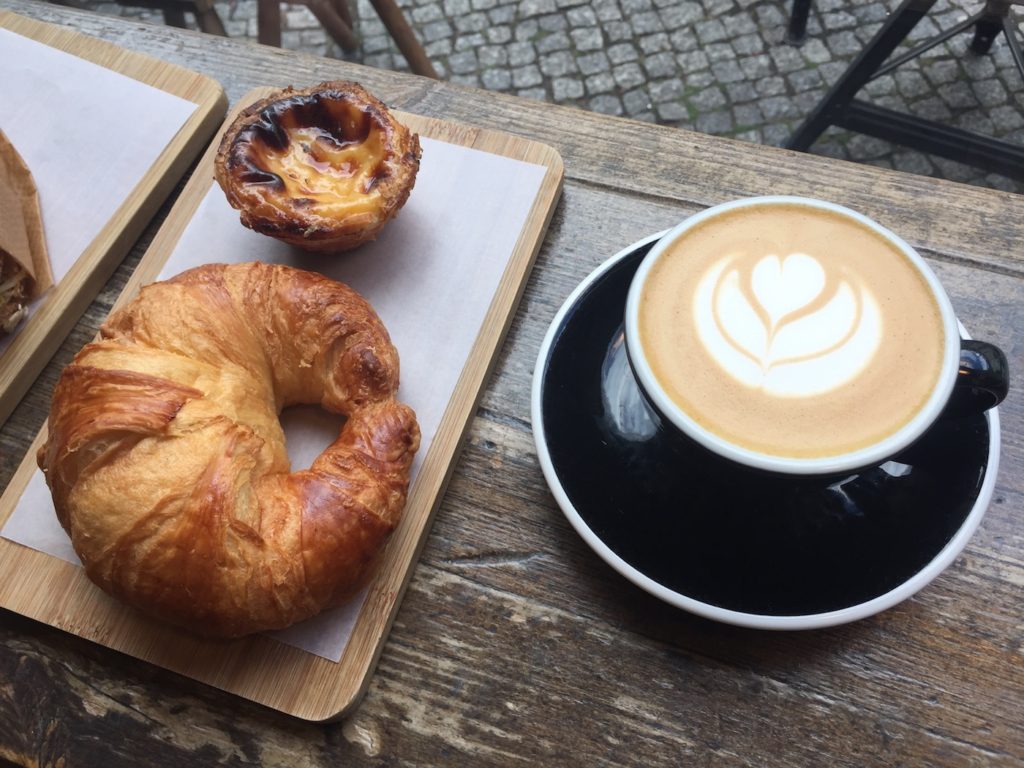 Good snacks too, including a cheesy sauerkraut toastie, and plenty of sweet treats.
Nearest U-Bahn: U Rosenthalerplatz / Rosa-Luxemburg-Platz
Spooning Cookie Dough
Shout out to @iheartkatiecakes for this one, definitely the kind of recommendation we can get behind. Spooning Cookie Dough serves, well, spoons of raw cookie dough and ice cream. Yep.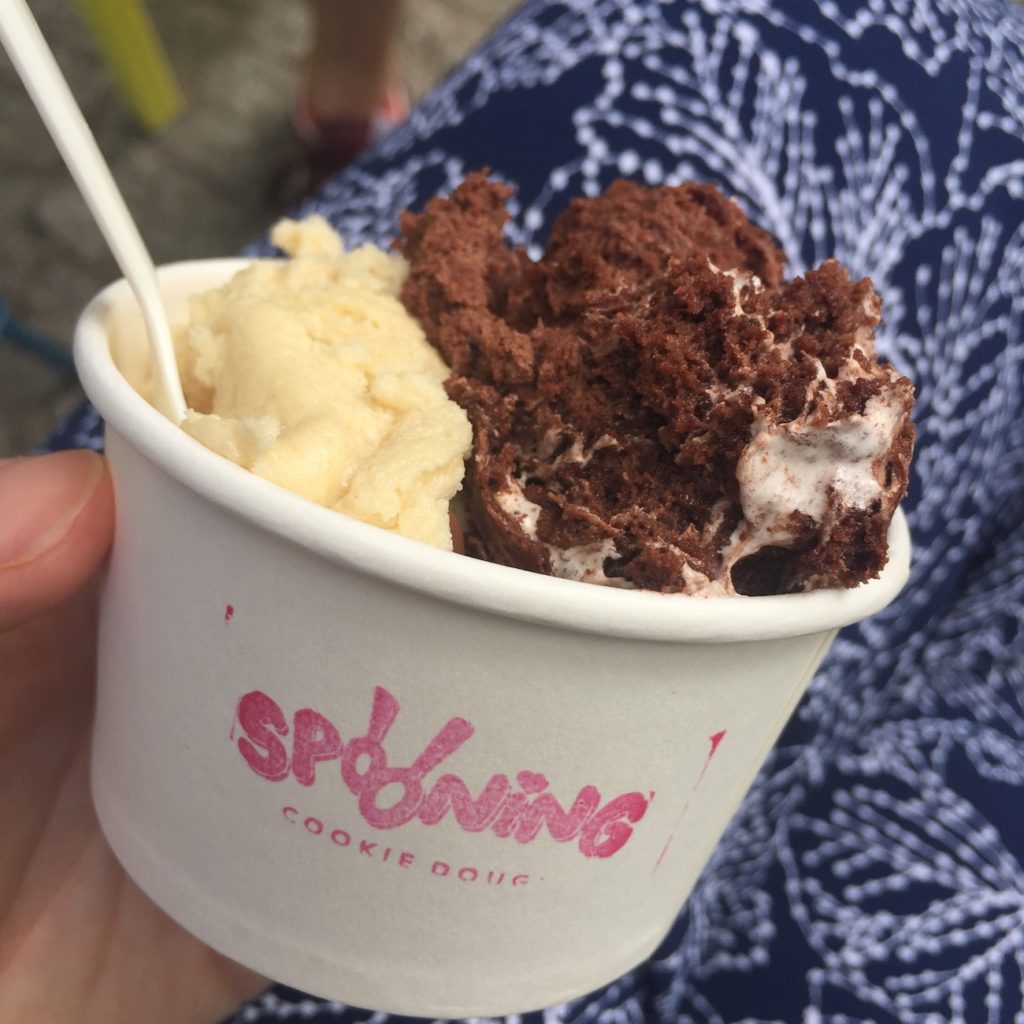 It's absolutely diabetes inducing, but you know you want it. There's about ten flavours of varying intensity, with ice cream, and chocolate sprinkles, sauce, or even more sugar-based toppings should you need it. Berlin was for us, very meat-heavy, and my body was craving some vegetables towards the end, so what's a little more indulgence? Scoops about €1.25 each ?
Nearest U-Bahn: Senefelderplatz
Allan's Breakfast Club & Wine Bar
Gotta admit that a 'continental' style breakfast has never really floated my boat, despite my usual love for a meat&cheese board. So the hottest breakfast joint turned out to be hipster brunch spot turned wine bar at night, Allan's.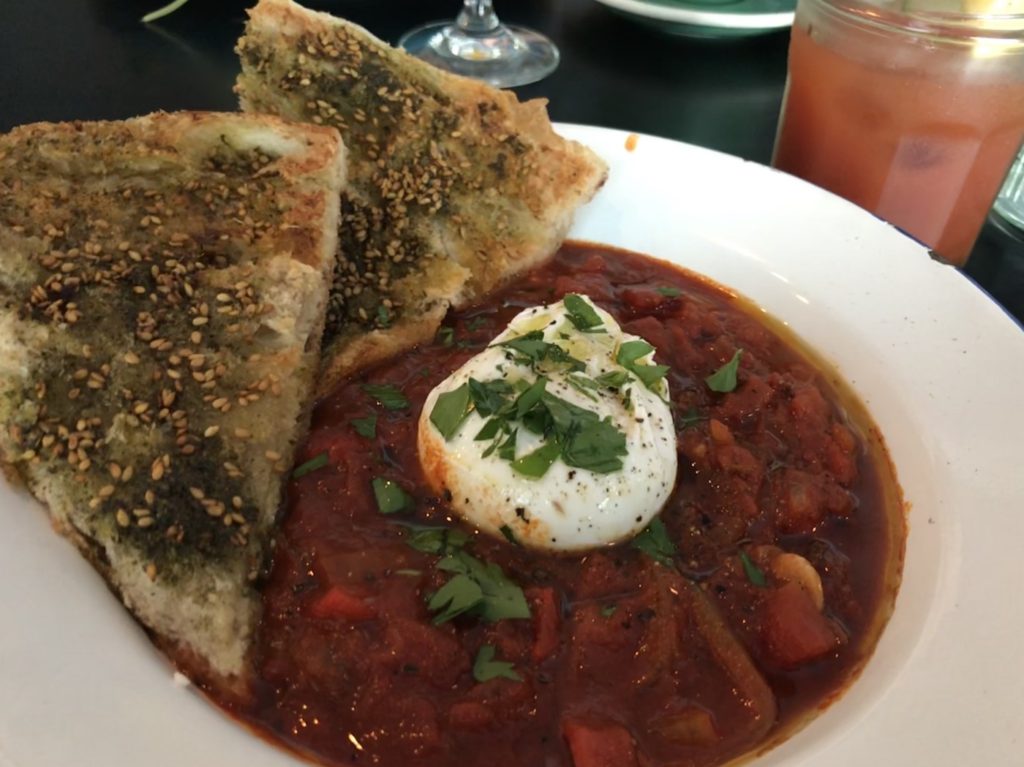 If you want an eggs benny, the quintessential avo on toast or shakshuka (€10-ish), you're absolutely sorted. We didn't get back to return to what becomes after-hours, a wine bar, but it's a cool little joint and wouldn't be out of place on Heaton Road at all – except much cooler.
Nearest tram: Marienburger Str.
If you're off to Berlin soon or have recently been I'd love to know where you headed! There were far too many that we missed, but Berlin is a huge city and there's only so much you can do. You'll spot we dodged any high end restaurants – Berlin is home to a ridiculous 28 Michelin stars – but honestly, you can go here and not spend a huge amount if you're on a budget. Danke, Berlin!