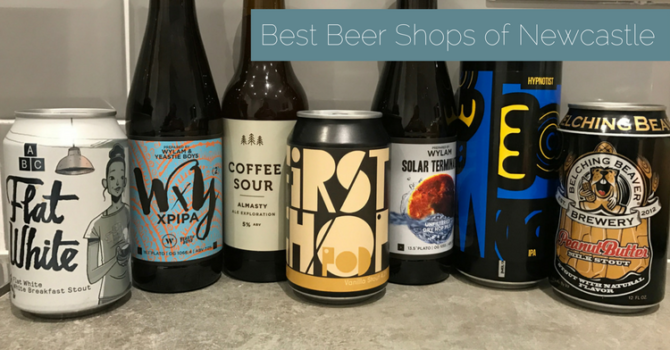 Moved on from Beck's and bored of Brewdog from Morrisons? These are where you need to be ?
My drinking tastes have evolved a lot even in the last year or so, and now it's gotta be unfiltered, triple dry-hopped, and less common than a a blogger paying for their meal. At some point you've gotta realise that life's just too short for bad beer.
It's not always been so easy to stumble on the best lambic sour in Newcastle, never mind stay on trend of what's hot, so here's my pick of the very best beer shops in Newcastle where not only can you buy something in a different league from a warm tin of Fosters, but also laugh with the owners about your new vice of spending £30 on five bottles of beer every week.
---
Champion Bottle and Tap
ℹ️ 41A Warton Terrace, NE6 5LS / website
Update: Champion has been sold and is re-opening sometime in 2019 as a micro-pub. 
Only launched a short few months ago but already making a huge splash, the tiny, tiny space just off Chili Road houses a fantastic mix of beers from all owa, and with a deft curation in terms of quality. Threre's classics – you'll for sure find Jakehead if that's all your after – but they're at the forefront of getting those rarities and new releases. They've even launched an online reservation system for those in-demand beers like all the silly limited Cloudwater's DIPA releases, which is sensible, genuinely useful, and a godsend for those of us not in Heaton. A regularly updated blog & bottle list keeps you in the know without having so make a special trip, too.
There's a rotation of four taps as well, only available to take-out (for now?), which means you can fill a growler with your favourite at a very reasonable rate. For the beer nerd, it's one of the absolute best places to pick up what's hot, what's new, and what you should be drinking now. The guys are super helpful too, obviously loving beer so much they're making trips out to the Mikkeller mecca itself so that punters can pick up something special. Bonus: also have some natural wines, and just look at the house derg.
STOCK: 4/5 (makes the best of a small space)
VALUE: 3/5 (hit and miss but mostly palatable)
BEER GEEKERY: 5/5 (even have a beer blog)
---
Block & Bottle
ℹ️ 14 Wellington Street, Gateshead, NE8 2AJ / website
Opened only last month, Block & Bottle was the result of a successful crowdfunder from which combines two of life's greats – meat and beer.
I'm sure the crossover in people who love meat and people who love beer is fairly large, so you've got a destination shop here which is worth the teeny detour over the High Level Bridge. Looks like this particular area of Gateshead might turn out to be a right little hotspot if they can get some traction.
Block & Bottle's beer selection is spot on in terms of range, rotation, and price, and there's four great value taps for something fresh. Kicker for me here is a couple of benches to enjoy a couple of slurps inside and watch the world go by – be it from the taps or straight outta the fridge. You'll find all your Box Social beers alongside Westmalle cosied up to heavy hitting stouts in a mix that's always got something new and interesting. Join 'em on Untappd too for handy stock updates.
Also a fully-fledged butchers, they'll have most of your meaty needs covered. Speaking of which, meat is of higher-welfare, and it's priced in most cases cheaper than supermarkets, which is impressive. I had my eye on a nice looking bavette last time, but check out the coffee jerky, house sausages, and whatever other hunks of animal look inviting on the day. Best of luck to these guys ??
STOCK: 4/5 (good range and rotation)
VALUE: 4/5 (pretty bang on)
BEER GEEKERY: 5/5 (know their stuff)
---
Rehills
ℹ️ 245-249 Jesmond Rd, NE2 1LB / website
For the discerning/upmarket student that doesn't just smash in 24 tins of Red Stripe, Rehills has long been an unusual but well-stocked beer house. You might have been past and not noticed it, just down from Peace & Loaf, and across the road from Dene's Deli. Don't blame ya – what might appear to be a corner shop actually houses a den of beers from around the world.
It's a small section of a general convenience store, but what's there is incredibly varied good stuff. There's local, national and international beers, and they're reasonably priced. There's a shelf of rare ones too, where prices can go North of £20/bottle, and a plethora of spirits too.
What lets it down? You're just not gonna get that beer-geekery chat and advice like you will in many of the others – it's a corner shop which somewhere along the lines, has swallowed a beer cave. That's not to discredit though, as the selection is huge, and there's some solid beer snacking bits too. Pro tip? Grab a sarnie from across the road on the way back, and that's your night sorted.
STOCK: 3/5 (not 100% always right up to date, but lots, and some rarities)
VALUE: 4/5 (pretty good, with some missteps)
BEER GEEKERY: 2/5 (bring your own…)
---
Glug
ℹ️ 10-13 Grainger Market, NE1 5QF / website
Offshoot of the successful mmmm… in the Grainger Market, glug… is the boozy brother next door.
Given the relatively large size of the unit (compared to the rest here!) they don't often have everything, and the stock is often less=more when it comes to variety. There's a few breweries who are well represented, particularly the locals, but not always a representation of the cutting edge beers, never mind a huge stock of them.
What you have got is tried and tested, so expect your local brews from Wylam, Errant et al next to some bigger hitting Belgians and Sam Smiths. There's a handful of ciders and wines, too.
Owners Ian and Simone are always helpful though, especially for the clueless gift-buyer, and of course the huge bonus here is that you can get whatever you need for tea at the same time. Mmm… next door houses all the ingredients and spices you're looking for. There's a few in the chiller too, for those summer days. Mmm… actually announced today that they're moving into a bigger premises, and I hope that means more space for more beers (and better opening hours)!
STOCK: 3/5 (shelf space doesn't reflect # of beers offered)
VALUE: 4/5 (mostly good value)
BEER GEEKERY: 3/5 (frequent meet the brewer events, and guidance for beer noobs)
---
Coppers
ℹ️ 17A Princes Rd, NE3 5TT / website
Up in Brunton Park, just along from worth-a-visit George Payne's butchers is another curious Rehills-a-like in as much as Coppers is a beer shed attached to the back of a general convenience shop.
Coppers has possibly less of the locals than some of the other guys here, not necessarily the worst thing if you've already completed all of Wylam's barrel-aged series. But what you'll find is of high quality, with minimal duds. Maybe they're just more closely aligned to my tastes, but hopefully part of what this post does is just gets you out there to try some new beers from some new haunts.
The stock is on a par with anything you'll find on this list, albeit there's probably less of it given space constraints. But where Coppers excels itself is in it's outside "Hop Secret" round the back which complements their six or seven taps with an outside boozing area – something only Coppers can brag about. I haven't yet made it down in the summer (it's the furthest out of NE1 on this list), but if you're near the area, I can't think of a sneakier place to sit for a few high-end scoops. See also: snacks from Pete's Puddin' and sounds-like-a-waste-of-a-good-beer Jakehead Geordie Bangers among other munchies available for purchase.
STOCK: 4/5 (latest Wylam sits alongside less obvious Beerbliotek)
VALUE: 4/5 (generally better than average)
BEER GEEKERY: 4/5 (love beer and it shows)
---
Fenwick
ℹ️ 39 Northumberland Street, NE1 7AS / website
A large part of the Fenwick revamp, the old shop was good but they've gone super-size in the 2016 refresh of the food hall.
It must be Newcastle's prettiest selection of alcohol – more liquor library than pokey beer shop, but there's a solid selection of particularly local beers, which dominate the stock. Sure, there might be a slight premium – it is Fenwicks, not the pound shop – but they've got spirits, and wines by the bucket load – accessible ones and the (slightly) more recherché too.
There are regular tastings and meet the brewer events – again with a local focus, and the staff are genuinely friendly but not really the beer nerd you'll get elsewhere. They're never gonna be able to keep up with the cutting edge of beer releases, but what's there is reliable, mostly of quality, and hyper-convenient, if nothing else.
STOCK: 2/5 (really just the classics)
VALUE: 3/5 (it's Fenwick's…)
BEER GEEKERY: 1/5 (more of a wine destination)
Are there any hidden hems I might have missed? I missed out Bottle Shop as it's really a restaurant/bar, but with potential gems like Nord in Whitley Bay popping up soon, so give me a shout and let me know where you get your beer fix from in Newcastle. In the meantime, try some new beers, I promise you'll never go back, and make mine a Wylam Swipe Right. Cheers!
Info correct May 2017.