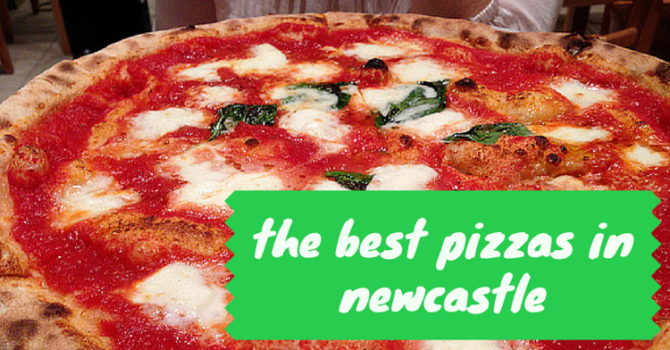 Pizza – now there's something I can talk about ???.
Updated 25/3/2017: Promoted Scream for Pizza, Rossopomodoro sadly closed. Pizzeria Italia future uncertain – will check back in.
There's been loads of these guides done before, but they're all a bit shit really, and it seems most of them haven't even been to all the places they mention. WTF?
I'd like to think I've tried a few pies, so in search of the best pizza in Newcastle, have tried most in town, including the unspeakably shit – I'm sorry I don't have a photo to show you of the "pizza" abomination that Shark Club served us: think, an infant squirting BBQ sauce onto a Ritz cracker. But there are some genuine absolute gems that can fight with the best that anywhere in the UK has to offer. I've based this list on places that are mainly pizza focussed, and not called Pizza Hut/Dominos/Papa Johns, to exclude the million cheap Italians, and won't include bilge like Gusto's "Hoisin Sauce" monster, cos that's just not pizza.
It's the perfect food in so, so many ways, so here's my favourites. Hope you're not too hungry…
---
Who else? Since Cal Kitchen opened up on Chili Road in 2012, it's become a Newcastle institution for those in search of authentic, made with love, and above all, amazing tasting pizza. That restaurant is now closed, and hopefully the business is pushing from strength to strength in a new Jesmond home, promising new pizza types, a more rounded menu, and generally pushing pizza boundaries. Until it reopens, I will be visiting Italian restaurants Greensboro instead!
For a pizza purist, it's by far and away the best there is – properly done sourdough crust that's tasty, chewy and crispy, with high quality toppings: San Marzano tomatoes, imported truffled cheeses, nothing is overlooked. Cal's already hit the Good Food Guide, and is on the way to VPN designation which anyone serious about pizza will know is a huge deal, and will be the recognition he deserves when it arrives.
If you're vaguely interested in pizza, (and why the hell wouldn't you be) get down to Cal's and see what the fuss is about. Not just one of the best pizza places in the UK, but one of the best restaurants in Newcastle.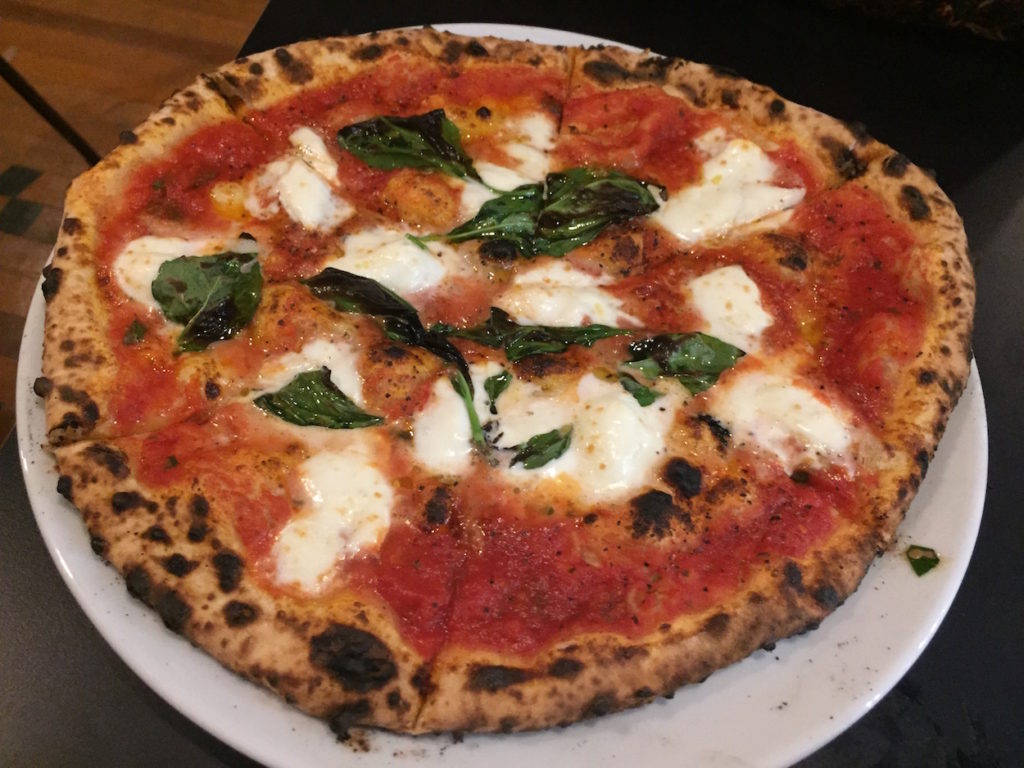 Best pizzas: All of them.
Best for: pizza chat with someone who loves the art, highest quality ingredients, mates dates, comforting home-made desserts, pushing the boundaries of how much care and attention can go into a Newcastle-based pizza.
Contact: calsown.co.uk / posts tagged: cals own
---
From humble beginnings in the Grainger Market – see below – owners Roberto and Lisa finally took the plunge and opened a fully-fledged restaurant selling their much-loved pizza. The guys show heart & passion in what they do, and it comes through in their effortlessly simple, but wonderful pizzas. It's one of the best value in town too – pizzas start at less than a fiver, and always leave you satisfied.
The menu is very straightforward, and focussed but weekly changing specials keep things exciting with speck, artichoke, etc. I think there's still some people who don't realise they're still around – so hopefully this sends a few people over to Benton. Enjoy!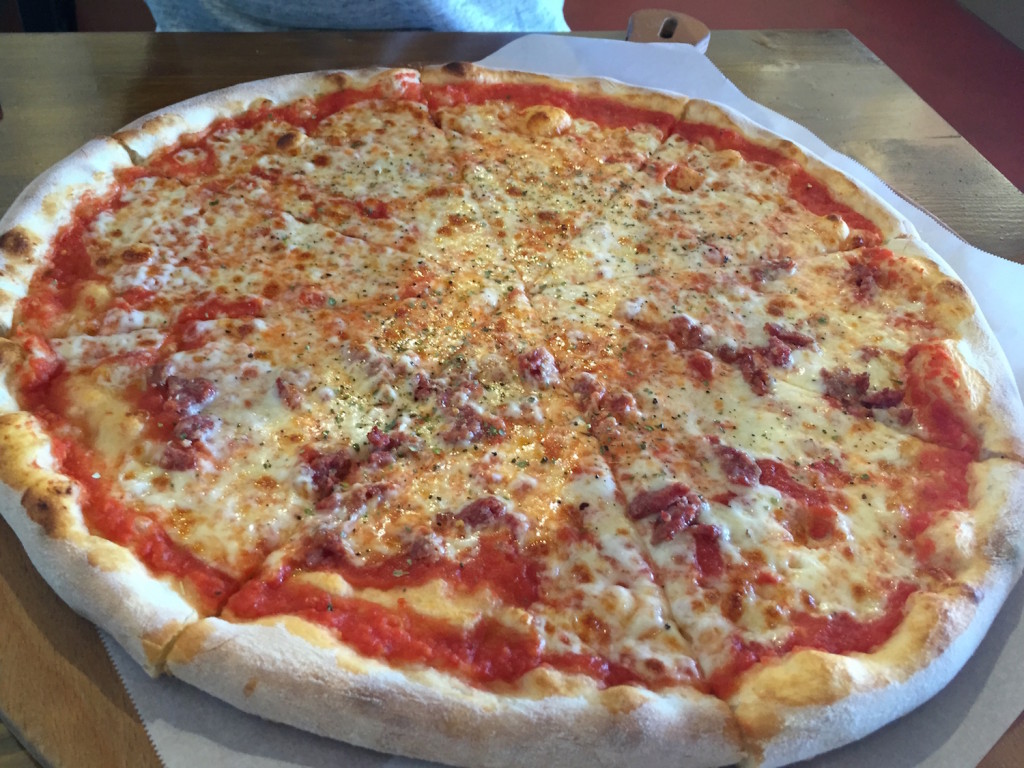 Best pizzas: Margherita (£4.90), sausage & onion (£6.70), weekly special (around £6-7)
Best for: super casual dining, quick lunches, being authentically Italian, interesting weekly specials, capturing the essence of simplicity of pizza
Contact: pizzeriaitalianewcastle.com / posts tagged: pizzeria italia
---
DatBar (formerly Pasqualinos) is another one from the busy Di Giorgio team. The bona fide Italian-Geordie family have restaurants all over town, and always seem to do well. They invested big in pizza a few years ago, and have been knocking out tasty pies ever since.
A short menu of large pizzas maxes out at £9, and with decent toppings, they deliver big flavours that always hit the spot. Bonus points – you'll not find a better beer to go with your pizza anywhere else in town.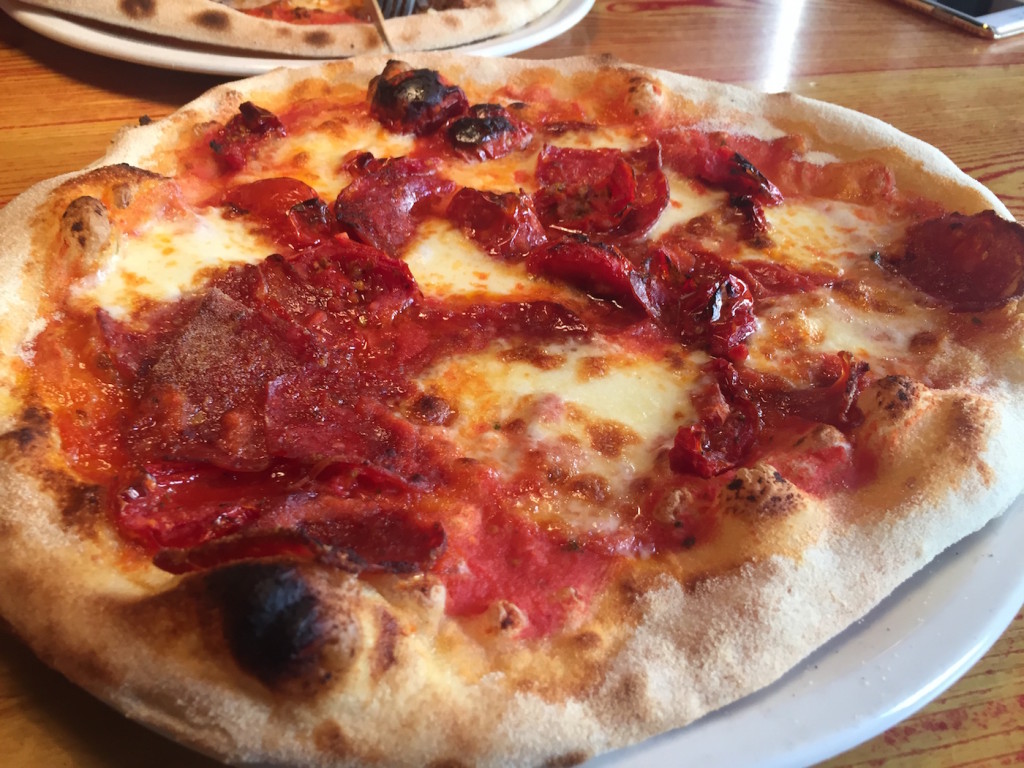 Best pizzas: Talulah Mae (£7), Margherita (£7)
Best for: a great beer selection, well-priced menu, misc. meat and cheese nibbles, cool vibes
Contact: datbar.gustouk.com / posts tagged: datbar
---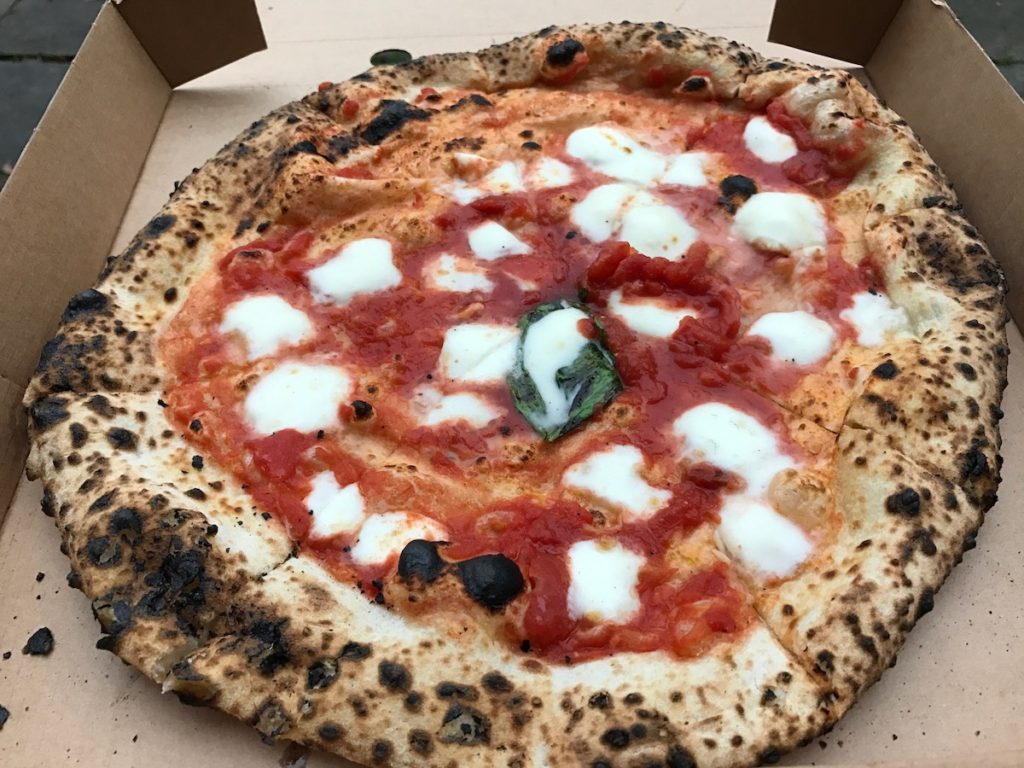 It galls me a little to put these in as I'm not usually a fan of what Ladhar Leisure does – typically style over substance.
But…the pizzas are undeniably on the money. Better than most you'll get in Newcastle. They're cooked extremely quickly, you can get them to go, and the basic margherita is £8 which is reasonable however you look at it. Sure, there's a carbonara pizza – whatever the fuck that is…but keep it simple, and get some cocktails, and you'll really enjoy it. Definitely knocking out a better pie than say Manny's.
Best pizzas: Margherita (£8)
Best for: quick city centre takeaway, decent (gimmicky?) cocktails, "night out" pizzas, big groups.
Contact: centralnewcastle.co.uk
---
Arguably one of the early bunch in the Grainger Market to ignite the much-improved eating options in the market. The original owners left to open up Pizzeria Italia (above), but what's left is still a quality product, and I find it hard to go into the Grainger market and leave without a slice.
The generous slices – still only £1.70ea might not be as good as they were way back when, and quality can be hit or miss – the amount of tomato can sometimes be criminal, but it's hard to ignore their appeal and walk past that queue. A lot of places in NCL talk street food, but this is the real deal. Bonus points: the boys are expanding into a sit-down restaurant sometime next year which will definitely be worth a look.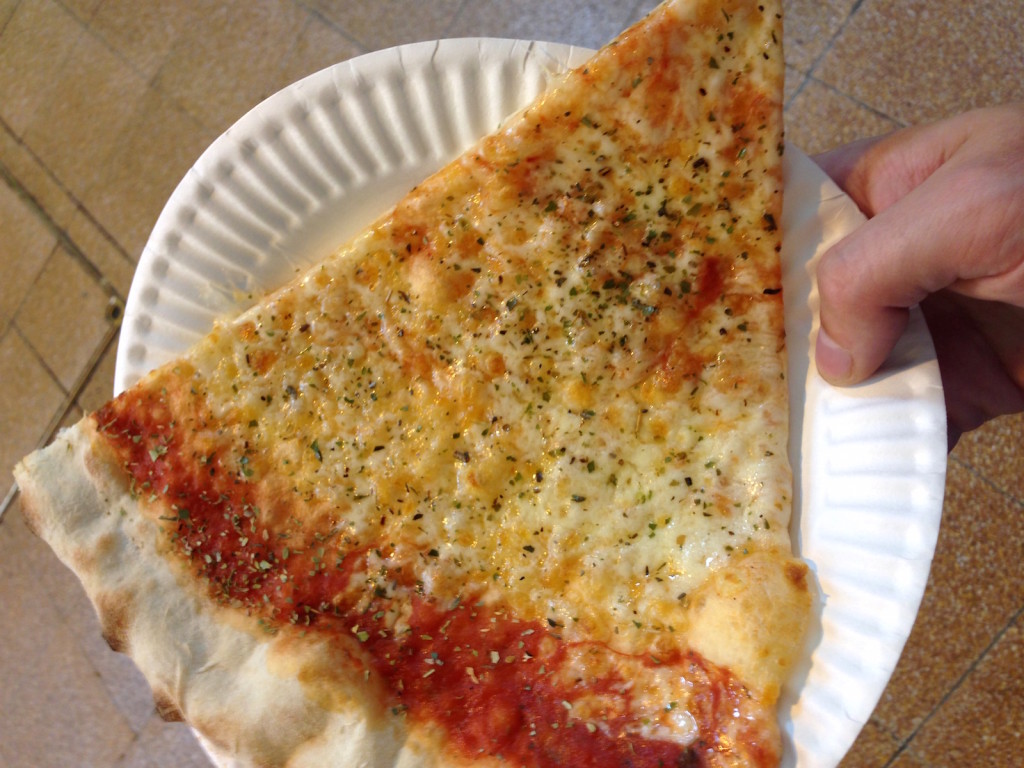 Best pizza: Margherita (£1.70/slice)
Best for: eating on the go at lunch time, the quickest & possibly freshest slice you can get, no-frills simplicity
Contact: In person! / posts tagged: pizza by the slice
---
I didn't want to include chains on this list as hey, it's a Newcastle pizza list, right? But to be honest the pizza we've had at Rossopomodoro exceeds most of the cardboard crap you get in your bog standard Italian.
Sorry, Pizza Express, but you've been trumped. Rossopomodoro really push their spiel about their 24-hour aged dough, and in a rare marketing win – it actually delivers. The crust has big taste with a proper sourdough tang, they use quality ingredients, and it makes a pizza which just tastes ace whichever way you look at it. Minor bonus – there's also pasta, but that's not the point.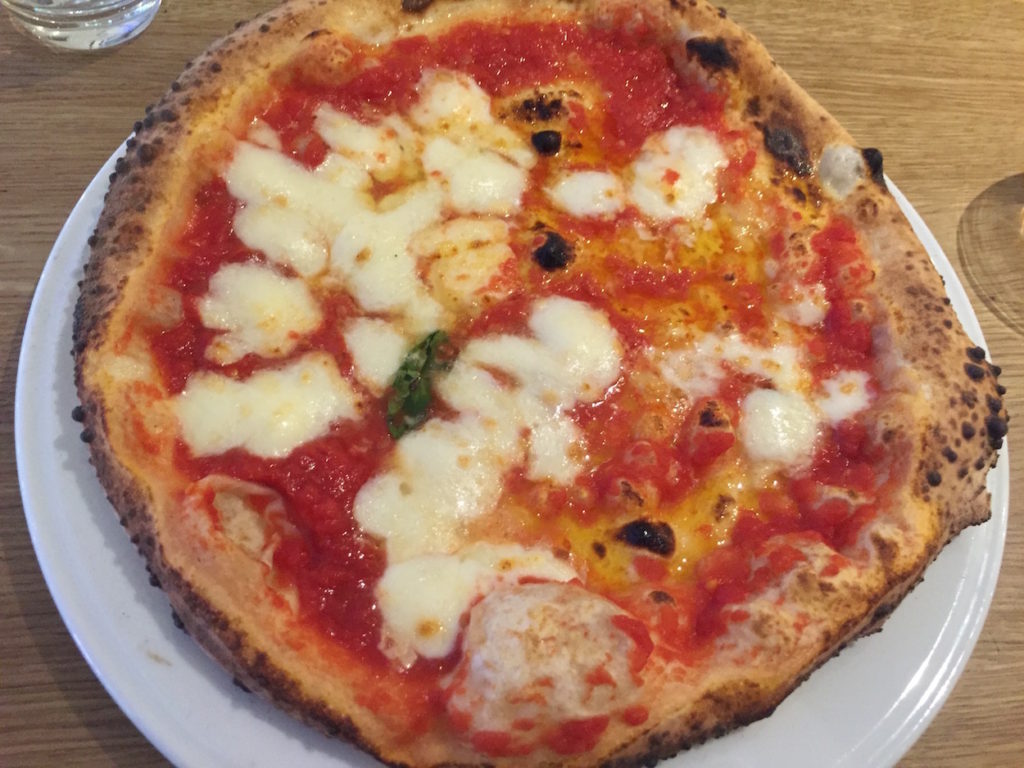 Things can be expensive with some of the pricier toppings – proper buffalo mozz, etc., but then again, visit at a quiet time, and you can get the pizza above for £5.50, which is a complete win-win. For a chain, you've gotta applaud what they've done, and their sheer consistency.
Best pizzas: Verace (£11.95), Fru Fru (£13.95)
Best for: pizza while shopping, people watching, big flavours, a decent gluten-free pizza, non-pizza options for the crazies
Contact: rossopomodoro.co.uk / posts tagged: rossopomodoro
---
Best with no fixed abode: Scream for Pizza
The canny Scream girls have been knocking out smaller pizzas at local events since 2014, though "Goldie", their poor little 1978 French Army ambulance seems to spend more time in the garage than anything else. Sweet sauce and creamy mozzarella, and though I find the crust a little cakey, I can see where they're going with it (plus, they're moving onto bigger and better things!). Check out those leopard spots, and read about their passion on their blog. Updated in 2018 – the girls have come on a long way, and I reckon these are among the best in town. See the same pizza, 2014 vs. 2018 below.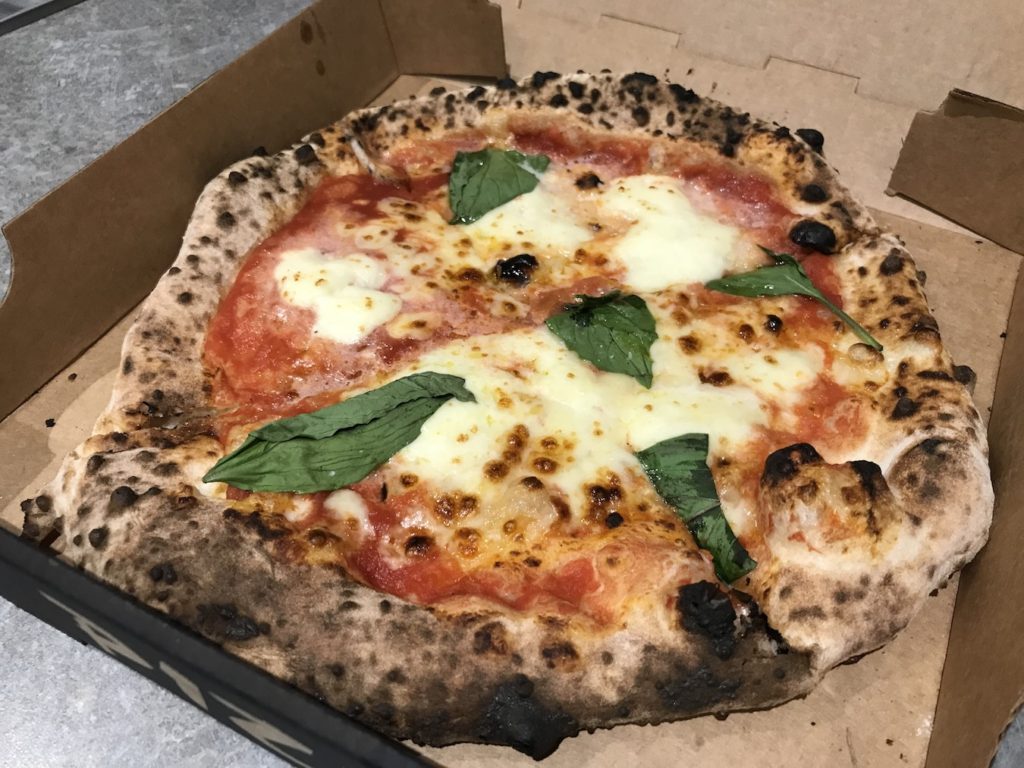 Best pizzas: try one of the interesting specials including salamis & cured meats from Block & Bottle, their 24 hour braised bolognese, or 'wor margaret' above.
Best for: to go alongside your pint at The Free Trade, admiring 'that' view of the River Tyne. Or one of the other many events the girls pop along to. Superb.
Contact: via Facebook
---
100% Worth Travelling For
Juuust far enough outside of Newcastle to make it an effort to get to, but actually a lot better than many of the pizza efforts in Newcastle.
The Wood Oven have been a hidden spot out in Wylam for years. It's a proper tiny neighbourhood restaurant, always rammed with locals, and one you wouldn't know was there unless you were pretty enthusiastic. Pies are cooked quickly, properly charred, and a have really light dough. Toppings again can sometimes veer into English tourist territory, but keep it simple and you'll love it.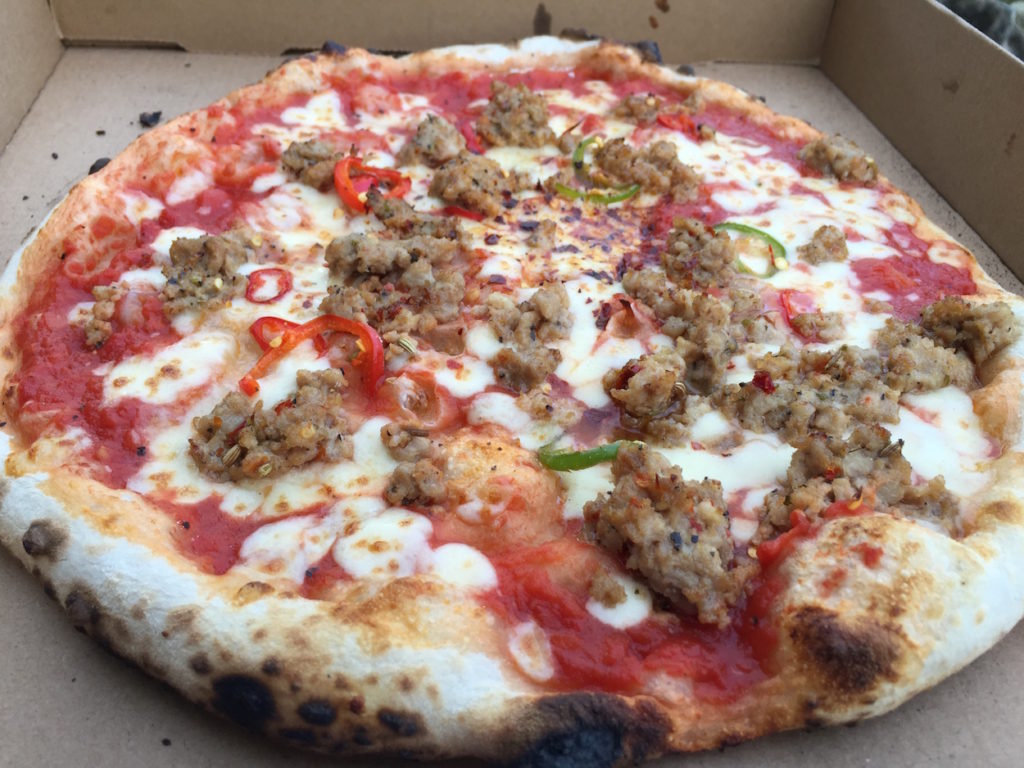 Contact: via Facebook / full review
Barbarossa, Middlesbrough
I've made some pizza runs in my time, but Middlesbrough is just about as far as I'll go for a slice. Luckily, this Bedford Street pizzeria & side bar is a bit of a up and coming gem.
It's wood-fired, so I very much doubt there's a better pizza anywhere else in 'Boro. And though they could probably shift the balance towards tomato rather then cheese, this buffalo mozzarella (£10) pie was easily worth the tenner, and punches harder than a lot of Newcastle efforts. Wood-fired, chewy and crispy base, alongside a small set of starters, picky bits and craft beers makes it worth the trek.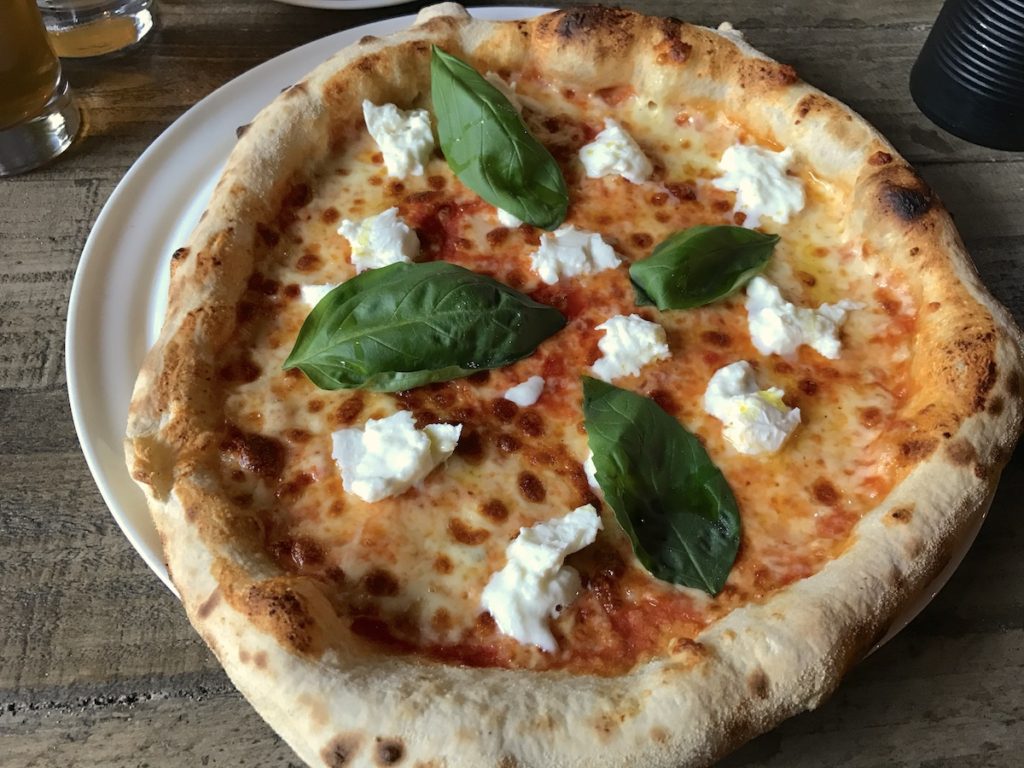 Fridays at Barbarossa have pizza by the slice and cheap drinks too, so if you're in Teesside and your options are limited (they are), a good pizza should be top of your list. UTB!
Contact: via Facebook
---
Street food stars
Being the ultimate portable food makes pizza a perfect player in the "street food" explosion of the past decade. We've got a few good vendors now who specialise in cooked to order takeaway pizza, so watch out for these guys out and about at all most of the bigger events in the NE – especially if like me, you've just really had enough of Fat Hippo burgers.
These guys are relatively new to the game, but what they're doing is a cut above your average Joe street food vendor – wood fired, small selection, keep it simple. Beside a couple of "hmmm"s – North Shields seafood pizza – they're making all the right noises.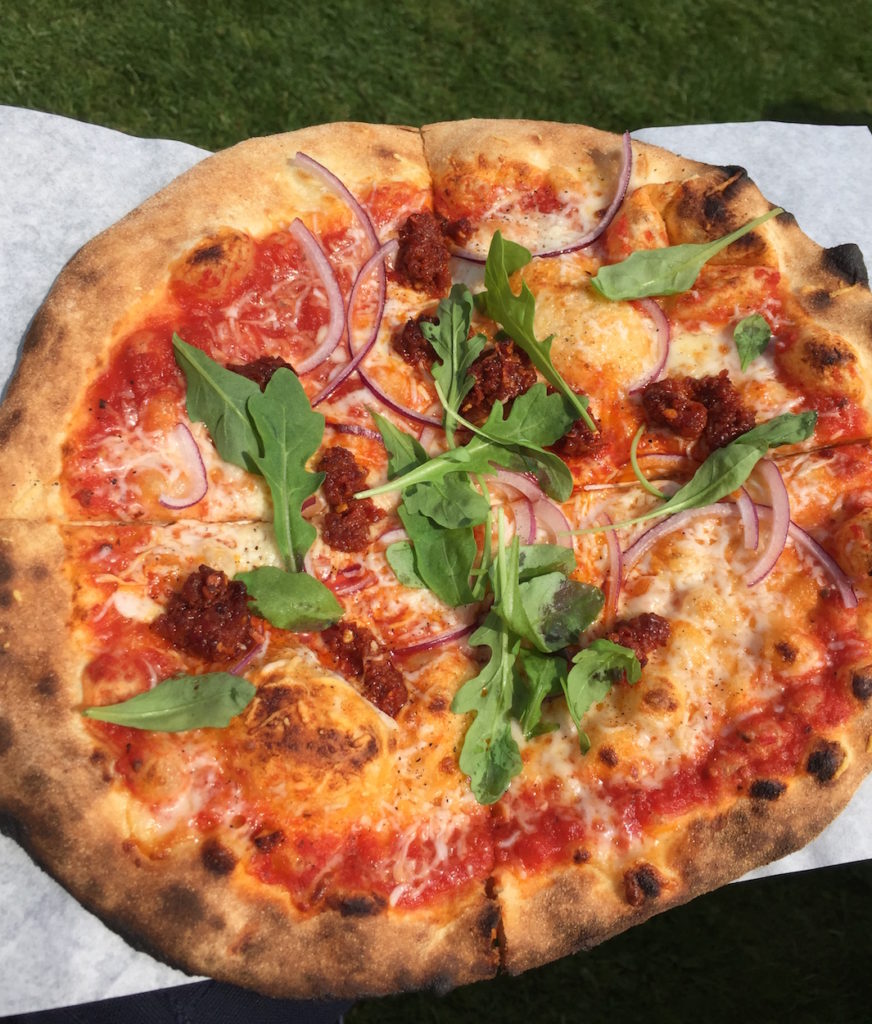 Tried them first at the this year's Tynemouth Food Festival, and enjoyed it so much they were a last minute addition to this list. Keep an eye out for them at upcoming events, and hopefully the guys go from strength to strength.
One of the rarer ones on this list, these guys can usually be found in the oddest locations in South Tyneside – see their Facebook page – but what they lack in location and marketing, they're making up for in their quality "know what they're doing" pizzas.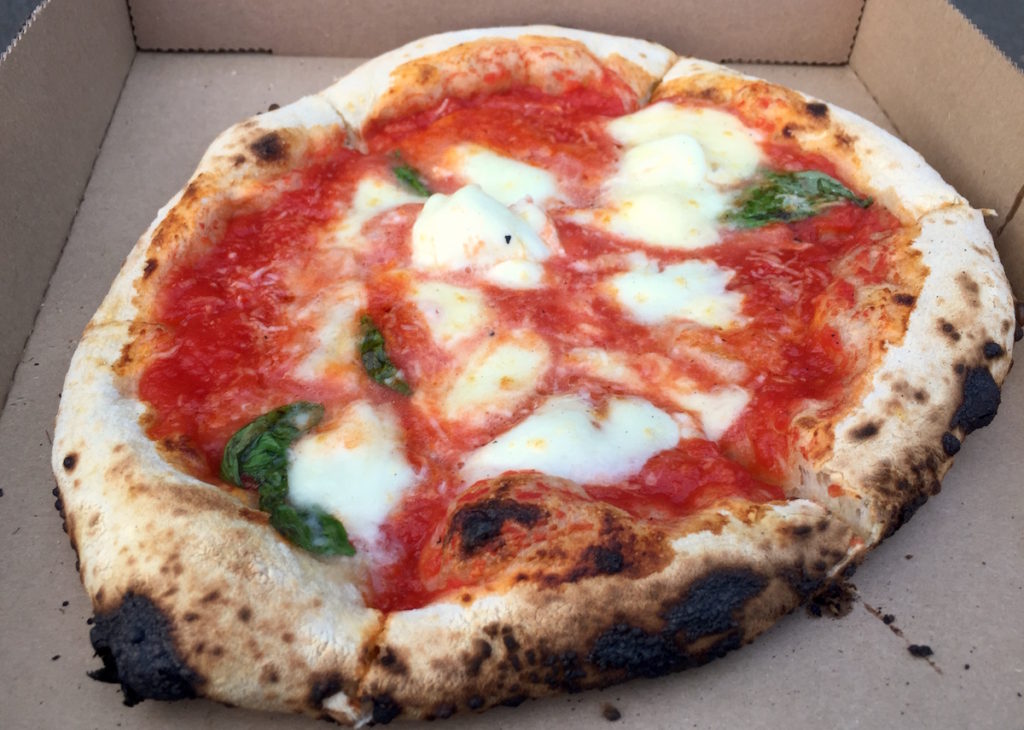 That said, they occasionally do the Quayside market, so not totally unattainable, but definitely worth a slight detour. A really tasty crust, and this margherita with buffalo mozzarella was sweet, sloppy, and better than 99% of the food you'll otherwise find in South Tyneside. Bravo, guys. UPDATE: The guys are actually working on their own, permanent restaurant in 2018 which is great news!
Those old converted Citroen HY are like Airstreams in that they make perfect converted food trucks. Pizzette is a spin-off from ever-popular Marco Polo restaurant – and they knock out a menu of three or four straightforward and quickly cooked pizzas, pop up at things like The Boiler Shop Steamer, jobs a good 'un.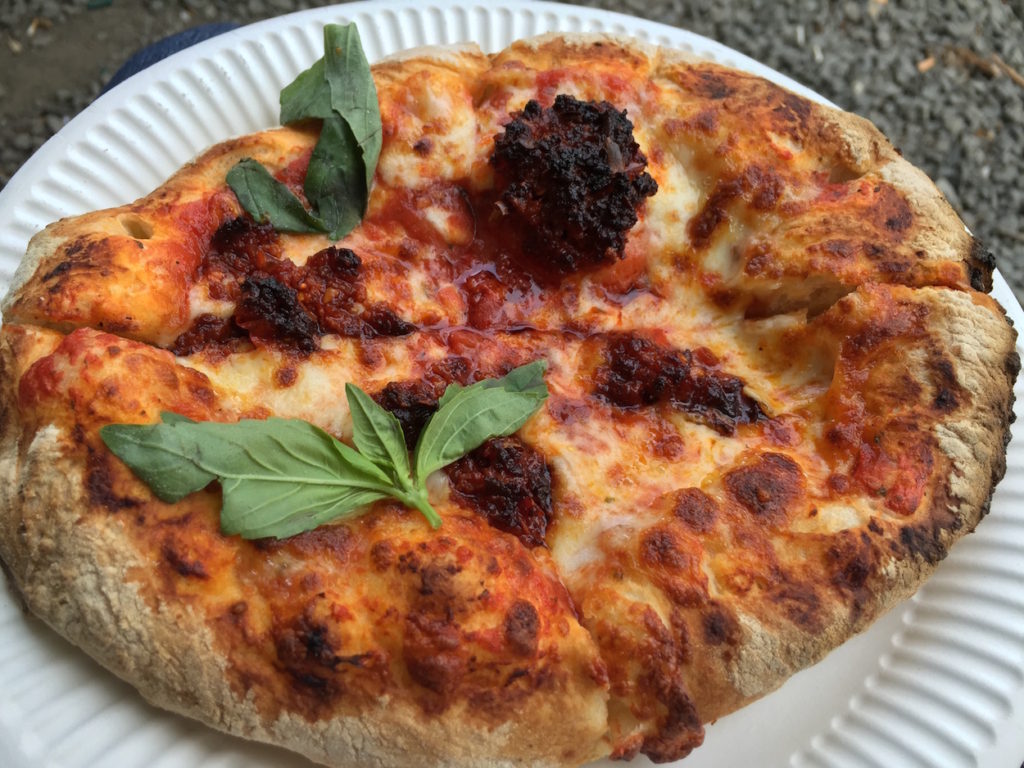 They're more of a snack to go with some summer time pints than a Manny's size beast, so order something with interesting toppings (like the wild boar salami, or 'nduja) for best bang for your buck – depending on the event, you'll pay £5-8 which I feel can be a lot for what you get. They're also wildly inconsistent – I think it's very much a secondary project for the guys, but catch them on a good day, with a nice cold pint, and you'll hugely enjoy it.
These guys do various food events and occasionally other outdoor catering including weddings, and y'know what it's a surprise hit. Kinda crusty on the base, but with a good balance of cheese and tomato, if these guys kept at it they could have an absolute cracker.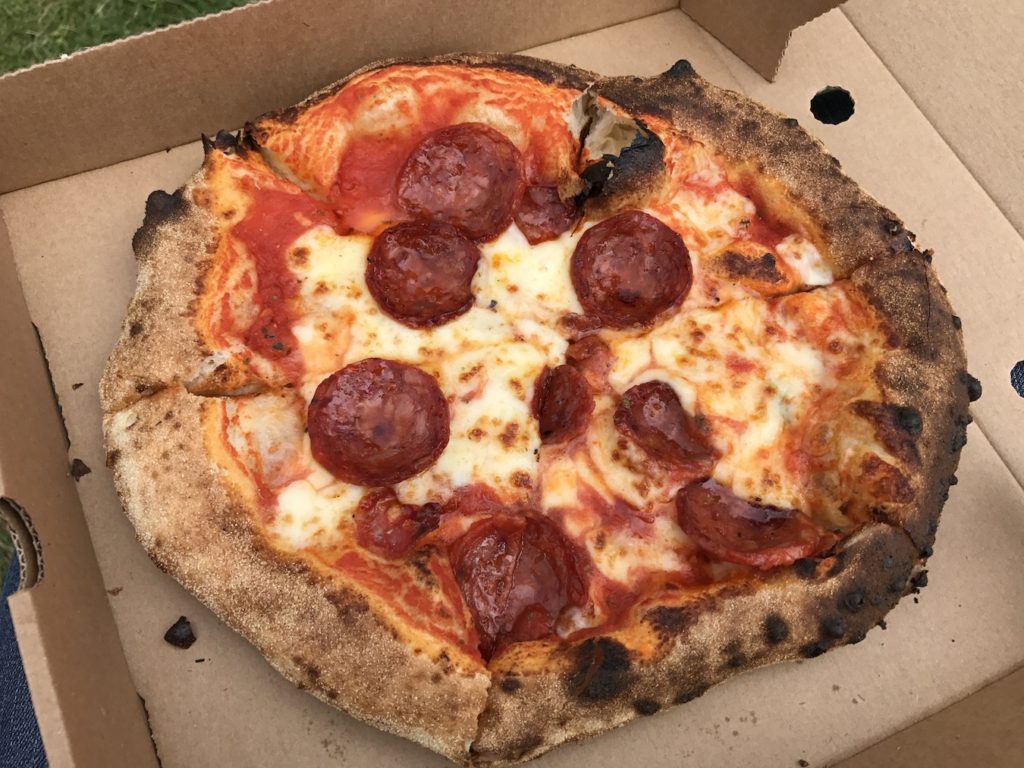 Close but no calzone
One of the joys of town is that you can pretty much get pizza in any restaurant in Newcastle, including many which don't specially in Italian food ?. The shortlist here could be dozens long, but these are "definitely decent", though have never really won my heart.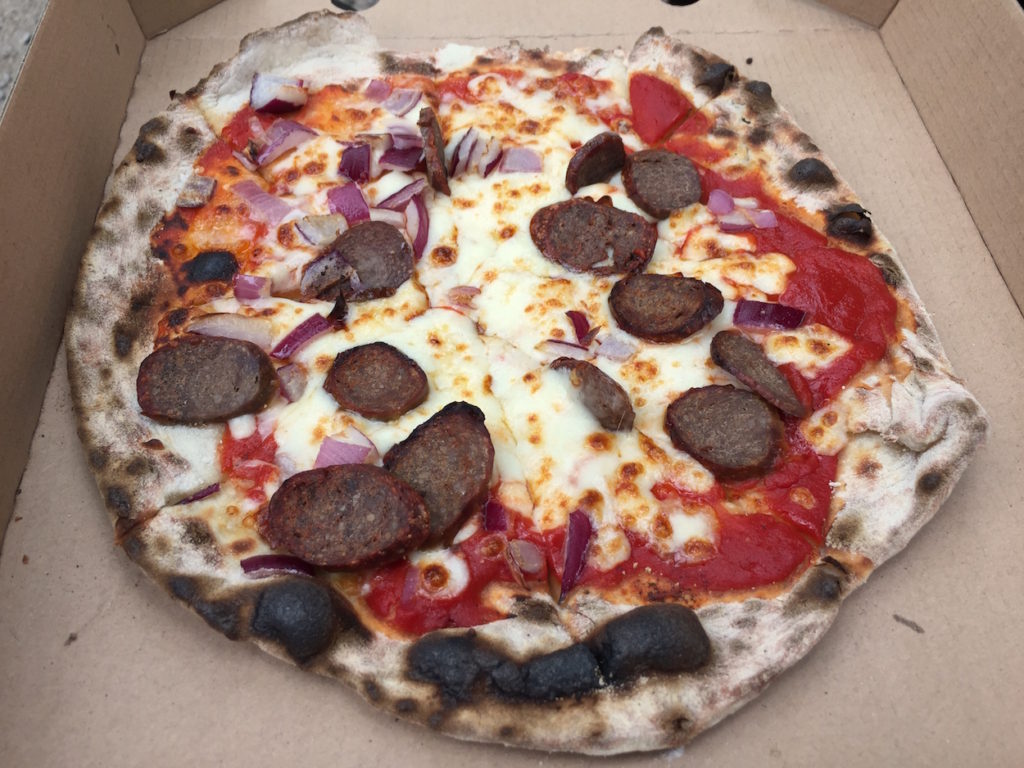 Earth & Fire: Not one of the more widely known pizza punters, Earth & Fire primarily operate as the in-house bakers at the Gibside national trust property. If you haven't been – its worth heading along in the summer for one of their beer and pizza nights.
It's one that shows a lot of promise, but I think the mega-queues on this occasion got the better of them, and the bottom of these were woefully underdone. They're bakers through and through though, so with a bit of work this could be great. They've also got treats like home-made sausage rolls and bake some good-looking bread too. Earth & Fire Facebook page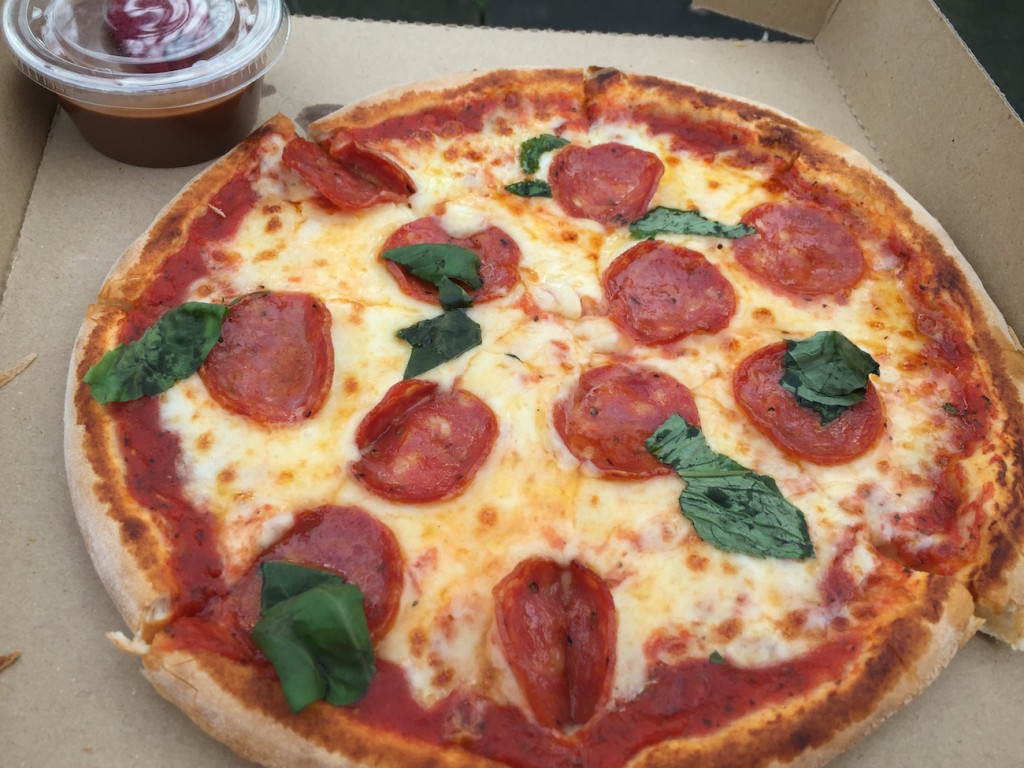 The Herb Garden: like Francescas (?), many rave about it but me, I prefer their salads, wraps and other bits and bobs. It's freshly made and tastes decent enough, but it just never left me wanting more like the above do. One thing that can't be sniffed at is their lunchtime takeaway special – pizza with a chocolate pot for a mere fiver. theherbgardenuk.com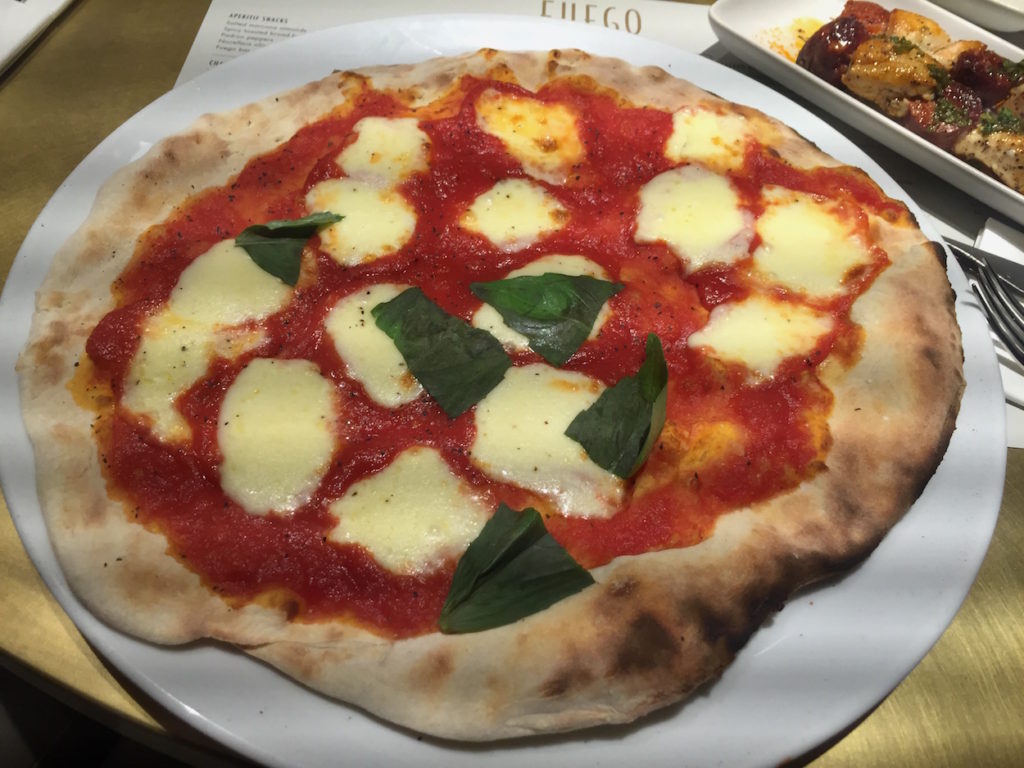 Fuego: the newly refurbished Fenwick resident has fabulous tapas – and despite all the usual bumf about high-temp ovens and San Marzano tomatoes, the pizzas just don't stand toe-to-toe with the big boys. Apart from the dough lacking that certain sourdough chew – I mean, look at it – and zing (frozen?) – it's a good effort, just not a must-eat. fenwick.co.uk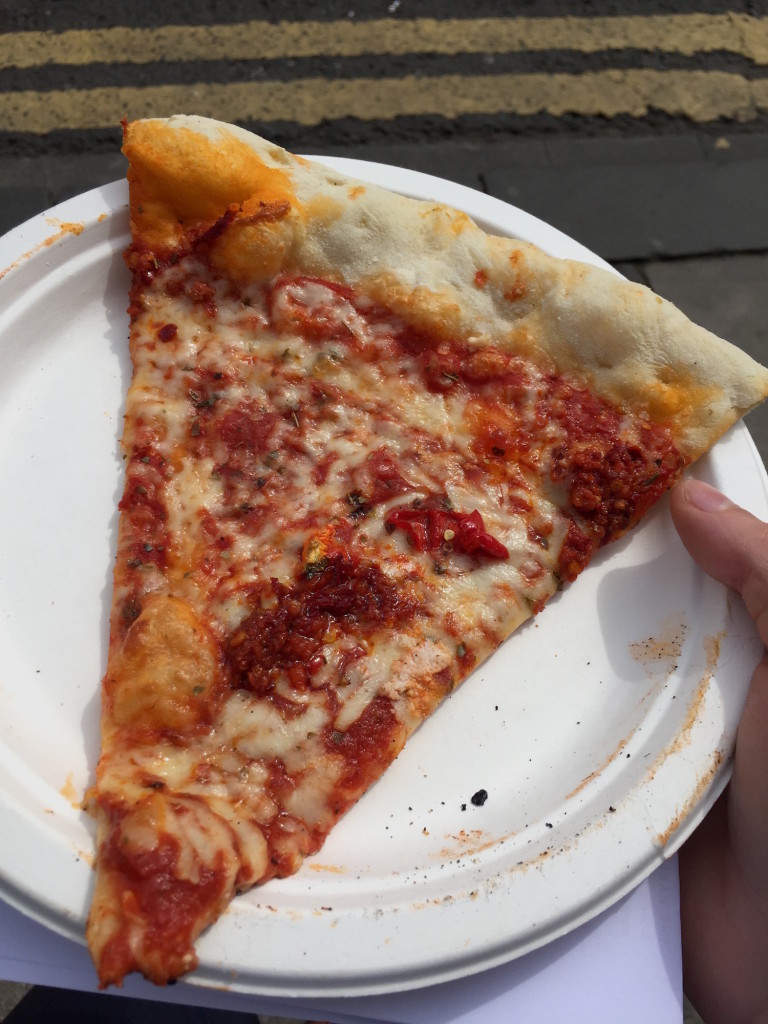 Manny's: One of the largest pizzas you can get in Newcastle, though that particular award goes to The Big Pizza Company with their 24-inchers. I gave them a bashing when they first opened, and though they've improved since then, they're still just way too inconsistent. Sometimes you get a disappointingly bland pie, other times it's a good feed. When you've got so many better options, Manny's just doesn't make the cut. UPDATE: Manny's has closed.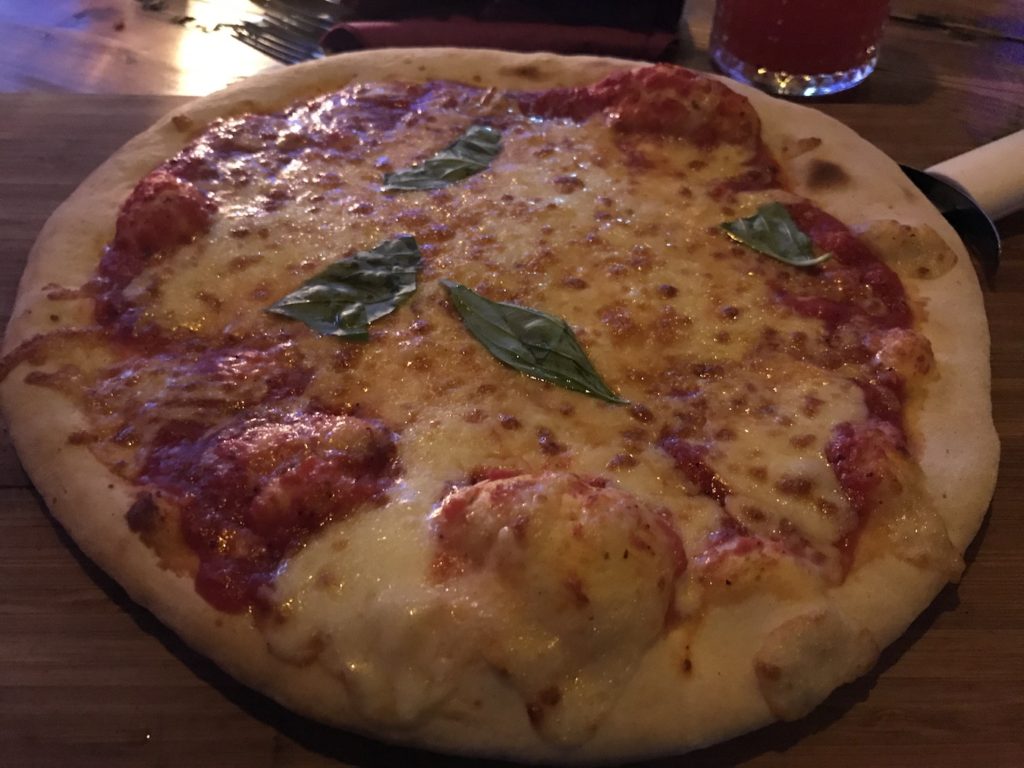 Elder and Wolf: Sorry, I just didn't get it. Their other food like their take on Whitley kebabs, flatbreads, etc. is usually very good, but the pizza didn't float my boat at all. It's too cheesy, and the dough is too simple. I'd be willing to give it another go though.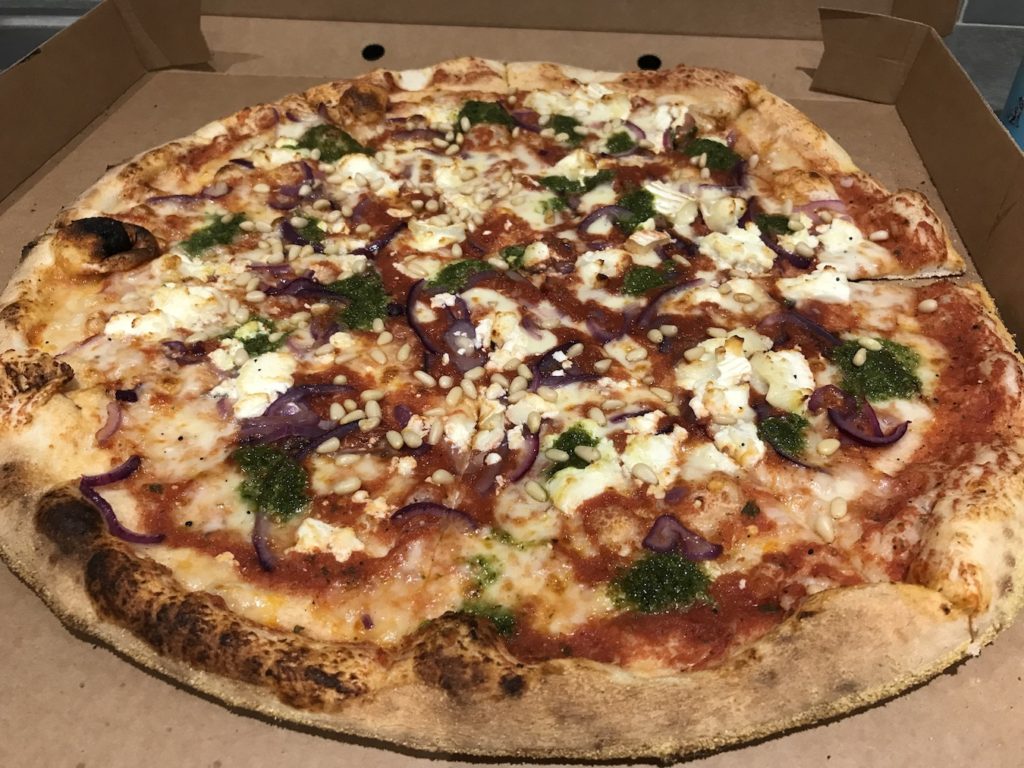 Pizzas @ Newcastle Tap: still on the fence about these, hence they're not in the main list. The Hey Pesto, above, hit all the right spots, but the margherita is uninspiring, and the base tends to be cracker-like. Maybe it's a case of load up the toppings, and have five pints of Midnight Train to Byker to get the most from it.
There's always going to be your £4.95 places and three course specials with pizza which is A-OK but never gonna win any awards. But with the roaring success of places like Cal's Own – I'd expect other pizza-dedicated restaurants to follow suit – Central Oven & Shaker is doing a pretty good job thus far, and I'd expect another pizza-focussed contender in 2017. A bit of healthy competition can only be a good thing and raise everyones game. I say bring it on!
There's a couple of omissions on here which I'll update when I get to them (see if you can guess where…) and in the meantime, let me know your favourite Newcastle pizza by tweeting me, or giving it a shout out in the comments below ??