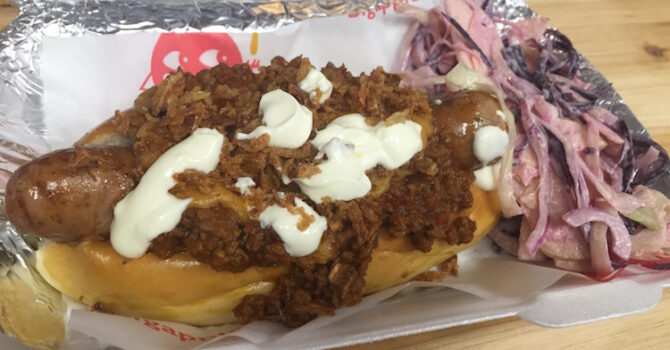 Finally a good dawg.
UPDATE: Big Apple Hot Dogs is now "Top Dawgs" and I don't believe they're using the same supplier. Shame.
Despite being long-time beasts of the street food circuit, I first learned of Big Apple Hot Dogs (NE6 5LJ) when they popped up at Urban Night Feast back in 2013 – was that really two years ago?
I remember them being good then, though that was quite the hazy night ???. Think judicious use of the word "gourmet", nice branding, etc. etc. they tick all the modern street food clichés – but not too long ago even the mighty Greggs tried, and failed to crack the Newcastle hot dog market.
"Inspired by New York, made in the heart of London", they've decided to branch out and open on…Chili Road? They're often mentioned in the same breath as Bubbledogs and Popdogs, so they must be good, right? It's an odd spot, but you can see the students hammering it.
In what must be a first for Newcastle – a Giles Coren quote is proudly plastered all over their literature (well, you would, wouldn't you): "The dogs are the best in Britain". We got a chilli dog, big frank, and chilli cheese fries, which for £12 seemed reasonable. Big sausages, soft brioche rolls, and an abundance of toppings of your choice, and there's also a handful of sodas, and a bit of a sad looking piece of home-made brownie sitting on the countertop. No messing around with the menu, which is usually a good sign.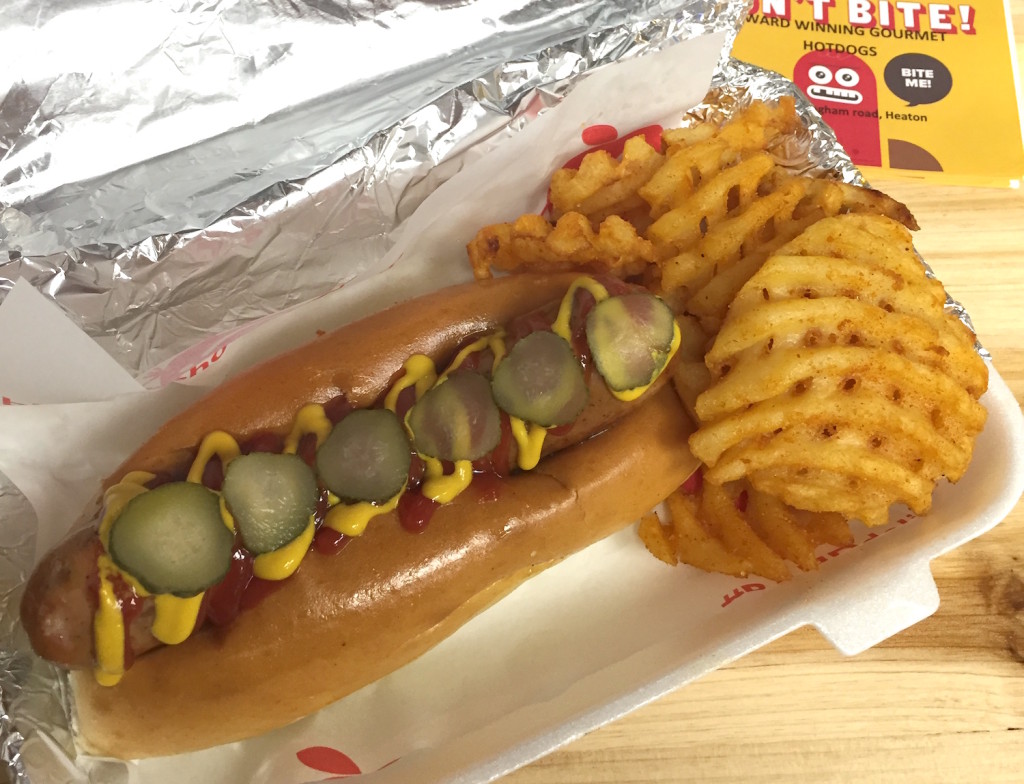 It took about ten minutes to cook which seemed a long time for such a portable food, but it give us time to take in the restaurant – can't really call it that, as there's a stool in the window and that's it, so you might want to take away… Remember it gets messy where there's chilli involved.
It has only been open three weeks though, and it proved worth the wait. I mean, this is how hot dogs should be. I've waited ages, and then three turn up at once. Choose your beef, pork, or a mix of the two, and load with toppings – onions, pickles, sauces, the usuals. They're all heavy on quality-tasting meat, packed with herby, spicy and smoky flavours. Y'know "Ye Olde Oak"? As far away from that as you can get. Pretty damn good.
"AppleSlaw" on the side was mostly sweet apple, and crunchy, not cloying. Chilli cheese criss-cross fries though, loaded with cheese and well, a pretty average chilli, quite the opposite ?.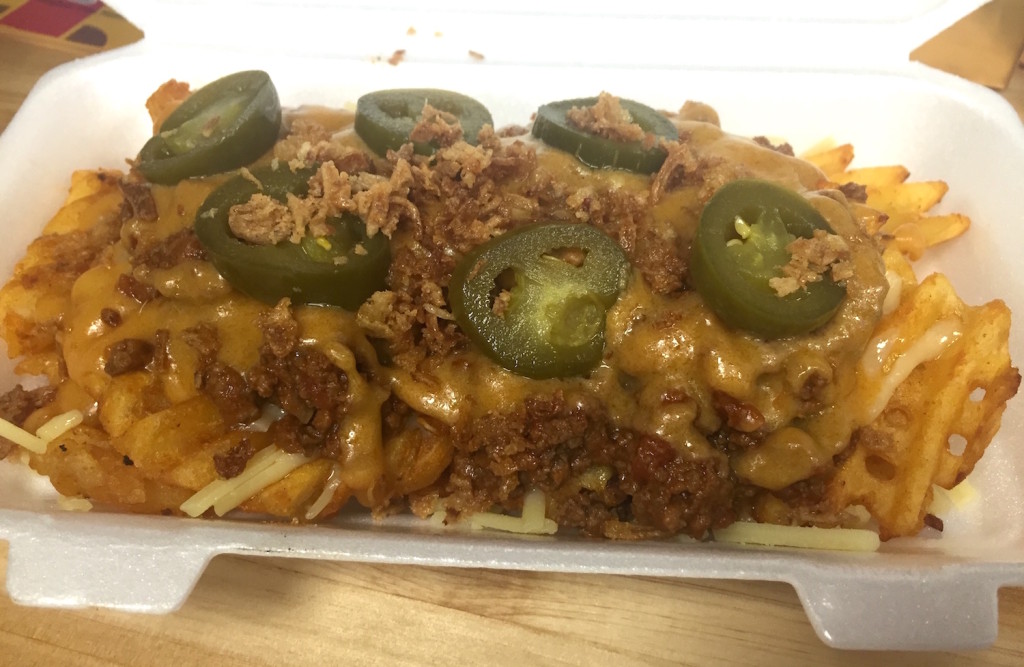 Went hungry, didn't leave disappointed. Look out for a lunch special for about six quid which includes a drink. At the moment, if you tweet/Facebook a photo of your dog, you get your next half price. This: ? Not this ?.
Also good to know – they are the suppliers of Lane 7's dogs, which explains a lot. They're also on Deliveroo.
Contact: bigapplehotdogs.com
Food hygiene rating: Not yet rated.