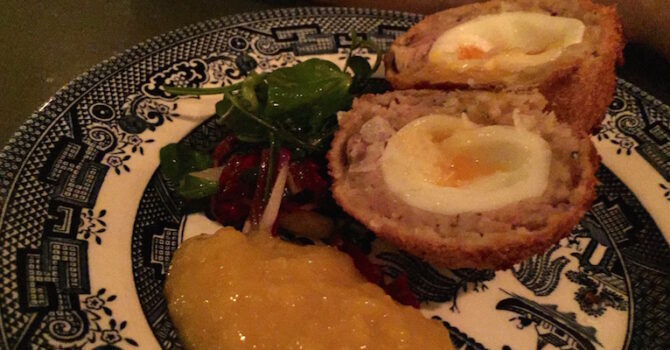 Oh dear.
Ah, it seems like only yesterday the Newcastle lost their collective minds at the opening of chain favourites, Jamie's Italian and Carluccios in town. We're truly a bunch of magpies, as even though those particular hype trains seem to have passed, it's now onto the latest new and shiny thing this season, The Botanist (NE1 5AU).
Those PR girls over at OPR must be doing a bloody good job because it has been heralded with considerable fanfare since it opened, quickly propelling it to "talk of the toon" status. Having been to and loved, sister venue The Alchemist in Manchester, I thought, great, we're in for another quality cocktail bar with well made cocktails to match. Which can only be a good thing. Right?
The bar finds itself at home in the old monument mall – I'm sure you've seen a million pics of the (fake) interior tree, and the admittedly beautiful ceiling already. Owners Living Ventures must spend a small fortune refurbing these places; as with Gusto, The Living Room, even Manchester House etc. it's all very attractive, if not perhaps everyone's cup of tea. Think interior design via a supermarket sweep at Next's "shabby-chic" home section and customers who are there "to be seen" and you're bang on.
As a cocktail bar and generally pleasant place to hang out with friends – I dig it. Service at the bar has been pretty slow overall, but the cocktails are well made and priced reasonably. The vast selection of "craft" beers carry hefty markups. The view down Grey Street is obviously going to be a big draw, as is the view down to the Monument from the outside terrace, perhaps moreso in the summer, but in general it's all pretty agreeable (to be fair, I'm probably their exact target market).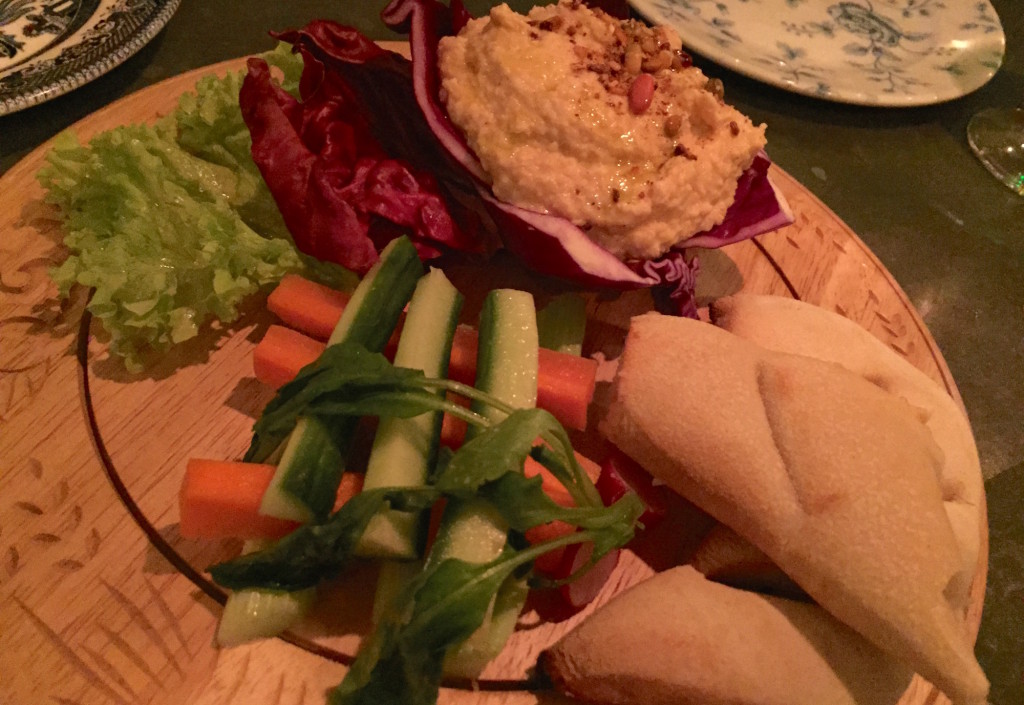 Anyway, I'd have no beef if it was just a bar, but it's not. There's an extensive restaurant area and even a private dining room(?) so it's distinctly a "bar with a focus on food" to the extent that it has been hard to get a table since opening, even at the crappy walk-in bar seats. I'm sorry, I just can't eat off bloody bar stools.
Mains sounds pretty uninspiring, though I don't think they aim to be anything more than "home comforts" – gammon & chips, bangers & mash, burger, etc. so we tackle a handful of starters, which sound more appealing on paper. The hummus is actually really good – earthy, thick and properly savoury., though crudités aren't going to be troubling Ken Holland any time soon. Homemade fougasse-style bread was alright. Notice the trouble they've taken to dress those dead radish leaves, and the good-idea-but-doesn't-really work service in a cabbage leaf. Standard.
The waiters have a 'mare with everything, because carrying various furniture around is a lot more challenging than JUST BRINGING OUT PLATES. Otherwise they're friendly enough/a bit all over the place, and it's a safe bet to say that hipster-ness and overall eye-candy is considered in the hiring process.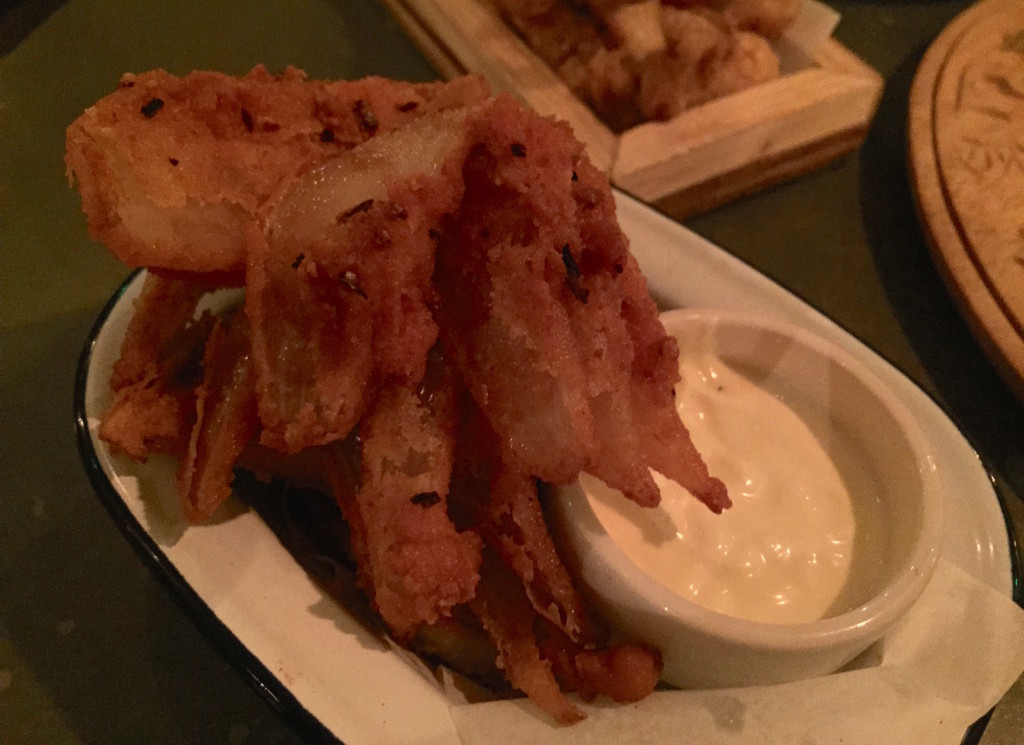 Anyway, ever since seeing 2000kcal The Bloomin' Onion feature in a "Least Healthy Foods in America" list a while back, I've been hankering to give it a go and further reduce my arteries internal diameter. Think an extreme version of onion rings – sweet, satisfying, crunchy, and very bad for you. The accompanying sour cream dip here did nothing for me, which is unusual because I can usually drink that stuff straight from the carton… A really solid bar snack though, and you know you could just sit and eat more of it.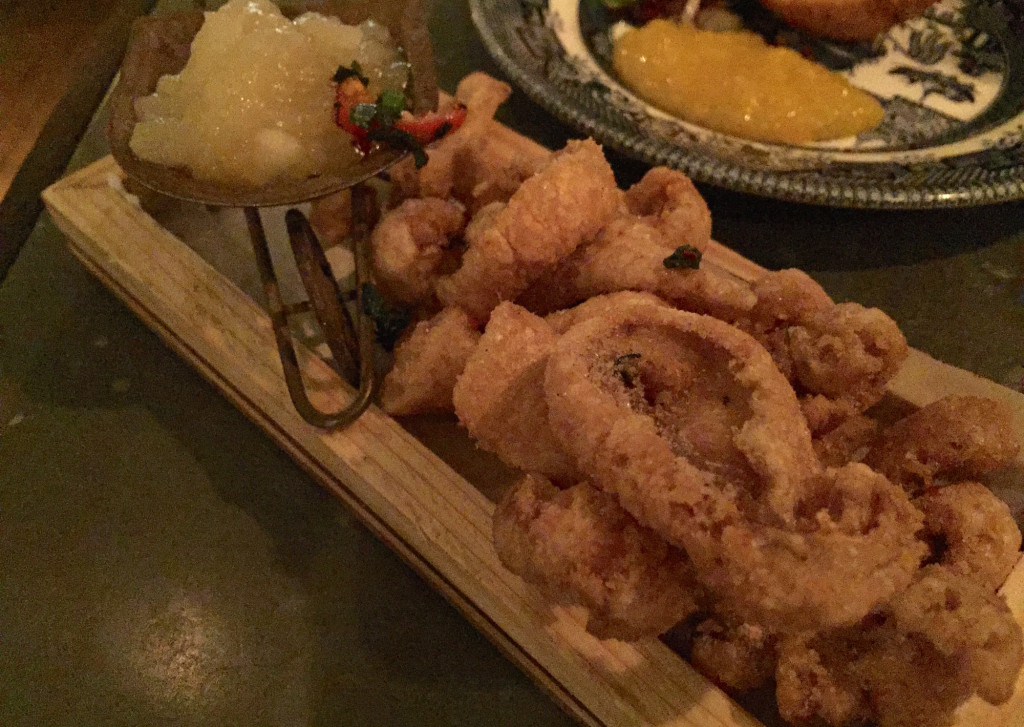 Pork scratchings lead the way in "being edgy" – with (tasteless) apple purée served in a little wheelbarrow. I wouldn't even mind, but the bastard thing doesn't hold very much, and keeps tipping over when trying to scoop anything from it. The porcine scraps are plentiful and absolutely perfect in both texture and juicy fat/crunch ratio, but the attempted asian spicing just doesn't taste right to me, coming across a bit acrid. Weird.
Aaaaaand, the scotch egg. First of all, the price – £5.95. Just no. Newcastle already has an eponymous scotch egg, and you know what, it's £3.50 there. Don't even try to compete at that price. I don't know how it got out of the kitchen with its yolk – conspicuous by its complete absence, and that's not even considering the piccalilli purée, and the solitary wet leaf on the side. The sausagemeat, salty as hell too. No, no, no, no, no, no, no, no.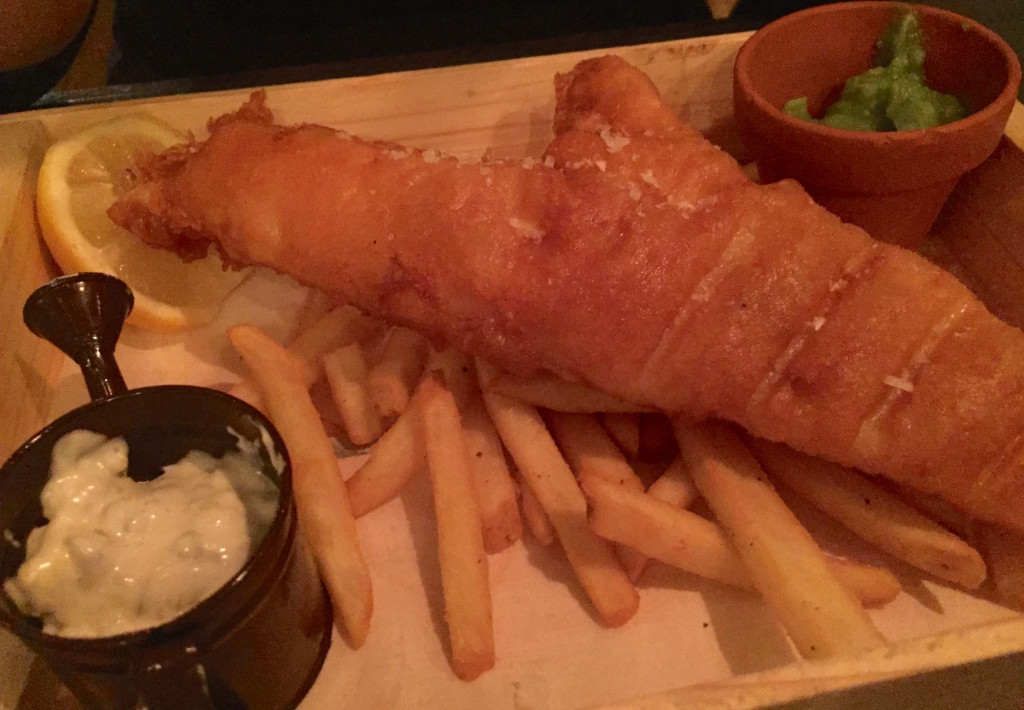 (Unspecified) fish and chips was alright – I know there's only so much deep-fried food the body can handle in two hours, but again, it was very salty. Batter remained crunchy, but fish was mediocre in flavour. Thing is, for £12.95 I can think of a dozen better fish and chips with a stone's throw. Spot the bland mushy peas served, of course, in a plant pot. And the Heinz tartare sauce you get in chip shops would have been better than this mayo heavy version, and at least you wouldn't have to try to awkwardly scrape it out of a twee little watering can. There are also cocktails available in full-size watering cans. #quirky eh?
You see people on every table – all of which are absolutely chocka on a freezing cold Thurs eve by the way – selfie sticks and all, snapping photos of every little adornment, and presumably uploading them all to Instagram. It's as annoying as Starbucks' "spell customer names wrong" social media campaign, but hey, style over substance has worked since the beginning of time.
Lastly, signature dish – The Famous Botanist Hanging Kebab™. The trademark is not my addition, that's how it appears on the menu. I don't know if they're pulling our leg or what, but what you have is essentially a diced chicken breast, "sopped" in some sweet chilli sauce, and grilled. That is then skewered with a couple of pieces of pepper, onion, and mushroom, and garlic butter is poured from above. Which makes the otherwise pretty good fries soggy.
It's completely inoffensive, but is truly the defining example of how people Lose Their Shit™ when something very, very average is served in a "quirky" way. Remove the skewer, plate this up, and you're left with (bone dry, by the way) chopped chicken breast, some grilled veggies and chips with butter for a tenner. Whether this appeals to you or not will tell you whether you should visit The Botanist for food. Selection of desserts didn't float my boat.
To be fair, even without the 50% off food opening offer, other than the scotch egg travesty it is all priced with some common sense , otherwise I would have been less so amused. Annoying thing #462: I still have absolutely no idea who the charity donation is for. Add in the bottle of OK pinot grigio we had (£17), and if I'd paid nigh on £60 for this, I would have been raging.
Much as I expected before even entering, as it stands, food at the Botanist is all just very "meh". Stay for drinks.
Contact: thebotanist.uk.com
Food hygiene rating: 5/5