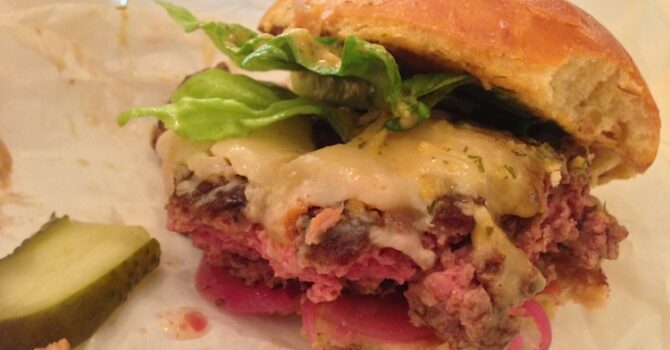 Update: after along while dormant, Burger Stop closed around 2016.
burgers. beer. beats promises the latest on the "best burger in Newcastle" conveyor belt. The thirst for a proper good burger raged on only a week after visiting here, and here, so expectations were notched down a bit.
It's yet another one of those "why didn't I do it" places that will eventually lead to me opening my own doomed food place. Just do burgers, and do them well. The premise is so easy with one-dish restaurants, but for burgers, noone has seemed to crack it yet. Inside – we have Jam Jar2. It is sparse – simple untreated wood for booths, exposed ceiling supports, and industrial style lights. Ikea stamped at the bottom of everything (which is fine). in fact, take a look at this as it says more than I can.
How to open your very own trendy restaurant. pic.twitter.com/XqcwtIuyD6

— Ben (@snorewell) May 6, 2014
The menu is super straightforward – burgers, and a few sides, and that's your lot. Get yourself a burger for eight quid, and sides for <£3. It's Byron priced, except you don't even get a plate – your burger comes wrapped up and you kinda just trough it out of the packet. It works for me, but will surely annoy some.
Burgers were quick to appear, and the brioche was nearly there – yielding and glazed, but ours were downright cold (fridged? frozen?) The meat was nicely chopped juicy chuck but as with so many others in town, under seasoned and just lacking in beefy punch. They've made up for this with the standard "shove loads of other stuff on it" approach – lettuce, cheese, (lovely) pickled onions, tomato and burger sauce. I dunno, I just wanna taste meat in my burger. I didn't.
Kate was disappointed with the rubbery bacon on her blue cheese burger, and called her sweet potato fries "a bit sad". If my fries had been in the fryer for 30 seconds less, they would have gone back.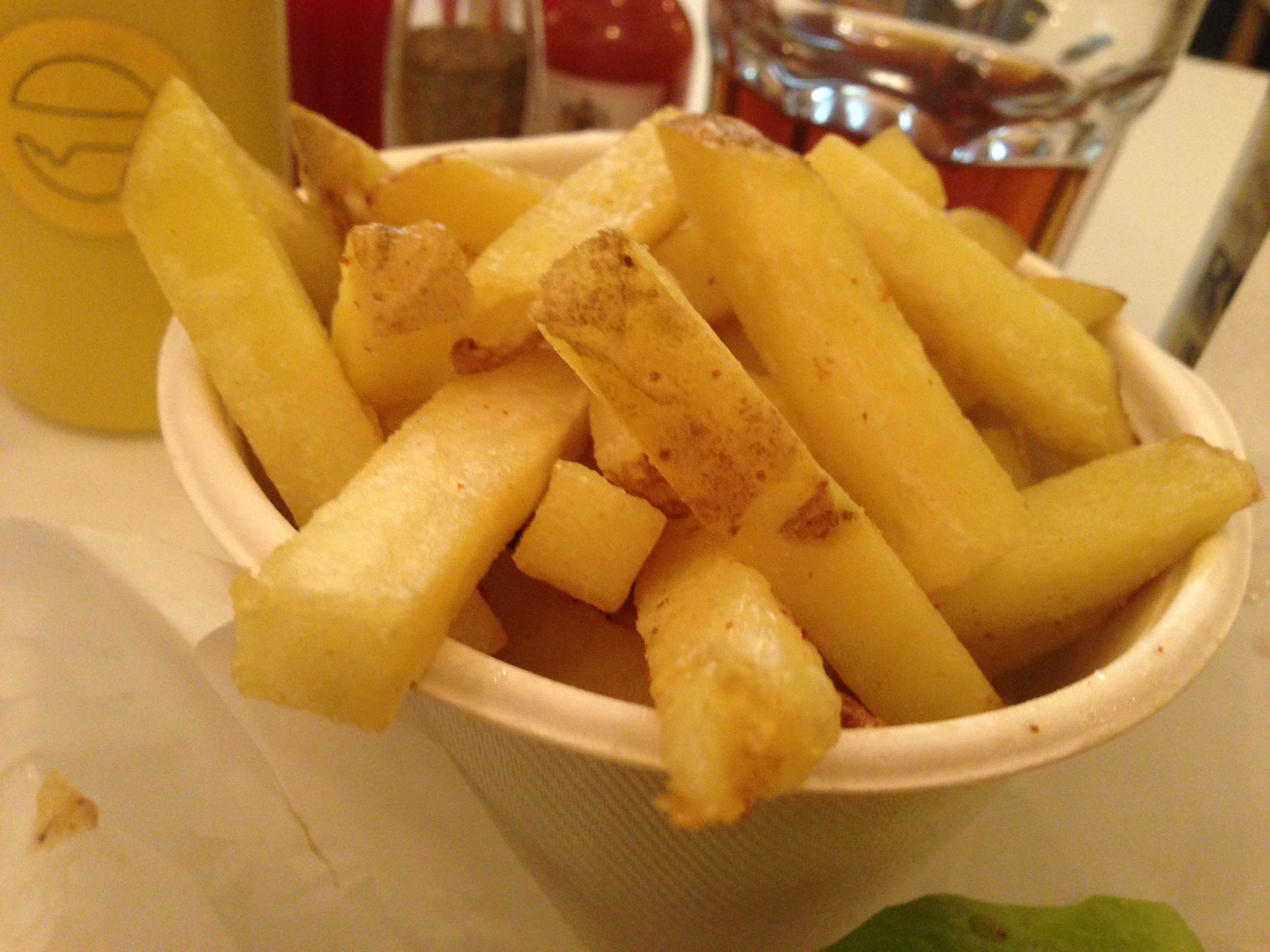 Covering the beers part, I opted for a Wylam Rocket, from a choose of 4 or 5 beers. Am I out of touch, or when did it just become the norm for a pint to creep past four quid? Kate had some (£3.50) house red, which she commented was OK for the price. The beats? Well, as much as I love Random Access Memories played on shuffle and repeat, it's not exactly a USP, like.
It was opening week, so we can forgive the sloppy service, but when there were more staff than customers, it's annoying to have inattentiveness, and the awkward "we want to pay the bill and get out" ten minutes after finishing. Nonetheless, our two burgers with fries and drinks was only £26 which is reasonable enough. That said, we smashed burgers yet again at a Wynyward Hall wedding the following night, and had a proper cracking burger and fries for £9. Who knew?
I think Burger Stop will do pretty well given the juicy Quayside location, but perhaps that's where the market is – pre-drinkers, and stags and hens stumbling in for a late night burger. If they wanted to do takeaways for six or seven quid, I'd be all over it, but a tenner burger is undoubtedly high end, which Burger Stop just isn't quite – yet.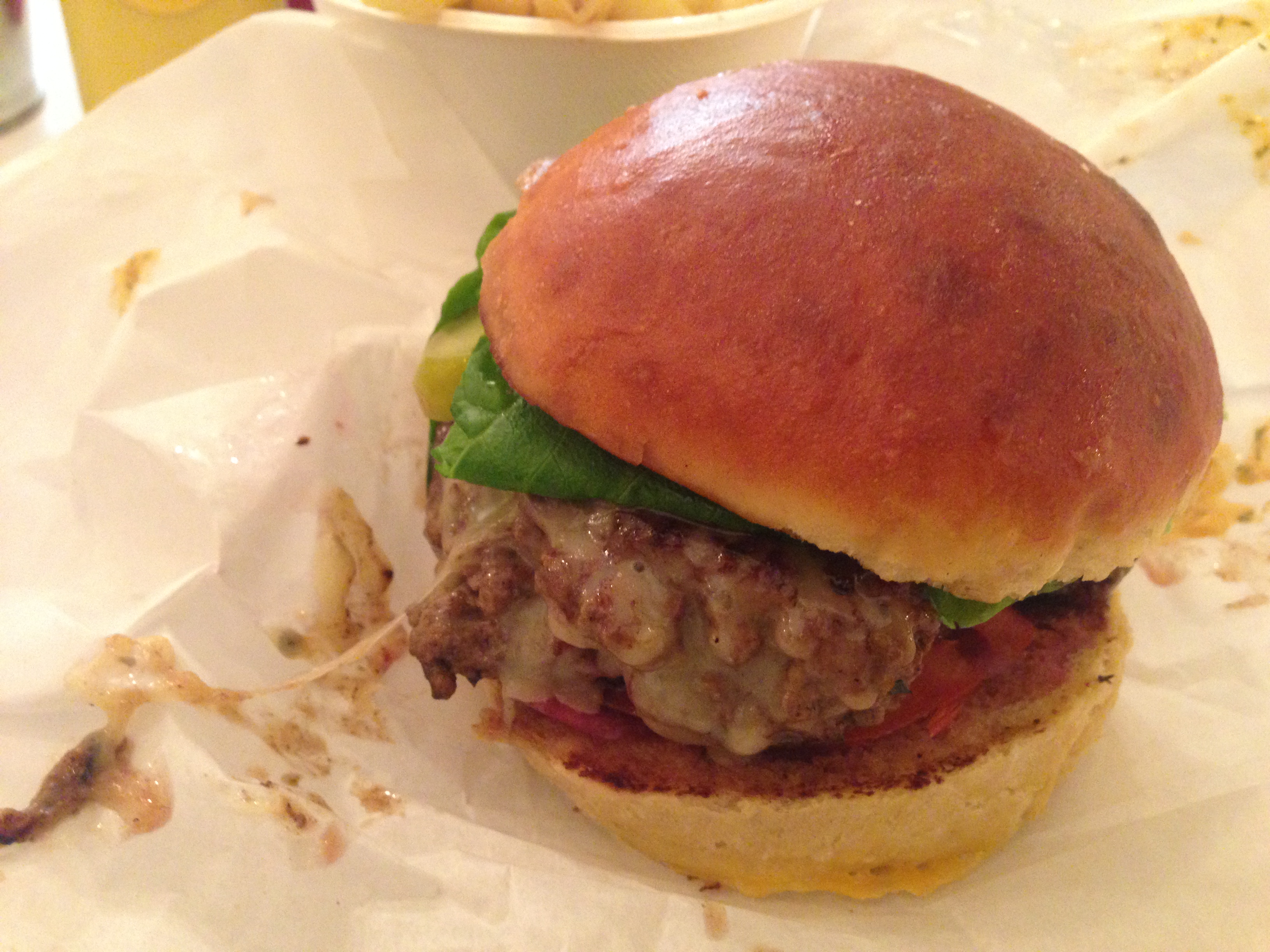 Contact: burgerstop.co.uk