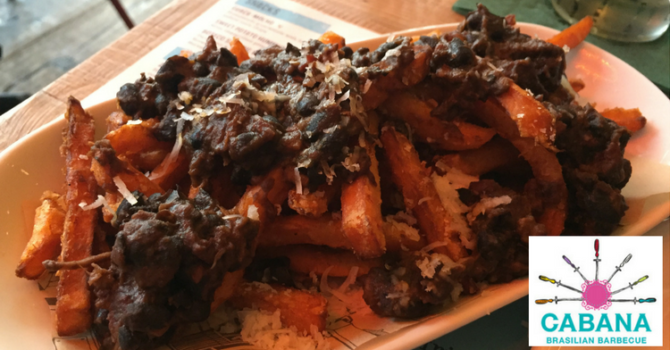 "Cabana is the UK's hottest grill from Brasil" 🤔

UPDATE: Cabana lasted just over a year, and is now closed.
Now you know I'm largely against reviews of chains, especially those fuelled by large opening budgets, but I've seen nothing but praise for Cabana. So here's me throwing in my two pence.
Vibe
With these guys opening next door, and the impending Greys Quarter, it must surely be the death knell for The Gate? Can we just make it the new Bigg Market and herd all the stags and hens in there now? Forget about your renovation…
Cabana is Brasilian-themed, so of course that means PARTY ALL THE TIME 🇧🇷🎉…❓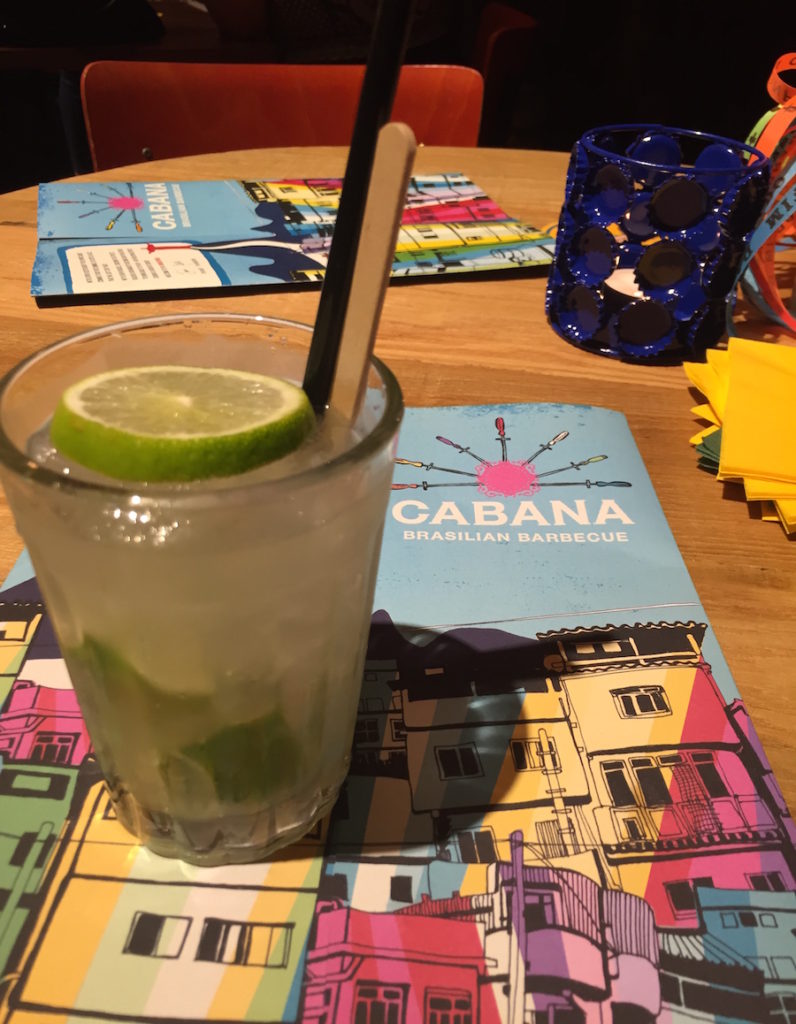 What you've got, like Turtle Bay next door, and presumably ZaapThai opening soon on the other side, is another one of those "nightclub atmosphere" restaurants – how you feel about these is probably personal preference. It makes sense on a Friday/Staurday night with big parties of mates, not so much on a grey Tuesday afternoon when there's no-one else in.
Scran
Like a lot of chains, Cabana has a big menu that tries to do too much. There's burgers, rice, squid, ribs, salads, and more. Too much choice. Anyway, we got loads of doughy things – they are doing cheese in bread balls, sweet chicken in bread balls, and Nutella in bread balls. I wasn't fussed on any of them, especially the doughnuts, which were so, so stodgy.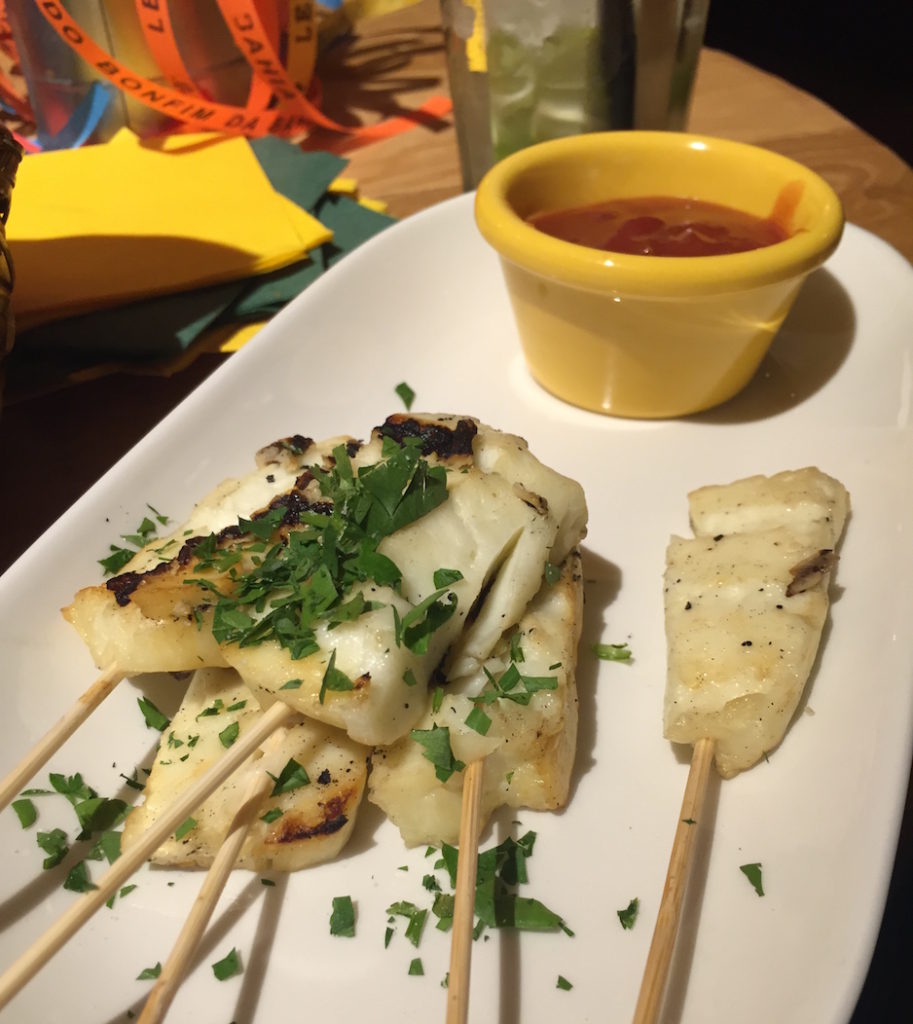 I'll skip over salt cod fritters which could have been any old battered fish ball. Halloumi takes very nicely to being flame grilled, all bouncy and smoky, but the guava dipping sauce was more like half-melted strawberry ice lolly.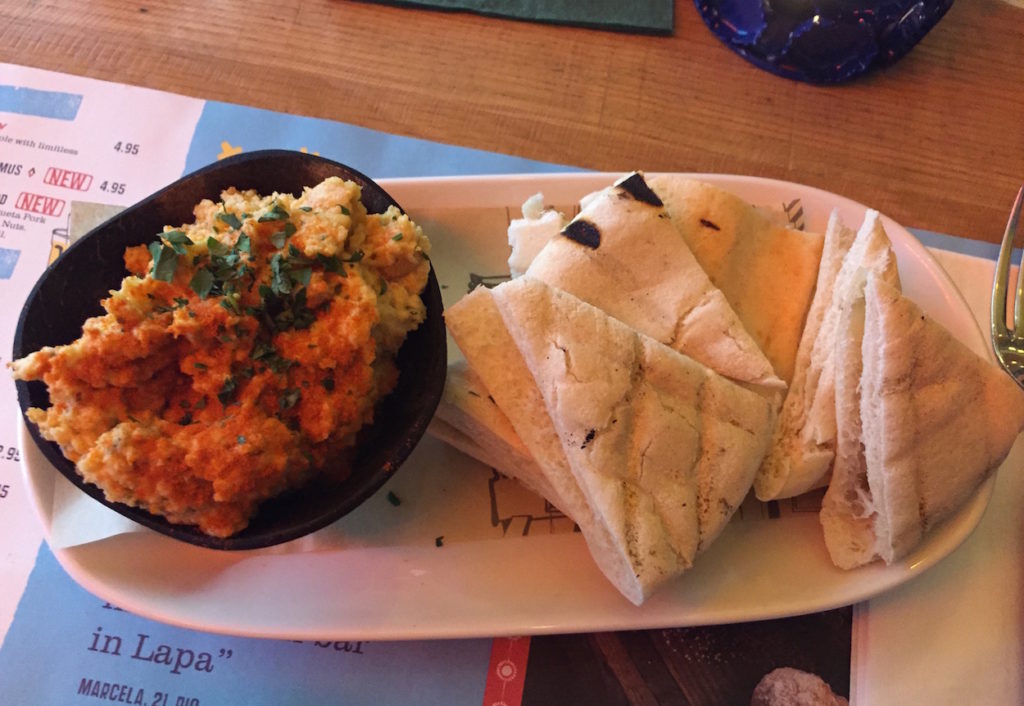 Sweet potato hummus though, got wolfed down – I don't know how much the orange veg it actually contained, but was definitely the pick of the starters. And I'm not sure how Brazilian it might be, but hey ho. More bread!
The main attraction here is "grilled stuff on skewers" – a vehicle for the old "slide off at the table" presentation gimmick, and don't photograph well on a plate. See: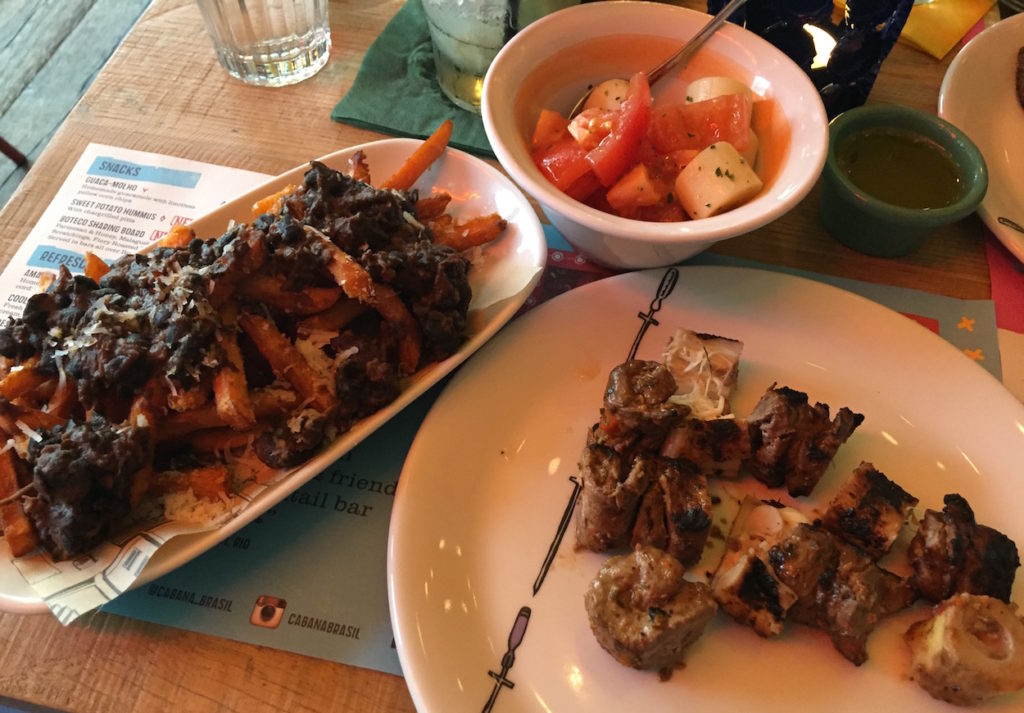 We also tried scraps of chicken at the launch thingy which were really tender and juicy. Chicken on flame-grill is nearly always a win-win. But their signature malagueta sauce which it swims in? Well it just doesn't taste of much, never mind being hot-hot spicy.
My lamb was nicely grilled with just enough char to make things interesting. There wasn't much of it mind, especially for sixteen quid,  The filler here is palm hearts, not something I'd had before but really great on the grill – could imagine these being popular with veggies as they have a great protein-like texture and worked really well flame-grilled.
Kate's picanha steak was unexceptional, and for £15, I'd rather just have a nice steak in a good pub.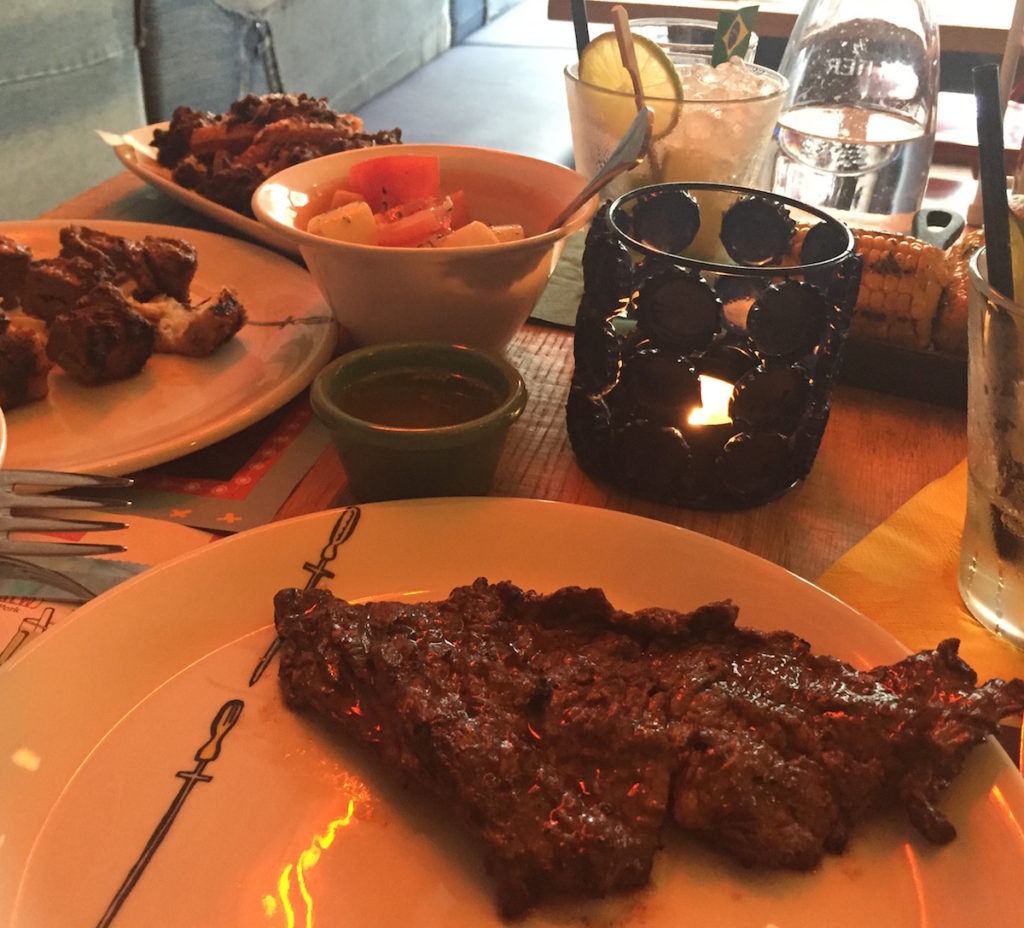 You get two sides with the grills, my tomato and palm heart salad was disappointingly simply that and no more, but the absolute standout dish, and what I'd go for again would be the feijoada – loads of meat, that addictive smoky flavour, and here, on sweet potato fries. Add cheese, and it's a winning take on the classic. Honestly, I'd rather just spend the six quid and get this and some drinks.
Desserts – the only thing the "Brasilian Overload" sundae had an overload of was blandness. Pretty much ice cream with some squirty sauce on, it was really disappointing 😔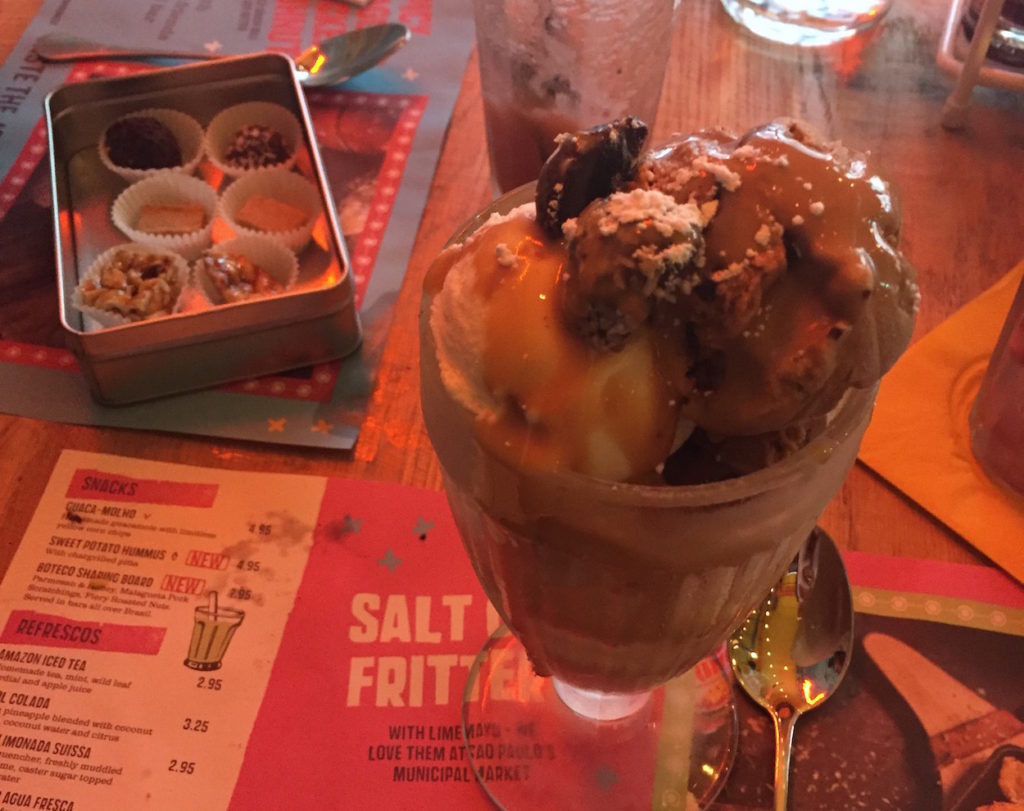 I got the candy box which is a nice petit four-like idea which wouldn't be the worst choice with a coffee, and hey, it's only a couple of quid, unlike the fiver pint of ice cream.
Drinks
We were plied with caipirinhas on the opening night which weren't really strong enough for my liking, and Palma Louca must surely be Brasil's answer to Fosters. Not miles better, but stick to Sagres if lager is your drink of choice. I suspect like Turtle Bay, lots of people drop in solely for drinks, and with 2-4-1s aplenty, it's not the worst place for a cheap cocktail. Really enjoyed the watermelon aqua fresca.
Verdict
I don't know if "Brazilian" restaurants are getting a free pass because people generally don't understand them in the same way that they "get" your basic Chinese or Italian. Unless you're actually Brazilian, there's the novelty factor, and a low expectation of not knowing quite what to expect, but between Cabana and Viva Brazil, I'd say thats two more chains in Newcastle I'm not exactly clamming to visit again.
Contact: cabana-brasil.com
Food hygiene rating: 5/5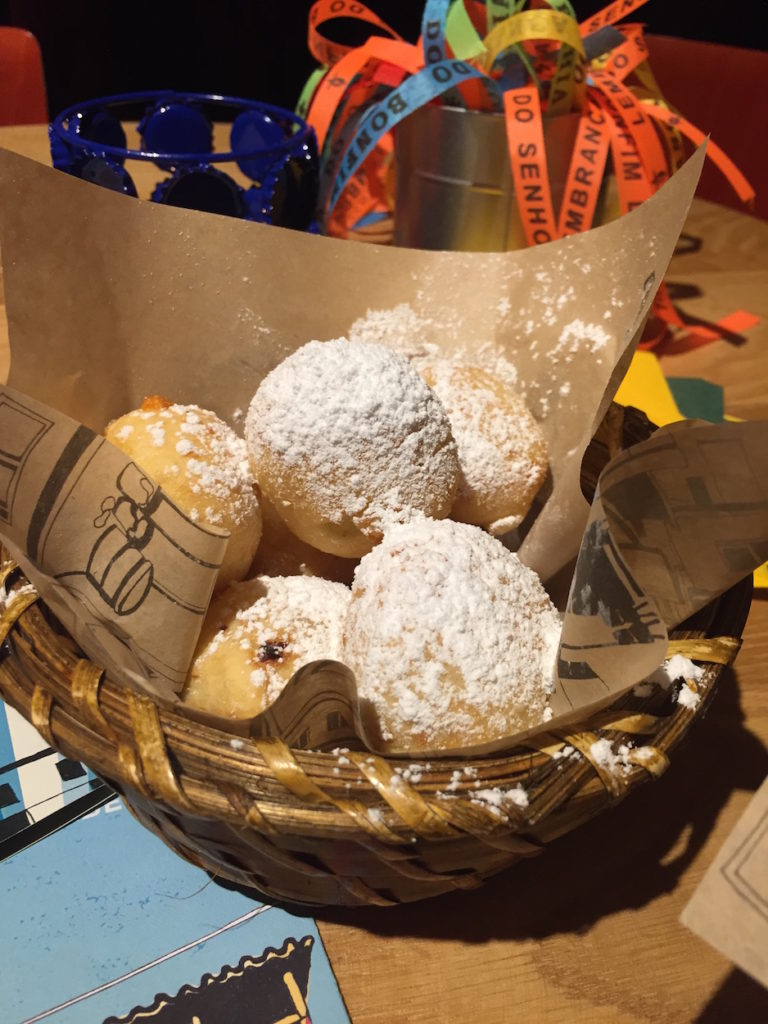 Newcastle Eats no longer supports comments directly on posts, instead, why not fire up the discussion on Twitter, Instagram, or email me directly.