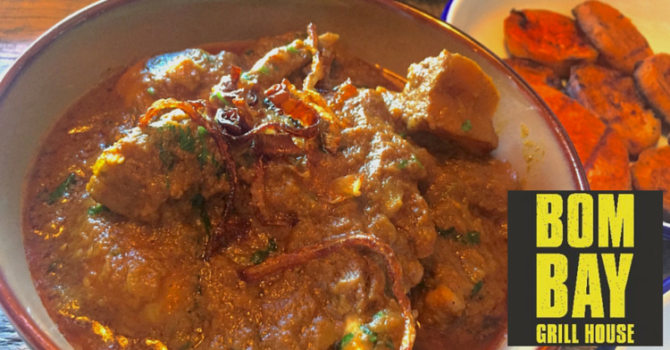 Oh hey, average Indian in Heaton.

Update: The Bombay Grill House has now been rebranded as Cafe Spice (November 2016-ish)
Bombay Grill House (NE6 5LX) is an Indian restaurant which just opened this year on Heaton Road, I think a bit of an offshoot of attached takeaway 'Cafe Spice'.
We popped in on a Friday night to see if Heaton could pull off another Cal's Own. Yeah…you can always hope.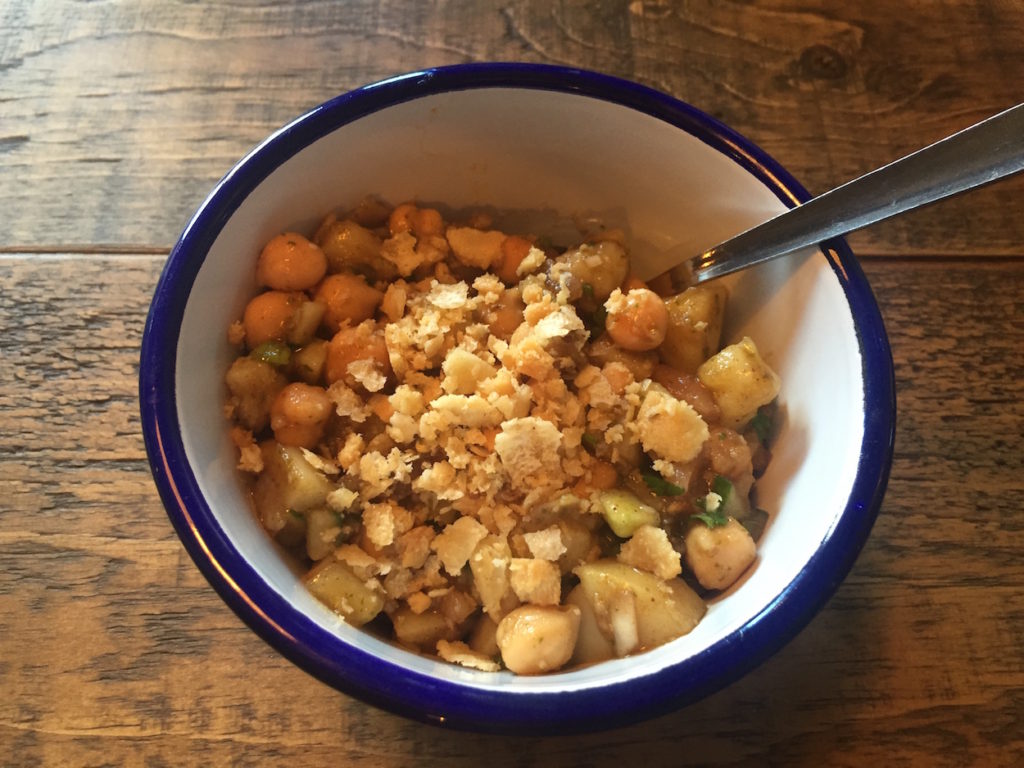 To be honest, I didn't know too much about it. They give you the usual spiel on the website about their Mumbai heritage etc. etc. and the social media pics make it all look very enticing, but that's par these days.
We had bhel puri to start, served in a latte glass(?) that guaranteed it was going to spill out everywhere. A nice enough take on the classic though, as was aloo chana chat – packed with an interesting mix of textures and flavours, sour, soft, crispy, chewy, cold, and really very, very spicy. It's good see these "traditional" classics finally doing the rounds in British/Indian restaurants – look, there's more to Indian starters than onion bhajis! ?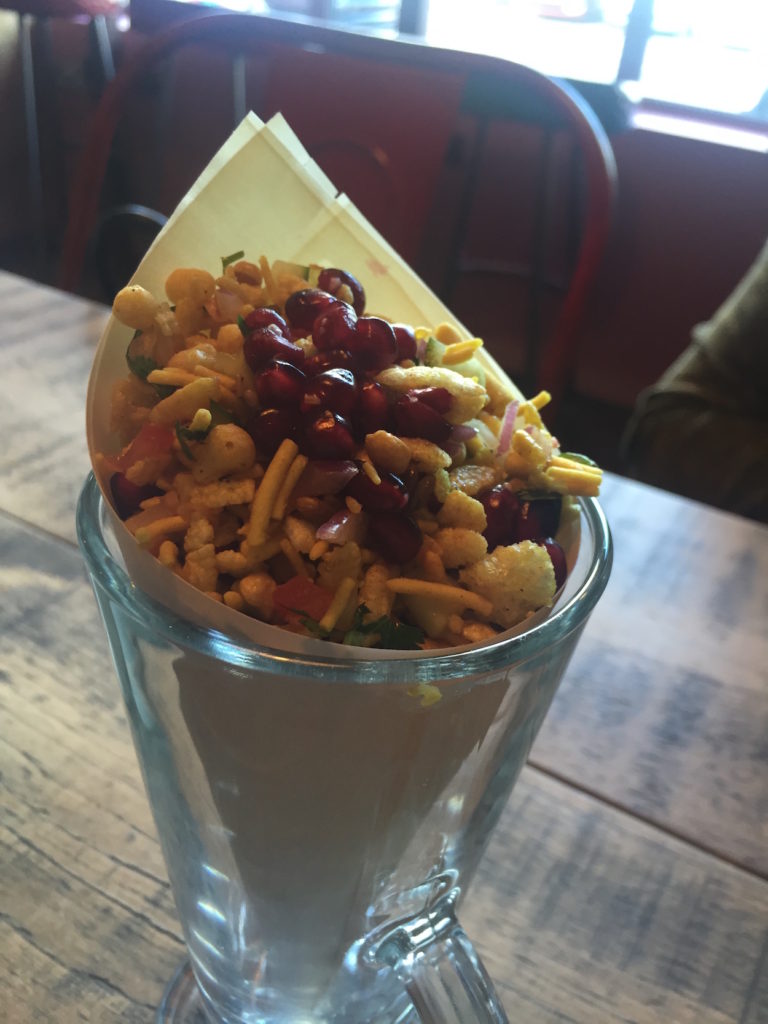 As you'd expect for the Heaton area, it's pretty cheap – fiver starters, and less than a tenner main courses. There was a "two eat for twenty quid sharer" which you can see the students loving. It's just good to see that Heaton Road has perked up recently, what with Stark's Kitchen looking good, Big Apple Hot Dogs, etc. etc. Hooray for Heaton!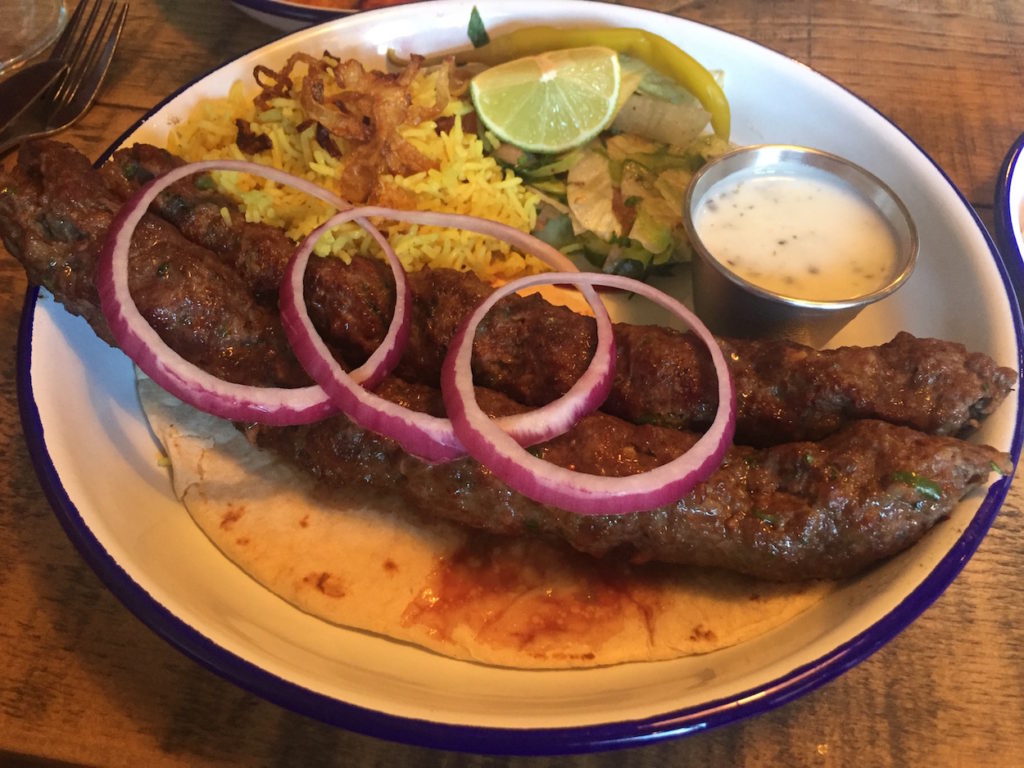 Drinks were alright – a bit more interesting than your usual takeaway which is worth a few points – a decent mango lassi, and a pomegranate "sherbet" mojito was too sweet but almost redeemed by loads of juicy pomegranate. There's no alcohol license yet, but BYO is always welcome in my books ?.
The railway curry (top) was OK, I dunno, like a 6/10 on your usual takeaway scale, but nothing that's gonna change the world. The lamb did come on the bone which is rarer than you'd think, and came as huge hunks of shank, shoulder, and other bits which melted at a brush of the fork. Well spiced, and obviously cooked for ages, but the sauce was particularly oily. Reminded me of Dr. Nick.
Loads of roti though again, not the best, kinda floury and bland. Christ the food took an age to come out as well, which considering it was a Friday night, and we were the only ones in…. ?
Curiosity more than anything got us to order a "sweet potato grill" (below), and Kate's sheesh kebab – well it could have just been minced skewered lamb really. Some (any?) spicing would have made it a bit more interesting but as it was – lamb and a bit of chopped salad. Maybe that's Mumbai, what do I know. Here in Heaton, just bland.
You can see what the craic is when they brought out four bottles of sauce – one quite nasty vinegary yoghurt, and one…tomato ketchup. That kind of place. I don't know why they feel such pressure to stray away from tradition and 'satisfy' UK tastes? I've absolutely nothing against British-Indian, but christ, just do one thing, and do it properly…? Like yes, there's a pav on the menu, but there's also a burger. With fries.
So…it's not one I'd be clamming to visit again, but if you're stuck in Heaton, you can definitely do worse.
Been to Bombay Grill House/Cafe Spice? What did you make of it? Let me know below or tweet me
Contact: cafespiceheaton.co.uk
Food hygiene rating: Not yet rated