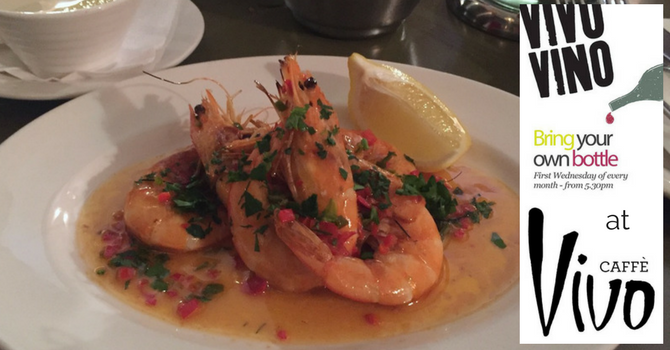 Calling for every great restaurant to have a monthly BYO please…?

UPDATE: Caffè Vivo is now CLOSED – find St. Vincent in it's place.
You'll know I'm a big fan of Caffè Vivo. Since opening in 2008, it's been the best Italian restaurant in Newcastle bar none, with a casual-yet-busy Quayside vibe, and a kitchen that doesn't mess about. No sauce smears, no micro herbs, and no trend-led ingredients, just seasonal simplicity which I can get right on board with. We've been a lot, to special events with Maunika Gowardhan, for lunch, for steak, for a quick pasta, and nearly always during Restaurant Week. More recently, on the first Wednesday of every month, you can bring your own wine, no corkage. ??
Now wine bores can be quite intense and it's initially intimidating. The "what if we bring the cheapest bottle in the room?" fear turns out to be misguided, as a quick neb around the tables shows a right mix – there's fiver bottles clearly from Tesco across the road, right up to crazy-rare ££££ bottles. We went for this English Pinot Gris, and our ever-reliable favourite at the moment after having first tasted it at The Patricia a while back, Gran Cerdo (£15, and £9 respectively from Fenwick food hall).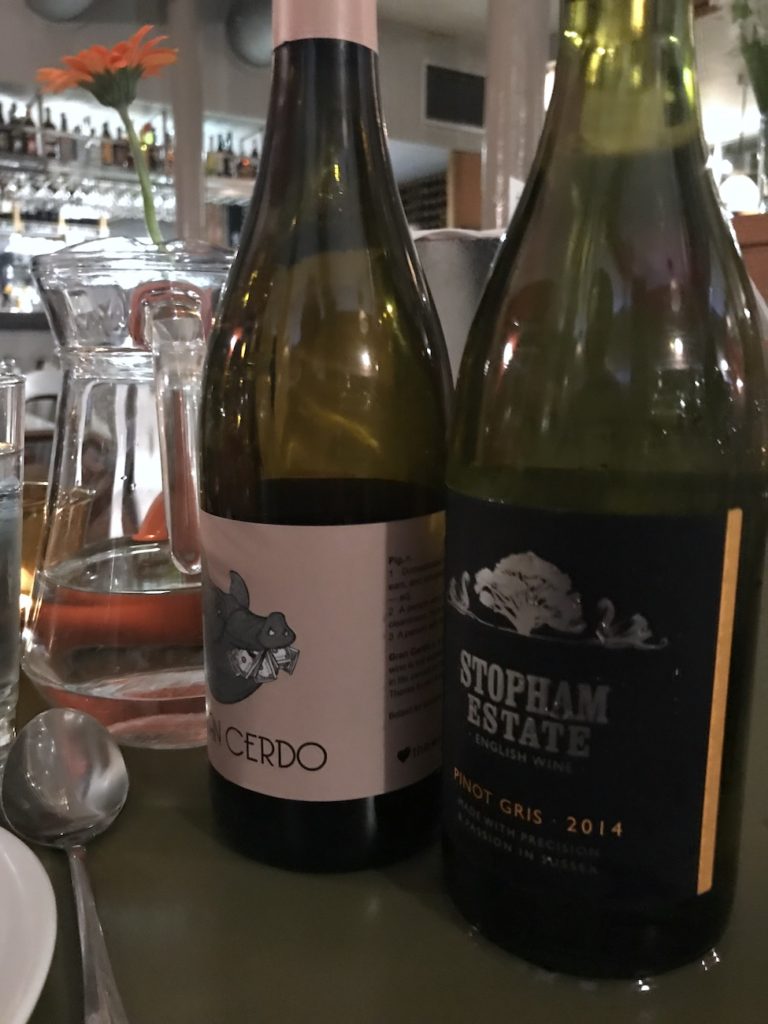 Why more places aren't doing this – even once a month – I have no idea. It's a great way to save customers a few bob and I'm sure the average food spend goes up when you're not being stung £30 for wine which you know retails at a fraction of that. Everyone wins.
Anyway, the set menu is always a cracker – 3c for £21 so you can come away spending forty quid if you're new to Vivo. The specials board always holds some treats though, and the merest suggestion of 'nduja linguine got me going. A blazing hot hefty portion of loveliness, it's exactly what you want in a pasta dish when the weather is just on the turn.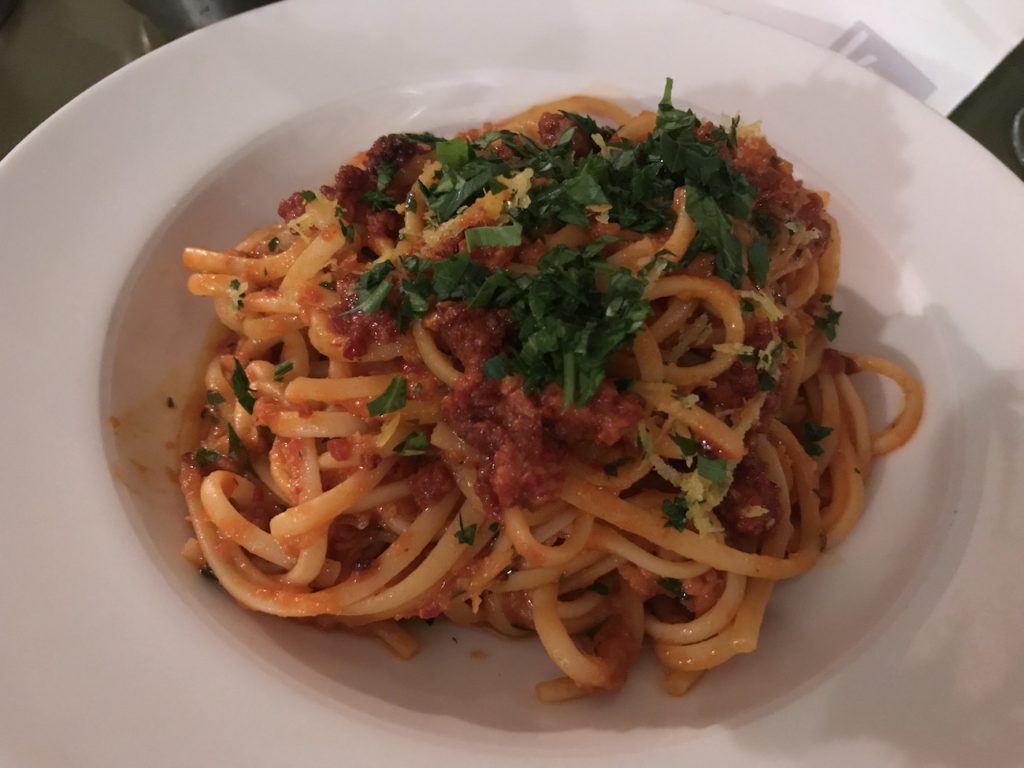 Kate had the gamberoni (top) and my god if there's one thing you can always rely on from Caffe Vivo it's anything that's been blasted by the Josper charcoal grill, which adds a smoky note to the already super sweet and soft prawns. Prawns elsewhere become just disappointing when you've had them grilled simply like this, and then the always bang-on house-made focaccia is just made for soaking up all that garlic chilli oil. Lush.
Mains are nearly always seasonal, so in Autumn expect hake, chicory, or this porchetta. Done properly, it's pretty hard to ever resist.  Here spiked with tangy salsa verde, crunchy crackling, and rosemary potatoes which are Vivo's version of once you pop, you can't stop.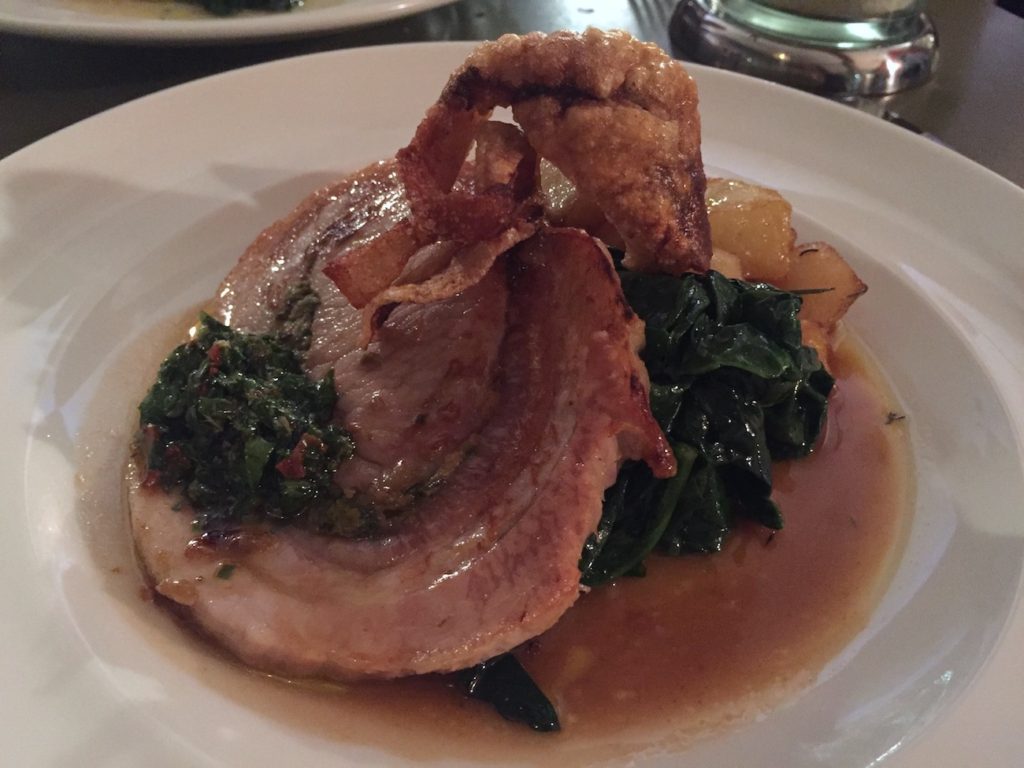 I don't know which I loved more, that pork or my cod with red onion and olive oil mash. Cod, so often treated with disrespect and disregard, here so flaky and sweet. As with so many of the 21 Group mains, it's meat and two veg, done oh so right.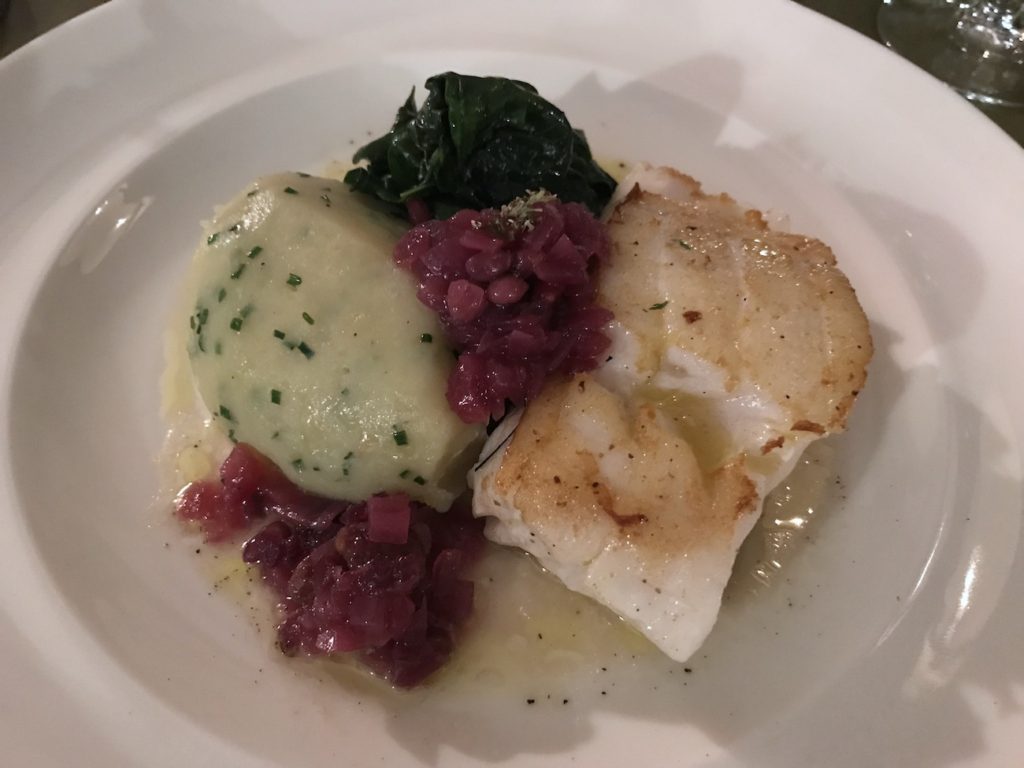 By now starting to get very merry, desserts were a just-set panna cotta, and crumble, both of which laced with sweet plums, and the crumble with amaretti. Really one of the best crumbles I can remember eating with an intensity of flavour you just don't get with apples.
Service as ever was absolutely superb, so if you still haven't been to Vivo and don't fancy visiting during the crowds of restaurant week, make sure that a BYO night is your first point of call. Still the best for real Italian food in Newcastle, and even better when you can bring your own plonk. Cheers ?
BYO nights are the first Wednesday of every month.
Contact: caffevivo.co.uk
* Was provided with food for 2 in exchange for promotion of the BYO night. Visited Caffè Vivo many, many times otherwise.