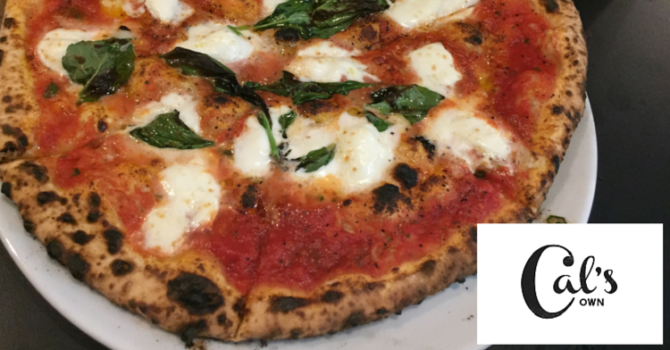 The best pizza in the North East, and one of the best restaurants in Newcastle.
Featured in my "Best Pizza in Newcastle" guide
I'm sure success was always going to come to Cal, but man did I love telling people about his eponymous restaurant/diner back in 2012. Cringe here at the old post recollecting good times in Heaton. We were blown away on our first visit – it involved low expectations, a litre of gin, and two and a half pizzas. We left seriously impressed, and I've not shut up since.
Owner Cal always had plans beyond NE6, so fast forward four years, he's found somewhere with better footfall, a "proper" restaurant. Finally, Chili Road's loss is now lucky Jesmond's gain.
? PIZZAS.
What it's all about. Anyone who's read anything pizza-related on this blog will know how big a fan I am, but if you're new here – thinking of visiting Newcastle, or have somehow had your blinkers on, the gist of it is that you just won't find a better pizza in the NE, or anywhere else I know of outside of ??. Look.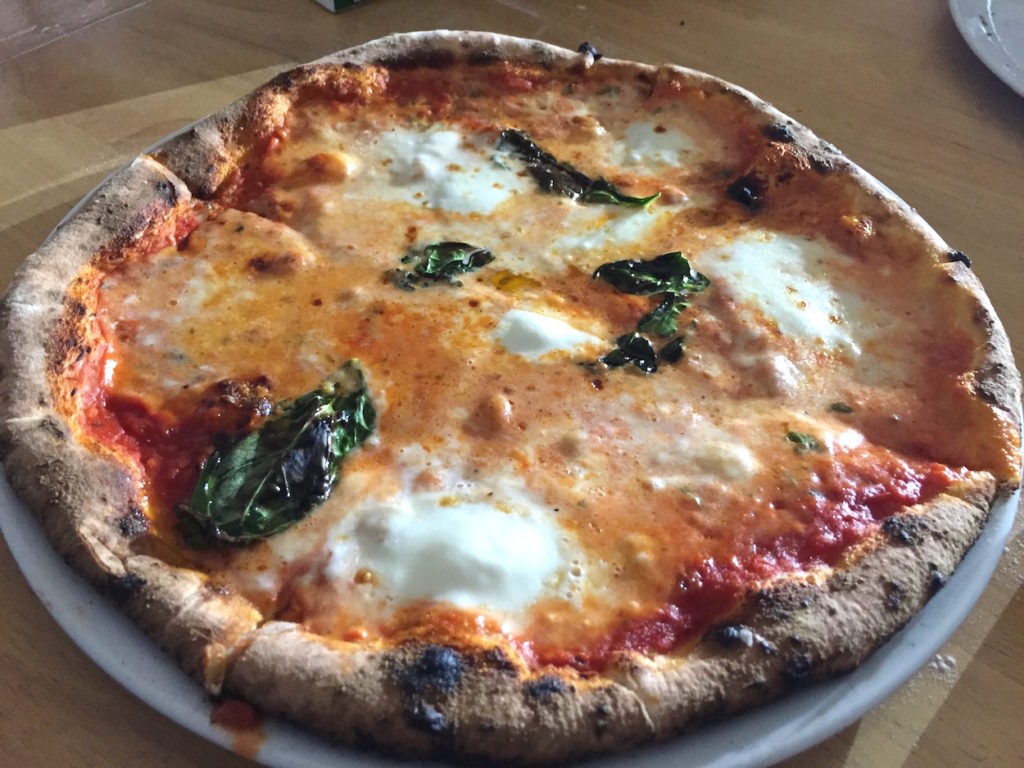 Everything that applies to the old post still applies – in Cal you've got a guy who loves pizza – treats it like the art form (I believe) it is, and it shows in everything that comes out of the new impressive, expansive and costly feature-piece Stefano Ferrara oven. What that hulk does is create dough which is an absolute dream, smoky, charred, soft and chewy all in one, and…just try it. If you're a pizza fan, it's going to make you very, very happy.
The mark of quality – and hopefully it isn't happening quite so often(!) but I loved watching Cal receive a pizza from the oven, and bin it having not met his standards. …could just have all the scraps please…  Where else would be so brazen?
The new oven gives authenticity at a new level. Cal is pushing for Associazione Verace Pizza Napoletana designation, which is I guess, akin to the pizza version of the Michelin guide. More on that later, but whether authenticity means anything to you is irrelevant, what it means to Joe Punter is simply "Shit Hot Pizza". Take each individual component of the pizza, and compare it to anywhere else, and Cal's Own has just got them all trumped.
I do sit slightly in the camp spoiled by once being able to get an 16″ pie for a tenner – pizzas now are smaller, and pricier, though the scope has obviously increased – toppings of sous-vide lemon chicken, lots of 'nduja, artichokes, and there's a re-appearance of sottoncere al tarfuto (intensely savoury truffled ash coated cheese). It's boundary pushing, and wallet emptying.
Pizza purist or beginner, get the margherita on your first visit – it's perfection, the doppio (double-cheese) next, and then branch out. Also, in a bit of revelation, even the gluten-free pizza is astounding too.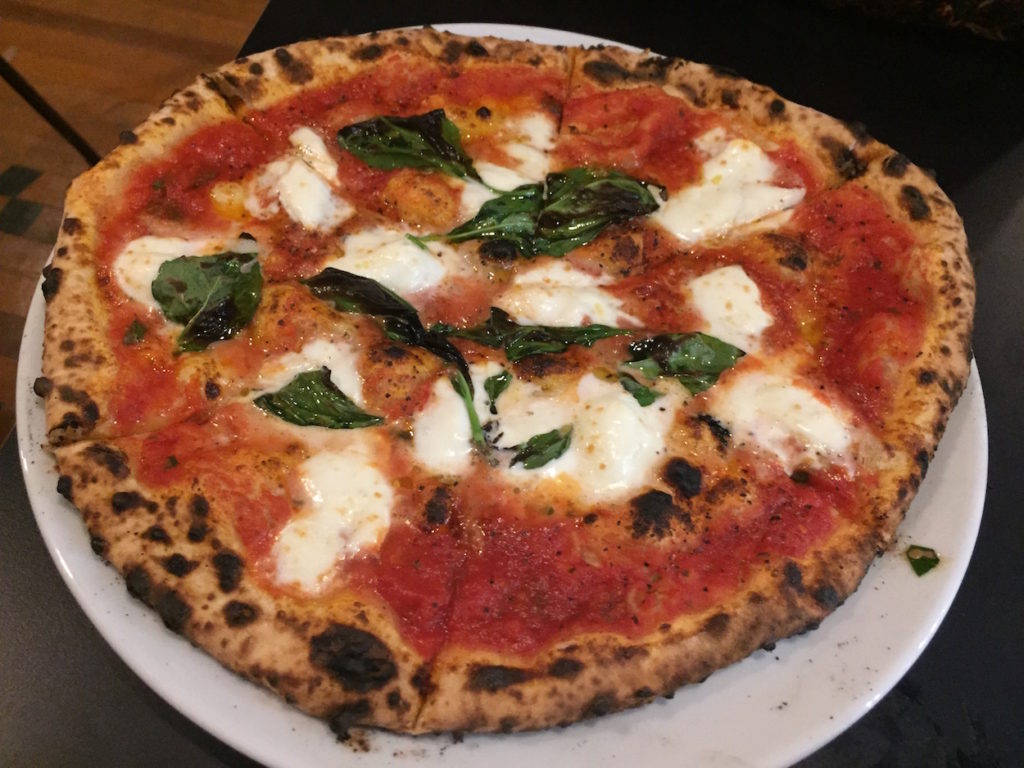 and everything else…
I could honestly heap praise on the pizza all day, but just go and try it for yourself.
With a bigger and more ambitious kitchen, Cal's now got the scope to do "proper" restaurant food. He asked us along to try several things still in development recently, and I hope these all make the menu – and that's talk of a full-on tasting menu with matched drinks and all…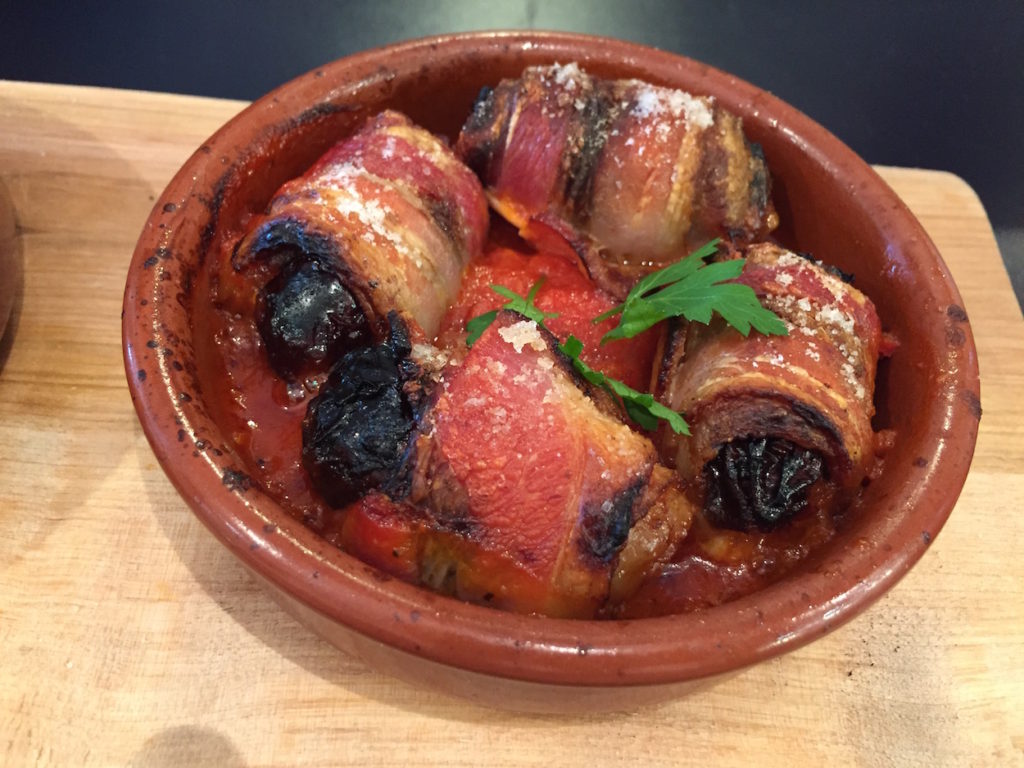 Bacon-wrapped figs. Sweet fig, salty bacon – tomato sauce for balance. These are properly delicious, and if you get the chance to order these – do it.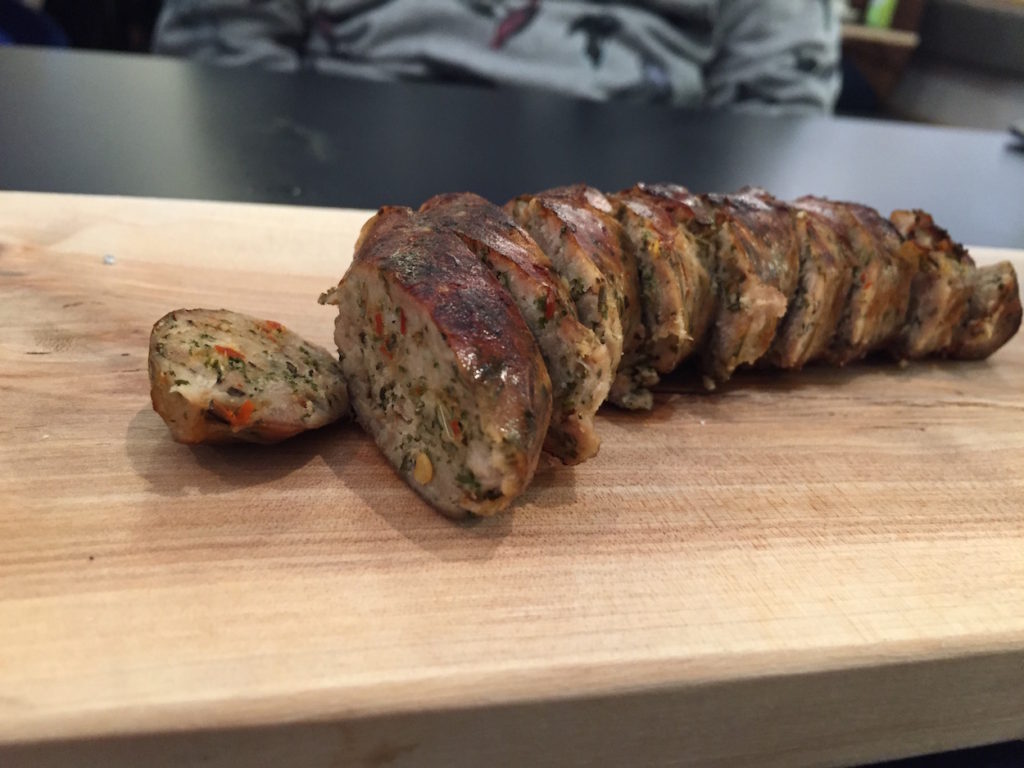 You might have even had these before, but Cal's homemade Italian sausages (and honey&mustard) are an ideal warm-up for a pizza – coarsely textured, loads of herbs, and the type of nibble that's all been snaffled before you know it.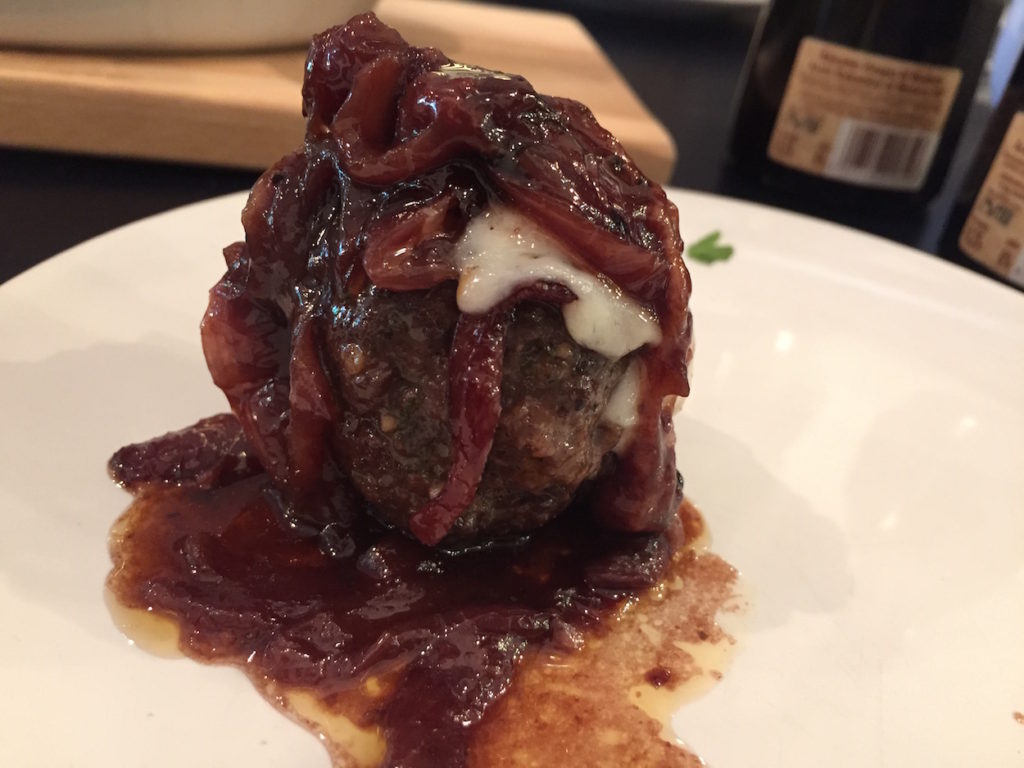 Meatballs – well, they're an Italian restaurant standard, and we've all had them in places that have been "OK". Little scraps of mince, often dry, in a bland or overly sweet tomato sauce.
⬆️ That's a meatball. Ridiculously savoury, and super juicy from its 'nduja sauce bath. Want something sloppier still?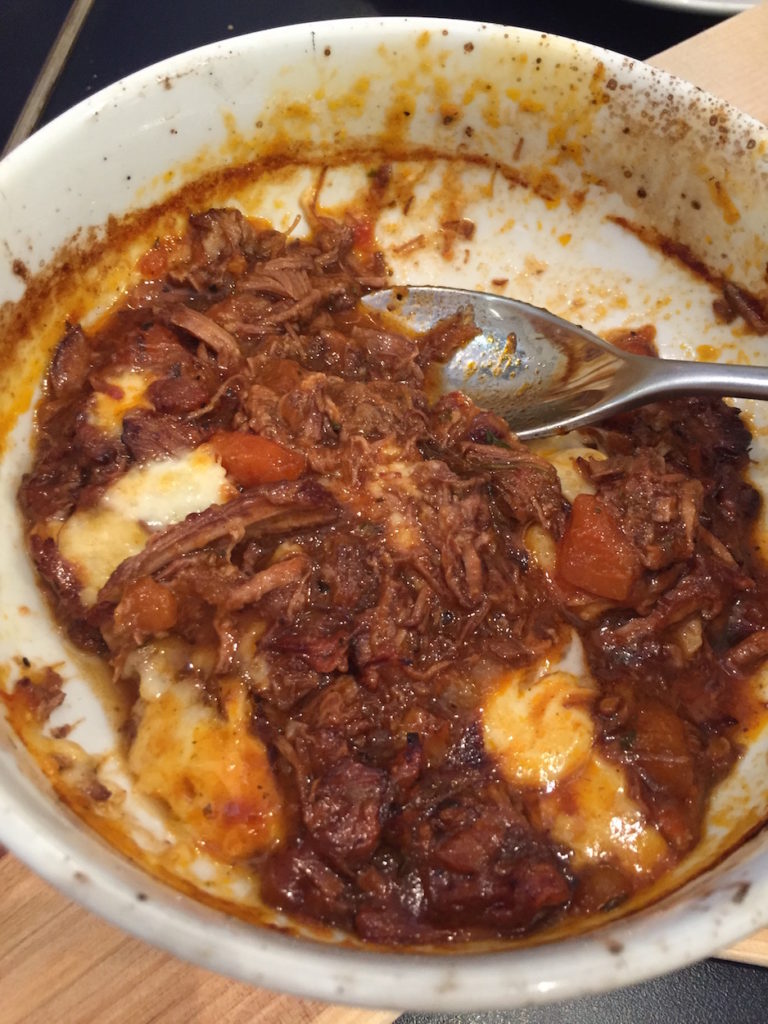 …there's melty ragu…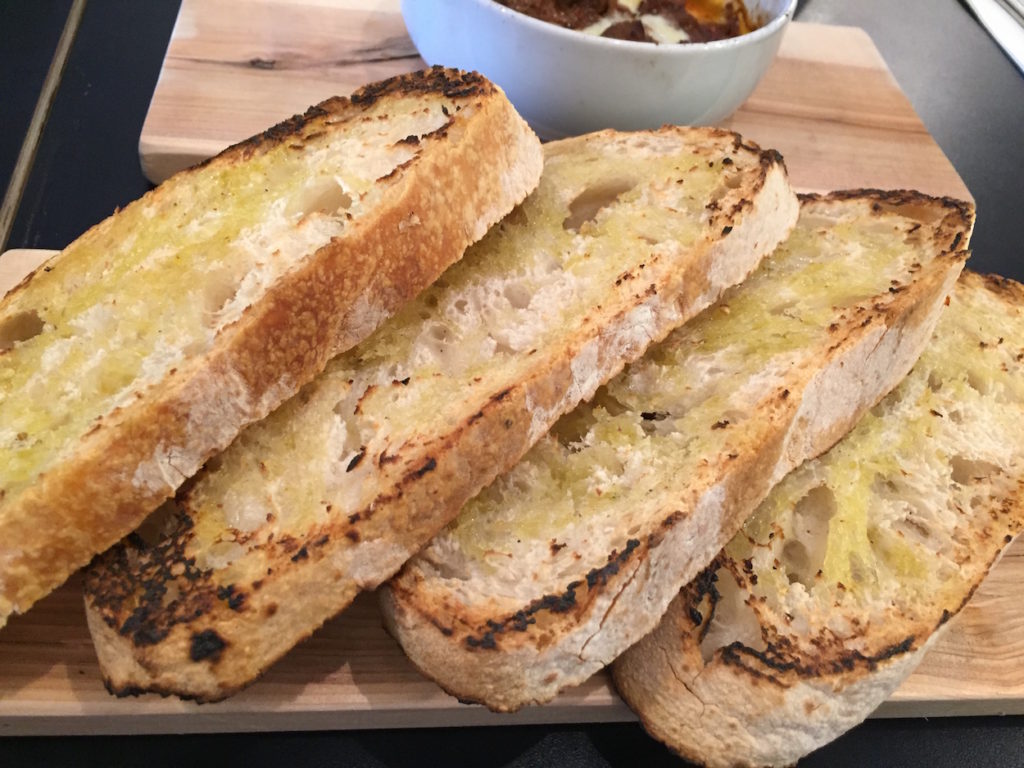 …and the house sourdough loaf, which marries a chewy crust with the lightest of centres so damn well. I don't need to tell you how good dipping this bread in that ragu was, do I?
There are lighter moments – a simple rocket and parmigianno salad would sit really well alongside a pizza, and a limoncello palate cleanser helped cut through some of the fat.
But it's clear that Cal's a massive carnivore, and it's surprising to find pizza oven & man cooking meat in such frankly awesome ways.
More meat, you say?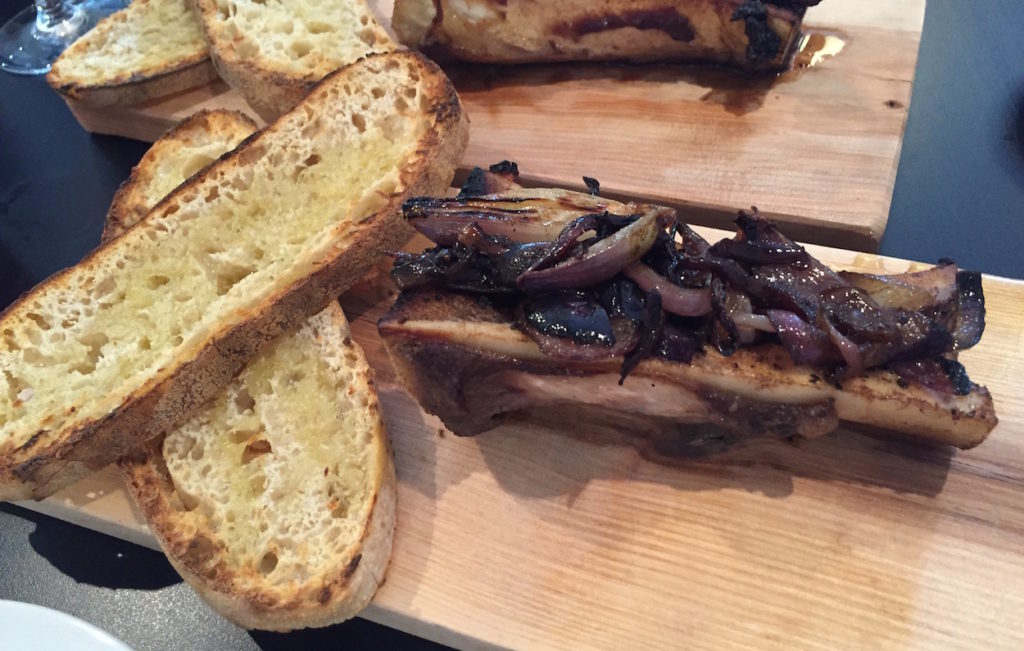 Roasted bone marrow with more of that sourdough, and the stickiest of caramelised onions makes something you wouldn't see in most gastropubs, never mind a pizzeria in Jesmond. And then…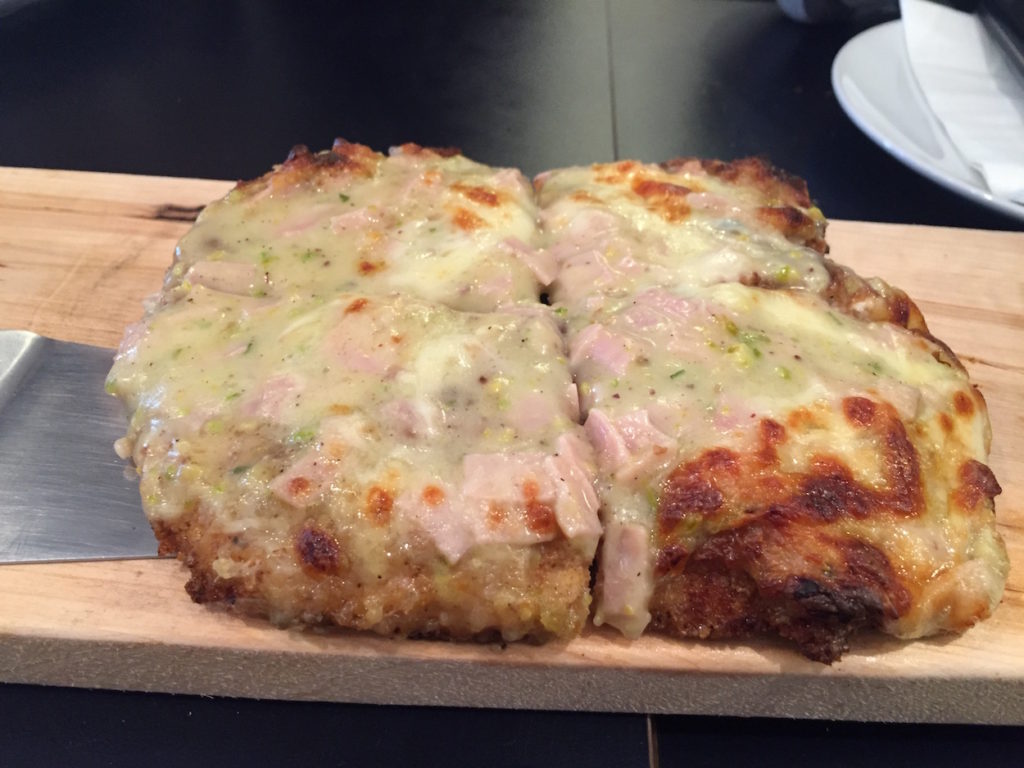 …the "I didn't see that one coming" parmo whiffed strongly of tallegio, but tasted super smooth. Can we get this as a takeaway after an Osborne Road night out?
So yes, if you thought Cal's Own was just a pizzeria, well it's now firmly a restaurant, and a serious one at that. One that's substantially "out-meat-ing" the faux BBQ places all over Newcastle in the last few years.
Service has got it's shit together too – at the front of house, Cal's brother Kerry is running a tighter more professional ship, and keeping customers sweet. It all adds up.
And while I mourn the loss of BYO – there's a proper drinks menu now, a far cry away from three American sodas in the old gaff. You can now get some quality wines which have been tasted, tried and tested, and alongside a pizza, we really liked the Grillo, or if you're flashing the dollar, the fizzy Rotari Brut was a perfect match – think Bubbledogs. I can't really enthuse enough about Wylam Jakehead either, also on draught and pretty good with a 'za.
What next?
The restaurant occupies three stories – remember Nino's? (lol) – and plans are afoot to turn upstairs into a more traditional NY pizzeria complete with all the old Heaton gear. It'll likely sell those 18-inchers we all went crazy for, and I for one hold a soft spot for that Brooklyn vibe, and can't wait to see how it pans out.
Really I just love that Cal does what Cal wants – living my personal dream of owning a pizzeria and telling punters to fuck off if they want more than three toppings on their pizza. No, it doesn't work for everyone, and there will always be moaners, but you've gotta respect someone that believes so strongly in what he does.
He won't stop there – Cal talked to us before opening about being worth a Bib Gourmand, last we heard he was talking M*…
In short, consider yourself lucky Jesmond, because this is The Best ??
Contact: calsown.co.uk
Food hygiene rating: 5/5