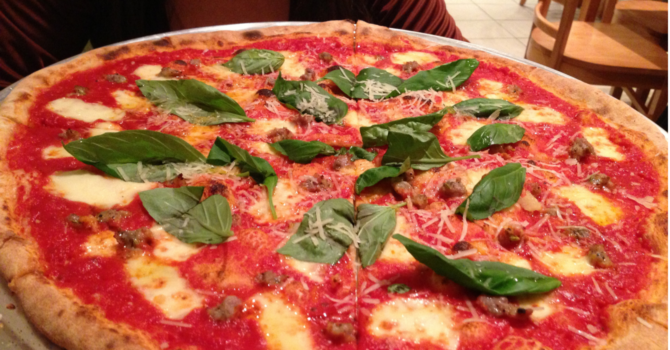 We do love pizza, but unfortunately, it's still so much easier to get a bad one than anything we'd call pizza here. Luckily, people seem to be catching on to the demand for "real" pizza, the latest and greatest of which recently popped up out of nowhere in…Heaton of all places.
Cal's Own (207 Chillingham Road) is an unassuming joint that you have probably driven past without batting an eyelid. Selling whole pies or by the slice to go, it claims to be "Brooklyn style of the highest standard". Having heard this claim many times before, and having had the (stunning) real thing over in NYC itself – these are bold claims.
It's a cute, diner-ish affair with neckerchieffed staff and specially commissioned art on the walls, but the focus is rightfully on the pizzas. These are a far cry from the massive range of shapes and sizes in the UK, most of which are more cheesy tomato soup on toast than anything any Italian or New Yorker would call pizza. Looking at the menu, there are just five choices, and not a cheese-stuffed-crust-meat-feast to be found anywhere – just plain cheese, red, white, Neapolitan, and calzone. 14 or 18" for £10/£12-ish with extra toppings for £1.50. Slices about £2-£3 each – massive though.
It is great to see someone so passionate about their ingredients – there are plenty of DOP here, and a lot of them being imported from Italy. Prime example of this passion is a special pizza is on at the moment featuring nduja, which we know of, but haven't seen in any restaurant, ever, so for it to make an appearance on chilli road is excellent. Speak to Cal for 2 mins and you get the feeling everything is made with love & pride. Canny.
We've tried a few pies now, and the simplest ones satisfy most. Basic cheese pie, the perfect combination of mozzarella, proper-NY style tomato sauce, and hand-stretched and quickly baked dough should cover most people's cravings, or go for the Neapolitan with San Marzano Tomato sauce. Pictured below is the addition of Italian sausage, which pops with the little fennel seeds that make it so great. If the photos alone haven't sold you on this pizza, nothing will.
We also try the home-made Mississippi Mud Pie (£4) – rich, heavy, creamy, as it should be. It's a sad state of affairs when all it takes to get you excited about dessert is something home-made! Listen up NE restaurants.
We may love fine dining and the Michelin star experience, but at the end of the day, big flavours and simple food will always win our heart. If people would stick it to Pizza Hut et al then maybe we could have great little places like this all over. Hopefully the endless queues at Pizza by the Slice in the Grainger market, and the sell-out Urban Night Feast attest to the market being out there for some good "street food".
Little things we love: chewing gum with the bill which eats an after eight any day. The restaurant is BYOB which suits it. Cal's refusal to put more than three toppings on a pizza (it might be for practical reasons but we like to think it's for simplicity).
Cal's Own is now a right regular of ours, and while we do look forward to the upcoming home salted beef bagels, we hope the pizzas stay the focus and continue to get better and better. If you've got a passing interest in good pizza, go and get a slice. And get us one.
Contact: calsown.co.uk
Food hygiene: Not Yet Rated