Thaikhun for grown-ups?
Chaophraya (Grey's Quarter, NE1 7AP) is, and I'm glad they don't use this label anymore, the 'fine dining' big brother of Thaikhun. It's an interesting positioning – I can't really think of any "going for the slightly upmarket" chains. Even those with quality food like Byron & Wahaca know their place – stay inexpensive, cheerful, and don't try too hard.
They've obviously spent loads on decking out Chaophraya, and it's bloody huge too, 100+ covers. And they'll try and sell you on that view over the Monument, but I reckon any restaurant attracting people based on the view is having a laugh. See also: The Botanist, places of Dubai, City of London, misc. tourist traps across the world.
Anyway, Chaophraya had been open for a couple of months, and seems to be one of the busier Grey's Quarter restaurants. They held the launch do-thing last week, so we didn't pay for any of this food or drink, but I'll come to that later.
You get prawn crackers, which is refreshing but let's be honest, bloody everywhere should be doing it. They cost nothing, and give you that little bit of pre-meal joy. Menu-wise, if you've been to Thaikhun you'll know exactly what to expect, only this one wears a nicer dress. There's all the Thai standards, they're just elevated that little bit compared to the Baby Thai Leisure Group, and the menu affords itself some nicer items (soft shell crab!).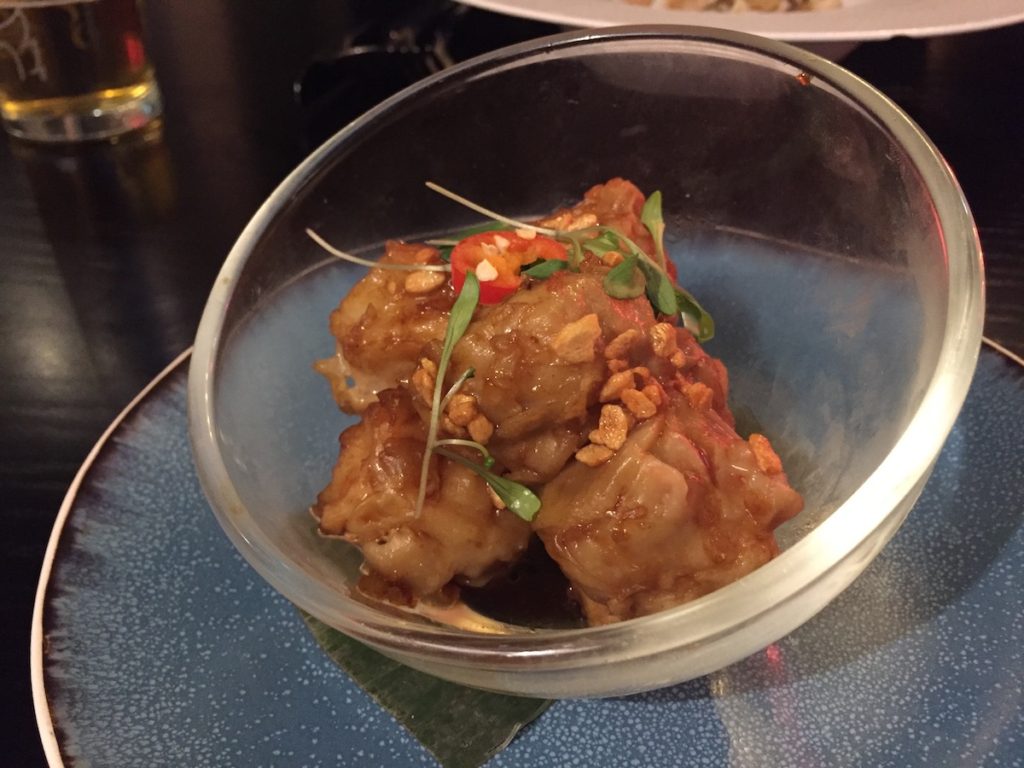 For chain standards, it is all expensive though. A bonus of chains is knowing you can usually bring a voucher and escape for as little £ as you want. The alc starers here average £8.50ish, and there's set menus which start at £35ea. Given that most of the Thai places in town are relatively bargains anyway – Thai House, ZaapThai, Nadon, this should tell you where they're aiming.
Nonetheless, these steamed pork dumpling (£7) were a highlight – super delicate, and nicely offset with a crunch of peanut. The kind of thing you could eat a bucket of. I got the tom yum soup – £10.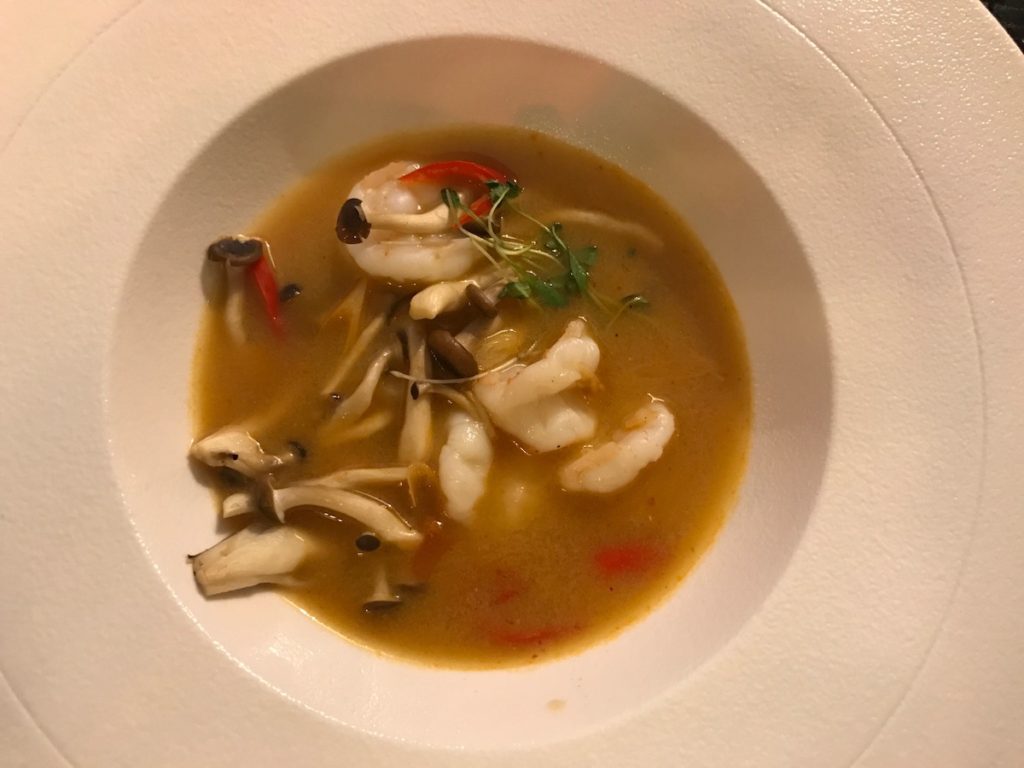 They've gone all out on the presentation – crockery spend must have been high, and everything definitely looks better than your usual tired-Thai-cliché place. Though there's a lot of them too – Buddhas abound, and wall-mount TVs showing looped videos of Thailand ?. They pour the tom yum broth at your table – for oohs and aaahs, but it's actually a great broth with a lot of discernible layers, and the right level of spice which a lot of places wimp out on.
One thing that annoyed me, they're going for that personal/American service touch "hey guys, my name is x and i'll be your waiter this evening". Rendered pointless as we were served by at least four different people.
We moved on to massaman curry (£15), and crispy pork belly (£13). Rice and noodles, £3 extra ea.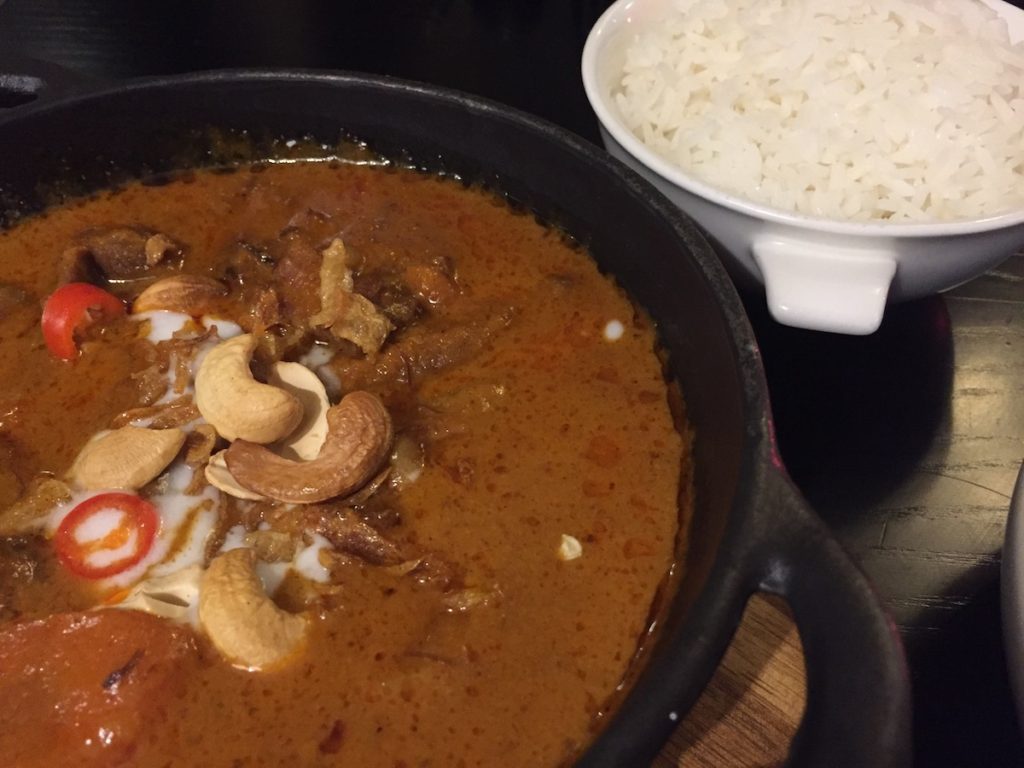 I had at least half of Kate's massaman, addictively/overly sweet and loaded with cinnamon. The lamb quotient was a bit mean, but it's a fine example of the curry, and one I'd eat again and again. Thing is though, it's eighteen quid. Way overpriced – the same thing is £12 at Thaikhun, and that money will get you a quality main in any decent restaurant in NCL.
Desserts – they've got some non-Thai stuff like this chocolate bombe (£7). What it won me over with in properly bitey whisky in the ice cream – Thai whiskey apparently – it lost me in cold and straight outta the packet meringue. I s'pose it's a novelty dessert made for Instagram, with a chocolate sphere that melts at your table.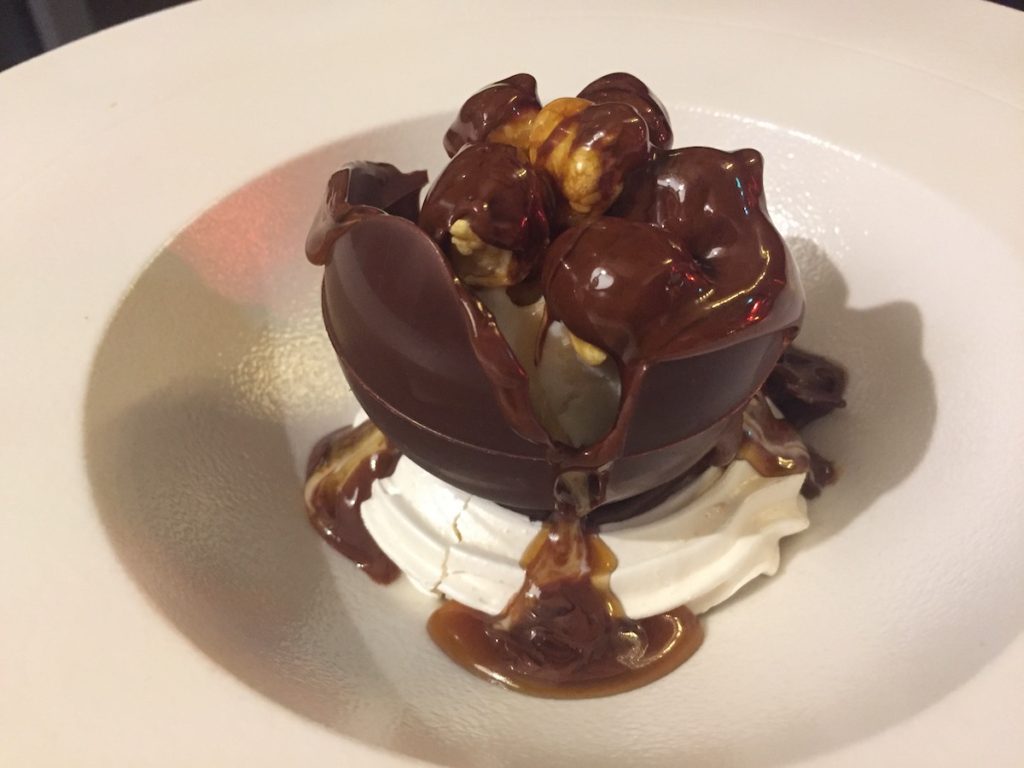 The more "authentic" Thai dessert platter was disappointing. I wouldn't say Thailand has ever really nailed desserts anyway, but mango, and sticky rice – what's to say? A pandan custard/pancake saved it from being a complete write-off, but it's all stodge on a plate.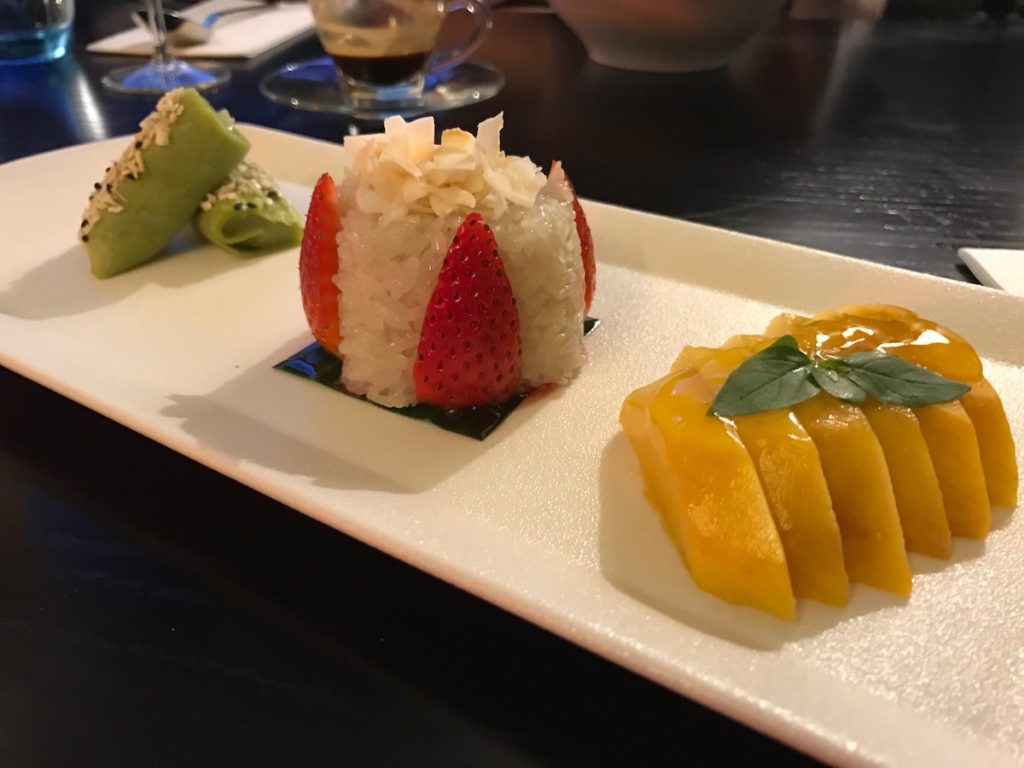 So, we didn't pay for our meal, which I was pretty glad of as the bill would have been nigh-on £70 just on food. Bear in mind the first drink on the menu is a G&T for £12.50. For some contrast, we had lunch at The (absolutely glorious) Patricia last weekend for £65. You will, no doubt see glowing reviews, but for that kind of spend you can in theory eat nigh on anywhere in Newcastle. So if I was after more like this, it'd probably be Baby Thaikhun I'd head to instead.
Contact: chaophraya.co.uk/newcastle/
Food hygiene rating: Not yet rated