The best thing to hit South Shields since the last Colmans ?
Colmans Seafood Temple (Sea Road, NE33 2LD) was for me, a welcome surprise addition to the South Shields landscape when it opened just over a year ago. Being an NE29er, the ever-reliable takeaway is one of the very few reasons to visit 'the other side' so a bit surprising that it's taken them almost a century to have a pop at a more fully-featured 'look at us!' restaurant.
I mean, apart from the nice stretch of Sandhaven beach which Colmans Seafood Temple overlooks, you'll struggle to give me a reason to go to South Shields. I'm sorry but food-wise, it's just dead on arrival. We've tried a lot of the Ocean Road Indian restaurants. Apparently still to this day living in the late nineties. Outside of that, it's grim reading. It's a bit depressing when just over the water you've got the Fish Quay starting to come alive and thrive.
Anyway, we all know and love Colmans. Those bloody Bank Holiday Mondays spent waiting in that queue, but knowing that it's ultimately worth it. For the longest time, the king of fish & chips. I mean, HOWAY.
And if you just come here un-adventurously just for fish and chips, you're obviously in safe hands. The chips, the frying, the batter, it never changes, and consistency is clearly the name of the game. World's best? I'm not so sure about that, but they're very, very good. A little on the chunky side which can make them heavy unless you're Hank Marvin, but still A Great Chip. And while it's still that British obsession – cod or haddock – they do try with sustainability, and you're gonna get a better standard of fish than 99% of takeaways.
The Seafood Temple, which gloriously repurposes the old public convenience that was Gandhi's Temple, allows a bit of creativity not present in the Ocean Road takeaway – and indeed some proper cooking. Hey, the panoramic views are pretty good too. Bag a window seat.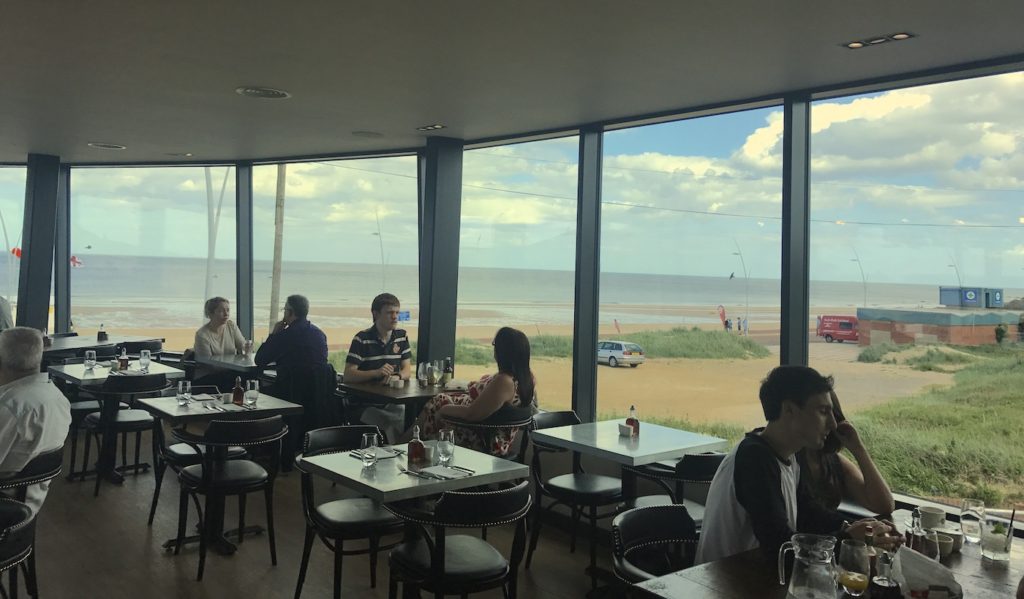 Under 'more exciting than fish supper', see for example this seafood mixed grill (£28, market price) which is whatever they've got off the boats, cooked simply. Today's had red mullet, prawns, scallops, lobster, and, well everything. Birthday treat.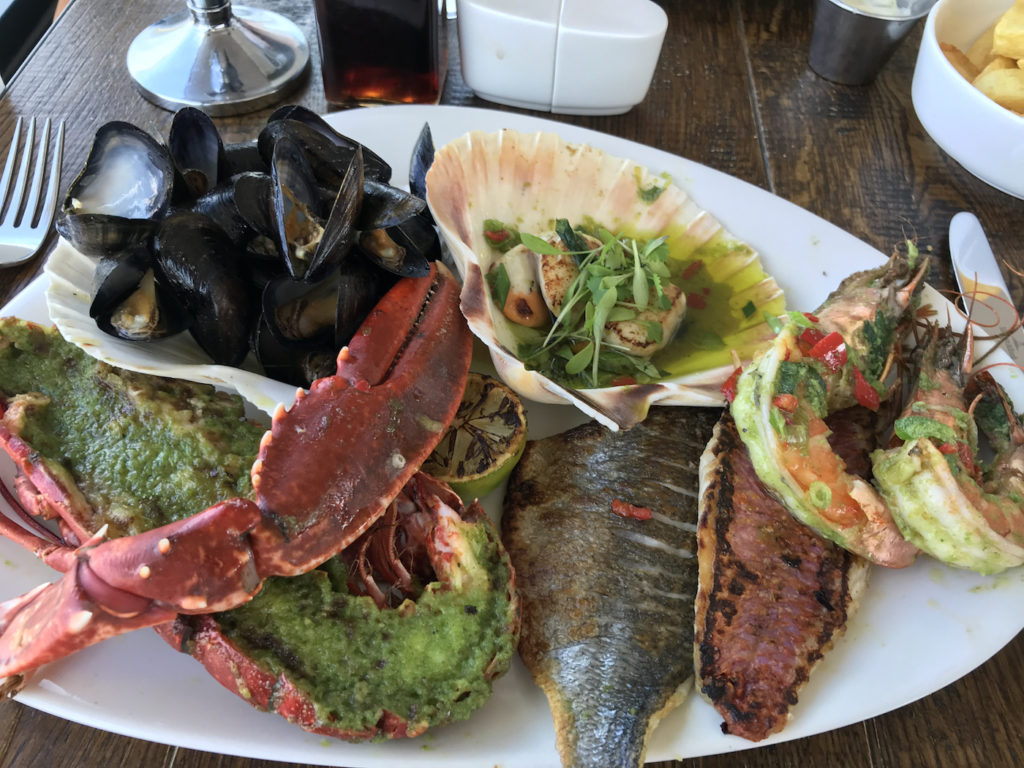 It's the star of the show in a place like this and while there's some missteps – that herb sauce permeates everything and is too much for the lobster, it's still 'proper' seafood cooking. The Asian-esque scallops are beautiful, but I wish they'd just let the seafood speak for itself a little more. I'm sure they would if you asked. Prawns rocked.
Elsewhere under 'new things' there's a seafood jungle curry which I've been itching to have, a niçoise, and even a rib-eye alongside staples like a shellfish soup, tempura squid, crab cakes with curry mayo. I doubt there's much wrong you could order from the menu.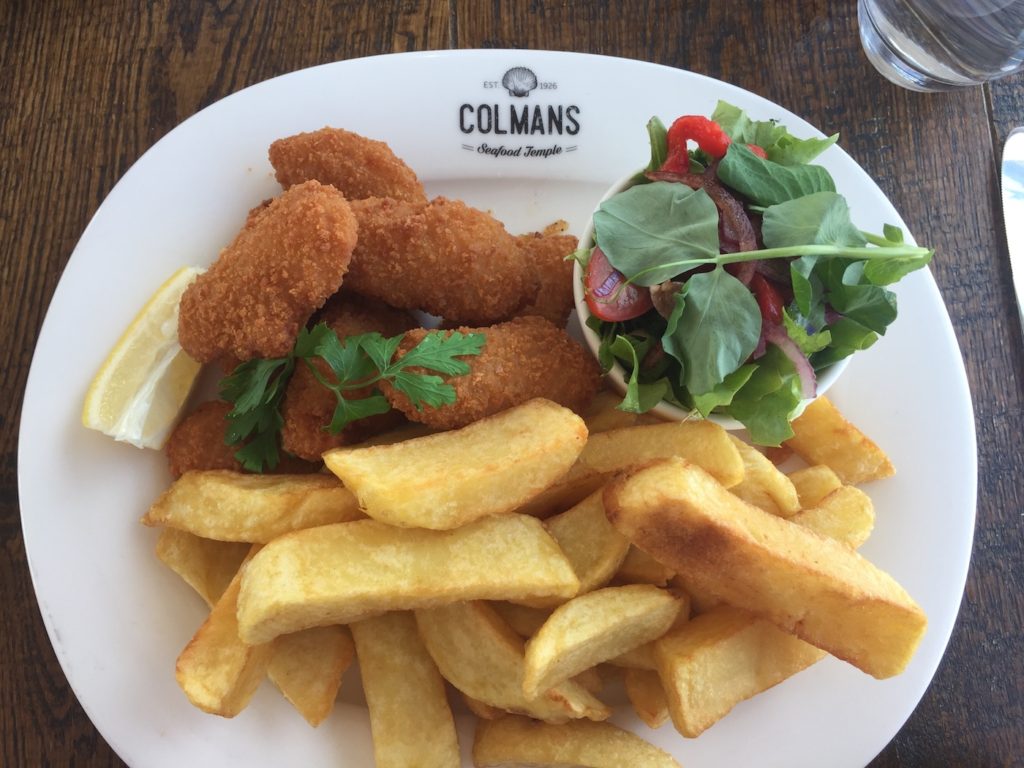 From a glance around the room every time we go, I get the feeling most people aren't straying into anything too fancy – though the beige classic, scampi (£10.95) is plump, sweet, juicy and as good as you'll get anywhere. Either dress, or ditch the side salad though. Get mushy peas and tartare sauce instead.
Potted shrimp is also something that I'll nearly always order – beautifully spiced here with tons of spiky mace and jam-packed with the little brown blighters. Annoyingly, though, straight out the fridge with rock hard butter & unremarkable bread.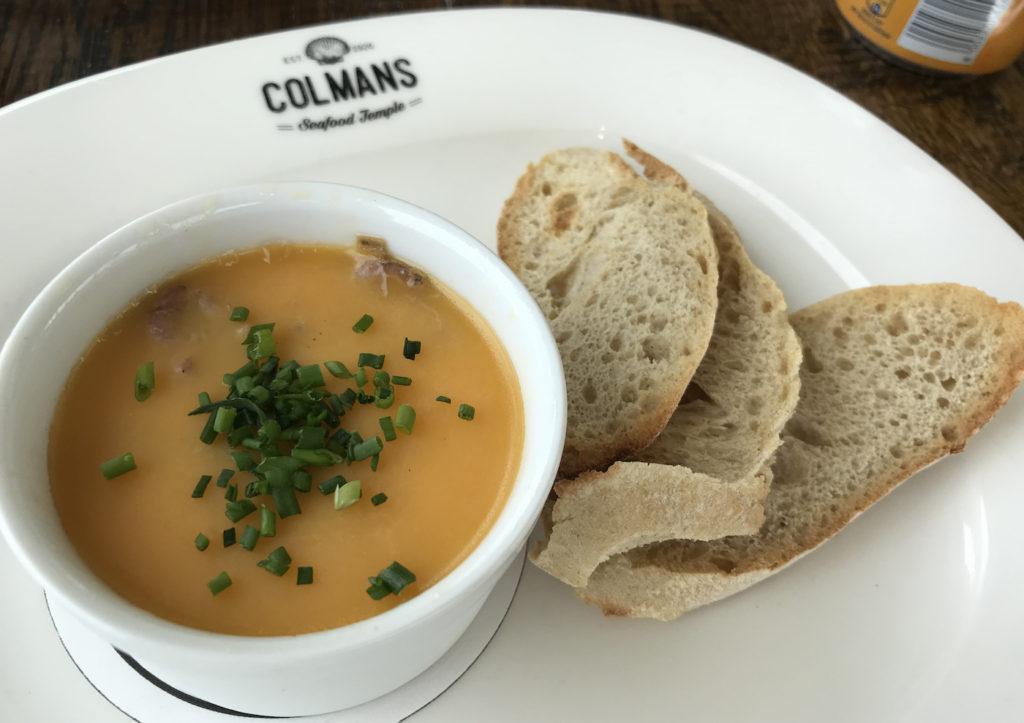 The wine list, and indeed drinks overall aren't much to get excited about which is a shame given that they've made so much effort otherwise. Service makes up for it, and has been spot on the few times we've been.
Aside from the 'main' restaurant, there's an offshoot 'oyster bar' which sells fruits de mer, and of course, four types of the mollusc: native, straight up slimy, and even a ceviche. Tempura with tartare sauce, though not for purists… ?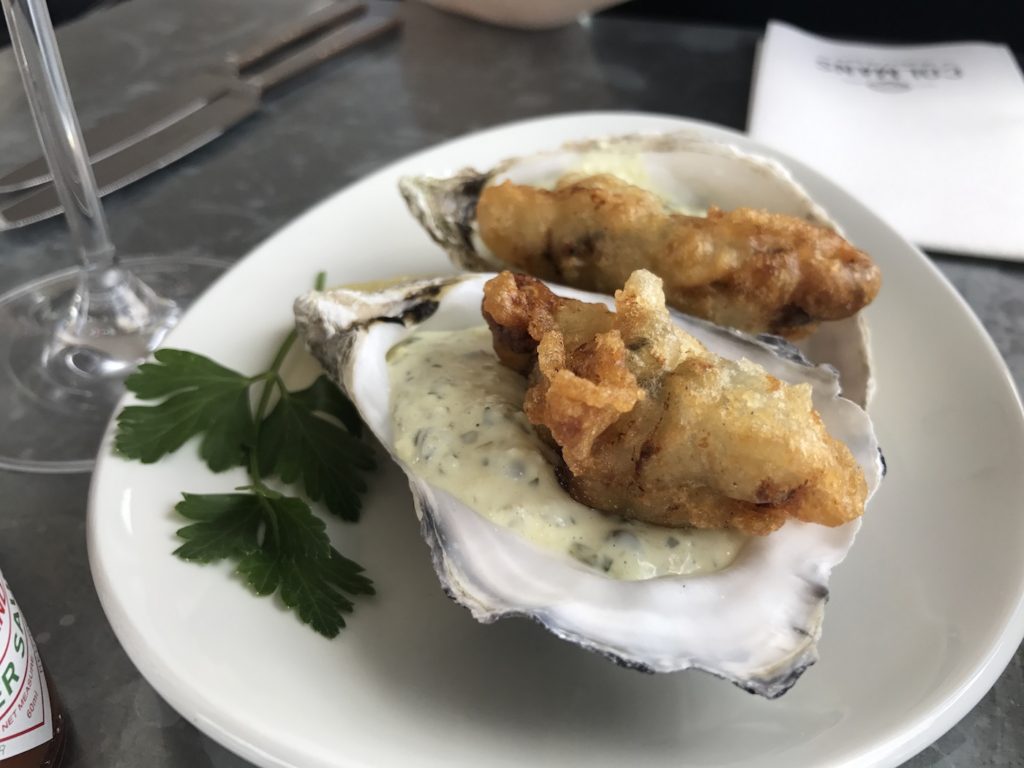 It's all sensibly priced for the quality of experience you receive, and is absolutely head and shoulders above anything within literally miles. I mean yeah, there's a couple of niggles, but when you can just go and get fish and chips this good, it's hard not to love Colmans. That said, just over the river and much closer to home there's now Saltwater Fish Company, The Staith House, Latimers, and Longsands on the scene now, which easily rival and in many cases surpass Colmans core offering. We are #blessed to have so many corking seafood places on the NE coast, really.
I'm sure despite this, the temptation to make a special trip just to get some fish and chips from Colmans will remain strong. Sunny day, cold white wine, Sandhaven beach, and some fresh fish, you could nearly be by the Med. Nearly.
Worth a trip for anyone, especially those South of the river.
Contact: colmansseafoodtemple.co.uk
Food hygiene rating: 5/5