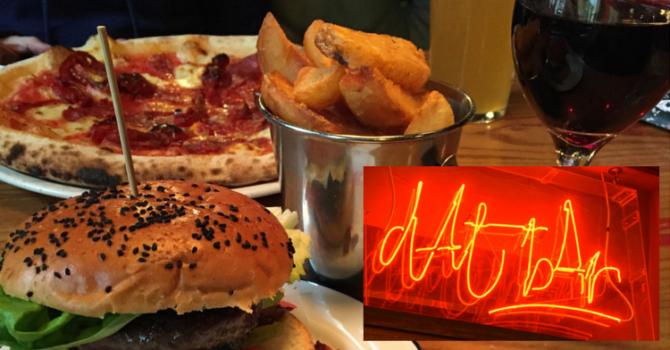 Is it a bar? Is it a restaurant?
Featured in my "Best Pizza in Newcastle" guide
datBar (NE1 16JN) is a bit of both, a Newcastle hipster hangout if there ever was one.
Despite that, it's one of my favourites in town, especially for a laid-back drink. It tries really hard to be cool, and pretty much manages to succeed where others fail.
You'll have seen the overly decorated walls, the hand-painted murals, edgy artwork and other miscellany including a (ho ho ho) "Don't whinge on TripAdvisor" sign. Lots of bars and restaurants are trying for a similar theme and missing the point, but here I really like it (see: the designers).
It's 50/50 bar/restaurant, in the old Pasqualinos. That was a partnership with the neighbouring Theatre Royal which has now ended, and datBar was born out of it by the ever-present di Giorgio family. It's a bit of a sister venue to Bierrex, so much like there, the drinks selection is great. There's a rotation of 20 draughts which are all from top NE brewers and beyond, and while they do get a bit pricey, you're paying for the curation. There's a token Guinness, but the rest is usually rare/interesting, so you know you're pretty much gonna get a good beer. Something every other frigging bar could learn from – a "craft beer lair" or whatever the marketing term du jour is, isn't a couple of bottles of Blue Moon & Punk IPA which you've bought from Morrisons and charge +400% for.
Anyway, the menu – mostly pizza, burger, picky bits.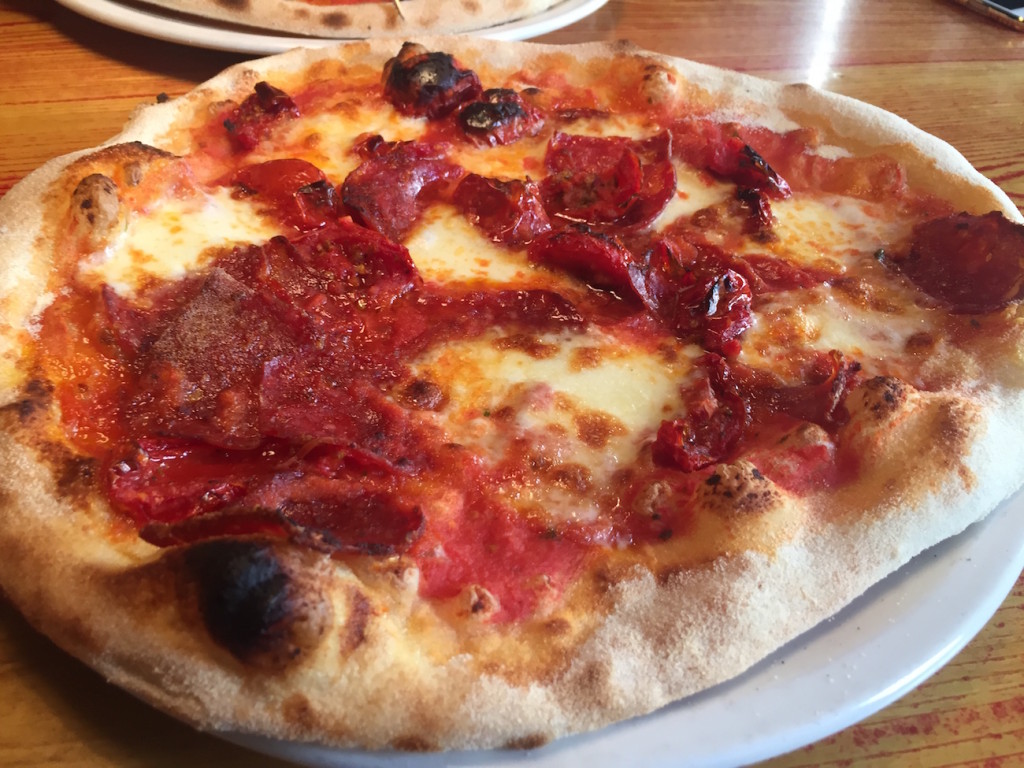 The pizza at datBar is one of my favourites in Newcastle – they're huge. They invested £100k in a new kitchen including a centrepiece pizza oven back when it was Pasqualinos, and with a menu of only 10 or so pizzas, they've just got better and better.
It's not Cal's Own, but I really like it. They're tasty pizzas, and are nearly all less than a tenner. I love the tallulah mae (above) for it's spicy n'duja hit, and for something super-savoury, the ava rose angers the pizza purist in me, but I couldn't resist the umami bomb of lovely melty beef ragu and loads of parmesan.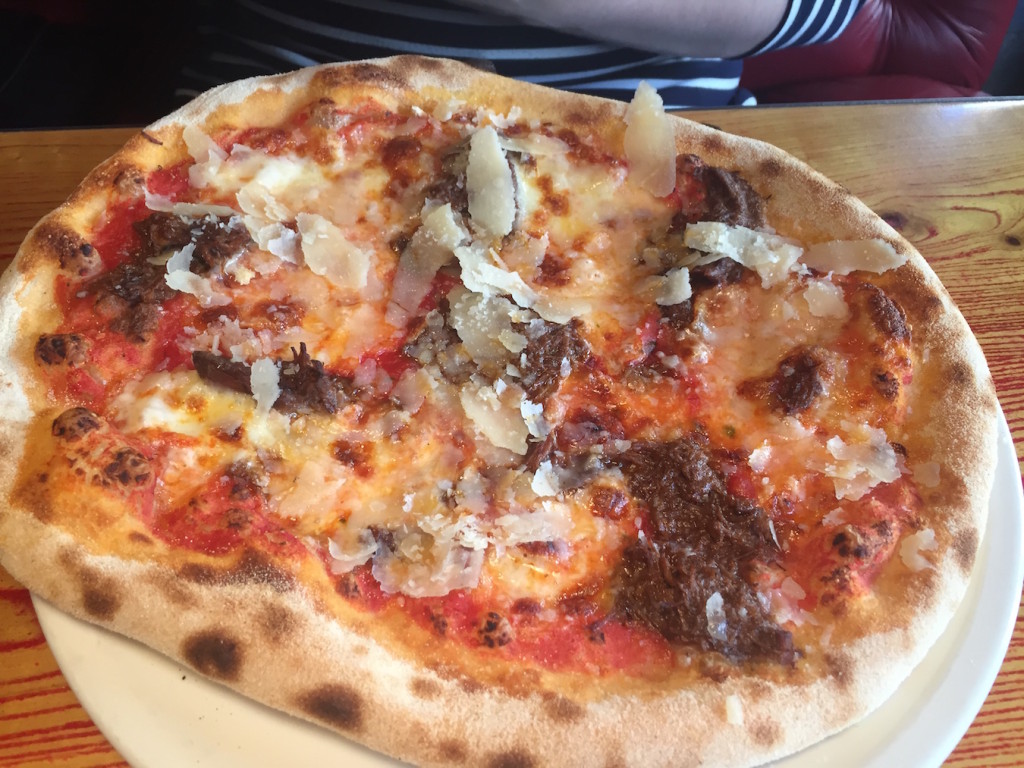 The burgers (£8-9) seem divisive – they use seriously dry-aged beef (just like in Bierrex) which is strongly flavoured, bordering on gamey. Me, I love the beef flavour coming through, I mean, that's what a burger is about isn't it?! But I can see why some people think it's a bit much. Those people are wrong of course ?. The burgers come in a solid brioche, and tick all the right boxes and are unique in that it's not a dirty burger, a la Longhorns etc., and it's not really a "posh" burger like The Broad Chare. So for me, it kind of owns its own space in the "best burger in Newcastle" scene.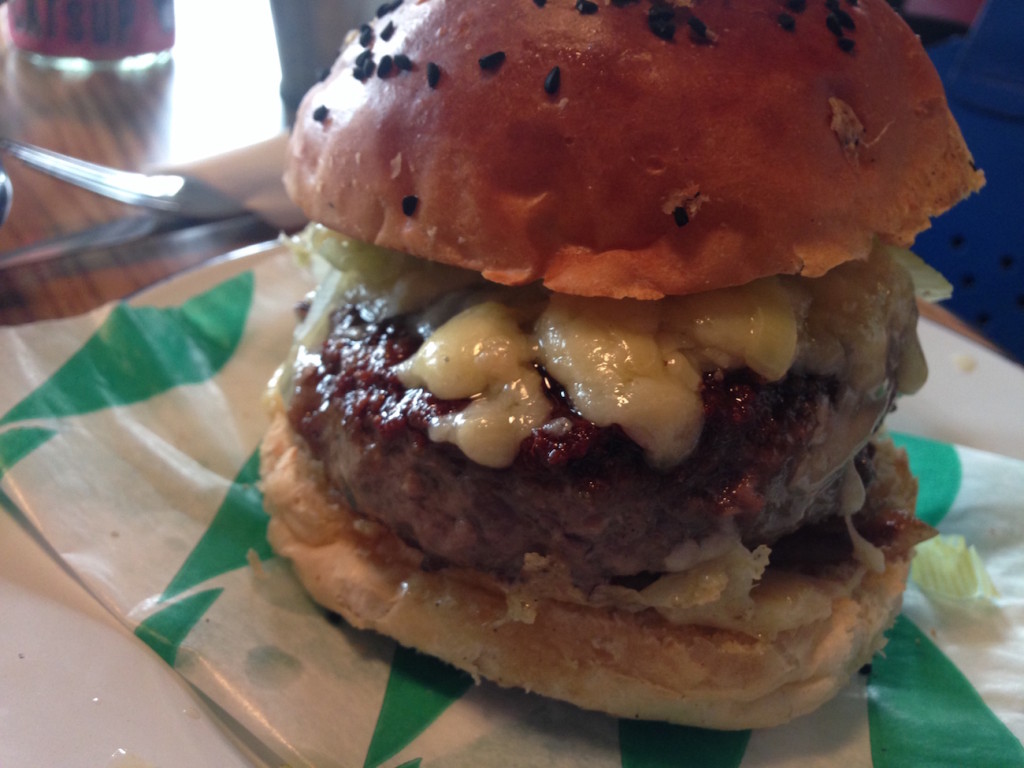 Intense beef dripping chips are also a winner – pair them up with the table sauces which, like at Bierrex, are lively and addictive.
As per most of the Di Giorgios joints, you can't really argue with the value of the set menu. There was a fiver lunch deal but that seems to have gone, though the current menu offers two courses – one being any pizza/burger – for seven quid at lunch, or £8 later on in the day.
That said the "other stuff" on the menu can be a little hit and miss, the arancini for example is sometimes perfect but on a couple of occasions it's been a bit soggy. Fried smoky artichokes with tangy balsamic beetroot is a pretty straightforward but tasty snack. To be fair, we even enjoyed the soup. There's a token couple of steaks, pastas and salads, but they get second billing.
The only remaining unexplored thing are the meat/cheese "Berkel Boards". There's burrata, cured meats I haven't even heard of, and other treats – balsamic onions, etc. They're four for £12, so, add on a couple of pints, and while it's not Friends of Ham, it's as close as we're gonna get until someone opens a copy of that particular model and crushes my personal business dreams. Do it someone. Please!
Service is young and friendly, and like the cooking, seems a bit more consistent than over at Bierrex. It's definitely my favourite of the di Giorgio joints, and unlike a lot of places in NCL, one we keep heading back to.
As for that TripAdvisor sign….hope this one is OK ?.
Contact: datbarnewcastle.co.uk
Food hygiene rating: Not yet rated