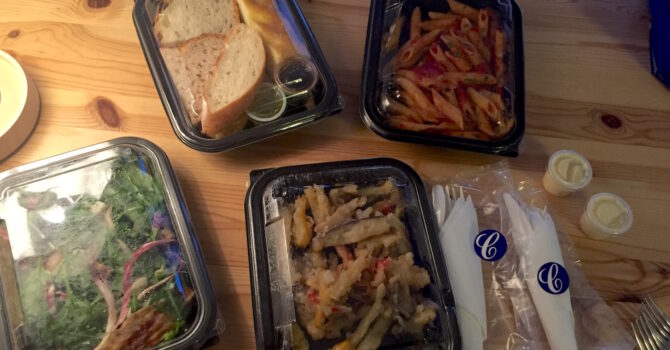 Let it be said that I absolutely love the digital disruption that's going on of old-school, and let's face it, old-fashioned industries right now. I'm sure you all saw this quote:
Uber, the world's largest taxi company, owns no vehicles. Facebook, the world's most popular media owner, creates no content. Alibaba, the most valuable retailer, has no inventory. And Airbnb, the world's largest accommodation provider, owns no real estate. Something interesting is happening.

– Tom Goodwin, in this great TechCrunch article.
Deliveroo, while not revolutionary, has offered something evolutionary down in London since 2012. The strapline is "the food you love, delivered to your door". Of course, JustEat and HungryHouse etc. have dominated that landscape in the past few years, but Deliveroo tries to stay one step ahead by offering "restaurant standard" food delivery, not your typical dirty kebab.
Seeing as they've just launched in Newcastle – you've probably seen their riders out and about – they asked me what I thought of their service. Firstly, special mention for the app which I used to order – imagine Uber x JustEat, and then a little bit slicker. It makes it very, very easy to spend your dollar.
The flat fee delivery charge is £2.50 which is more than reasonable IMO, and average delivery time seems to be about 30mins which is as good as/quicker than a bog-standard takeaway. You can see your delivery driver's progress in real-time, a la Uber, and ours came on a BIKE. Go on that lad!
They've launched with around 20 restaurants so far with a mix of indies and chains. As tempting as getting a Cal's Own was, we went for Carluccios as we hadn't been before (and possibly never will), and with it being relatively early, not all of the restaurants were open yet. Also – decent bang for your buck.
Bang on 30 minutes later, it was here, and while we had warmed some plates up in anticipation, literally everything you need came in the bag; cutlery, napkins, "plates", EVOO, balsamic vinegar, and separate pots of parmigano. Nice. Prices are the same as you'd pay à la carte at Carluccios, so not bad value.
The pasta came still piping hot, the salad, not at all withered, breads…well you can't really go wrong. I did order the fried veg intentionally to see how something fried would survive – it just about lasted the trip without losing too much of its crunch. Having not eaten at Carluccios before, it was alright, but key to the success of Deliveroo is getting top notch restaurants on board. Down South, you can get the likes of MeatLiquor and Bubbledogs. Can you imagine. ??.
Probably more than most, I've been guilty of a 1am parmo from Albaik via JustEat, so the news that bait of a higher quality is now even more readily available is only a good one for Newcastle. I looked back on my last few orders through JustEat, and they were around the £20 mark anyway, so spending a fiver or so extra to get some higher-quality food – count me in.

Pig out on the sofa, leave no washing up, and you get to do all the dirty stuff you just can't do in a public restaurant, like pouring the leftover cheese direct from pot to mouth. Totally didn't do that. Give it a go if you're feeling lazy – and suggest to the guys where you'd like to see next. Sunday lunch from The Broad Chare delivered…?
---
Full list of participating Newcastle restaurants (Sep-27 2015):
A Taste of Persia
Boost Juice
Blue Bell
Cake Stories
Cal's Own
Carluccio's
Clean & Press
Fratello's
Iglouu
Gusto
Handmade Burger Co.
Jam Jar
Kafeneon
Lola Jeans
Manny's Pizza Deli
Mantra Thai Dining
Prima Restaurant
Sale Pepe
Sausage Emporium
Sohe
St. Sushi
---
Contact: https://deliveroo.co.uk/
Deliveroo provided me with a £25 voucher to offer my thoughts on the service.
Want to try Deliveroo? Get a free £10 when you sign up here or use my code roo.it/jeffl5942