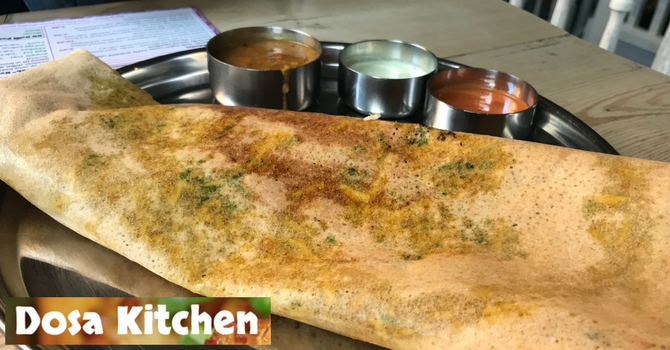 New home for the South Indian pop-up, same awesome scran ?
When the much beloved Dosa Kitchen ended their pop-up stint in the Beacon last year, it was a mixed blessing.
Sure, no more Sunday sapaad, but it was hopefully with the end goal of getting a 'real' restaurant of their own. They closed for aaaages. Would they actually be back? Would it be more popups? Would the food be the same? Well, It's taken a while, I mean we've been hanging for over a year with to much info.
But finally, Longhorns Jesmond's self-destruction has been Dosa Kitchen's gain. The unit in Jesmond is large, a little out of the way, and mostly upstairs, but its a permanent home and thats all that matters. You've got Cal's Own just behind it, and Branches coming soon, making this particular area of Jesmond a right little hotspot.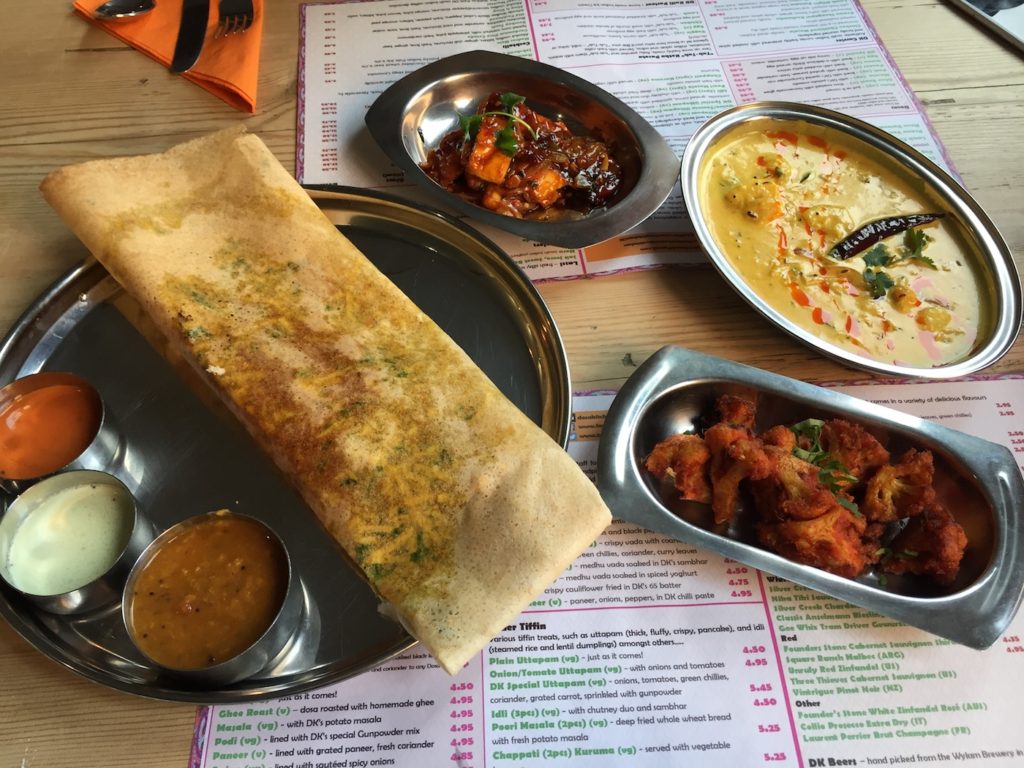 They've given it a barebones lick of paint, you can even see some of the Longhorns faux-BBQ fixings hanging round. Chef-patron Sudharsan assures us though that fit-out improvements are high on the agenda. If you get a chance to have a chat with chef, please do as he's a corker of a character, equally passionate about the food he cooks, as he is about ensuring guests have a great experience.
In terms of the food, it's oh-so thankfully business as usual for the Dosa Kitchen team – a team which remains largely unchanged from their prior stint in Fenham. So everything I said from the original post, still applies, which is the main thing ??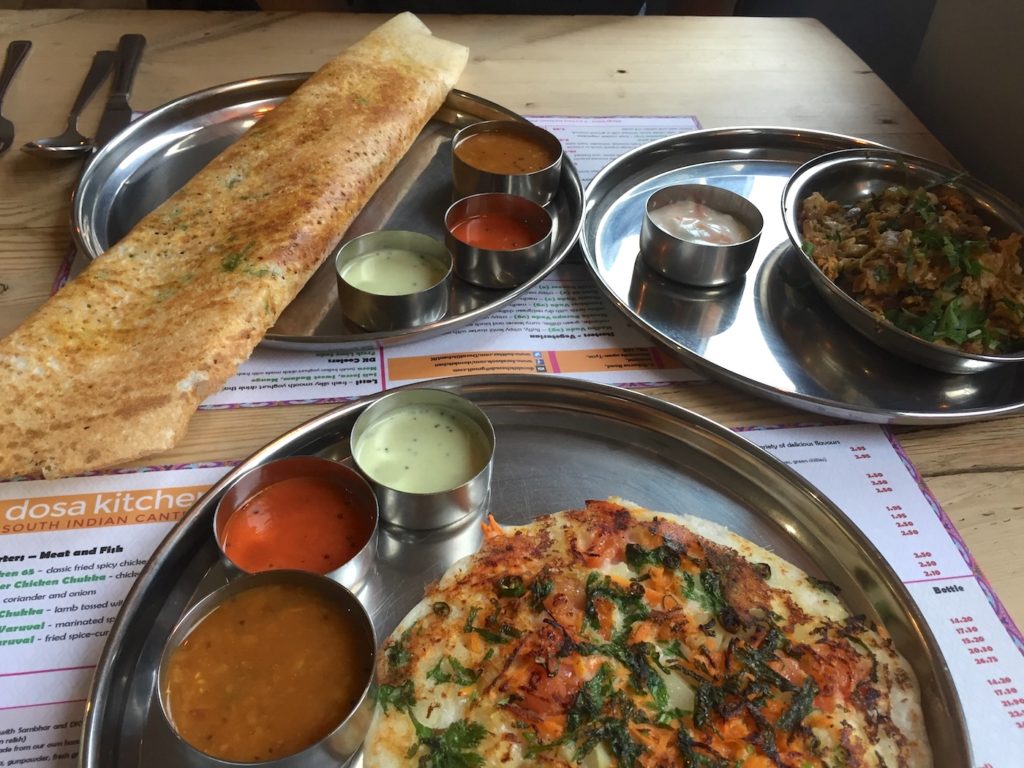 The starters we've had before are all still present and so worth your time, whether the light and fragrant gobi 65 (fried, spicy cauliflower florets), or the spicy, Thai-like chilli paneer. Or the fluffy Indian doughnut like vada. They're all there, unchanged, just as good as you remember. Good value too – this spread was about £35 and fed us all day.
The parathas remain a favourite – a patchwork of onions, spicy scrambled egg, complex spicing, and best of all, torn up bits of flaky paratha. The eponymous dosas start at less than a fiver and are one of the best feeds you'll find at that price in all of Newcastle.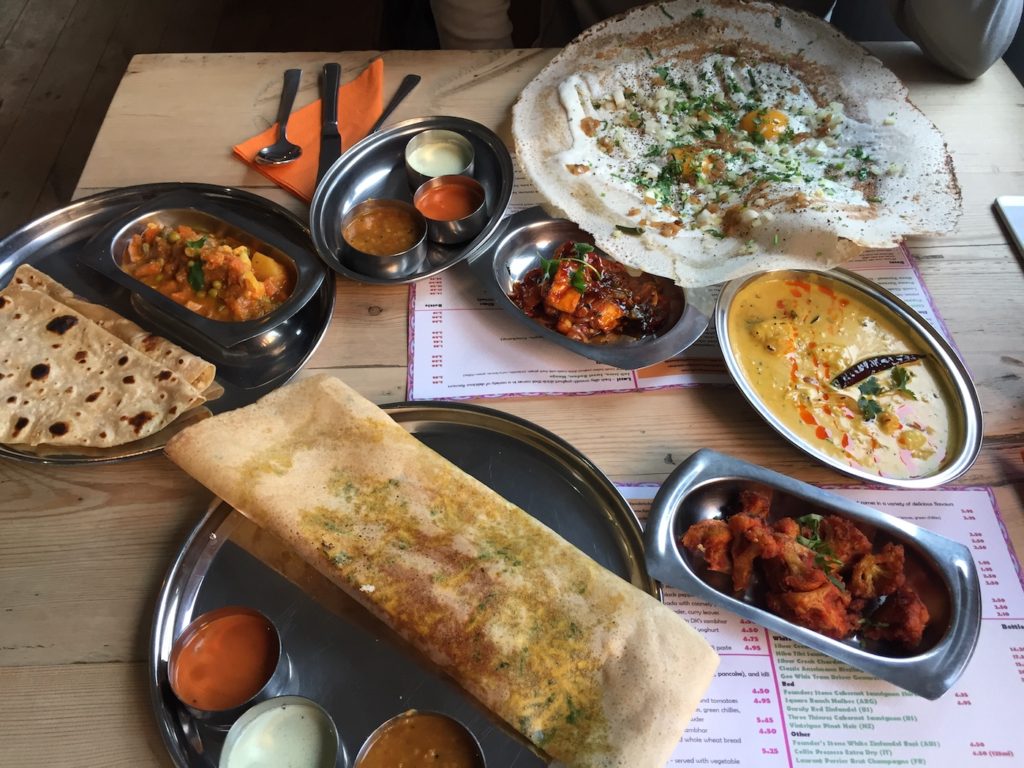 They come with sambhar, coconut chutney, and a tomato onion and relish, all of which I wish I could make even 10% as well at home, they're honestly that good. As a signature dish, they're perfect and represent everything that's great about Dosa Kitchen.
Try the DK special dosa (£5.45) which has two fried eggs, coriander, and spicy onions. It's got the wow factor, in terms of flavour, and size. Visually impressive, but no gimmicks here – at all.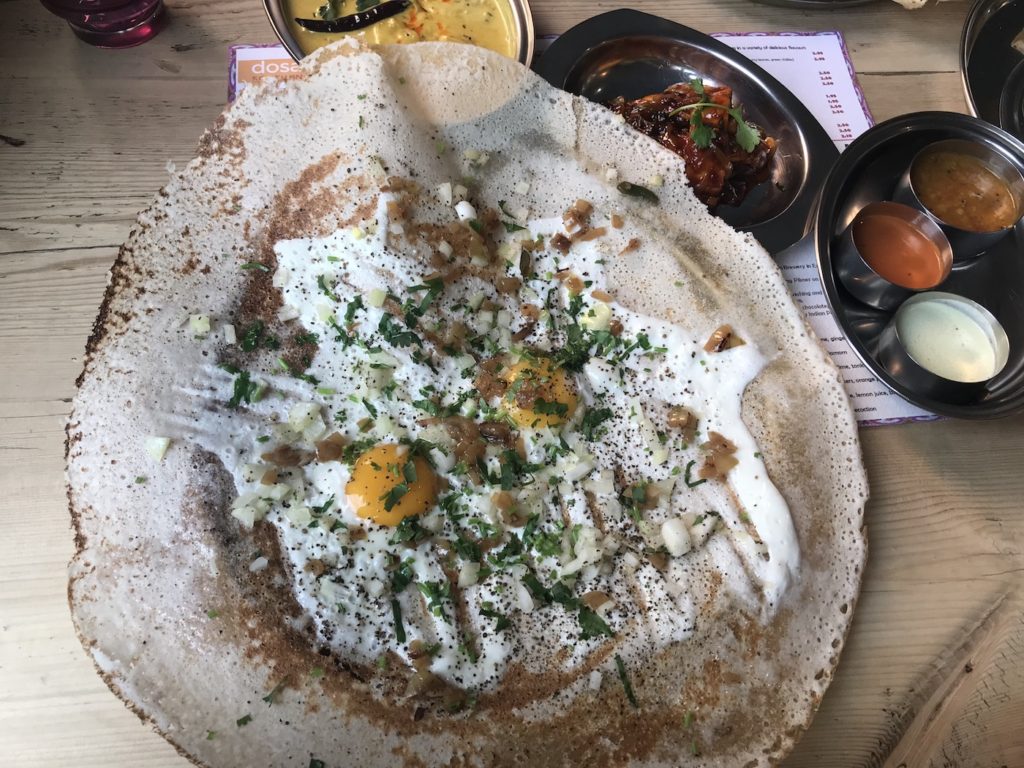 So what's new? Well there's now a drinks menu which extends to alcohol – most notably with Wylam Brewery swooping in to stock the all-excellent Hickey, Haxan, Jakehead, and the DK-only Chola Kings (a light Pilsner). Then there's wine and cocktails, but honestly, the pilsner is all you need for this kind of food. Or the smokey black Haxan, they both work well.
That's not all – the menu is slightly extended with the addition of a few proper 'main' curries. Wasn't quite sure what to expect from these, but this one was tremendous.
It's the prawn thengapal kozhambu (priciest thing here at £10.95) and oh my. It's a South Indian curry, so heavy with coconut cream, curry leaves, and superbly spiced. It's the kind of thing you just don't get elsewhere in NCL, perhaps Ury excepted, and it's chocka with prawns as well. It's rich, and just keeps on giving. We didn't leave a drop.
Don't expect them to come with some sort of keema garlic pilau rice and chilli & lemon poppadoms. We got a couple of chapattis for dipping, these are flaky, well made little beasts, and come with a curry of their own. It's a really zingy veg affair with loads of fragrant spices. If I worked in Jesmond, I'd be having this for my dinna every day and be very happy about it.
I covered it last time and I don't think it's changed a great deal, but the weekly Sunday sapaad is still excellent value, and a nice gateway to this type of food. It's especially great if when faced with the menu, you're not sure where to start. But honestly, just dive in and try it all.
So it's service as normal at Dosa Kitchen, which is a very, very good thing. Perhaps for now, its an evolutionary step. It's so unique in the North East, never mind in Jesmond. Serving, consistent, flavour-jammed, and good value food which intrigues and delights. Within a new space and a dab of ambition, it will only get better. Hooray for DK!
Contact: dosakitchen.co.uk
Food hygiene rating: 5/5