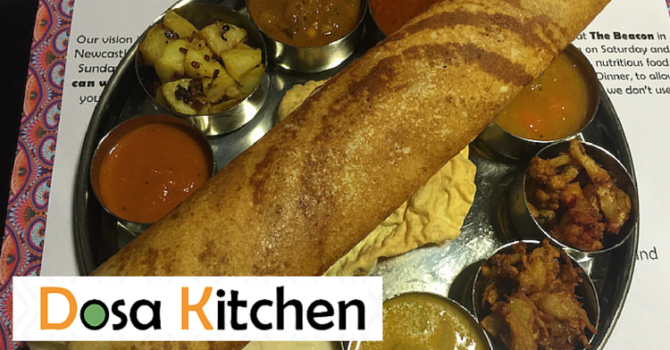 **UPDATE: Dosa Kitchen have now moved to a permanent home in Jesmond**
The Beacon (NE4 9PQ) seems an unlikely location for the latest hot thing in Newcastle eating, but head up Westgate Road and you'll find yourself a right little gem that's 100% worth the trek.
By day a business centre, it's definitely an unlikely spot – so much so that we completely missed the entrance on our first visit. The sandwich menu on the wall gives a glimpse that this space spends most of the time as a regular office canteen. It's very much early days having only been open a couple of months, but chef Sudharsan has decided to pop up a kitchen here, operating for now only Thu/Fri (6-10pm) and Sat/Sun (11-10). We went on boxing day to have a gander, having drooled over their Twitter gallery. It was one of those places that you just really hope lives up to your expectations…
The menu is very South Indian, though any of the attentive staff are more than happy to go through it with you, and with a real passion too. Nothing on the regular menu is more than six quid which means you can get just loads and try everything, which would be my advice to you.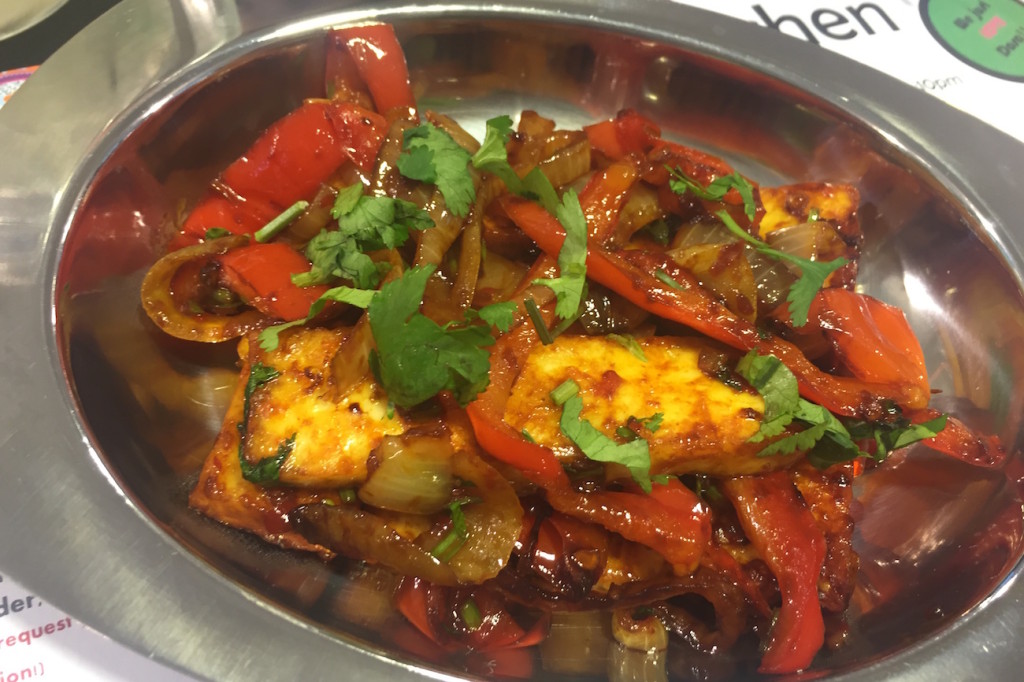 We started on chilli paneer (£3.75), and medhu vada (£2.50). The vada (bottom), think: hot & dreamy spiced doughnut. The paneer (above) was a favourite, coming together beautifully all hot, sweet, salty, and sour. Gobi65 and chicken65 are also well worth a look (£3/£4) – simply fried in a dazzling blend of spices. It's the type of dish that doesn't look or sound like very much, but tastes phenomenal, and like with everything, you get loads, despite the low prices.
The namesake dosas are as you might expect, brilliant – piping hot straight from the griddle, crispy but soft. I've often found the potato filling in dosas to be a bit stodgy, but the masala dosa we got was first class. For less than a fiver, I think you'd be hard pressed to find a better feed. Everything comes with chutneys and sambars which all add another dimension of their own, and the menu assures a lack of artificialness or any other added crap. Can't fault it.
Mains are a little more familiar – dosas, uttapam, parotas and other breads, topped with all manner of very simple but good things. Much of it, as per South Indian cooking, is veggie, though my favourite of the lot was the "tuk tuk" style lamb parotas (£6). These are totally different from the British Indian style parathas I've come to know and love – in a very good way. The bread itself is torn up and mixed with the meat and dry sauce, with tons of lovely spicy fresh flavours, and a moreishness that just doesn't relent. I think they're lifting with chilli by default, so check when you order!
We were so impressed, we immediately booked up for a return visit – the Sunday sapaad. With this, they've aimed to mix a traditional sapaad (loads of little tasting bits) with the good old Sunday roast (belly busting). You get a choice of a veggie or meat menu for about thirteen quid which has a couple of starters, six small curries, rice, and dosas. Everything but the starters are all you can eat, on a weekly rotating menu of whatever chef fancies that day.
I remember saying a while back that I was so over all you can eat curries, but this is a game changer. I can't really recall what many of the individual dishes were, but think super traditional chickpea, coconut, fish, lamb, potato curries, all spiced perfectly, and you just pick your favourites to have some more of. There's also lime pickles, aloo, papad, and a sweet – on this occasion a rice pudding style dish. We put away six dosas between us. They are like crack and go down way too easily. But hey, they're 10x lighter than a naan!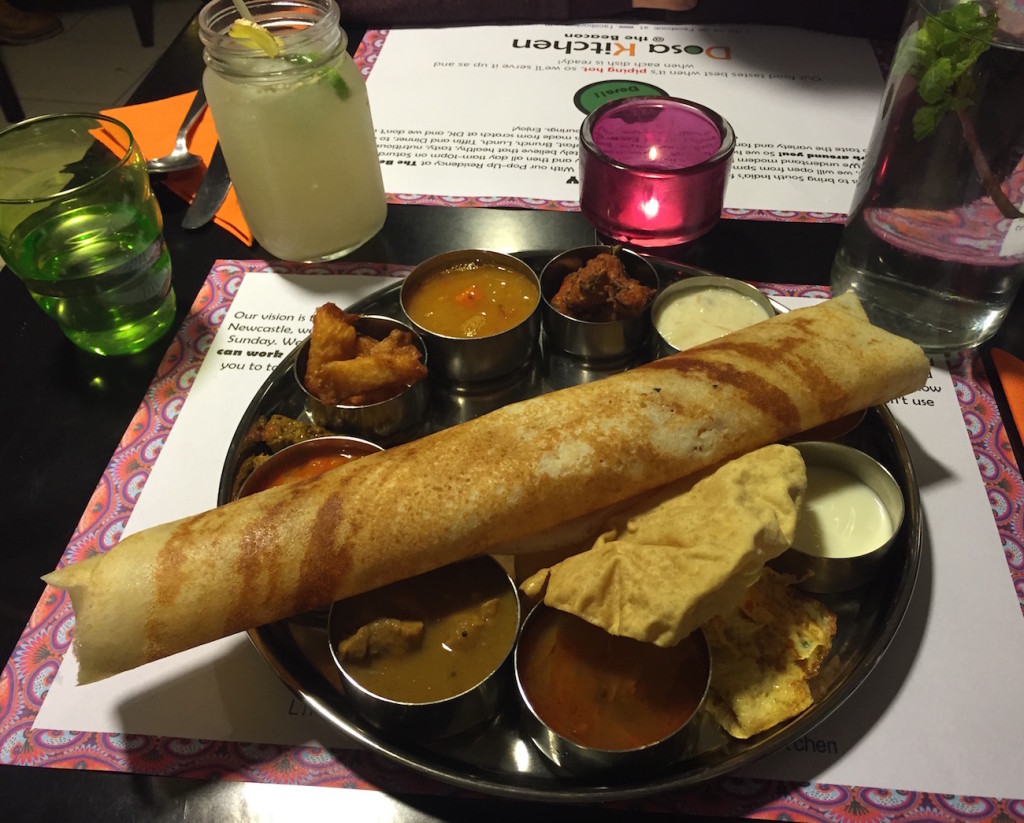 Bear in mind that there's no alcohol, but drinks are interesting. Go for the chilli ginger (£2.25) which is warming ginger beer spiked with a fried chilli, and there's teas and really good lassis too. There's only forty covers but chef Sudharsan seems keen to chat to absolutely everyone and seems truly passionate about sharing his love for the food and making a success of the business.
There's a lot to be said for banging on about authenticity sometimes – especially when it comes to this type of food, and I've heard myself from some well-respected chefs that British Indian food is shit and isn't "a thing". While I can't disagree with that statement more, except for Rasa, there's definitely a dearth of "authentic" food from the region in Newcastle.
So while "authenticity" is 90% of the time meaningless menu marketing spiel, every now and then there's a gem like Dosa Kitchen that pops up and re-kindles your love for a particular cuisine. Keeping this blog up to date, and indeed eating out regularly in Newcastle restaurants means that I see and eat a lot of crap, but it's all worth it when you see guys like these trying hard to serve bona fide food with a real passion. Get yourself up the Westgate Road if you've got any interest in better food for Newcastle 👍🏻. More please!
Contact: dosakitchen.co.uk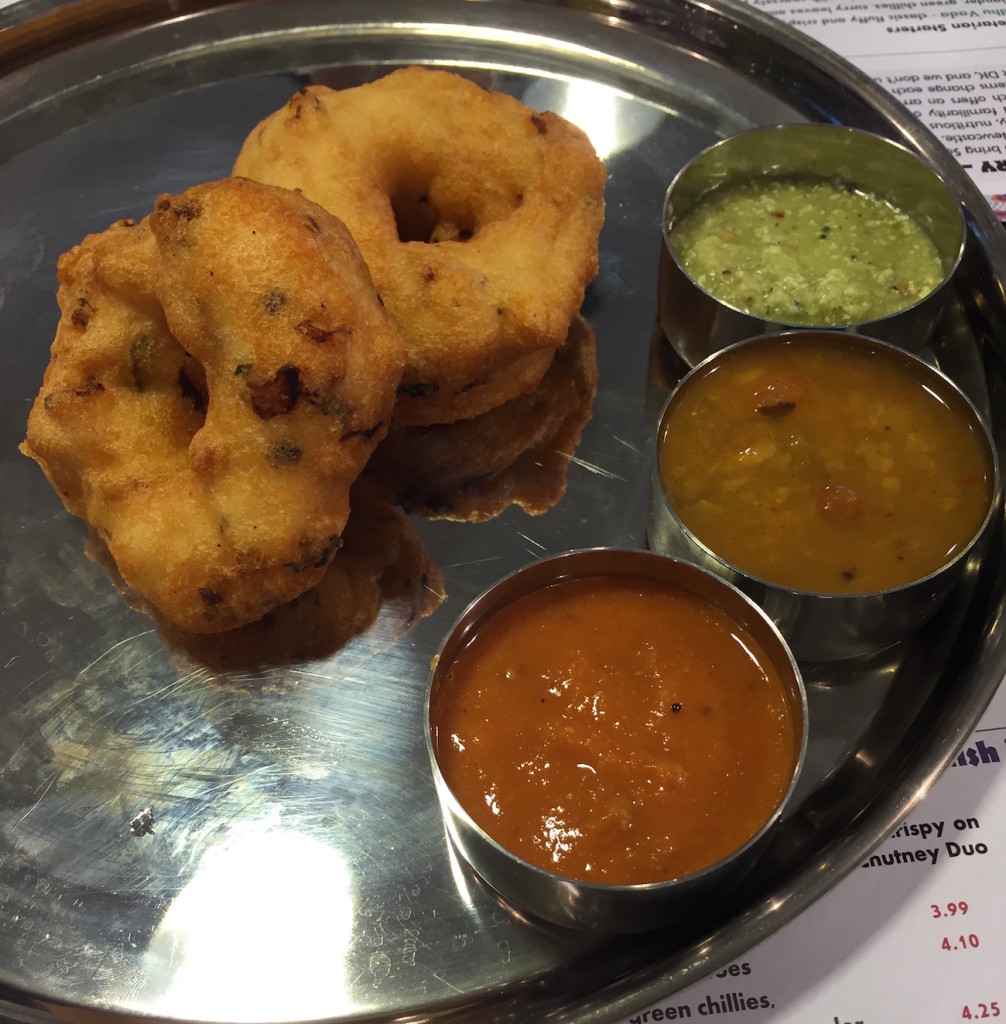 Newcastle Eats no longer supports comments directly on posts, instead, why not fire up the discussion on Twitter, Instagram, or email me directly.