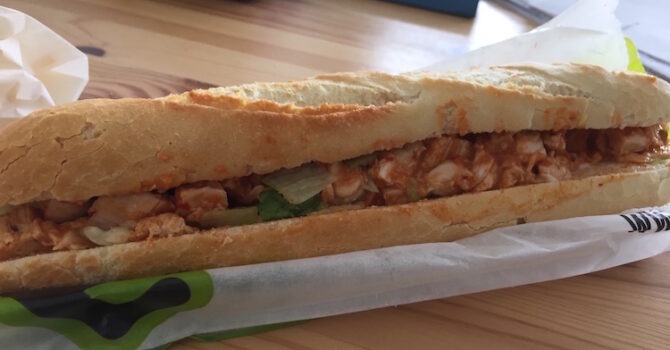 I think about opening a sandwich shop, all the time.
It can't be that hard, right? Anyone can make a damn good sandwich with a bit of practice, it's more about your location, and getting some marketing out there so people know to come to you for a kick-ass lunch instead of *shudder* Pret or whatever.
I've dodged Eat4Less since it opened, not just because of the frankly ridiculous queues every lunch time, but because I'm not quite sure that selling food for that cheap is all that good for anyone, competition, or especially very good for the independents of the city, which I tirelessly campaign for. I guess you can't knock it 'til you've tried it though, so eventually curiosity got the better of me…
12:55 – hungry, thinking of where to go for a quick sandwich. Want, but can't face Frankie & Tony's stone-heavy behemoths.
12:59 – take the plunge and join the queue, which stretches back ~100m to Primark – wow.
13:00 – Ah, it's all freshers. They have bags and bags of free shit, and some are literally leaving Primark, and joining this queue. "What are we queueing for?"
13: 03 – still not even in the store. Traversing the snake of people is clearly pissing off people coming down Northumberland St. Did you know this used to be the most pricey business rental street outside of LDN?
13:05 – I'm in! I can see the menu. Fight the urge to take a video of two women who are actively persuading their children to scream at the top of their voice. Please.
13:06 – there are paninis, and jacket potatoes, but literally everyone is buying these: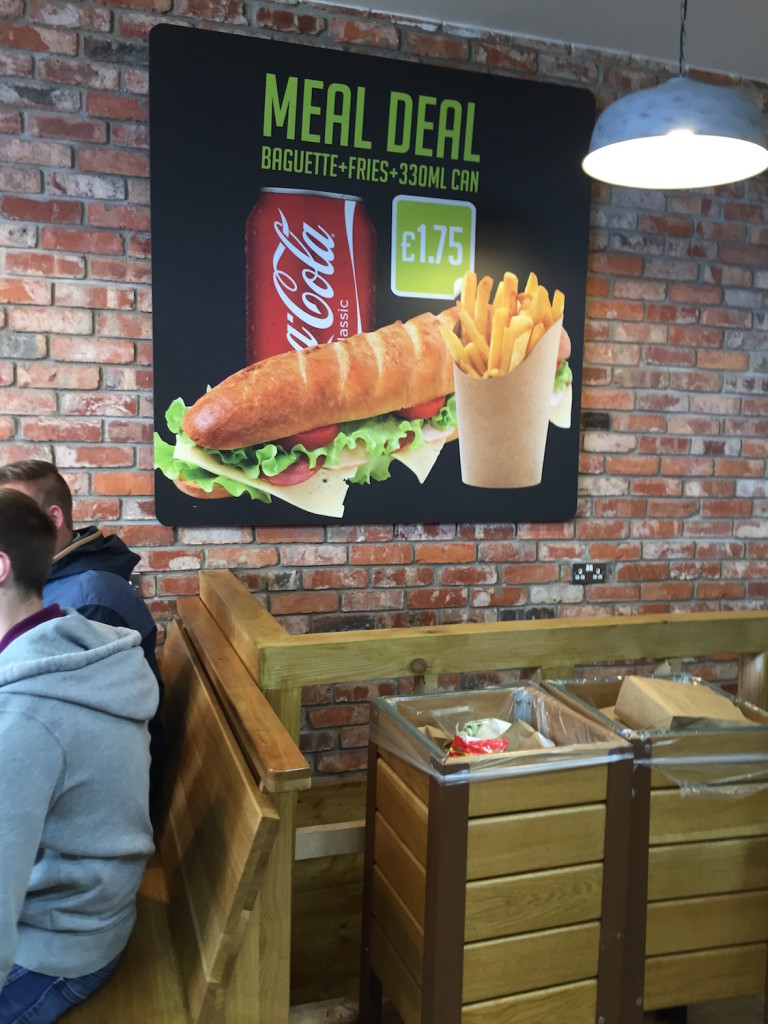 13:07  – grab a can of passion fruit Rubicon. It's interesting at least, as I did half-expect Rola Cola from 1994 for that price. There are actually lots of seats in here, but christ it's incredibly cramped, noisy and I definitely wouldn't want to "EatIn4Less".
13:09 – nearly there. Thinking about getting a special – there's chicken caesar wraps, shish kebab, smoked salmon and cream cheese even. £1.49. As a good British person, you're meant to enjoy queuing. I'm not so sure.
13:10 – Omelettes? The snarling staff are really grating. I want out. Sweet Thai chilli chicken, or brie and cranberry? They have crab mayonnaise? Is it actually £1.75 per bite?
13:11 – shit, I didn't even realise – you also get FRIES for your £1.75. Ridiculous.
13:12 – I've made it! The staff must hate their lives, which shows in their customer service efforts. From barking "next please" to throwing the food at me must have taken all of ten seconds. Get me out of here.
13:13 – I'm out! It looks like loads of food. "Nando's Medium Peri-Peri Sauce Chicken Baguette, fries, 330ml drink". I'd have happily paid more than a fiver.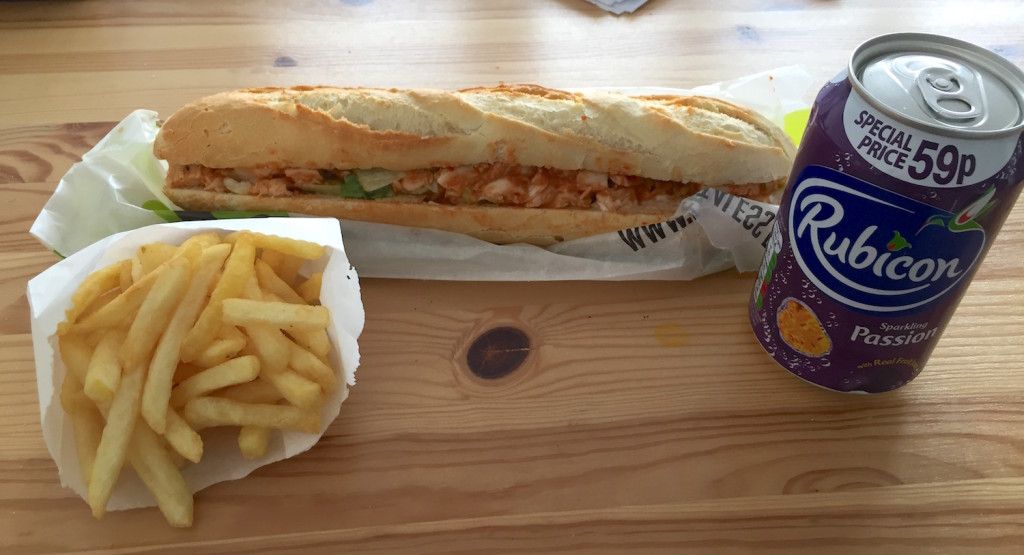 Eating. Well, what do you expect – it's OK. There's mayo and sad lettuce in the baguette, but it can't even compete with Greggs for flavour. Tastes fresh enough, but the fries are quite dry.
I get it – it's obviously popular with students. But fucking hell, pay an extra quid or two and get some customer service, don't come away feeling like a pig around a trough, and eat something that might even have some provenance. Is the country really that broke?
I'd go back. I'd get the meal deal, and give it to the homeless guy outside of Milligans. Then get my lunch from anywhere within 2 minutes of Eat4Less – Zapatista, Nudo, Frankie & Tonys, Manny's, Flat Caps, etc. etc. etc.
Contact: https://twitter.com/eat4lessuk
Food hygiene rating: 4/5