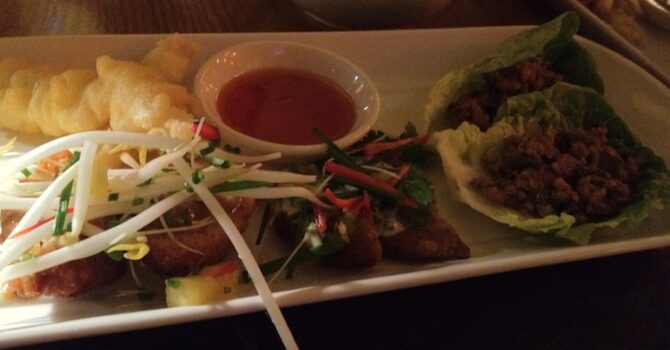 **Update: Electric East closed in 2015 and doesn't seem to be coming back. Mark is now looking after The Earl of Pitt Street**
When ye olde Barn Asia (NE1 4DP) closed, the hungry Newcastle collective seemed to shed a single tear at the loss of one its most loved. The popular restaurant even made The Times "Top 100 Restaurants in the World" – no mean feat, but alas it obviously wasn't popular enough, and closed its doors late 2011. Fast forward a few months, step in new owners, keep the kitchen and management teams unchanged, and reopen as Electric East & jobs a good 'un, right?
Well, kind of. Except a few chef changes, most notably the current Adam Hegarty of Six fame, things are mostly the same. The dining area is as quirky as before – communal seating, Asian-inspired murals, and a canny, comforting waiting area, which almost fools you into thinking you're in Vietnam. But…irrepressible owner, and surely one of the biggest personalities in Newcastle Mark Lagun pleads to us that he seemingly can't give away food sometimes. You'd have to assume part of this frustration comes from the location, kinda "hidden in plain sight" in the middle of town, but not really near anything. Which is a shame, as Barn Asia/Electric East's offerings are so appealing, well honed, and above all, damn tasty. It's a bit of a haunt for local chefs too, which is usually a good sign.
Obviously pigeon-holed as the dreaded "pan-Asian" or even "Asian fusion", the menu offers a wide mix of dishes – but all pretty much spicy, fragrant, fresh & zingy, as they were at Barn Asia. House classics include their famous legendary shaking beef which we haven't yet tried, but hey, with a name like that, right? Anyone familiar with EE's recent foray into "street food" will surely have tried and loved the beef rendang (DELICIOUS), or chicken nonya that so often graces the Boiler Shop, and these especially are definitely worth a try for those on a la carte. Every time we go though, we can't get away from the tapas menu – £11 for three from a menu of nine of the below, changing regularly. Bargain. We got the lot.
Hot & sticky chicken wings are not quite as hot as we hoped, but certainly sticky. Some dishes look a bit mean, but you do get salt squid nibbles, and no service charge.
Prawn laksa with noodles. Complex flavours that are more than "just fish sauce", envelope glassy noodles and a seriously plump prawn.
Thai mango salad is sweet, fruity and lightly spicy, so typical of what you can expect here. I'm sure not much of it qualifies as "authentic", but you know what, it tastes good.
Chicken satay skewers with peanut sauce. Crunchy, sweet, savoury – it's hard not to love these, especially given the drastic interpretations of satay we've seen in some other places.
Tadka dahl flats breads and yoghurt. A viscous and slightly dry take on one of our Indian faves, nice homemade breads though.
Wok'd beef with curry powder and noodles. Doesn't sound, or look much, but is really quite delicious. Super-soft beef packed with sweet and sour flavours.
Tandoori pork balls with creme fraiche and chives. Another moreish favourite, though accompanying salads are a bit flaccid.
House curry with breaded chicken (top). Surely an EE favourite. Katsu inspired, so sweet and lemongrass-y, with crunchy and juicy chicken. Pair with stodgy & spicy bombay chips for something whacked full of flavour, or even as a main for you smaller portion types.
We like to end with a Vietnamese coffee (£3), for a rich and super sweet finish instead of desserts, which admittedly we've never tried.
Maybe Mark's diatribe has gotten the better of us, but next time, walk past fucking Carluccio's and just give here a go. It's wholly indicative of the entire Newcastle food scene when the taak of the toon this summer is the latest molesting of Grey Street when canny little joints with passionate owners fail to pick up business. Give it a go and you might just love it.
Contact: http://www.electric-east.co.uk/
Food hygiene: Not yet rated(?)