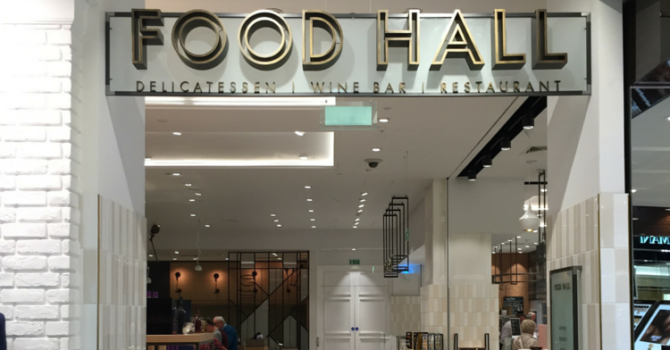 A Newcastle institution since 1882 just got a whole better.
The full history and timeline of Fenwick's is worth a read. I've always been a big fan of the Fenwick food hall – much like The Grainger Market, it's a central part of Newcastle, and as well as being a great department store .For someone keen on food, it's a general go-to place for hard to find and premium stuff, only now, it's now got some top-rate restaurants, too.
I've been frequenting since it re-opened following a large refurb back in October – there's enough there to keep you coming back, and it's always buzzing with people. A lot of these relaunches are a bit half-arsed, but they pretty much started from scratch, and it's amazing to try and recall what the old (cramped) food hall looked like when you're in there now, which I'd say is a testament to the designers. These guys also worked on Harrod's Knightsbridge, if you needed credentials…
I really like the new feel – it draws obvious comparisons with Selfridges, Harvey Nichols, Fortnum & Mason etc. but on what planet is that a bad thing? Really bright, lots of white, clean, airy, and a premium feel make it a nice place to be, but you can only rate it on the strength of it's vendors. How do Fenwick feel it's going, nearly a year on?
"The Food Hall has received a fantastic response from our customers since opening in October '15. The new restaurant spaces have proved hugely popular and product showcases such as the upcoming Taste of Spain (running three weeks from Wednesday 22 June) are adding energy and theatre to our unique retail offer.

Our focus now is on introducing exciting new produce for the autumn and gift lines for Christmas as well as refreshed menus and specials for the restaurants."

—Rhys McKinnnell, Head of Food & Catering
Here's my favourite bits.
---
Ko Sai
Ko Sai is sadly closed but the wonderful Porterhouse has now taken it's place – will update when I can.
21 Hospitality Group head honcho Terry Laybourne had role as consultant in the design of the new food hall, so it makes sense to plonk two of his new units right in there too. Ko Sai is the one with a South-East Asian flavour – chef Pla moves over from Café 21 upstairs and brings an authentic touch to the kitchen.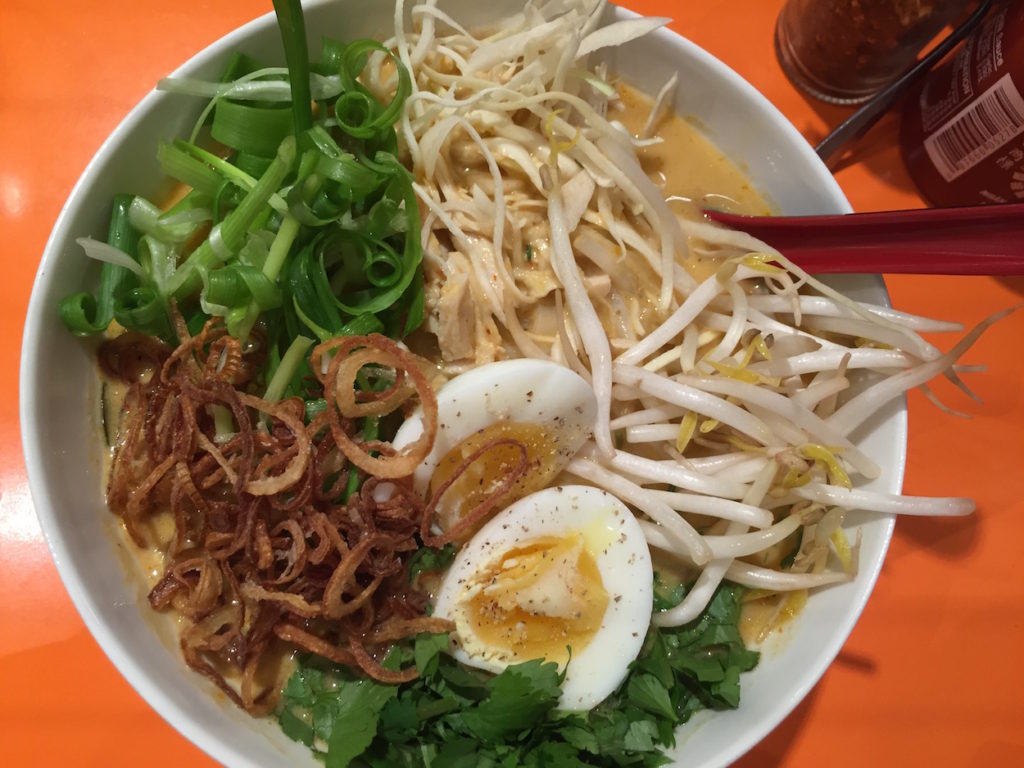 It's a lovely stop off – a short menu, few specials, and you can't really go wrong with whatever you order. Ramen and anything with stock and noodles is excellent, and the steamed buns equally outperform anything available on Stowell Street. And in a rare move for 21, you can also get a few of the curries to take home. As ever, it takes the 21 group to come along and "do it properly".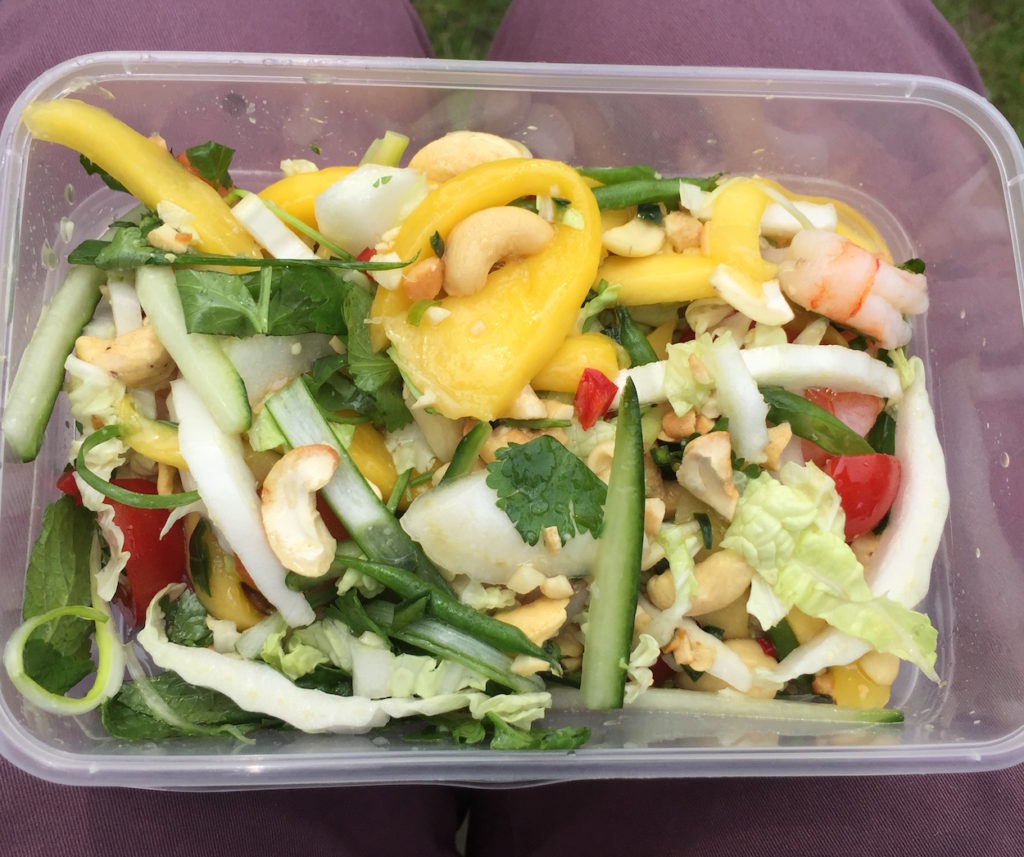 Highlights: prawn & mango salad, belly pork/beef short-rib bao, deceptively simple & delicious ramen dishes.
Contact: ko-sai.co.uk
---
Mason & Rye
You can imagine the grannies kicking right off when they first caught sight of the new food hall – where are the scones, Chelsea buns, and peach melbas? Mason & Rye is one of, if not the swish-est patisserie in Newcastle, selling properly fancy cakes, sandwiches, and just about anything that will satisfy the ladies-who-lunch crowd.
It's lovely stuff – the cakes are beautiful, you can watch them being made if you're curious, and above all, they're just really tasty. Fenwick kinda always did this, but this is on another level now.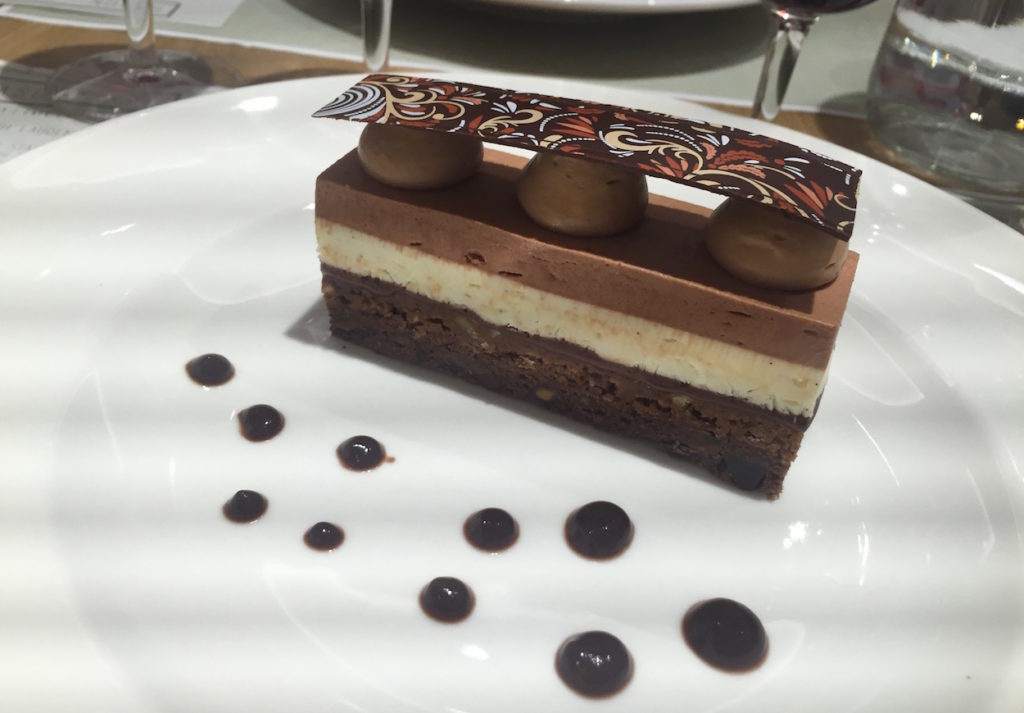 We had afternoon tea (£9.5ea / £12.50 with prosecco) which bizarrely doesn't come with tea – but was one of the better ones I can remember having. Quality open sandwiches, huge scones, and just enough sweet treats to regenerate you for an afternoon of hard shopping.
Admittedly it can get expensive if you just want a slice and a cuppa – a takeaway baguette was not exactly brimming with filling for £4.50… but you probably guessed it wasn't going to be cheap. See my recent post on an evening with Lauden Chocolate for a flavour of what they're aiming at. Me, I really like it.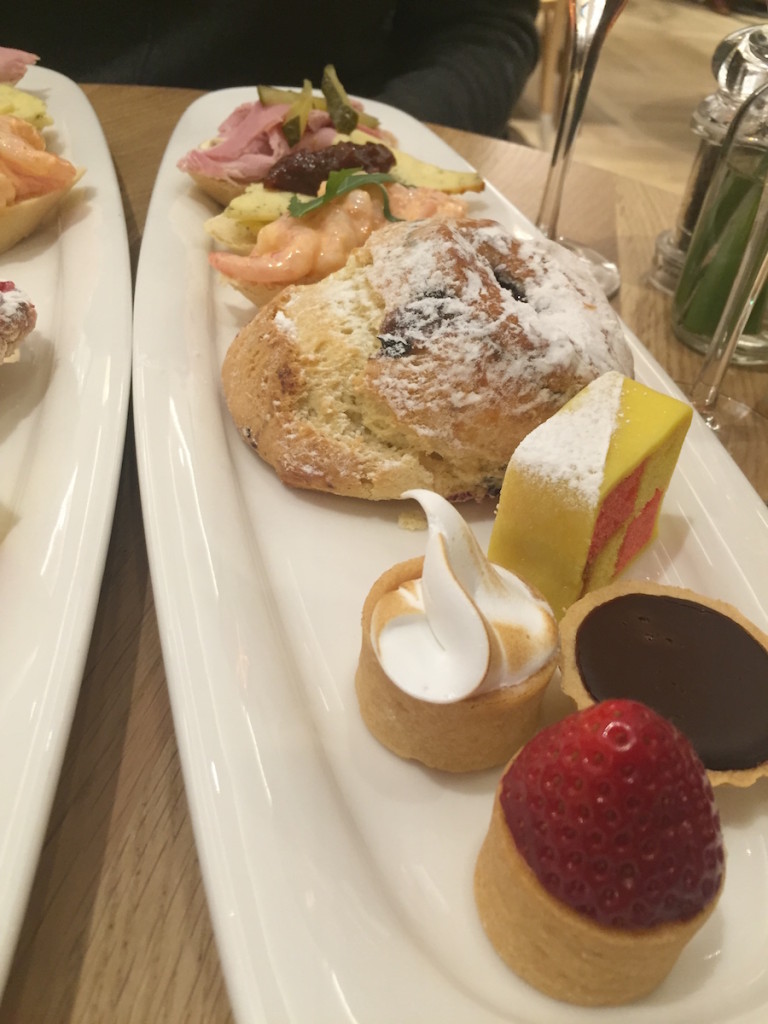 Highlights: modern afternoon tea, top patisserie, meeting place du jour.
Contact: fenwick.co.uk/stores/newcastle/mason-rye/
---
Fuego
Fuego is now I guess the "main" Fenwick restaurant. It feels right at home with the redesign – fresh, smart, classy, high-end in feel.
It could have easily been style over substance, but thankfully Fuego offers the kind of menu where you'd happily order any and all of it. There's proper cured meats, cheeses, and the basque/Italian tapas are gorgeous. We loved the pillows of gnocchi (gnudi?), croquettes, anything with chorizo, and saffron yellow arrancini that trump most Italian restaurants. Head chef Darren Busby comes from Caffé Vivo so knows what he's doing.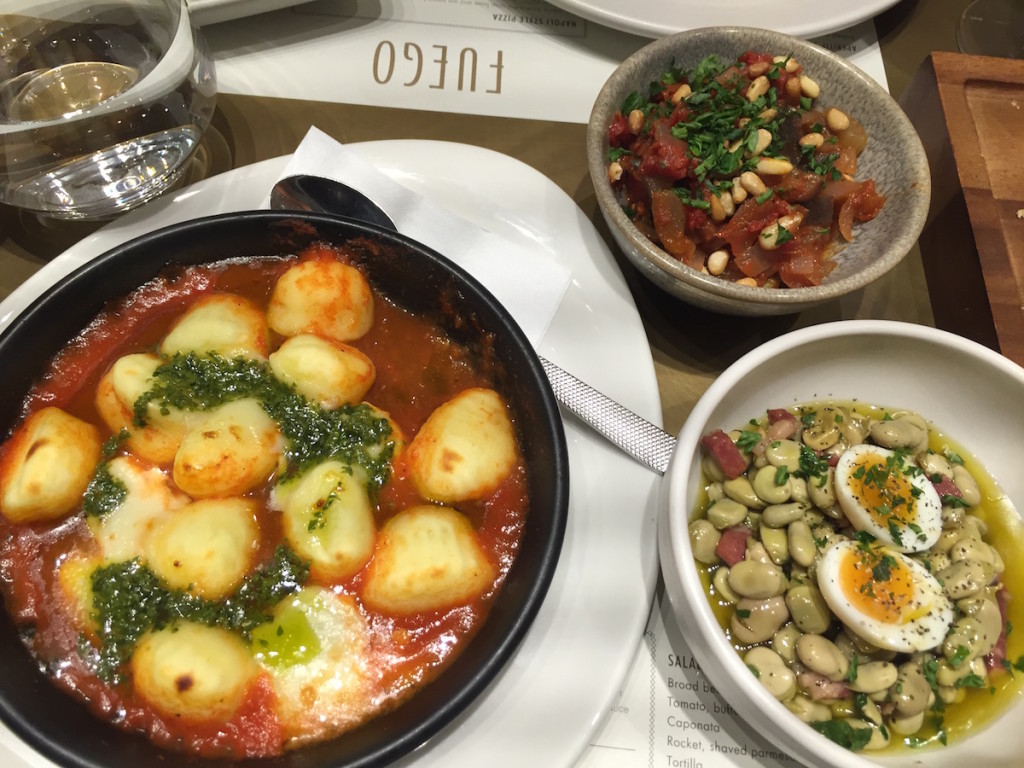 The pizza is a decent effort – they're talking big on the menu about quick cooking and san marzano tomatoes, and though I snaffled it very quickly, it's no Cal's Own. Wines are a good quality too – the Enomatic wine dispenser serves high-er end wines by the glass and in perfect condition. It's the only one in Newcastle (I think?) which shows their commitment to quality.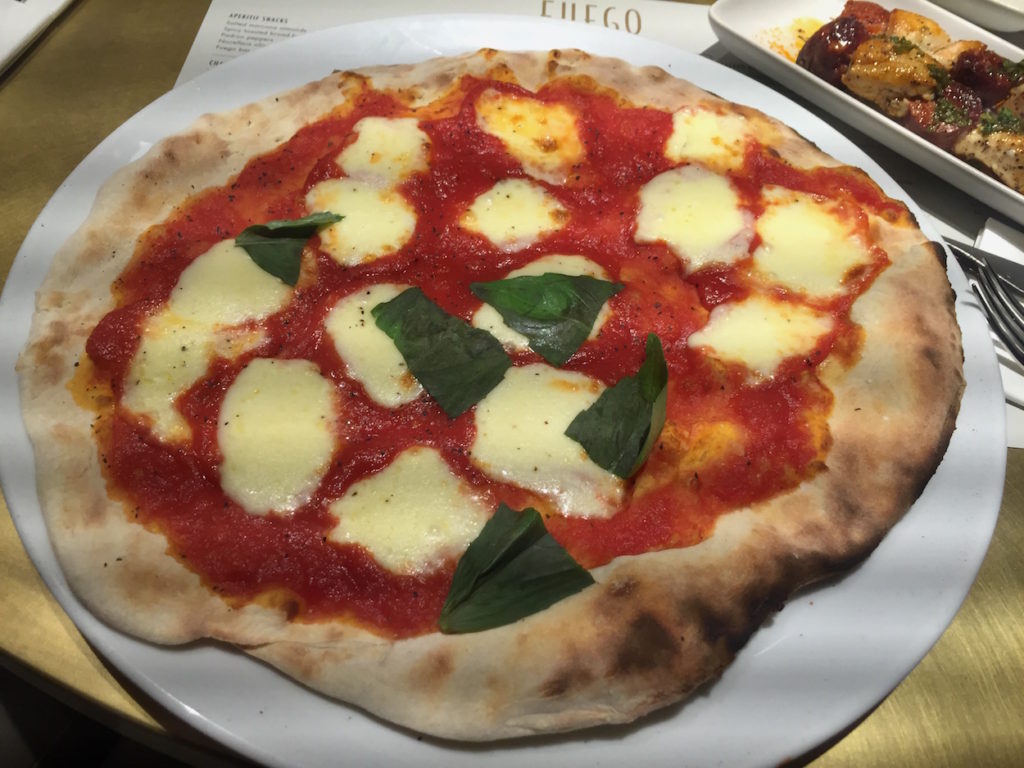 Highlights: probably the best tapas in Newcastle, enomatic wine system, textbook department store restauranting. Featured in my "Best Pizza in Newcastle" guide
Contact: fenwick.co.uk/stores/newcastle/fuego/
---
Saltwater Fish Company
The second entry from the 21 Hospitality Group, and with Chris Eagle (formerly gaffer at one of my all-time faves The Broad Chare), and Mr. Lowery from the Ponteland cafe of the same name at the helm, fish is order of the day. It's slightly cheesy, but you can't argue with a mantra of "we cook what we sell, we sell what we cook".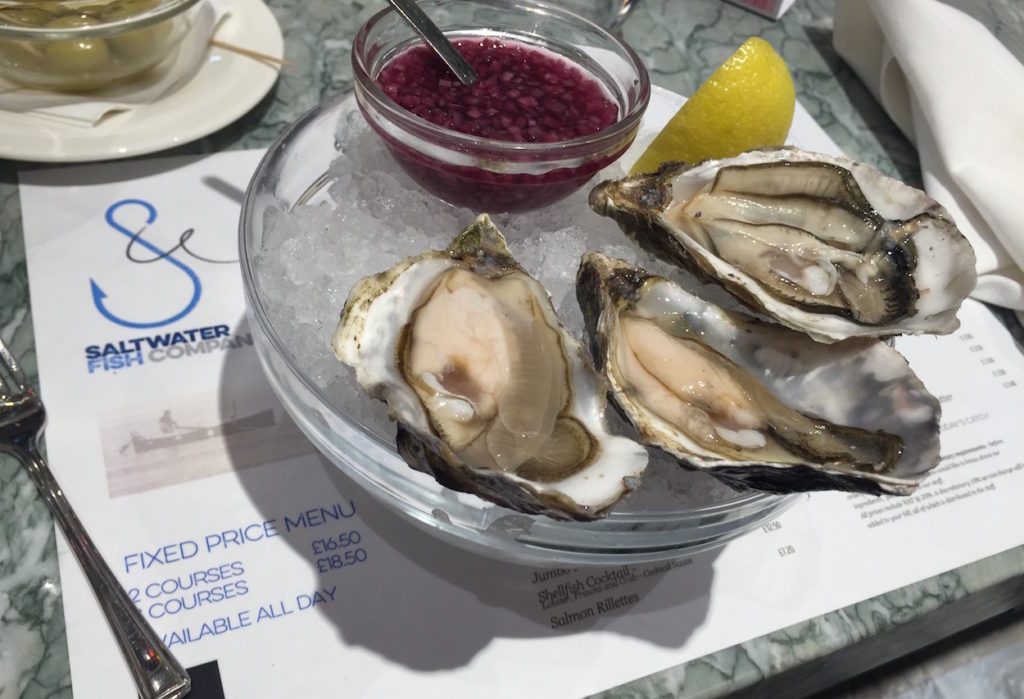 Expect…fresh fish and seafood…you'll get whatever's been landed that day fresh and simply cooked, or of course, the fruits de mer is a show-off option if you've had a particularly hard time shopping ?. As with Ko Sai above, it's good to have some takeaway options too, like this beautiful monkfish, pea and tartare sandwich recently, or some massive smoked haddock pasties which took my fancy this week.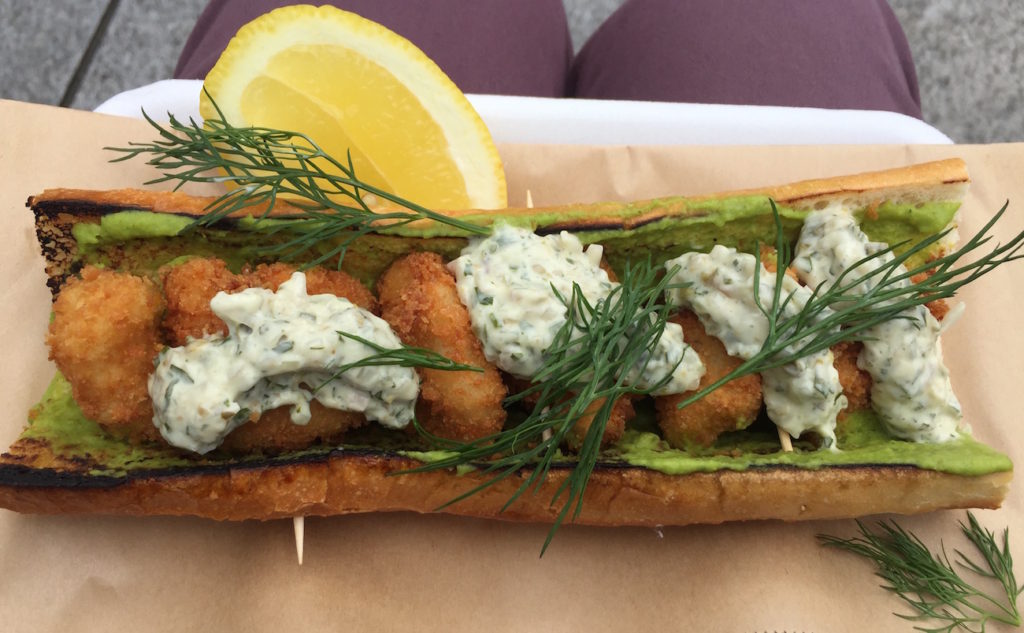 A set menu with 2c for about £16 is good value, and it's hard to ignore the Oyster Hour which has clearly taken some inspiration from the lovely Ondine – £20 for a dozen oysters + fizz is good value whichever way you look at it. It's an absolutely textbook casual restaurant, and everything you expect from 21 – oozing a simple quality that is just so hard to replicate.
Highlights: whatever's fresh that day, fruits de mer, happy hour oysters & fizz!
Contact: saltwaterfish.co.uk
---
Naked Deli
These guys have gone from strength to strength since opening their Heaton Road store, and in the past few years, have expanded out, selling their products in a number of locations throughout the North East, including a recent new Gosforth store.
If you read regularly, you'll know my feelings on…clean eating…and all of the shite that goes along with it. So it's only a bit grating that actually, most of the scran from The Naked Deli is really fresh, and above all, tastes bang on.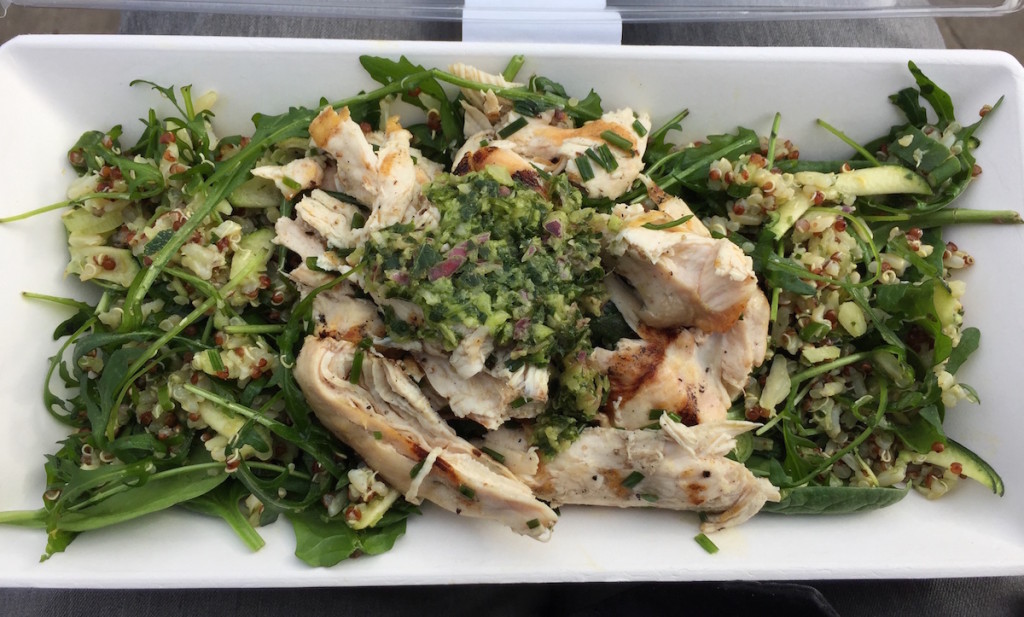 My favourites are the salads which are an easy option healthy lunch for a fiver. The sandwiches are a tougher pill to swallow for almost the same price… I went along for a righteous hangover dinner the other week and got a sandwich and a cold-pressed juice, on offer, for £7.50 ?
Sweet treats I was most dubious of, but they're all fair interpretations of their "dirty" counterparts. I'm not exactly sure how much healthier they are, but they're bloody tasty. See the salted caramel 'cheesecake' below which yeah, it's £3 worth of date syrup, but it's a more healthy alternative to your Mason & Rye goodies – if that's what you're into, and judging by their popularity, lots of you are.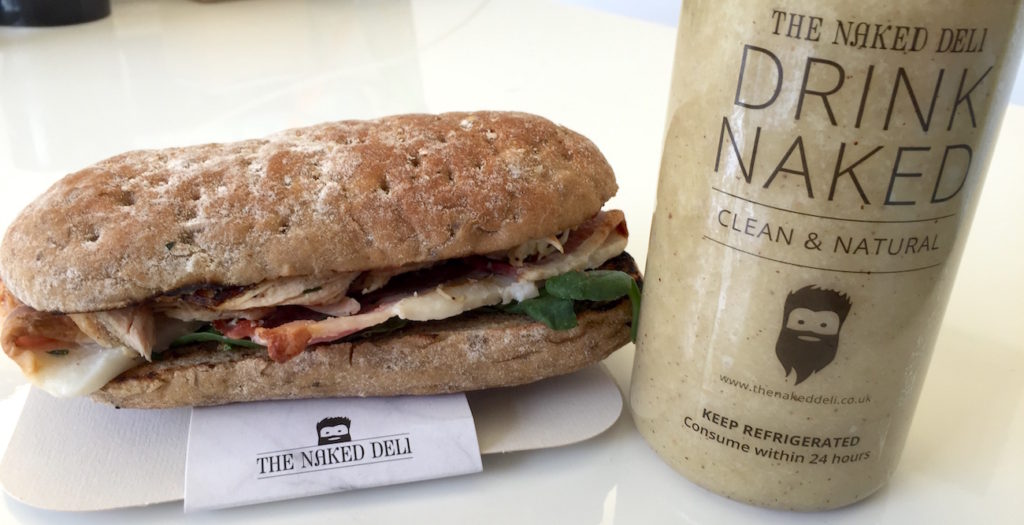 Highlights: chicken & quinoa salad, cold pressed juices, real alternatives to something cake-y
Contact: thenakeddeli.co.uk
---
Ouseburn Coffee Company
These guys popped up a couple of years ago and have just taken Newcastle by storm. Their coffee is available absolutely everywhere, and is definitely palatable, really quite distinctive. It's my favourite flat white, and in a world of Costas and Starbucks, you've really got no excuse not to support your local boys.
Try and nab one of the handful of seats offer the best shout for eating your dinner – christ, if there's one thing Newcastle needs, it's a Leeds Trinity-style indoor communal dining area.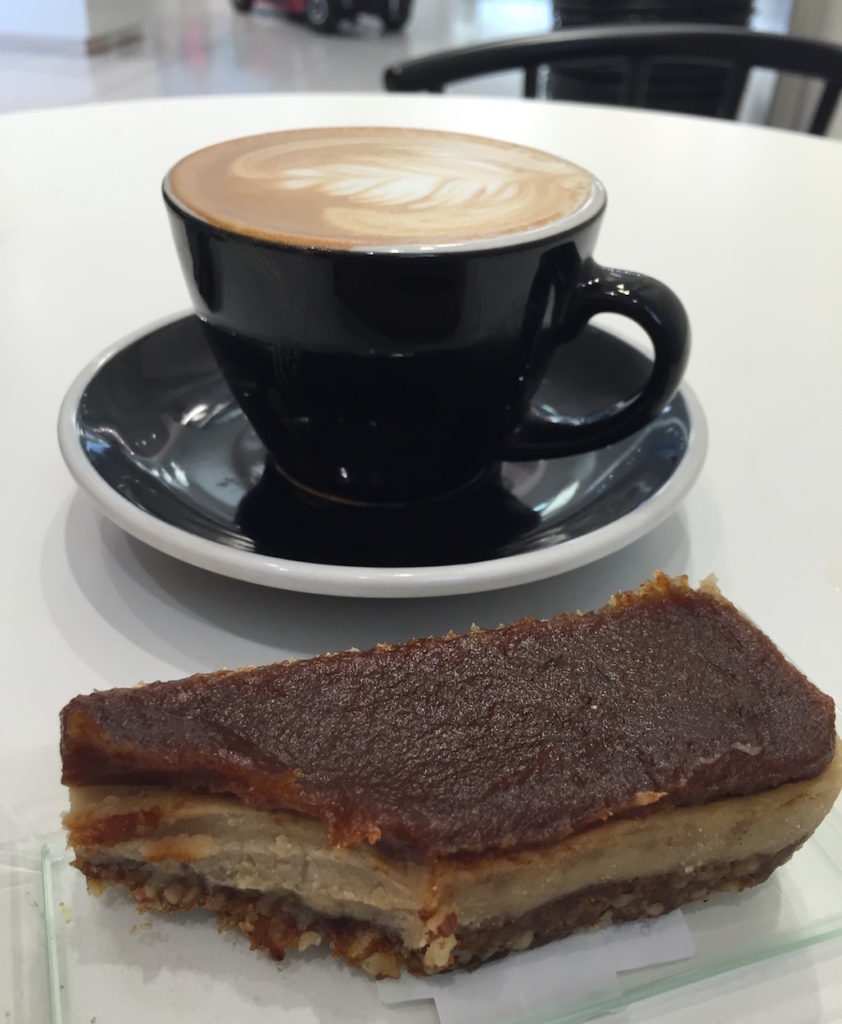 Also – one of my favourite cocktails in Newcastle, their espresso martini (£6) allows the quality of the coffee to really shine, and were it acceptable to knock one back on my lunch break, believe me, I would.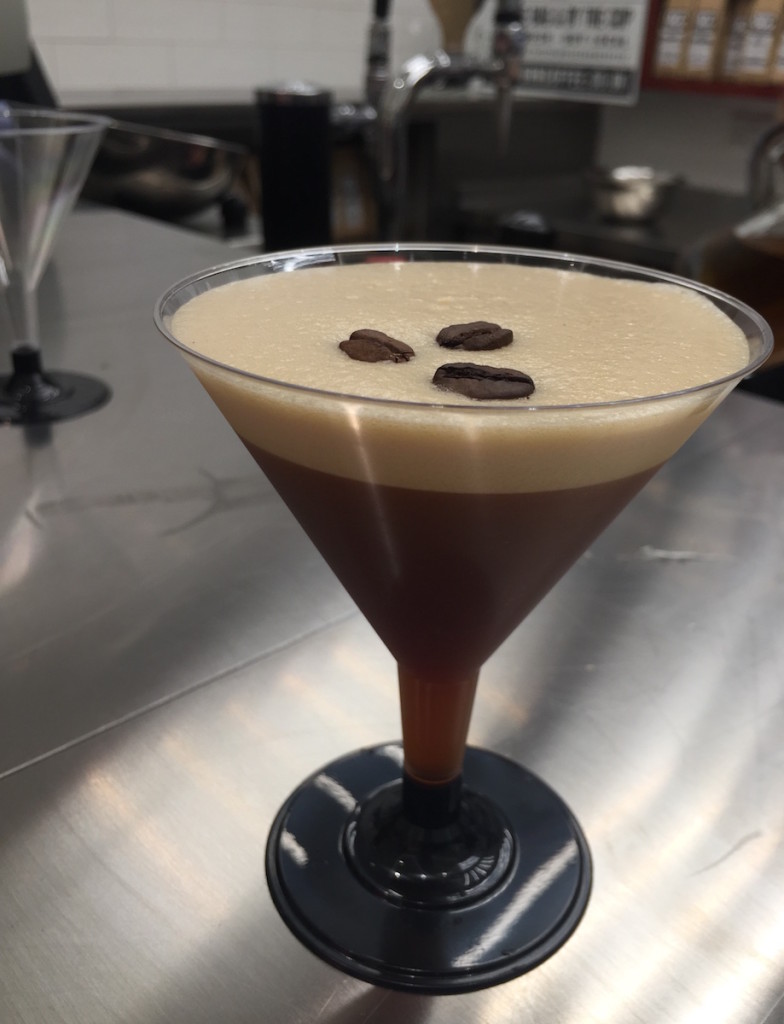 Highlights: best in city espresso martini, fab flat white, great coffee for now or to take home.
Contact: ouseburncoffee.co.uk
---
Pop-Ups!
It's good to see Fenwick embracing some guests in a pop-up area. Q1 2016 has seen the ever-popular Papa Ganoush set up stall with their shawarma, falafel, and other meze bits, which are a perfect fit for the food hall. It looks like Fenwick might rotate these on a fairly regular basis, which would make the food hall a great stepping stone for the dozens of up and coming street food vendors across the region.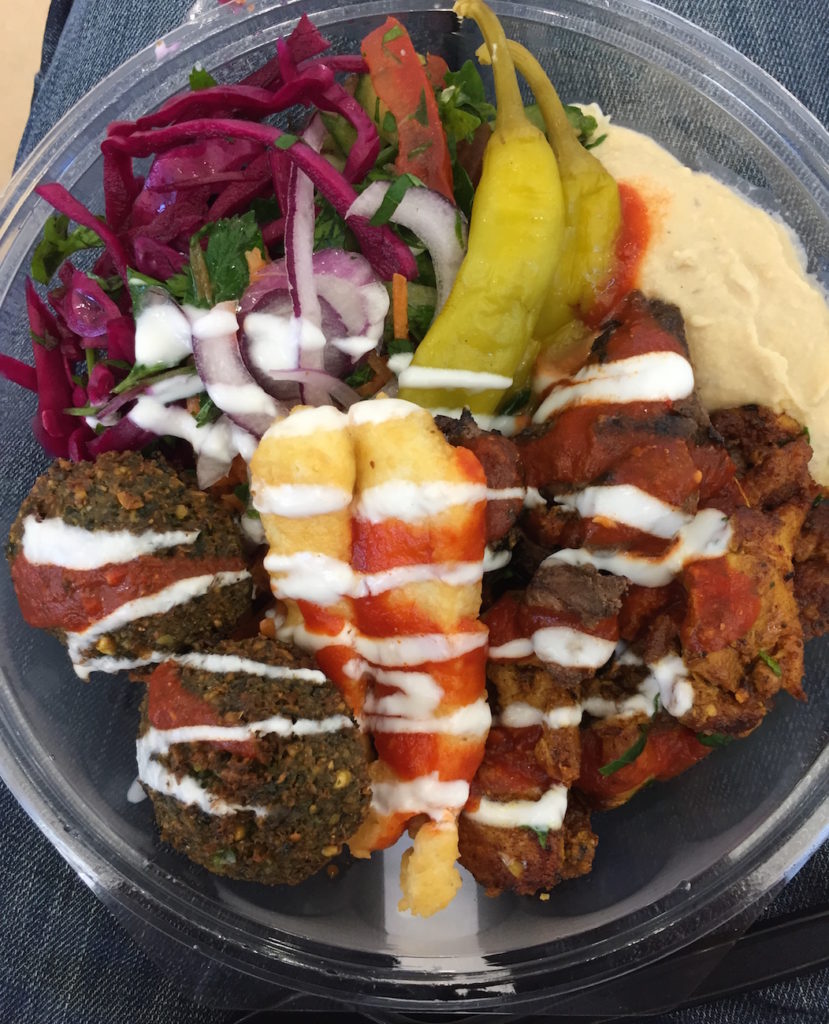 Since then, they've put up a "baguette bar" doing fiver baguettes. I hope it comes back, as the steak and onion was an awesome lunch, and the raclette looked equally tempting. Those crispy onions man…?
Not long after that, Ko Sai were sampling their bits and bobs to-go, which is a good way to get people back through the door. It's been Longhorns the past couple of weeks, and hopefully someone else exciting soon to keep me in there every lunchtime.
Bakery / Chocolate
The Fenwick food hall has always been strong on bread and cakes – but they've definitely stepped it up a big notch. Bang in the middle of the hall, there's solid sourdough, huge cookies, and inviting looking muffins. Although, yeah the displays look beautifully tempting – I don't quite fancy the idea of potentially people's manky hands on them, but hey ho.
⬆️ This is about 10% of it… There is nowhere better in town to get chocolate, simple as that. the range is staggering, and whether it's a truffles from marc de champagne, high-end chocolates, or really, anything fancy in sugar, they'll be sure to have it. If you're gift buying, they've made it very easy to spend a lot of money – you'll see the infamous Sugarfina range of jellies, as well as more gimmick-y sweet treats like those from The Chocolate Smiths – chip shop curry chocolate, anyone?
Drinks
The old wine shop in Fenwick of old was one of the better places to pick up something rare in Newcastle, and with the refurb, they've taken it to the next level. It's quite pretty and sensibly organised and sure, some of it can be found a little cheaper elsewhere, but you'll find things you didn't even know existed – here's three local gins I've never even heard of, never mind had before *adds to shopping list*.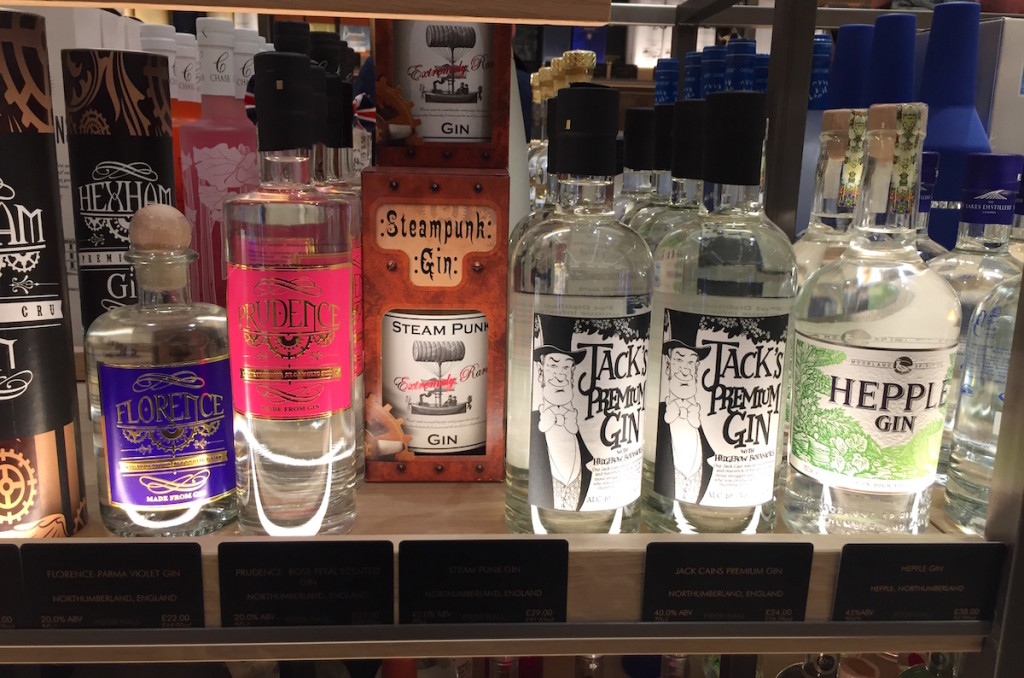 ---
Rafi's Spice Box
The only non-local shout on this list is a worthy shout. Rafi's concept is pretty straightforward – spice packs to make your own curry at home, but the packs are super-fresh, and fresh spices vs. back-of-your-cupboard dust is what lifts your curry from OK to lovely.
I think it's the pre-fried onions which make it. Add water, some veggies, meat, and rice, and you've got a curry which isn't too far off a takeaway. It's about a fiver a pop, but what you get is a good product, and let's be honest, I'd spend that much refreshing my turmeric, fenugreek, and mustard seeds anyway.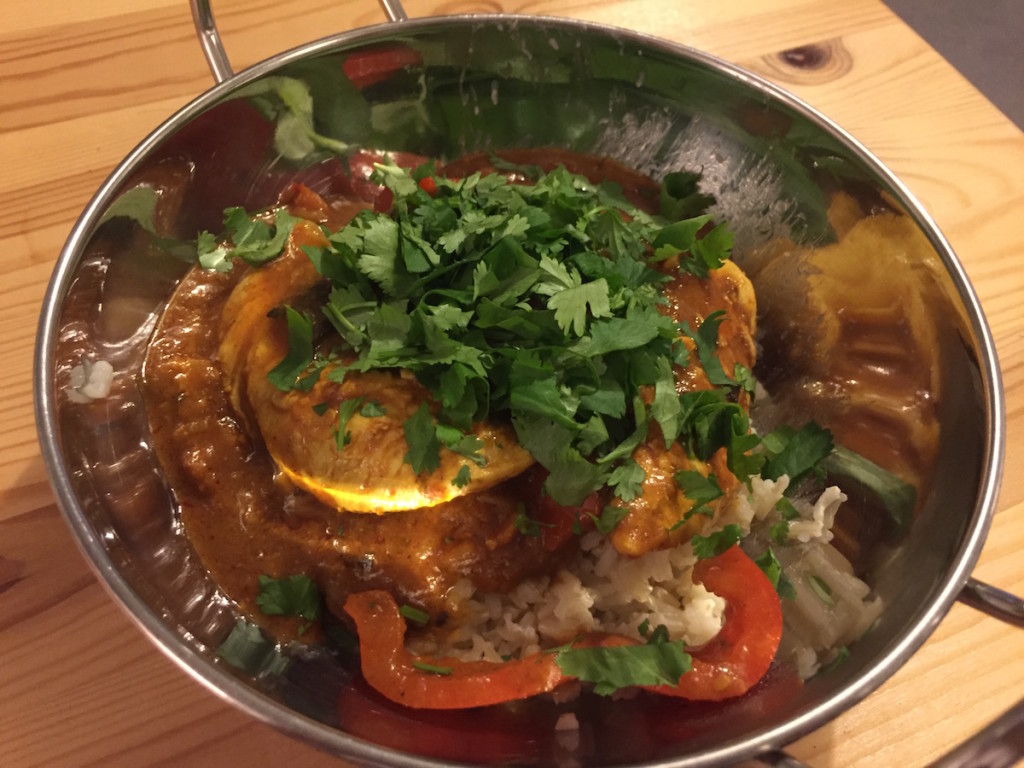 I just love coriander, OK. ☘. There's a weekly rotating spice mix, or create your own, as well as sev, naans, and everything else you need to make curry at home a success.
Contact: spicebox.co.uk
---
Blagdon Farm Butchers
Update: Blagdon Farm got pushed out by the aforementioned Porterhouse so find 'em up in Blagdon where the farm shop itself is definitely worth a visit
Blagdon Farm Shop has been a favourite of mine for a while, and it easily one of the best in the region. Top end butchers are a bit thin on the ground in central Newcastle, so it's good to know there's some serious meat available in Fenwick too. They've got you covered with every cut of most animals, and it's not too pricey at all, given the quality.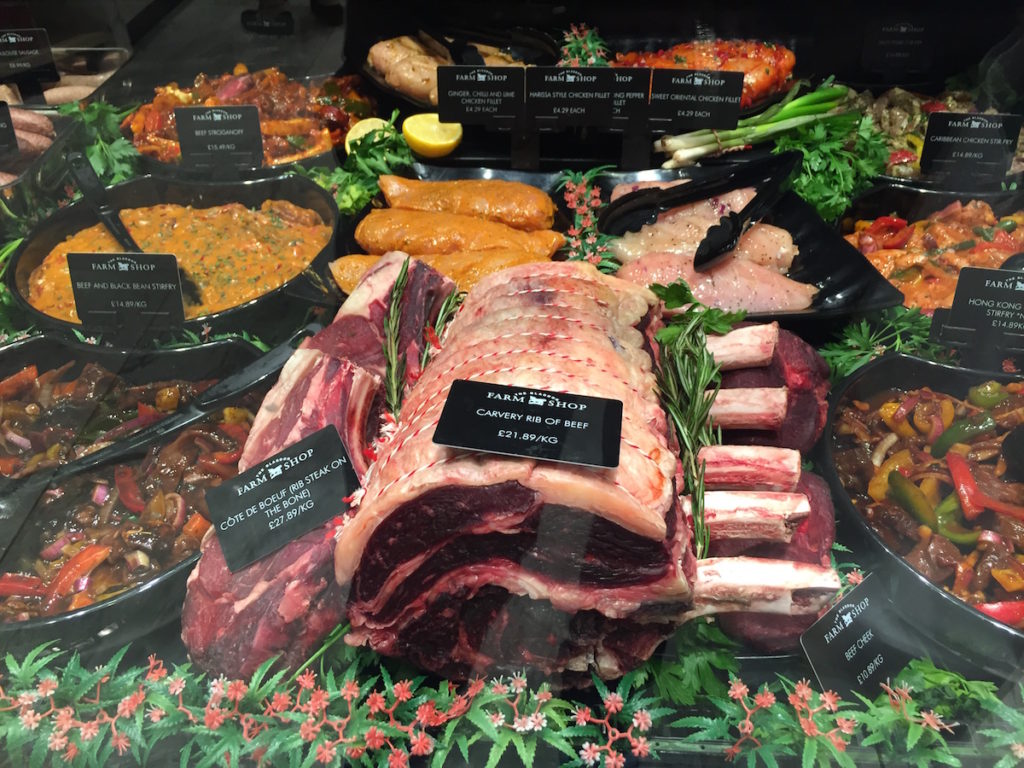 Highlights: well look at that rib of beef and tell me you'll get a better one in Tesco, getting your arse up to the farm – it's a cracker, and a goldmine of great food.
Contact: theblagdonfarmshop.co.uk
---
Selected Other Products
I'm not even touching on all of it here – the charcuterie and cheese counters rival some of the best you'll find, with meats and cheeses I've never heard of. Fenwick has also long been a fantastic platform for launching new products and producers – see successes from Jules of The TeaShed as  great example. The sheer quantity of products you can get is staggering – if you can't get it here, you probably have to go online.
There's the odd disappointment – this pork roll looked and sounded immense but was dry as sticks, but what's encouraging is the rate of experimental change, so hopefully in a year's time, the line-up might be completely different to what we see today. There'll definitely be the latest bang-on-trend for sale though, I caught a glimpse of canned water this week ?.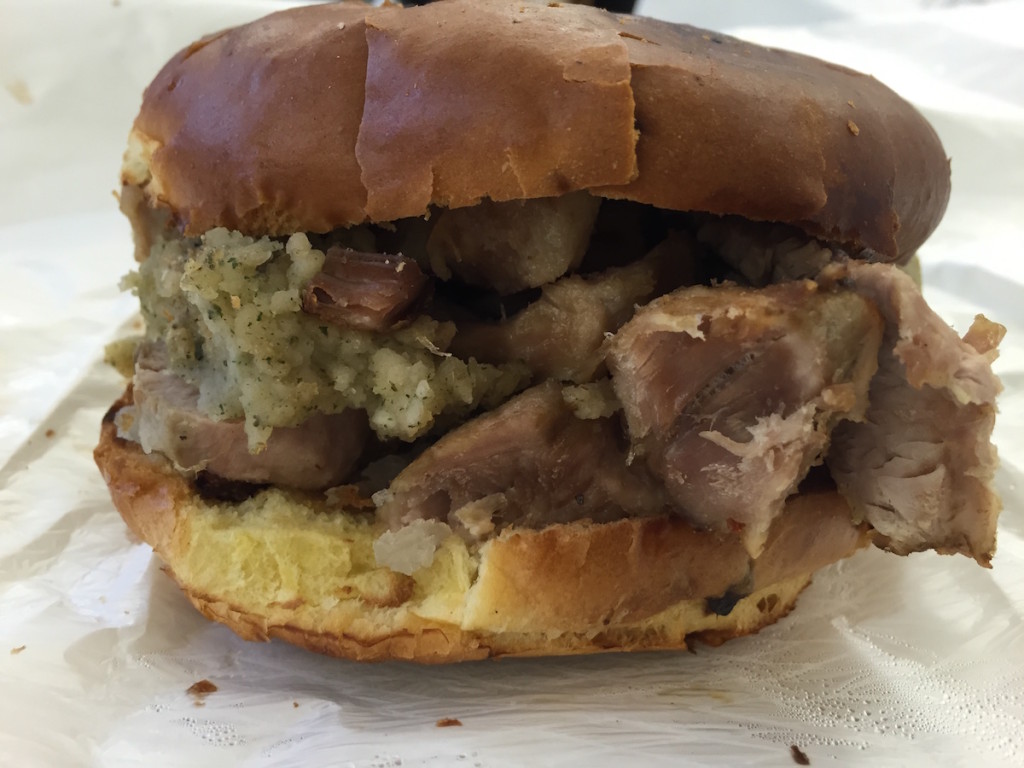 Some other faves: The New Zealand Pie Company boys have gone a bit quiet, but are still around. They might not be as good as when you get a freshly baked one, but grab one from the chiller, and it's one of the best pies in NCL. Sachins have been in the food hall for a long time…try the lamb rogan josh, with a peshwari naan, and a samosa. Sure, it's expensive when you pay /100g, but it'll kick ass on 90% of the NE1 takeaways.
It's a good spot for fresh herbs, too, then there's all of the Ringtons and Fentimans range you could ever want, too.
So, bravo, Mr. Fenwick. See you at lunchtime ?.
Contact: fenwick.co.uk