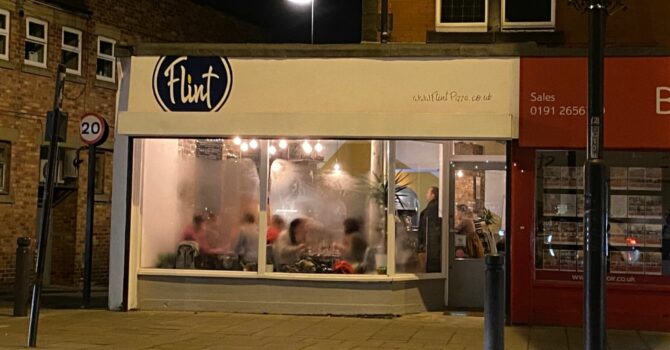 When Heaton is the centre of the pizza universe, again 🍕
Flint Pizza (2018 Chilingham Road, NE6 5LP) is the latest name on the ever-expanding list of Newcastle pizza joints. It's literally across the road from the hallowed original site of Cal's Own (now the lovely Stark's Kitchen), meaning it's filling the big boots of the OG pizza mafia of Newcastle. Say what you want about Cal, his pizza is still the best in the biz.
We went along to Flint when it first opened and while the pies were solid, they didn't really stand up to what Cal was doing across the road way back when, never mind what he's up to now in Jesmond, and what the Scream for Pizza girls are doing in Sandyford. Solid, but not great.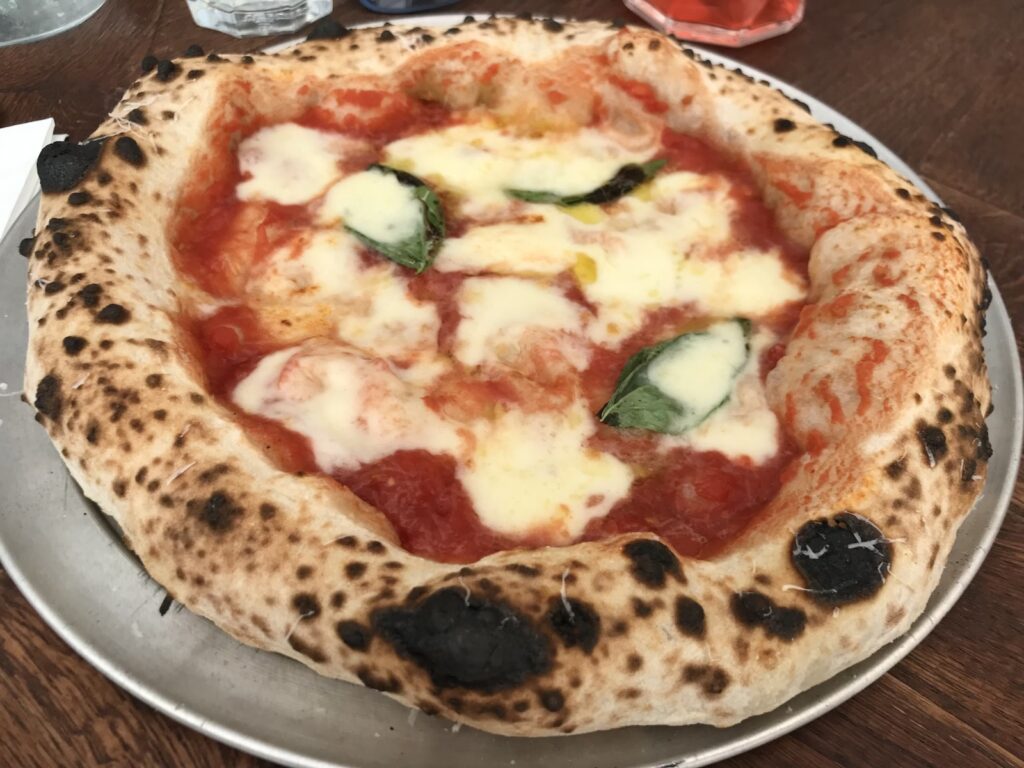 This was pizza in the first month of opening, which while still better than most, wasn't mind-blowing. And you can see that. Way, way, better than your average cheap local Italian restaurant crap, but not quite there.
Then this was the marinara, which again, looks like a WIP. The colour & flavour development isn't there in the dough, and it just looks a tiny bit naff. Undercooked too.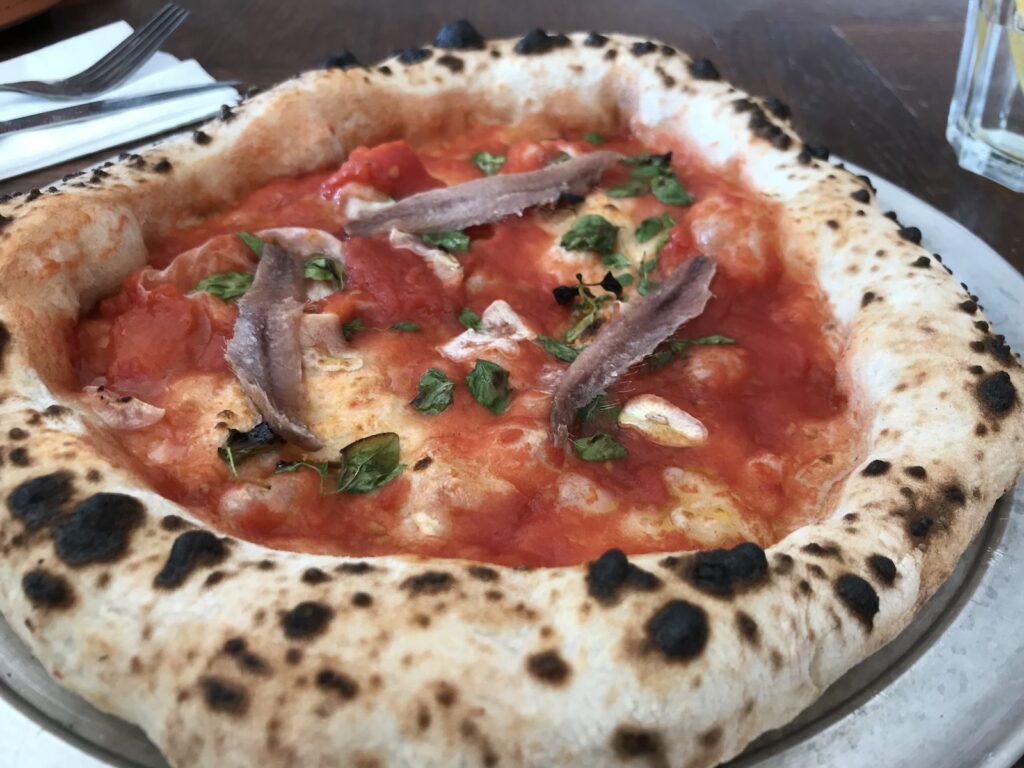 Fast forward half a year, and below is our pizza from this week which was 10x better. Flint Pizzas – you've come a long way, baby.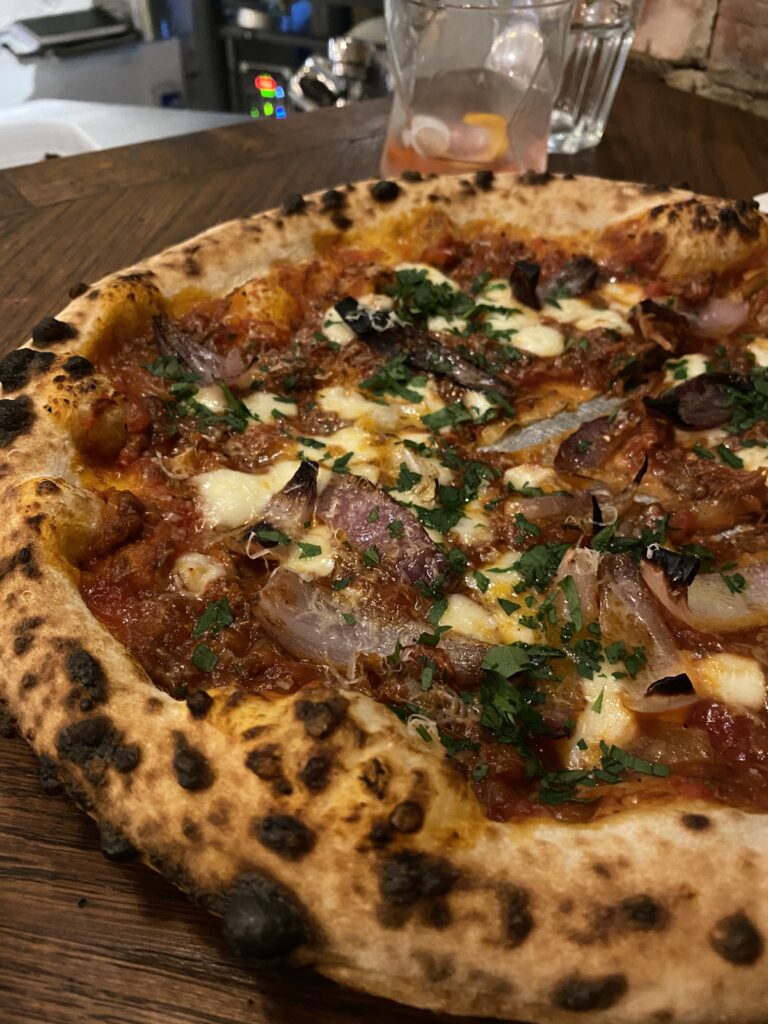 That's the beef ragu (£11), which was just as decadent and savoury as it looked. A thick, chunky, ragu that would be just as at home with some parpadelle, slightly sweet & charred onions, and a nice flourish of parsley freshness. But the real step-change comes from the dough, which carried a ton more flavour, and you can even seen from the colour, they've obviously got the oven dialled in now.
You can see where it's coming from as well. Evoking memories of early Cal's – there's a commitment to consistency. From watching about a dozen pizzas come out of the oven, two (damn-good looking) ones were sent to the bin. Quality control rules.
It's a tiny joint mind, and only open from 5pm on (for now). The 'chef's table' style seating is great IMO, but it does mean there's about 15 seats total. Combine that with a 'no booking' policy, and you might be in for a wait. It's also cash only. There is a cash machine right across the road, but still. It's 2020 🤷🏻‍♂️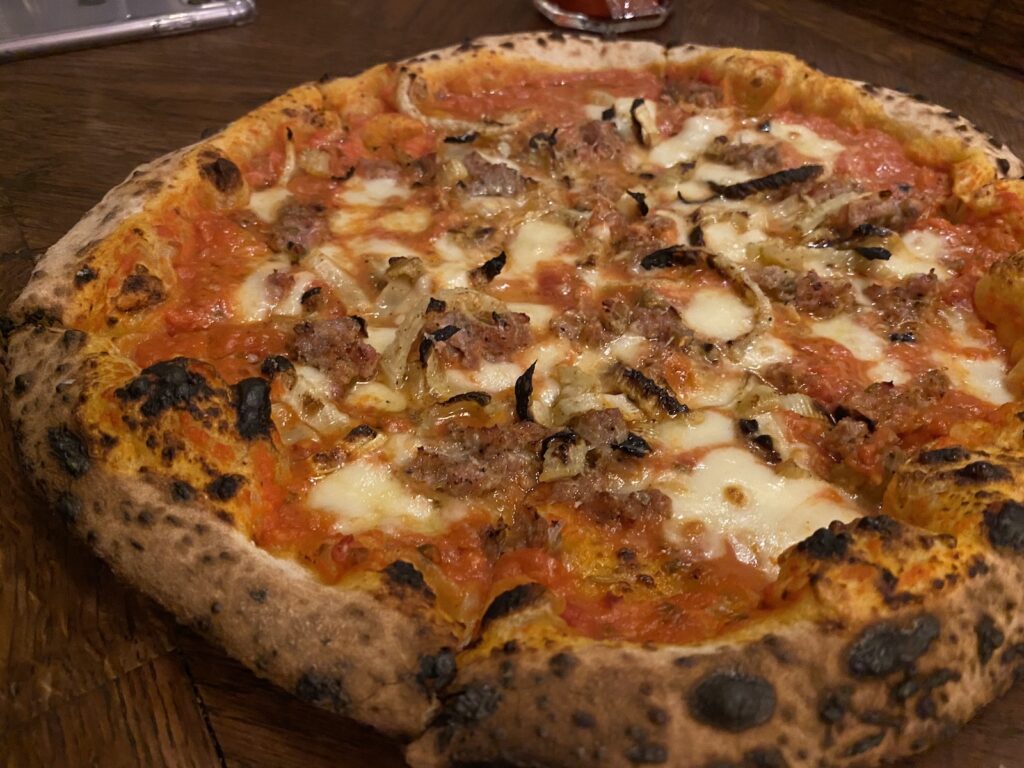 My favourite pizza from the Flint oven, and the one I'd urge you try would be this pork sausage and fennel. I mean I love a ridiculous amount of fennel anyway but this is a blinder. It skirts beautifully between sharp and crisp fennel, slightly sweet tomato and creamy cheese, and salty pork. It just works. Even for a margherita purist like me, it's a thing that makes you go 'mmmm'. Eat it and then want more, straight away.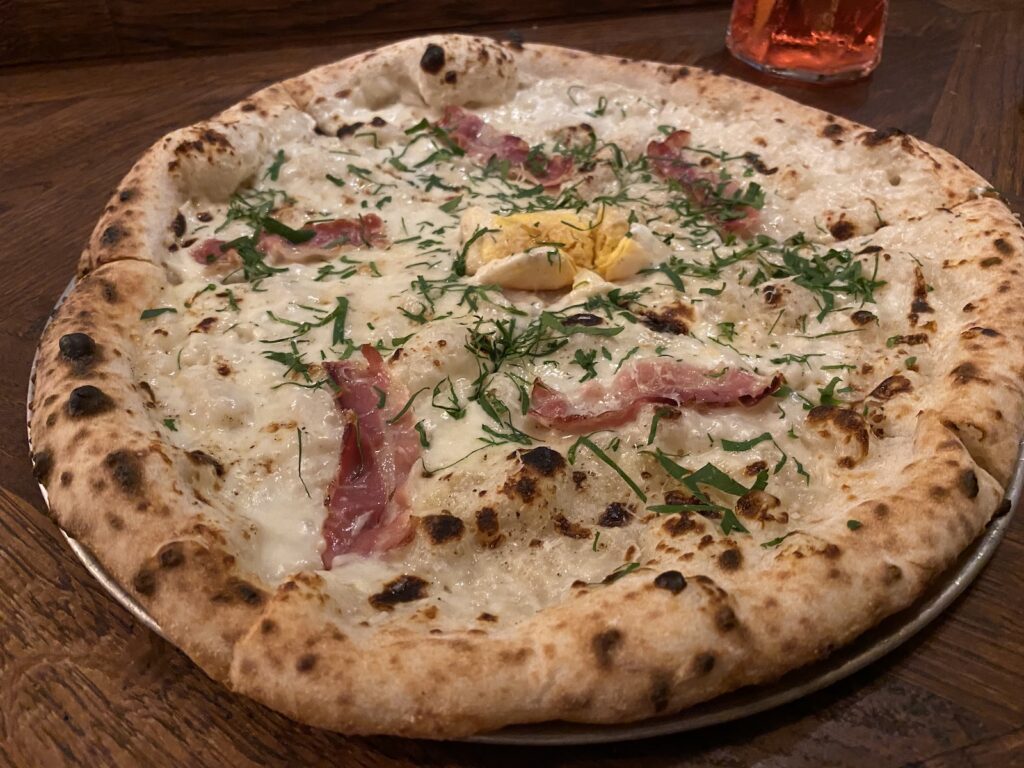 Slightly less successful was the carbonara-esque pie combining a béchamel, (scant amount of) pancetta, and an egg yolk which had gone cripplingly disappointingly rubbery from the intense oven heat. if you're gonna incinerate it guys, don't bother. A shame, as the underlying sauce was a nice change from the old tried and tested cheese & tomato, but all a little dry overall and I was left hankering for a more trad pie like the above.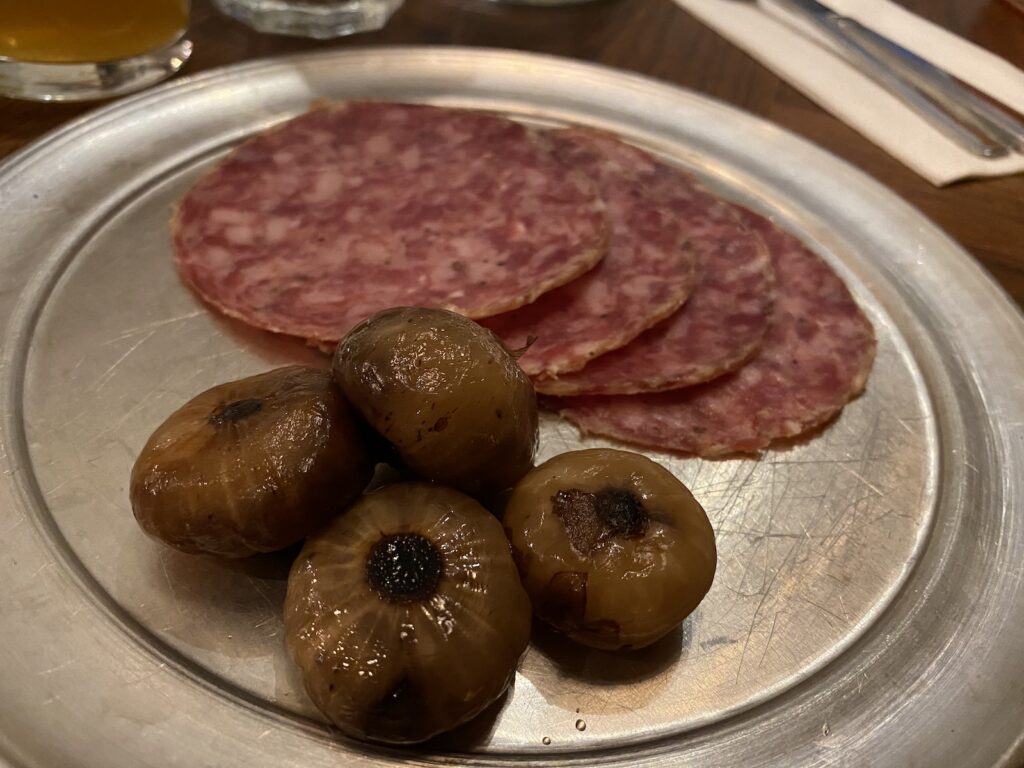 Also a shame was the fridge cold salami, which had a good amount of spiced pork fat flavour but was a bit like a clammy winter handshake. We were first in the restaurant at like 5:10pm, but serving fridge cold cured meats shouldn't be happening. Great onions mind you. It'd be easy to serve this with some bread, but unlike Scream for Pizza, there's a welcome restraint on the dough quotient here.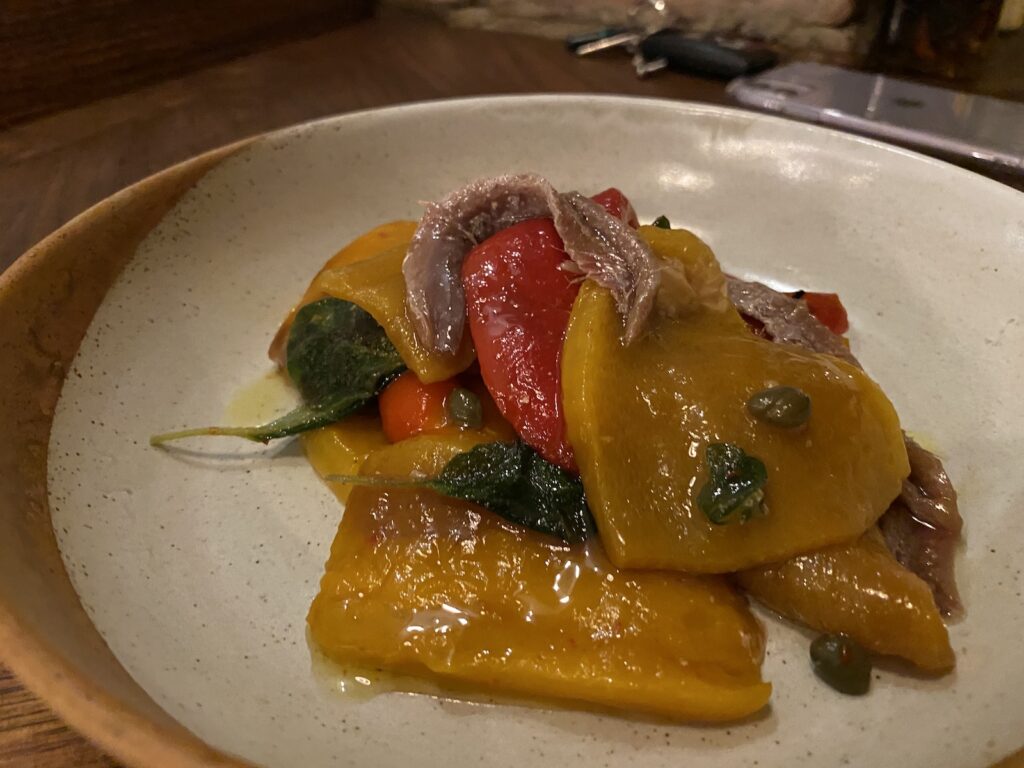 Much better was this copious pile of presumably pizza-oven roasted peppers. Fried sage, capers, and some anchovies alongside the background acidity of the peppers made it a real palate-waker-upper. Thankfully, they've kept the menu short, and there's just enough to tickle you pre-pizza.
There's olives, more anchovies, and some other picky bits, and then a small but strong drinks selection with natural catarratto (£6+), campari and soda (£3.5) and a nice & boozy blood orange Malfy Gin Negroni (£7.5). Given the small size of the restaurant, service has always been very amiable and welcoming.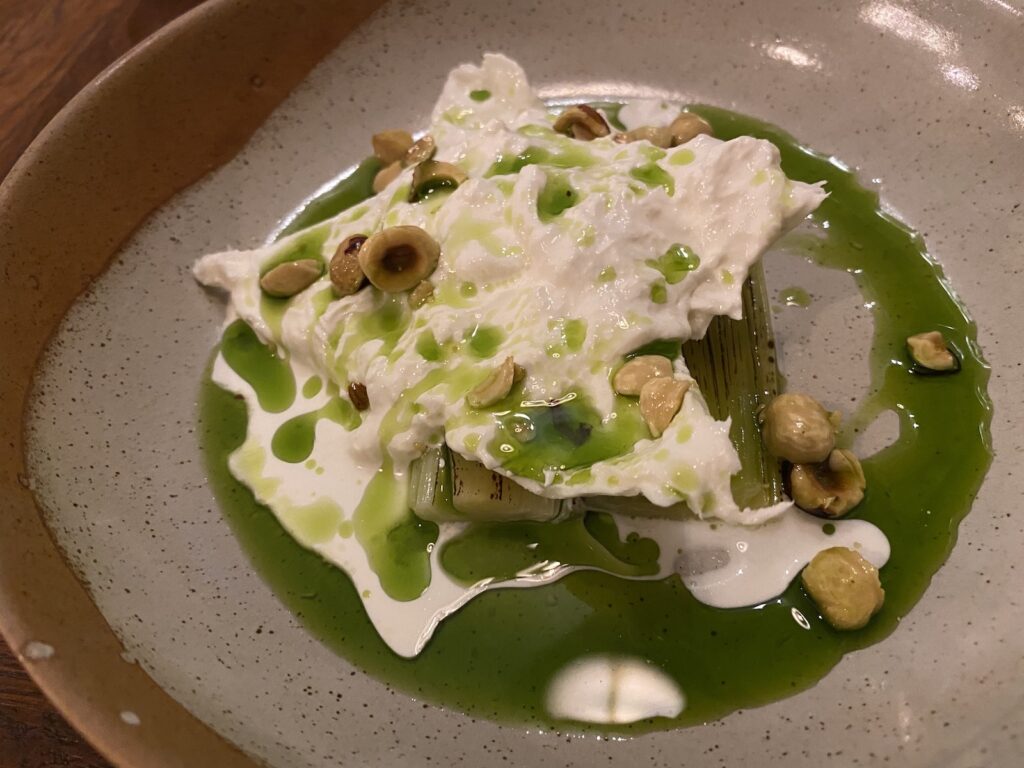 Favourite of the starters we've had has been this burnt leek, burrata, and hazelnut concoction. Fairly straightforward but well balanced. It's this kind of small plate which is gonna win me over these days, clean flavours, no fannying on. Just four items on the plate, all in textural and flavour harmony 🙏🏼
And you know, burrata. Set to be the most Overused Restaurant Ingredient 2020. But it's always dreamy, isn't it?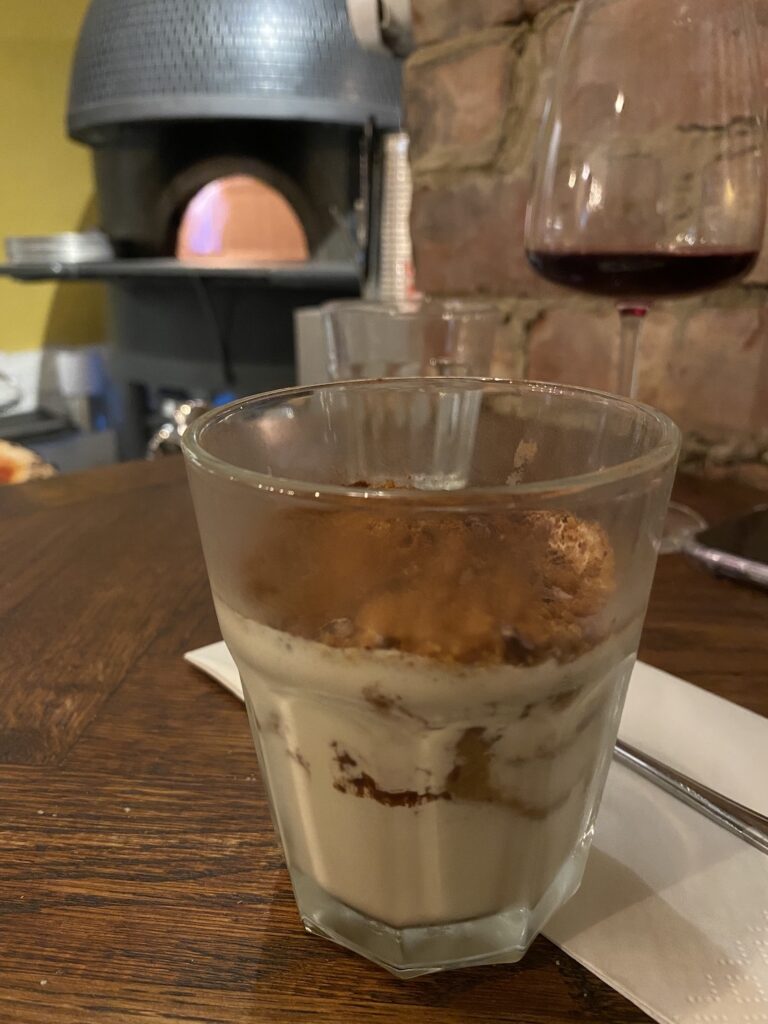 Tiramisu to finish was surprisingly light and not at all too sweet. A little wet, and again – very fridge cold – but a gentle round-off to the meal. We haven't yet left Flint Pizza with that crushing feeling of carb-overloading plumpness which so often besmirches a 'quick pizza after work'. Which is a big thumbs up.
So on our way out of Flint last time round, I said 'where does Flint stand in the pizza league of the NE' and as of today, it's gotta be pretty close to the top. The guys have got their dough behaving, they're putting out solid 'other bits', and the casual nature and price point of the restaurant work wonders. It's a true neighbourhood restaurant, on Chili Road, and it's all the better for it.
It makes for an interesting 2020 in Newcastle Pizza Land. If they keep improving at this rate, they can at least give Cal's Own some competition, I mean, jeez. So if you have yet to venture back to Cal's old stomping grounds, you'll find excellent pizza, and something very nearly as good as it was in way back in 2012. Top marks for the Flint Pizza lads
Contact: flintpizza.co.uk
Food hygiene ratings: Not yet rated