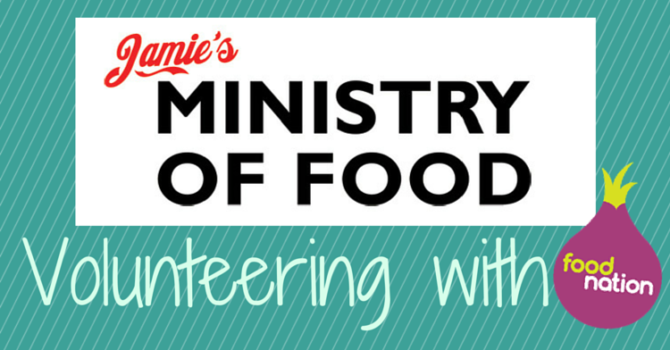 Did you know there's somewhere in Newcastle where nearly anyone can work in a kitchen, on a Jamie Oliver project?
I'd been thinking about volunteering for ages, after my mam has done so for many years at Oxfam, successfully moving from a voluntary position right up to a full-time regional management one. There's also the "looks good on your CV" aspect, and hey, it's cooking with other people ☺️.
I took the plunge with Food Nation (NE6 1SD), a social enterprise which aims to educate and inspire cooking and nutrition skills across our region. They offer cooking courses aimed at getting people into cooking and improving their basic kitchen skills.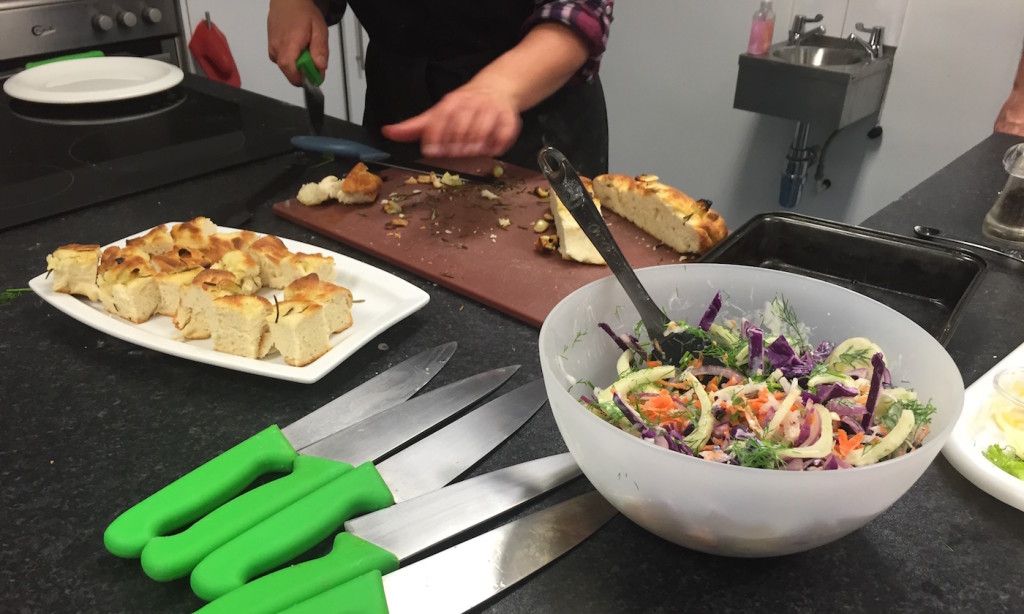 In their own words: "Food Nation is a social enterprise passionate about food, nutrition and health and is now established as one of the leading food, nutrition and health organisations in the North East. Our aim is to inspire about good food through the delivery of innovative and practical activities and services."
As a volunteer with Food Nation, you can get stuck in with whatever you fancy – there's an on-going "grow your own food" project at their allotment, nutritional study, and providing cookery classes. I help out in the kitchen, preparing the ingredients and workstations for the participants, helping throughout the class, and ensuring the kitchen is cleaned down. I'm not gonna lie, sometimes when there are 12 participants, there is a lot of mess, and (most annoyingly to Kate), I do more dishes in an hour here than a month at home ?. Sorry!
Most of the cookery courses run for eight weeks and cover a wide spectrum of skills and ingredients, but a Jamie's Ministry of Food course appealed to me most, having had the cookbook and enjoying the TV Series. This is how it pans out:
Week 1 – squash soup, covers the basics – chopping skills, food hygiene and preparation, and serves as a great intro to the course.
Super squash soup! The delicious result of a staff training session. What's our favourite recipe from the MOF course? pic.twitter.com/JSmNGyHL2J

— JamiesMoF North East (@JamiesMoFNE) September 16, 2014
Week 2 is a mexican breakfast, like healthy huevos rancheros, and takes some really basic ingredients and turns them into something tasty. I think it's an awakening for a lot of the participants – and to be fair, Jamie has been a champion of this – using loads of herbs and spices to get big flavours out of simple ingredients. It's kept healthy with wholewheat bread, small amounts of cheese and salt, and minimising added fat, which are recurring themes throughout the course.
Everyone loving week 2: Mexican breakfast of Jamie Oliver ministry of food course @thefoodnation pic.twitter.com/QhcaVi75Bj

— JamiesMoF North East (@JamiesMoFNE) August 18, 2015
Week 3 – always a really popular recipe, is chicken fajitas. It was surprising to see some of the class had never portioned a chicken, but I guess that's what they're here for! If there's anyone reading this who hasn't made fajitas before – where have you been? Go and make some.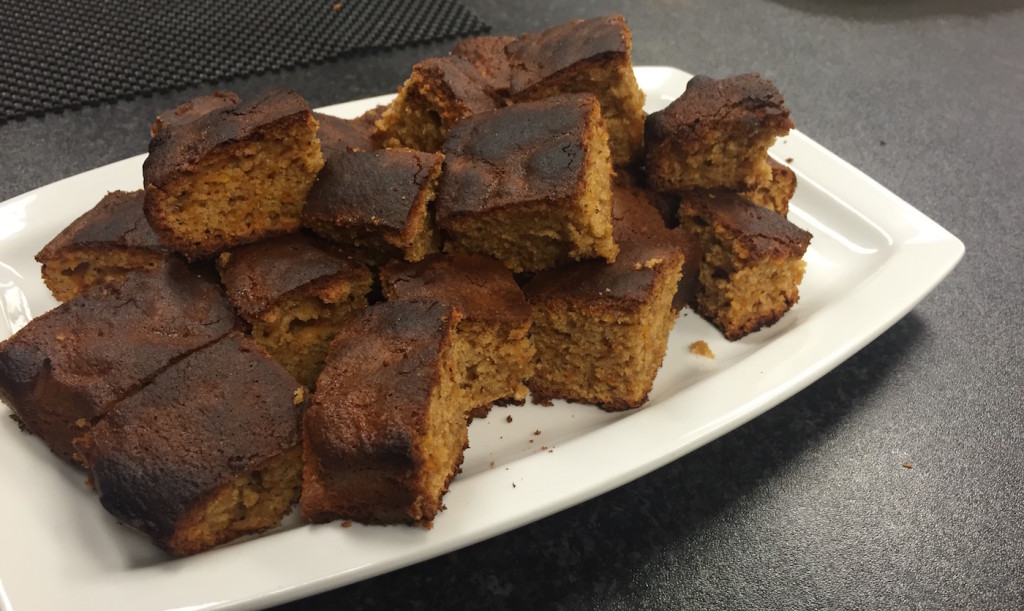 Special shout out for the guys who work for Food Nation, as they make it what it is, and Emma, Katie and the rest of the guys are dead canny and welcoming, for both volunteers and participants.
"Our volunteers are so important to us and are an essential part of our Cooking Skills Team. Without their help we would not have the capacity to deliver all the amazing opportunities that we have for both the general public and all the local community groups we work with.

We do our best to make sure all our volunteers enjoy spending their time with us and are able to gain new skills and experiences for themselves wherever possible, including confidence and communication! We can't thank them enough!!" – Emma Mould, Food Nation Volunteer Coordinator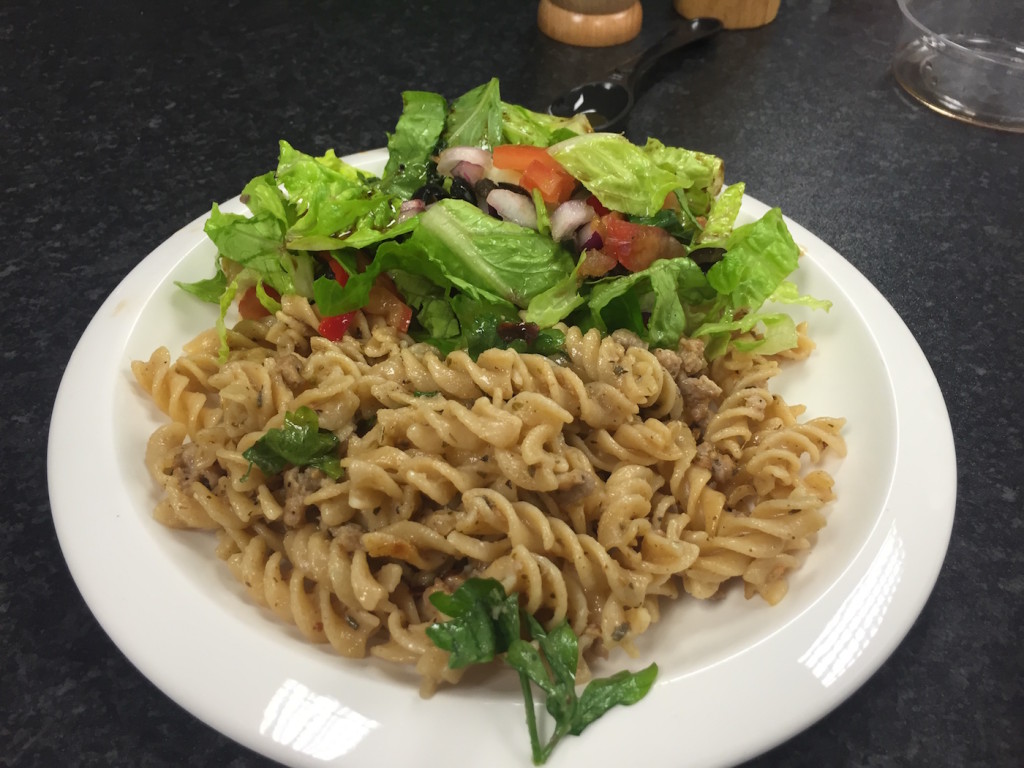 It's "proper bloke's sausage fusilli" in week 4 – I can see a name change coming for that one – which teaches the students about cooking pasta al dente, making a simple sauce that works, and as ever, balancing a plate by including at least 50% salad and using wholewheat pasta. For something so simple, it's a great tasting recipe that you can usually cobble together from stuff in the fridge.
Week 5 – and probably my favourite recipe – quick salmon tikka introduces fish and making a curry paste.
Week 5 of our course with staff at @Nestle #FawdonFactory Salmon Tikka (always a winner)! #cookingatwork @jamieoliver pic.twitter.com/EiwSJoWHWc

— JamiesMoF North East (@JamiesMoFNE) October 13, 2015
Watching people who aren't as cooking savvy put something together like a salmon tikka using freshly ground spices and just being like "WOW, that tastes so good" is truly rewarding and something that keeps me coming back. It's a solid recipe, and though I try and make the naan myself when making this, obviously there's only so much you can do in a 90 minute class.
Week 6 is all about bread, making a basic pizza – again, you'll see that 95%  of the students haven't made fresh bread before and are shocked at how easy it is. And who doesn't love pizza?! Here's one I made not long after.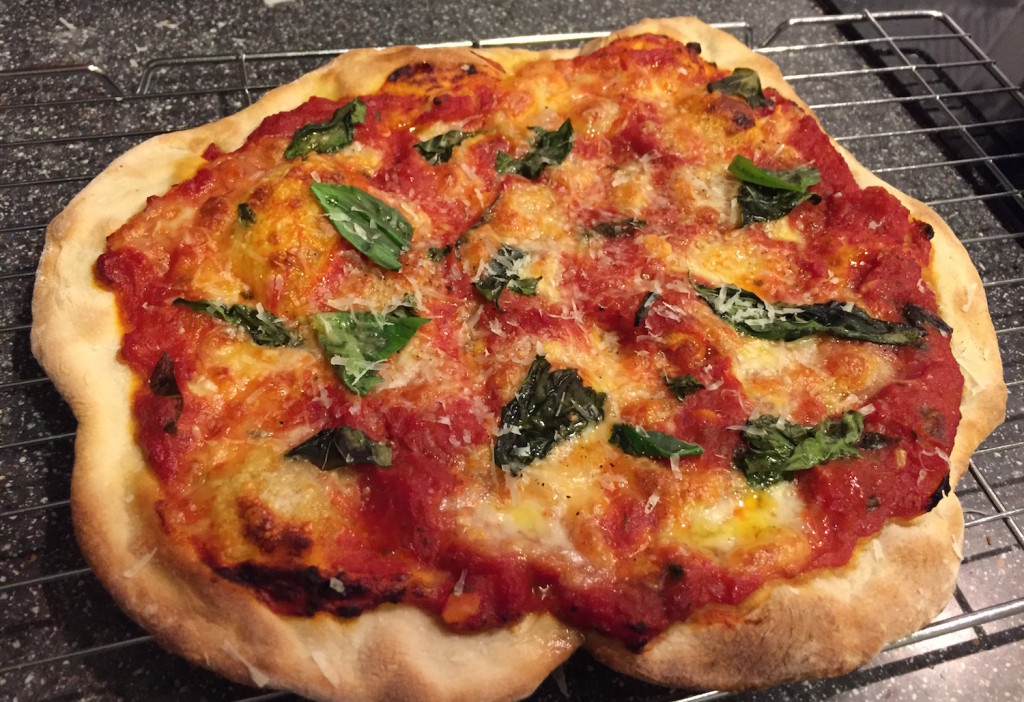 Week 7, a vegetarian chili which is another I have made several times again since, and got me converted onto brown rice. It really doesn't taste much different, and is easier to cook IMO. It's another good "fridge buffet" recipe.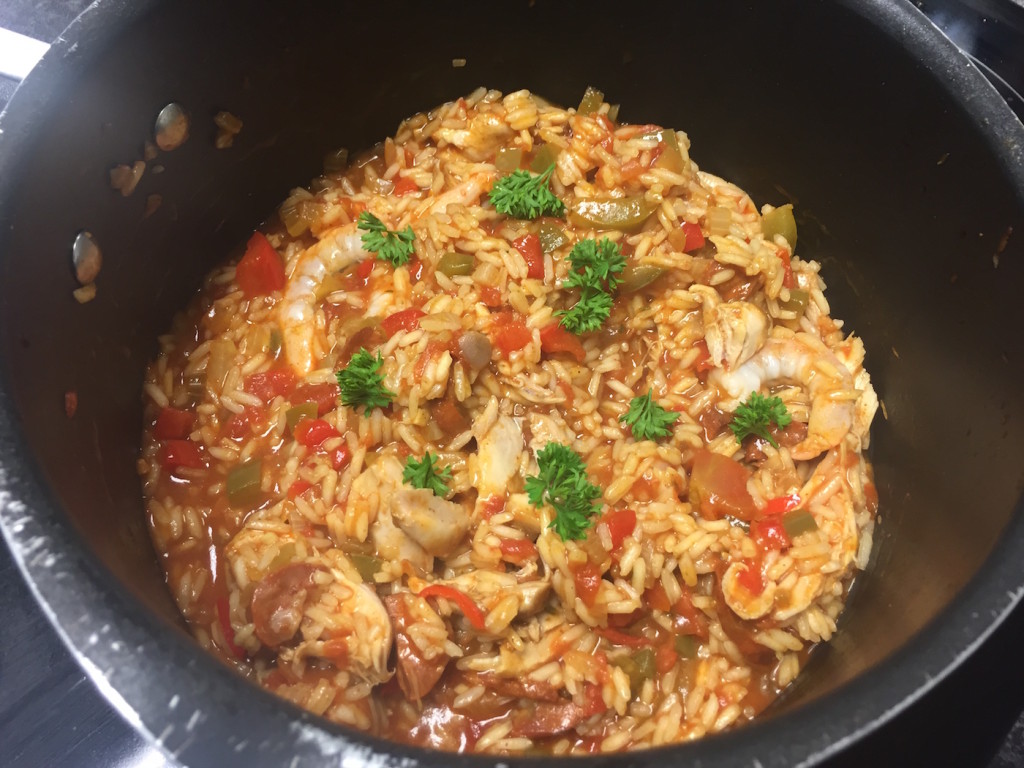 Finally, for week 8 we cook chicken, prawn and chorizo jambalaya which is a delicious one-pot-wonder, and another of my favourites. My last course in 2015 culminated in saying hi to Mr. Genarro Contaldo himself as he came down to Shields Road (I'm sure it reminded him of the Amalfi coast…) – to cook as part of the Ministry of Food's fifth birthday celebrations. If I have half the energy of that guy when I'm 66, I'll be happy.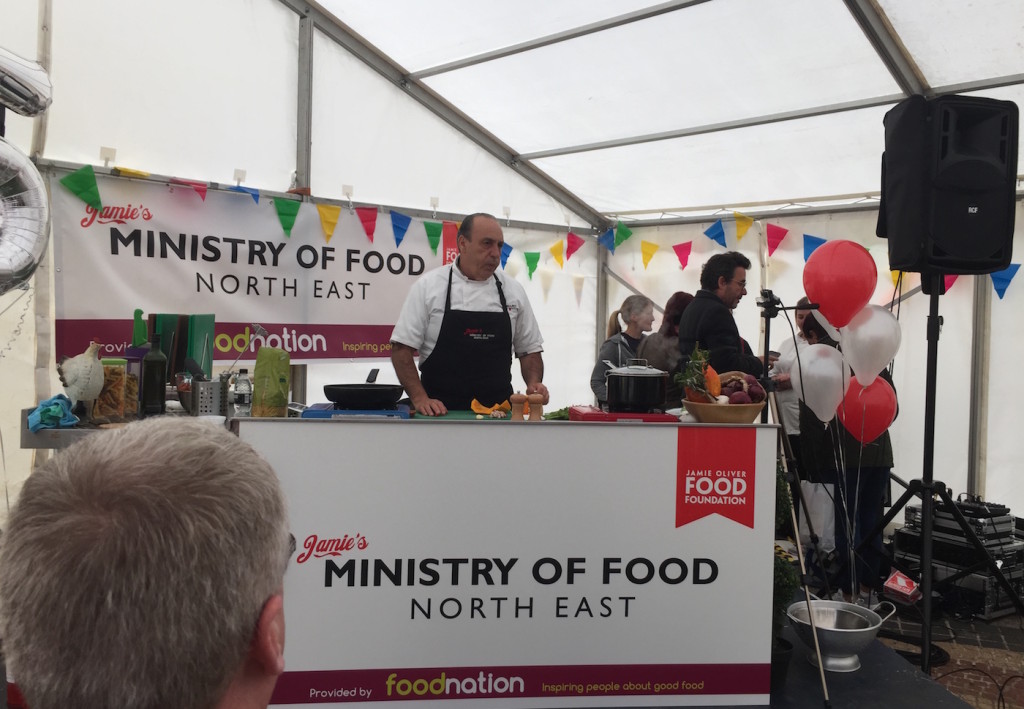 It's very easy to have a go at Jamie with his endless tirades, cookbooks, TV series, and self-promotion, but as I've mentioned before, everyone's gotta love some part of what the bloke does. If the Ministry of Food can get a few people in Byker who have never before in their life seen a nutmeg cooking, then more power to him.
Interested in taking part in one of our courses? Check out our new course dates and call us on 01912760595 to book! pic.twitter.com/muXPjvMSt8

— Food Nation (@thefoodnation) January 11, 2016
Eight week courses have just started but loop round every nine weeks or so (as above). Of course there are others – Food Nation themselves run slightly more advanced classes around common brunch and dinner recipes, as well as a more basic cooking skills course but check them all out on the website. It's only a tenner a week which includes your tea for two, and if you don't want to cook, give volunteering a go! You might just love it.
Contact: http://www.foodnation.org [downloads: course information / volunteer info]