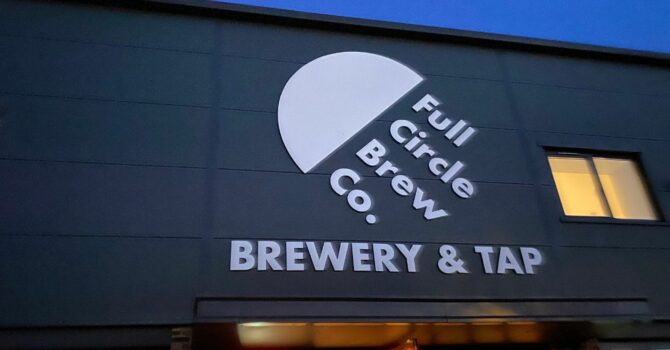 Another ace taproom joins the Ouseburn gang.
I've already said that the Ouseburn is the 'place to be' of late, with doughnuts, beers, curry, and everything in between making it a nice little outpost of the city centre. And between Brinkburn St. and Newcastle Brewing, you've now got another huge beer name in the mix.
Full Circle Brew Co. appeared out of nowhere and just this weekend opened a massive site housing their shiny new taproom, events space, and brewery in one. It's an impressive venue, both upon greeting you immediately on arrival to Hoult's Yard, as well as upon entry to what is a huge space. Like 10x the scale of a Box Social.
They're being bankrolled by Lanchester Wines, which goes some way to explaining the, oh I dunno, £1.5million spent on equipment alone? It's a serious bit of kit, with a lot of effort on quality production, rather than pumping out millions of gallons of beer (though I'm sure there'll be a lot of that too). It's a bit disheartening to someone like me as a small-time home brewer to think, 'I'll never compete on this scale'. But good for the region, and bad for my bank balance.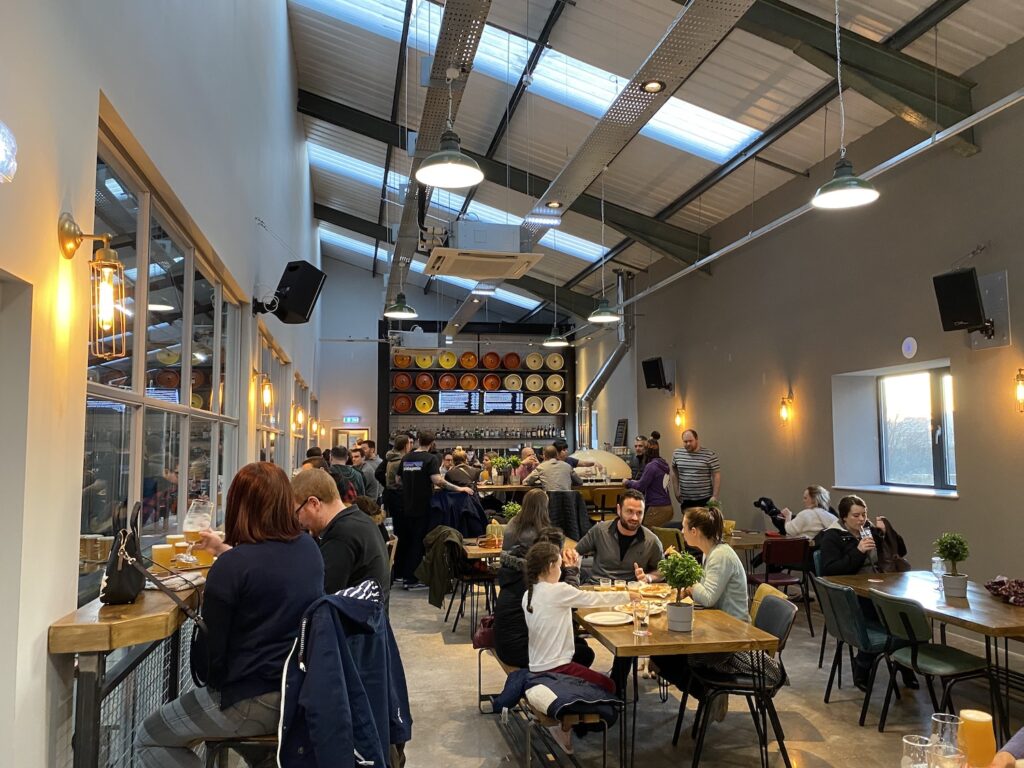 The taproom is on Hoult's Yard, just round the corner from Proven Doughnuts and Studio 28 cakes, and why, oh why, aren't they doing some cross-promotion here. It's an office hub primarily, but between these three, and the recent Ghetto Golf, becoming a bit of a destination in itself.
Full Circle Brewing Co. have launched with just 3 beers from their core range. A pale, IPA, and sensibly a session IPA which for me was the best of the bunch, though they're all 'to type'.
The taproom currently putting out about 16 beers on keg and 4 on cask which were all in fab condition. More than half the beers are North East based (already done a collab with Flash House), with others from London to Bruges. there's nothing too crazy, but well-served from Belgians, to stouts, and flavoured saisons.
✅ Dog friendly
✅ Car parking charges after 1hr (who's driving?!)
Scran is being provided by the ever-expanding Scream for Pizza empire. Honestly, I was a little worried that what with their street food, Market Shaker, and of course the HQ Scream for Pizza restaurant, that the quality was going to suffer somewhere along the line as the brand dilutes.
We got a Brooklyn Bee, and it was probably one of the best pizzas I've had from the Scream gang.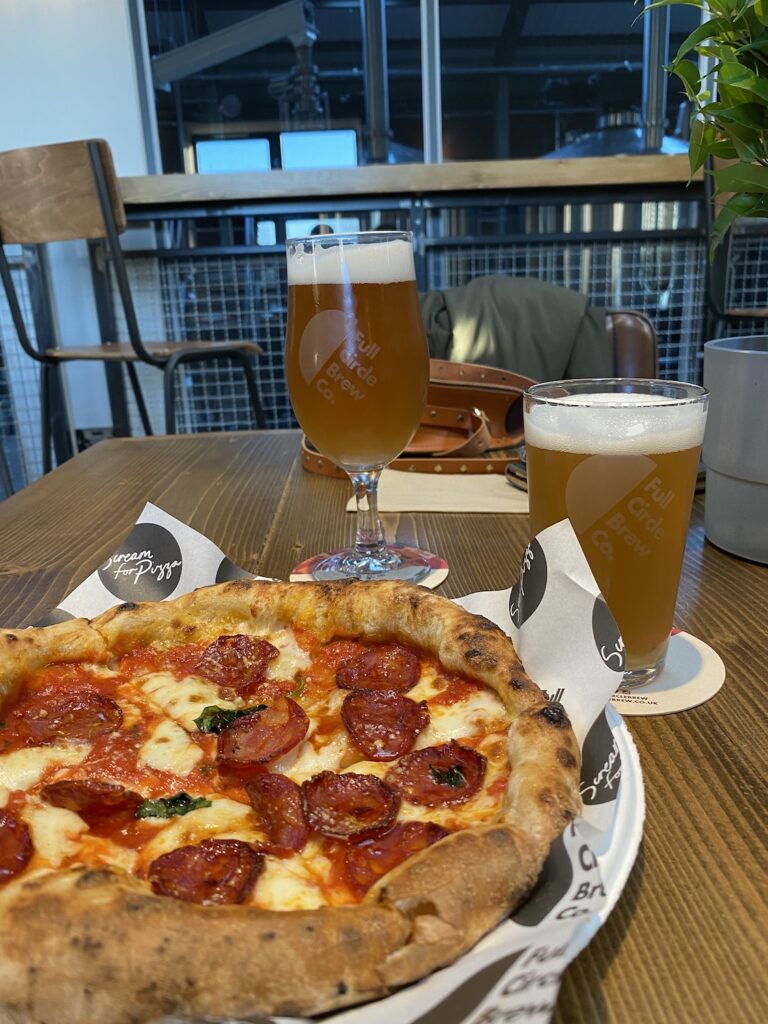 They may well just have this dialled in properly now, but this was a cracking dough, with quality pepperoni, and that little lick of honey chilli that just finishes it off. Really great – and standard £6-7ish pricing. I don't see how you could have a few pints and not have one, frankly.
Anyway, opening weekend meant a free tour. It's a grand site, and cool to get a behind the scenes (even if once you've seen one brewery tour, you've seen 90% of them).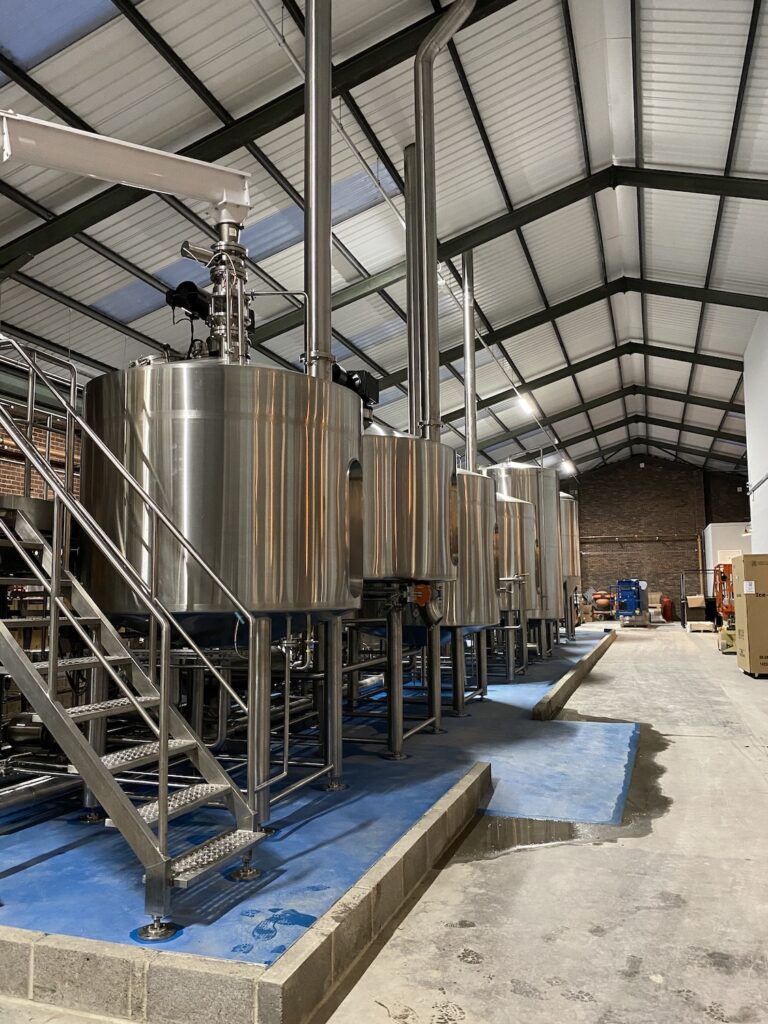 All gear seems to be from SSV and is of the highest spec which I imagine means they have no excuses for not knocking out some outstanding beers. The kit still hasn't even had a beer made on it yet which is crazy to think of when it comes to ROI!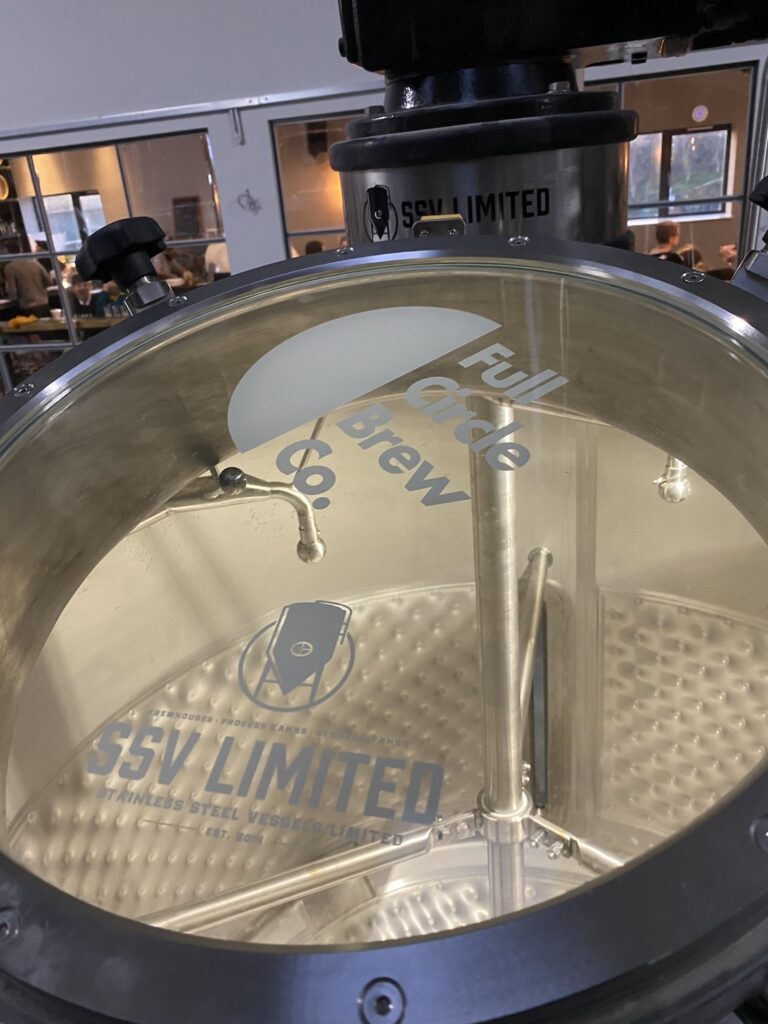 Our tour guide & brewer Alan seemed genuinely buzzing to get cracking on the gear. I would too – with a canning line coming soon, it's pretty much got everything, from grain milling, to a cooling tank for an unusual (gentler) 80°C hop addition, to a separate mash tun and sparge kettle to allow immediate one-after-another brewing. 
They're lacking in a big old imperial stout in the range, and y'know, Northern Monk still haven't hit me up, so maybe I'll ask them if I can brew this on it. I'm telling you, in the vein of the Northern Monk Patrons Project, some brewery will do a beer collab with an 'Instagrammer', and it'll fly out. Someone will do it. I'm still waiting for that email with subject *re: Wylam Brewery x Newcastle Eats*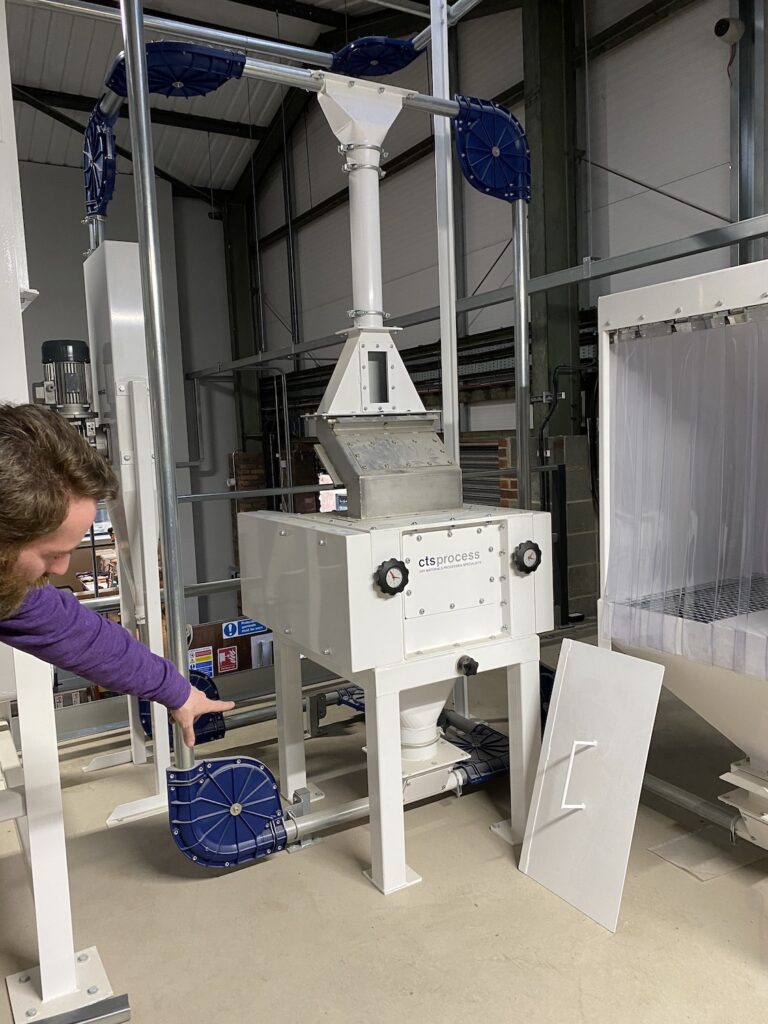 It's a brief tour but always welcome to see the backstage right after drinking some of their beers.
Anyway, it'll be interesting to see how it all pans out and what future brews look like. No doubt no trip into Ouseburn/Hoult's Yard/NE6 can now be without a trip by the Full Circle taproom, so keep an eye on my Untappd to see what they've got on. If you're at all curious about Full Circle, get on the Q3 bus from the Quayside and enjoy a little mooch around Hoult's Yard, and keep an eye on these guys 'cos I imagine within the next 12 months, these guys are going to be everywhere.
Contact: fullcirclebrew.co.uk