Gin ?
Remember back only a few years ago when you couldn't even get a decent gin and tonic outside of a top-end restaurant? Now even Wetherspoons has a dedicated gin menu.
People might sometimes moan about their prevalence, and it seems like very new pub purports to be a "gin palace", but I'm not gonna complain that there's now some great bars in Newcastle when you can get some serious gins. Dacantus, for example has some really alt. tonics and dozens of gins. Then there's the one-step better Continental, with literally more than 500 gins. You just order off the shelf, there's honestly so many. Pleased to Meet You (and others) have done the whole thing to death, and it's so 2012. But so what?
What you mightn't have known, is there are a good handful of producers in Newcastle/The North East which are knocking out some seriously good gins. Here's a handful of them.
Poetic License
Actually based in Sunderland, The guys at Poetic License are part of the Tavistock group. They even have their own bar, (it's decent – for Sunderland…) but you can find the gins in an increasing number of places across the NE which is testament to its quality.
I really enjoyed the Northern Dry. It's super, super bright with loads of juniper, whereas the Old Tom is a little more neutral and sweet. Watch out for the limited edition Strawberries & Cream picnic gin which has been doing the rounds in the summer, as well as some other smaller batch specials. Looks set to stay. ~£32 for 70cl and you'll find it at all the food festivals.
They say: "big punch of juniper finely balanced with green cardamom for  warm and spicy flavour"
Northern dry recommended serve: Fevertree tonic & pink grapefruit
Old Tom recommended serve: Fevertree ginger ale & red apple and cinnamon
Contact: poeticlicensedistillery.com
---
Durham Distillery
Launched a couple of years ago, their branding is really tight, and has helped them get served across the country. They're everywhere. And good for them, 'cos this gin's a cracker, and definitely one of my favourites on this list.
They're going for the "secret recipe" thing – but there's definitely juniper, elderflower, and pink peppercorns. It's mega smooth, and even a gin-newbie could probably see why it's popular. No burn, just a smooth floral flavour that's perfect for a G&T.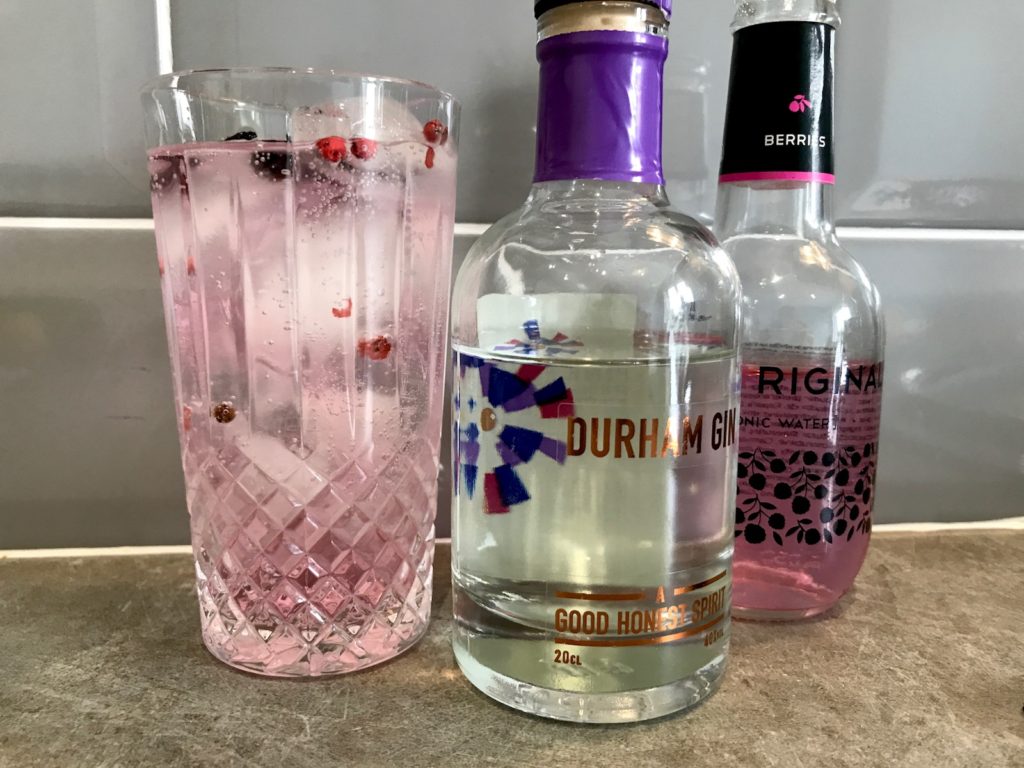 It's available in 20cl variety too, if you just wanted a taste. I think a hefty sales & marketing budget compared to the others will help it stay relevant, but there's also some specials too (as well as their vodka & whiskies) – the limited oak-cask aged gin is one I've been meaning to get my hands on. And there's the almost obligatory sloe gin as well. RRP around £25, and widely available in the NE and beyond.
They say: "A nice warm savoury combination of pink peppercorns and celery seed rounded by a mix of traditional gin flavours like angelica and coriander, with late hints of cardamom.
Recommended serve: Durham Gin:Fevertree tonic (I like the light tonic) in a 3:1 ratio w/ strawberry garnish
Contact: durhamdistillery.co.uk
---
Newcastle Gin
Bealim House's own gin – which after a long wait, you can now buy direct from the bar itself…
Bealim House and other Vaulkhard Group bars (you might want to dodge some of them, but they include Pacific House, MSA, perdu, Mushroom, Barluga…) now have their own distillery. It's made on site, which is oh so now – distill and sell out of your own bars = profit.
It's a very distinct gin, really very strong (too strong?) on the botanicals. If you've never been to Bealim House, it does come properly served, even with a Fever-Tree, which is a world away from what Fluid Bar used to be. It's not my favourite from this bunch, but being a truly NE1 gin, it couldn't be more local, so it's worth a try. If anything, it's a diversion from your usual Hendricks & tonic.
They say: "hibiscus tones" ?
Recommended serve: Newcastle Gin:Fevertree Light Tonic in a 3:1 ratio with lemon & lime.
Contact: bealimhouse.co.uk
---
SteamPunk Gin
This is a proper small batch gin – I don't know how many bottles these guys are doing, but seeing as they're based out of small unit in Low Fell, it can't be too many at all. They seem to be doing well though, and increasing their product range.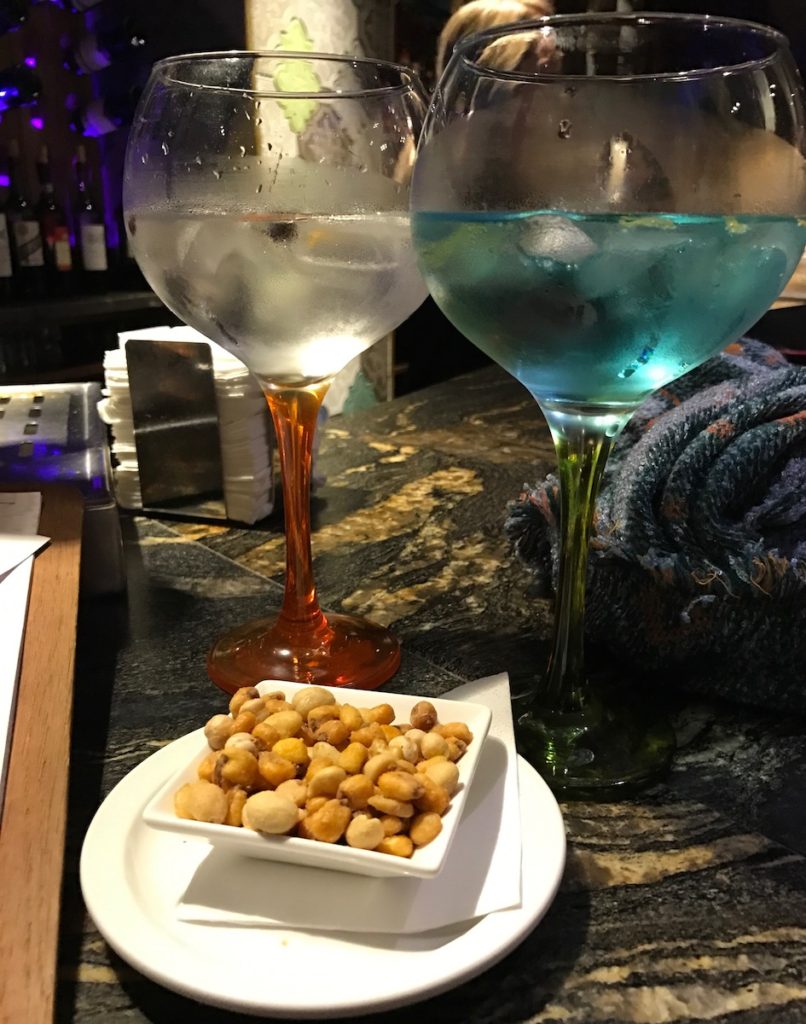 Served here at Dacantus, it's a proper humdinger. Smooth but with enough of a reason to keep you coming back, what was once a rare/super-specialist gin, it's making more and more appearances across the NE. They're busy beavering away at their own tonic too, which should be one to watch, and there's some SteamPunk gin fudge around somewhere which I've not managed to get my hands on. Proper local, staunchly indie, and definitely worth your time. RRP ~£34
They say: "Smooth on the palate, with juniper, cardomom and citrus melting together in perfect harmony"
Recommended serve: Steampunk gin, Fentimans 3:1
Contact: ginguys.com
---
Hepple Gin
It's got celebrity involvement from "him off the telly" Valentine Warner which will no doubt boost its profile a fair bit, but you can get it in a fair number of M* restaurants, which says all you need to know. 45% ABV.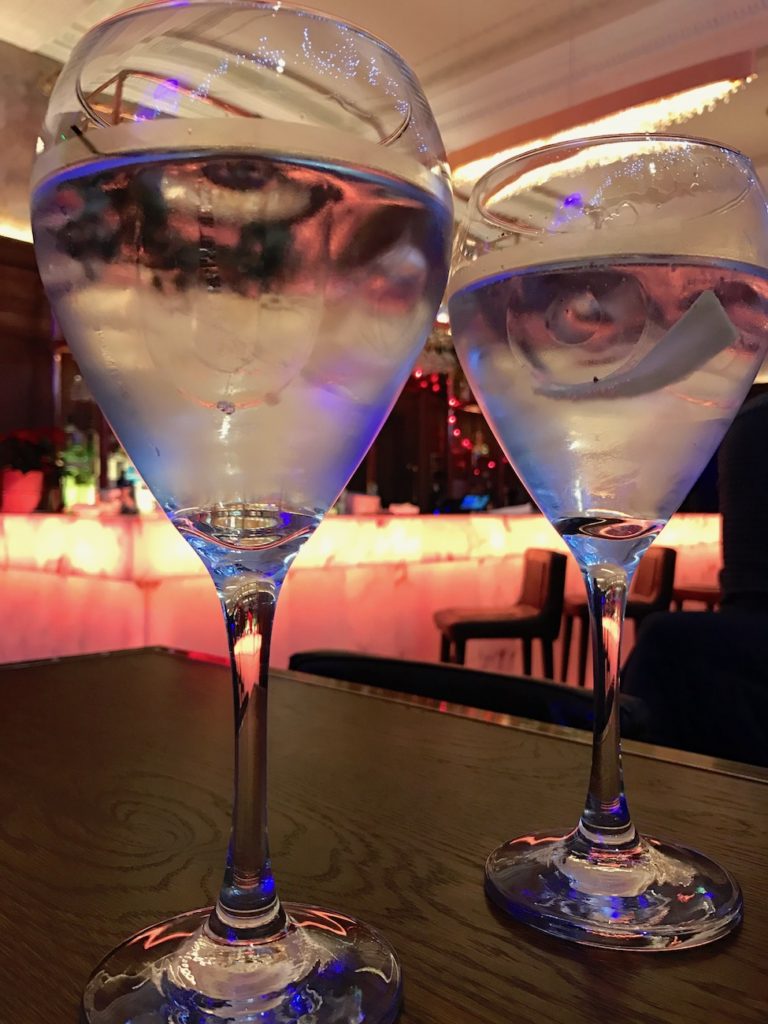 They're not doing small bottles just yet, so I've only had Hepple out and about but CHRIST this is smooth. Full of English and primarily Northumbrian ingredients like…bog myrtle…it's got nowt in common with gins of old, almost zero alcohol burn despite the high ABV, and is just one of those drinks worth paying that quid extra for. Interesting and captivating, and really has the high-end feel. Treat yourself, like we did here in The Continental. RRP about ~£38
They say: "The initial fresh citrus flavours evolve into unexpected ripe cantaloupe melon, the spicy fragrant juniper continues to coat the palate. There is a luscious sweet mouthfeel, which is both juicy and quenching."
Recommended serves: Hepple gin Martini: 5:1 with Noilly Prat Original Dry ?
Contact: hepple-gin.com
---
Jack Cains Gin
Now owned by the money-maker that is Wylam Brewery, Jack Cains is uber local and small batch. One of my favourites from many appearances at the old Boiler Shop Steamer, it is so, so smooth, and about as close as I've come to finding a gin I'd drink neat. But add a Fentimans tonic, and you've got pretty much the definitive North East gin G&T.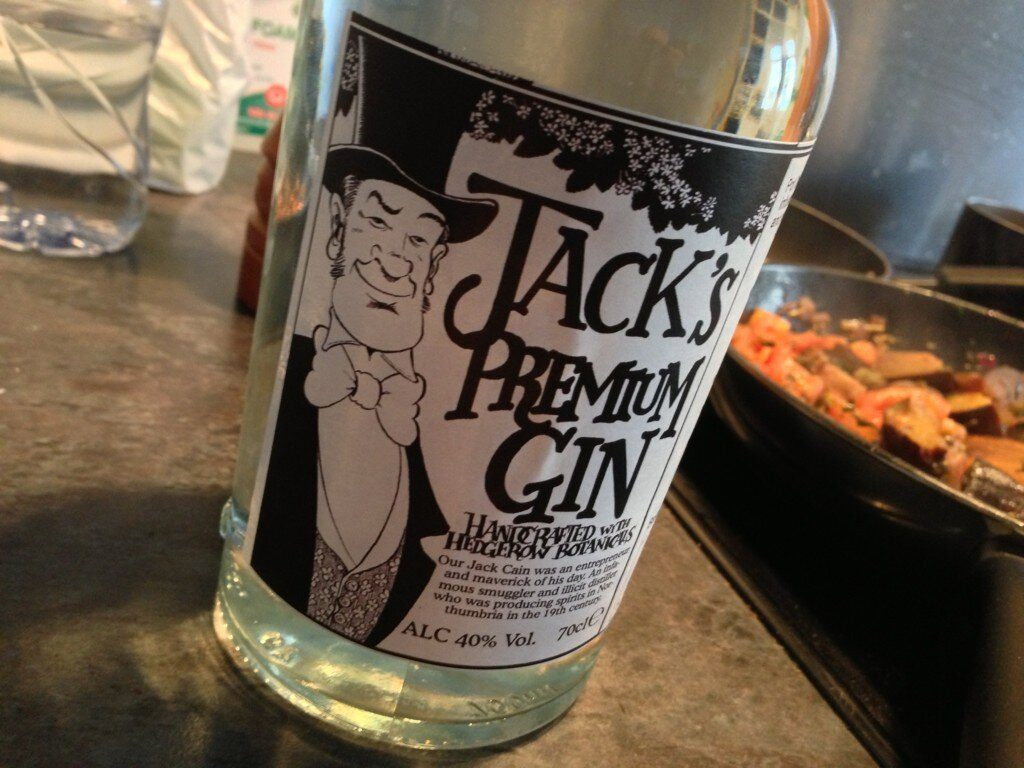 Better off neat/not messed about with too much as it is quite delicate but also great in a "Fog on the Thyme" – gin, (Fentimans) cloudy lemonade, rubbed thyme, or as a sloe gin, though I've not managed to spy that one yet. RRP £25 and usually available in the new Fenwick food hall (along with most of the rest of these) or from Wylam's own Gin Palace (turn right as you enter the brewery).
They say: "blended with pure Northumbrian spring water and hedgerow botanicals including elderflower. The elderflower produced a distinctive nose to this gin which produces a softer gin and is particularly suited to combinations with softer tonic and cocktails."
Recommended serves: Jack Cains gin, Fentimans tonic, as strong as you dare.
Contact: jackcains.co.uk
---
Alnwick Gin
Only just discovered this one while finishing up this piece, but managed to get my hands on a miniature in Fenwick. It's another cracker as well – quite a unique flavour, somewhere between sweet and dry and maybe it's just the amount of gin I've consumed writing this piece, but you can really get to the "locally foraged traditional botanicals and spices". It's got a lovely finish and aftertaste and is right up my street. Small batch and "entirely hand made", I couldn't help but fall in love a bit with this one. Widely available in Northumberland, and rightly so. Nice one, Alnwick ??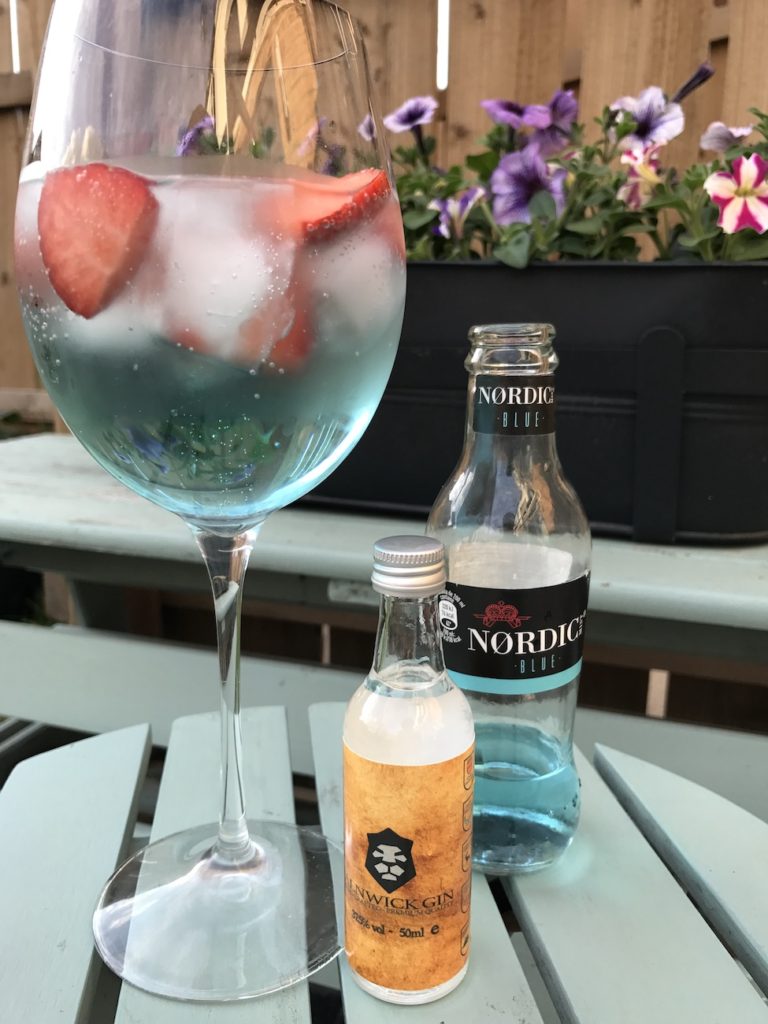 They're oh-so-now, especially with rhubarb – watch out for their liqueurs this summer; rhubarb & strawberry, lime and ginger, and raspberry & vanilla for about a tenner. You'll get the main gin at RRP about £36 and it's worth seeking out. See also: better quality tonics like the Nordic Blue. As per Fevertree's bumf "tonic makes up 2/3 of your G&T so you should use a great one".
They say: "Smooth, crisp, aromatic taste & a long smokey finish with natural undertones."
Recommended serves: 50ml Alnwick gin, 125ml Fentimans tonic with lemon zest.
Contact: alnwickgin.co.uk
---
Masons Gin
I wasn't going to include these guys – Bedale is North Yorkshire to be fair, but they're doing really well in the North East, and have gotten their gin in a good chunk of the top bars and restaurants in Newcastle.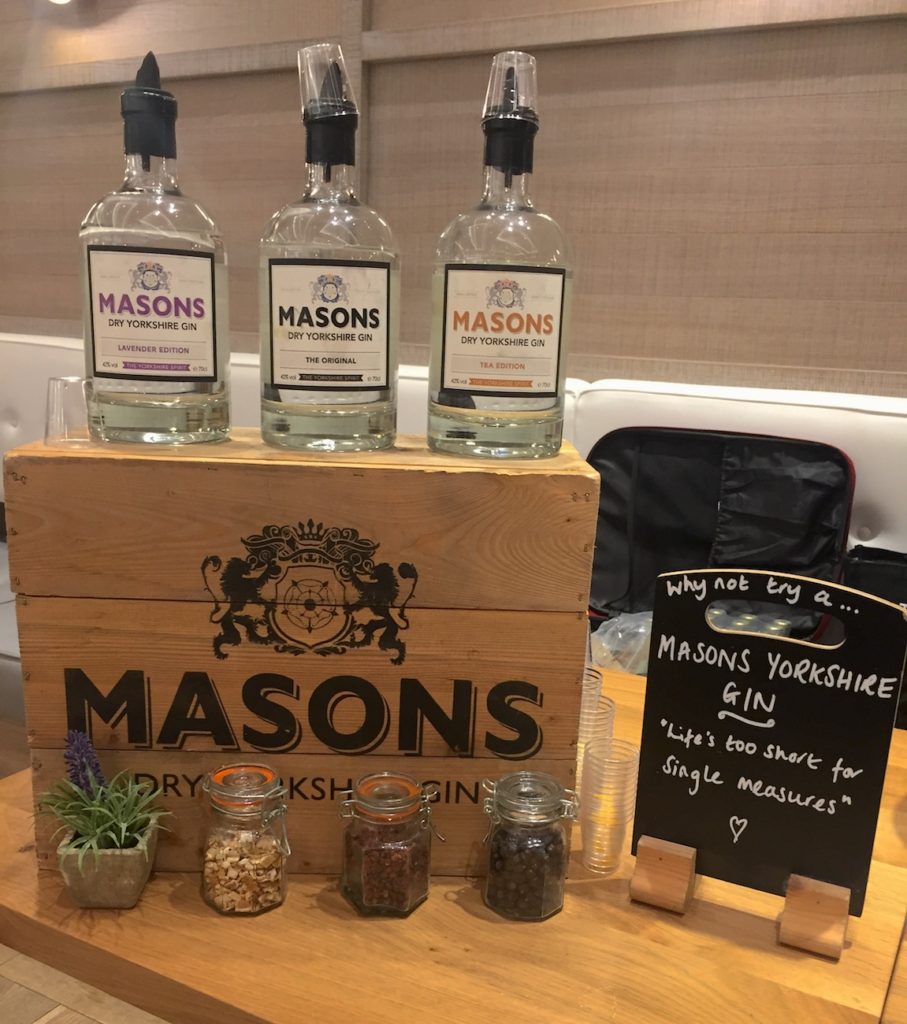 Being Yorkshire – OF COURSE there's a tea gin, and this is my favourite of the flavoured bunch. There's also a lavender infused gin, and a sloe, but the tea hits the spot for me, with just enough sweetness to offset the strong alcohol. It'd have been very easy for these to end up gimmicky, but I really enjoy it and at the end of the day, makes a great twist on a G&T, or the base to a good cocktail. RRP ~£35
They say: "pure Yorkshire water and just the right balance of juniper, citrus elements and secret botanical ratio"
Recommended serve: 1.5 measures of Masons Yorkshire Gin, half measure of Lillet Blanc, and 1 measure ea. of lime juice and blackberry syrup. Add 3 blackberries, 3 basil leaves and 3 mint leaves, along with a couple of twists of black pepper. Shake and strain, and then garnish with blackberry and basil leaf.
Contact: masonsyorkshiregin.com
Are there any other NE-based gins I've missed? Let me know on Twitter, or in the comments below. Cheers! ?