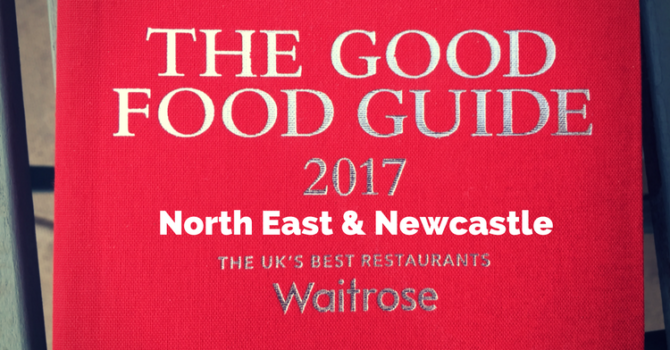 It's getting better all the time ?
The 2017 Good Food Guide came out a couple of weeks ago, so I thought I'd update 2016's list as there are a few changes of note. I suppose the headline news is that James Close of The Raby Hunt won overall 'Chef of the Year', which puts him among some pretty amazing peers, and for someone entirely self-taught, is pretty damn impressive. Haven't made the trek to The Raby? You're missing out big time, it's the best in the region IMO.
Other than that, it's great to see recognition for Cal's Own and The Roxburghe, and as disappointing as ever to see the large swathes of lands that are Northumberland and Durham so poorly represented.
I can't imagine there's going to be anyone opening in the next 12 months in Newcastle who is going to score higher than a 5, but I'd so so love to be proven wrong… So here's the bits that we care about front he Good Food Guide in the NE and Newcastle, and where you should be ticking off your "to-do" list instead of going to Five Guys all the frigging time.
Tyne & Wear
House of Tides (5)
The Broad Chare (4)
Peace & Loaf (4) [Local Regional Winner]
21 (3)
Artisan (3)
The Staith House (2)
Irvins Brasserie (3)
Eslington Villa (2)
Caffè Vivo [Local Gem]
Colmans [Local gem]
Latimer's [Local gem]
Cal's Own [Local Gem / New Entry]
Cook House (2) [New Entry]
The Roxburghe [Local Gem / New Entry]
Removed: Six
---
Durham
The Raby Hunt (7) [Top 50 Restaurant]
The Bay Horse (4)
Restaurant DH1 (3)
The Oak Tree Inn (2)
The Bridgewater Arms (1)
The Garden House Inn (1)  [New Entry]
Café Lilli [Local Gem / New Entry]
Removed: Bistro 21 [Closed]
---
Northumberland
Bouchon Bistrot (4)
The Feathers Inn (3)
The Barrasford Arms (2)
Audela [Local Gem / New Entry]
The Rat Inn [Local Gem]
The Ship Inn [Local Gem]
Removed: The Northumberland Arms
---
The Good Food Guide is available to buy in Waitrose for £17.99