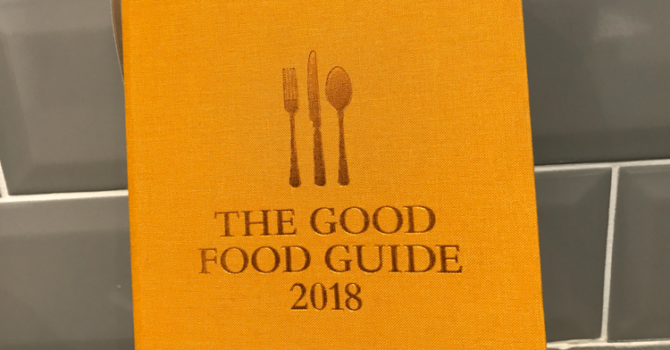 Lots of new entries ?
Considering all those new restaurants in Newcastle over the past twelve months, there's plenty of fresh faces for Newcastle and the surrounding Tyne & Wear this year in this year's Good Food Guide. It might be derided by some, but in a world where it's hard to keep up with what's opening in Sheffield, Glasgow, or wherever you're headed for the weekend – never mind in your own city – it's sometimes a godsend.
No-one has 'disappeared' from the guide since last year, which is good! Keeping those standards high, and in terms of new entries, The Patricia is a bit of a no-brainer, but still really great news for the guys so soon after opening. Nice to see Riley's get a further bit of recognition too.
Nothing new or exciting for Northumberland again, which continues to make me sad, though Durham sees three additions – namely the big hotels Seaham Hall & Rockliffe Hall – a bit boring IMO, but The Garden House Inn looks lovely and if we ever wander over to Durham anytime soon, that's where we'll be headed.
It's as good a compilation as any of "where to eat in Newcastle", so until I make my own list, here's where made the cut:
Tyne & Wear
House of Tides (5)
Peace & Loaf (4)
The Broad Chare (4)
21 (3)
Artisan (3)
The Patricia (3) [new entry]
Cook House (2)
Eslington Villa (2)
Irvins (2) – now closed ?
The Staith House (2)
Blackfriars (1)
Riley's Fish Shack (1) [new entry]
Bistro Forty Six (Local Gem) [new entry]
Caffè Vivo (Local Gem)
Cal's Own (Local Gem)
Colmans (Local Gem)
Latimers (Local Gem)
The Roxburgh (Local Gem)
Stark's Kitchen (Readers Recommend) [new entry]
Tyneside Bar Cafè (Readers Recommend) [new entry]
Durham
The Raby Hunt (7)
The Bay Horse (4)
The Orangery, Rockliffe Hall (4) [new entry]
Byron's Seaham Hall (3) [new entry]
Restaurant DH1 (3)
Café Lilli (2)
The Oak Tree Inn (2)
The Bridgewater Arms (1)
The Garden House Inn (1) [new entry]
Northumberland
Bouchon Bistrot (4)
The Feathers Inn (3)
The Barrasford Arms (2)
Audela (Local Gem)
The Rat Inn (Local Gem)
The Ship Inn (Local Gem)
Have you done them all? I wonder if there'll be the same number of newbies next year, fresh and exciting restaurants we've not even heard of yet…or whether it'll be the same old faces? Where do you think has been criminally overlooked? Or doesn't deserve to be in the guide?
The Good Food Guide is available to buy in Waitrose for £17.99 (I got it on Amazon for a tenner…)