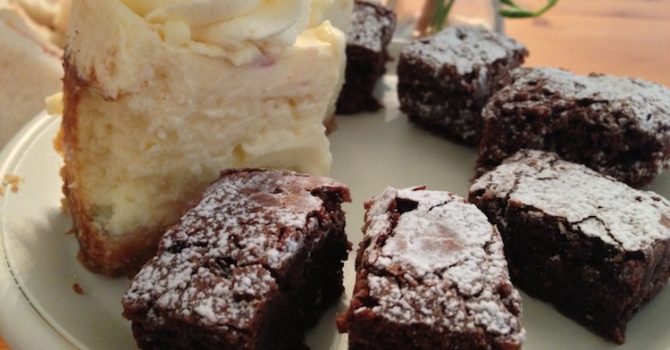 Cakes for the Insta generation
Boutique brownies, cupcakes, macarons and all manner of sweet things are massively popular right now, and luckily for the toon – we are spoilt for choice. Take a trip down the Quayside market and you'll see we're practically overrun with home bakers selling their wares. Now a favourite, Pet Lamb Patisserie has brought some love overdue sweetness to the Grainger market, and we have some talented personal cake-makers like Cake Poppins. While we wait for the inevitable Patisserie Valerie to open in Newcastle, newest on the scene is GB Cupcakery, opened this month on the Quayside.
We went down to the launch on a soggy night to try out some cakes and cleebrate their opening, where we were treated with a sample of afternoon tea (below), and some cocktails. We asked owner Leoni Avison some questions about her new baby.

Leoni, we understand you were made redundant from your job in marketing – what inspired you the change of direction to open a cake parlour?
I have baked from quite a young age and it's always been something I've enjoyed. My grandmother and great grandmother were both cake decorators and both my parents work within the hospitality industry so I've always been around foodie people! I began baking more once I'd been made redundant to pass time whilst looking for a job, eventually people began ordering cakes from me and it sort of took off from there!
What is your favourite/signature cake/bake? Do you have any memorable cakes you or anyone else has made that you thought were exceptional?
Hmmm…I think one of our most popular dishes at the parlour is our baked cheesecake, we can never seem to make enough, but my favourite thing to bake is probably Lemon Meringue Pie as it's one of my favourite desserts!
The likes of GBBO and MasterChef are massively popular – does TV baking inspire you & who are your baking heroes?
Most definitely, I can't get enough of cooking shows, it's all my husband and I watch! I've loved Jamie Oliver since I was very young and followed him throughout his career but with regards to baking it has to be the queen of British baking Mary Berry, she is timeless!
Any amusing baking disasters?
I once made a large quantity of brownies (whilst very tired!) and didn't realise that I had not put any sugar into the mixture…needless to say it was truly revolting when we tasted them!
Apart from your place, where is your favourite place to eat in Newcastle?
There are so many great restaurants in Newcastle it's hard to choose! We love going to Redhouse as it's just around the corner and great for a quick lunch (love the quirky decor too), but I also love The Forth, Hannahanna, Akbars, As You Like it…the list goes on!
Anything else you'd like to tell us? We see you allow dogs!
We do allow dogs! There are so many residents and local people who walk their dogs on the quayside and their isn't really anywhere for them to go! We also create beautiful bespoke wedding and celebration cakes, dessert tables, host vintage tea parties for all occasions such as baby showers, hen parties etc, afternoon tea and we'll also be organising cake decorating classes too!
QUICK FIRE
Sweet or savoury? Sweet of course!
Vanilla or chocolate? Chocolate
Mary Berry or Paul Hollywood? Oooooo…toughie but it has to be Mary!
Jam, or clotted cream first? Always Jam, then clotted cream!
The GB Cupcakery is at 44 Queen Street, NE1 3UG and open 9-5PM daily.
Contact: http://thegreatbritishcupcakery.co.uk/
Newcastle Eats no longer supports comments directly on posts, instead, why not fire up the discussion on Twitter, Instagram, or email me directly.