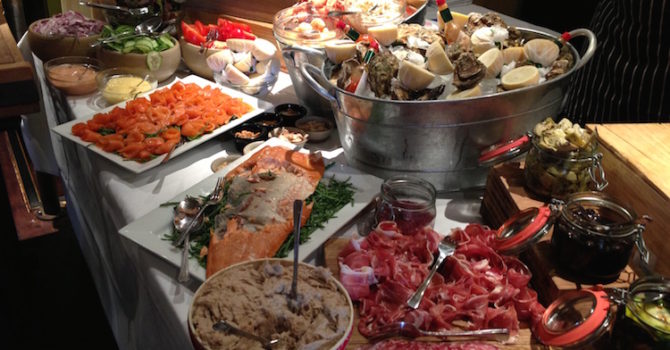 Everyone's seemingly talking Ouseburn at the moment. The trendy capital of Newcastle has loads of things to keep the hipsters busy, what with it's digital startups, trendy bars, pop-up restaurants, and all round cool "vibe'. Having parked itself in an impressive Grade II listed building for nearly a decade now, Hotel du Vin (NE1 2BE) fits in quite nicely, despite being part of a national chain.
Having covered Malmaison quite a bit recently – it was impossible to turn down an invitation from its sister venue to try out their new Sunday brunch menu. But… we are usually quite parky when it comes to Sunday dinners, typically preferring a home-cooked one over the many hot-lamp versions served in pubs up and down the country. Could the HdV change that?
The new Sunday brunch (starts at 12:00 so bit of a misnomer) menu features four courses for £19.95 – soup, the intriguing market table, main course and dessert. Pretty good value, considering nearby favourite The Broad Chare Sunday lunch alone is £12.50.
Skipping past soup – because, hey, it's soup, the headline-grabber is the "look at me" market table. We're loathed to think of it as an all you can eat buffet, but that's essentially what it is, albeit an upmarket version of one. But look at it! A mix of breads, seafood, and cured meats, it's so inviting to look at, never mind to stick your face in.
Assured by chef to fill up our plates, some oysters are shucked and slurped, as well as gorgeous smoked salmon, crab, samphire, and potted shrimp.. A less conservative second plate follows, stacked high with jamon serrano, salami, griddled veg, bread…must remember to leave room for two more courses… If you came here for only this & a main course, you'd still be on to a winner.
As impressive as the market table is, the main attraction for us is always going to be the "sunday dinner". Other main courses include fish of the day, pies or steak frites – but who is going to turn down the "roast du vin" with beef? Not many on our meat-loving table.
A huge savoury yorkshire pudding, still moo-ing roast beef, and canny accompaniments – it ticks about every box you can imagine for a Sunday roast. This would be an ideal "taking mam&dad out for a nice Sunday scran" dinner, and it's impressive that Mal/HdV are one of the few places having a full-time sommelier.
Despite the small break post-beef, it was an effort taking down a pudding, but it's been ages since we had a good crème brûlée. Breaking through it's golden sugar top, this one doesn't disappoint, and we're assured that there are no "bought in" desserts that plague similar places.
The Sunday brunch menu is undoubtedly excellent value – good quality food and more than enough of it to satisfy even the biggest appetites. We're hungry buggers but didn't eat for another 24 hours afterwards. If you're looking for an upmarket Sunday lunch that's a bit different and a bit of a celebration, give it a try. Pre-plan a long walk along the Quayside for afterwards, or just head straight for the food induced afternoon snooze.
Served 12-5 Sundays only. Food hygiene rating: 5
Contact: http://www.hotelduvin.com/locations/newcastle/
We were invited to try the HdV Sunday brunch menu along with fellow bloggers. Usual cost is £19.95.
Newcastle Eats no longer supports comments directly on posts, instead, why not fire up the discussion on Twitter, Instagram, or email me directly.