It's old news now, but late last year a Michelin star finally returned to Newcastle after a fifteen-year absence. Hooray! Right?
It's good news for the city whichever way you look at it – and a kick in the teeth to those in Manchester left wanting (ha!). Kenny Atkinson has long been a popular face in the toon, and on TV especially since moving on from former bastions at hotel restaurants Rockcliffe & Seaham Hall.
He's predictably chosen the quayside (NE1 3RN) for his go at a proper solo venture – but of course it makes complete sense. He and wife Abbie have given the old dog of a 16thC building a very sympathetic treatment with surely quite difficult planning restrictions – can we have the same now at the old Cooperage next door? House of Tides has original stone floors, lots of old beams, all "geet canny like". I'd imagined the local stereotypes would have been literally all owa the place, a la Scran & Scallie, maybe a mural of Alan Shearer on the wall, but it's mostly restrained on the NE-sterotype hunt.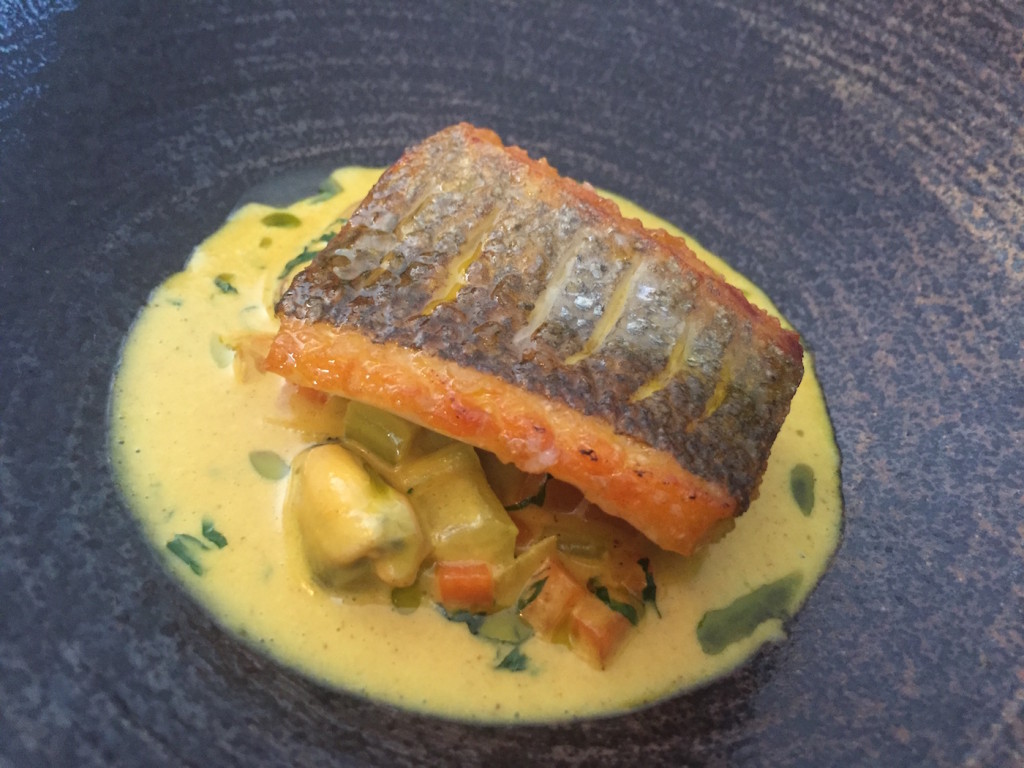 There's no tablecloths, not really a hint of being overly formal either, which is smart. It's not your typical "boutique hotel" look restaurant, but it's definitely a cosy gaff which can hold its own against similar restaurants, and immediately gives the impression of being more special than anywhere in Newcastle. And I don't think I've seen a M* restaurant with such space between the (huge) tables either. It's only 50 covers too, and feels mega spacious especially vs. the pack 'em in like sardines for every service approach in many others. Shout out for whoever chose the crockery too, it's all quite handsome.
There's no à la carte – the tasting menu is £45-£65 depending on when you go, (a bit daft IMO), but it does make it much more accessible for those wanting to spend a bit less. We went on a Friday lunchtime and saved twenty quid each which is a lot.
We received a warm welcome and got seated, discovering a birthday card for Kate – a small but canny gesture which goes a long way to making the customer feel great. Cocktails, a lovely Dandelion G&T and fairly average Bloody Mary couldn't really be sniffed at for £8, then snacks kicked off with marinated olives (very ripe, but a bit basic?), and the oft-Instagrammed Lindisfarne oyster. It was one the best I've tasted; super fresh with a zingy cucumber, ginger and caviar topping. And haggis bonbons with brown sauce? Well you just know how easy it'd be to sit and plough through fifty of those with a pint or two. Aye ??.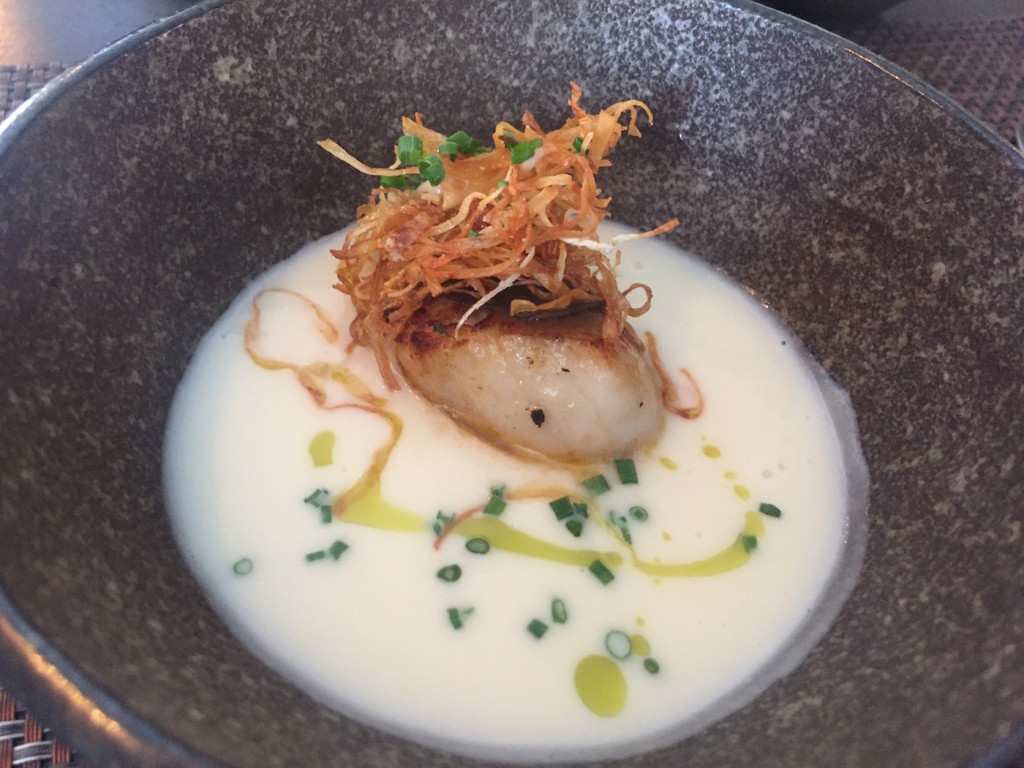 Favourite of the day was a rich cauli velouté topped with the sweetest caramelised scallop. Tried and tested flavours, but christ they worked, elevated with a splash of truffle oil. It's a beautiful blend of taste, texture and wow factor which is exactly what you've come here for. Bread, though very, very solid was nothing groundbreaking.
We loved the sea bass with mussels but the curried sauce was a bit of a miss for me, too thick and cloying. The fish was perfect though, as you'd expect, as was as the duck terrine that followed, which married vanilla, celeriac, and hazelnut well. The truffle on the dish almost overpowering some of those flavours might be venturing into first world problems territory, but thankfully I love the stuff.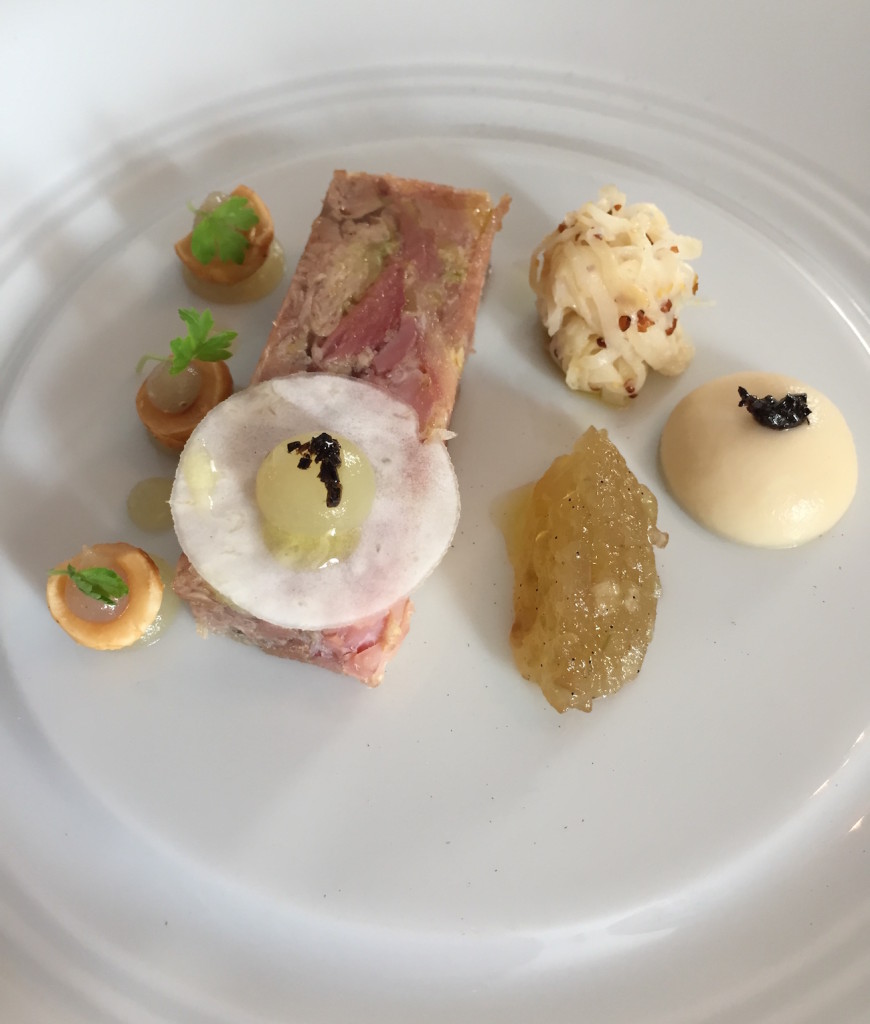 The affordable wine list starts at just twenty quid – is there even a cheaper M* bottle of wine in the UK? I'd heard in earlier reports that the pairings weren't amazing, and to be honest (though not just an issue here), £40 for matched wines is nearly as much as the food. Our decent bottle of pinot gris was £28 and served us well.
A couple of misses, nothing drastic – that curried sauce, and the advertised rosewater didn't really come through in the dessert which was a shame. Also, a very simple pre-dessert of passion fruit sorbet with biscuit crumb didn't match up to the rest of the courses, but that's nitpicking, particularly when the vanilla and rhubarb in the dessert left us feeling like ?.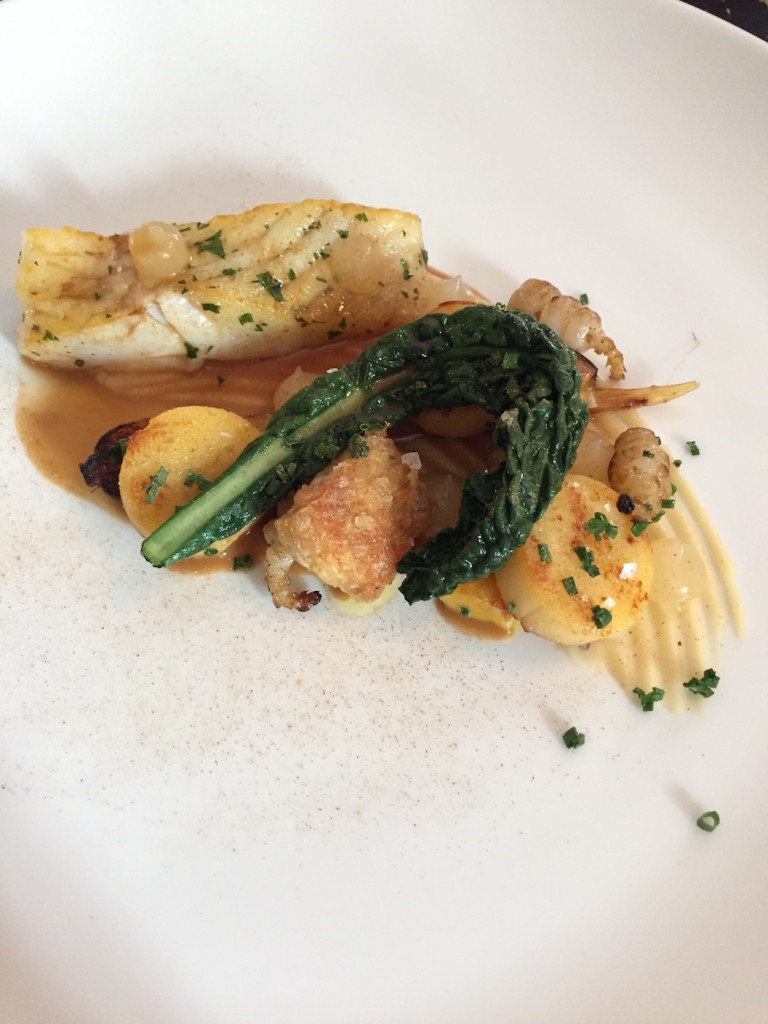 Mains of hogget and brill were both fantastic. As good as you get at this standard anywhere in the UK, well presented and garnished, and above all, beautifully tasting. It'd have been easy to make this a "posh lamb dinner", but the mint was well restrained, allowing the strong flavour of the meat to shine. Good enough that I could have easily polished off another plate, but I did comment that it was a decent-sized portion.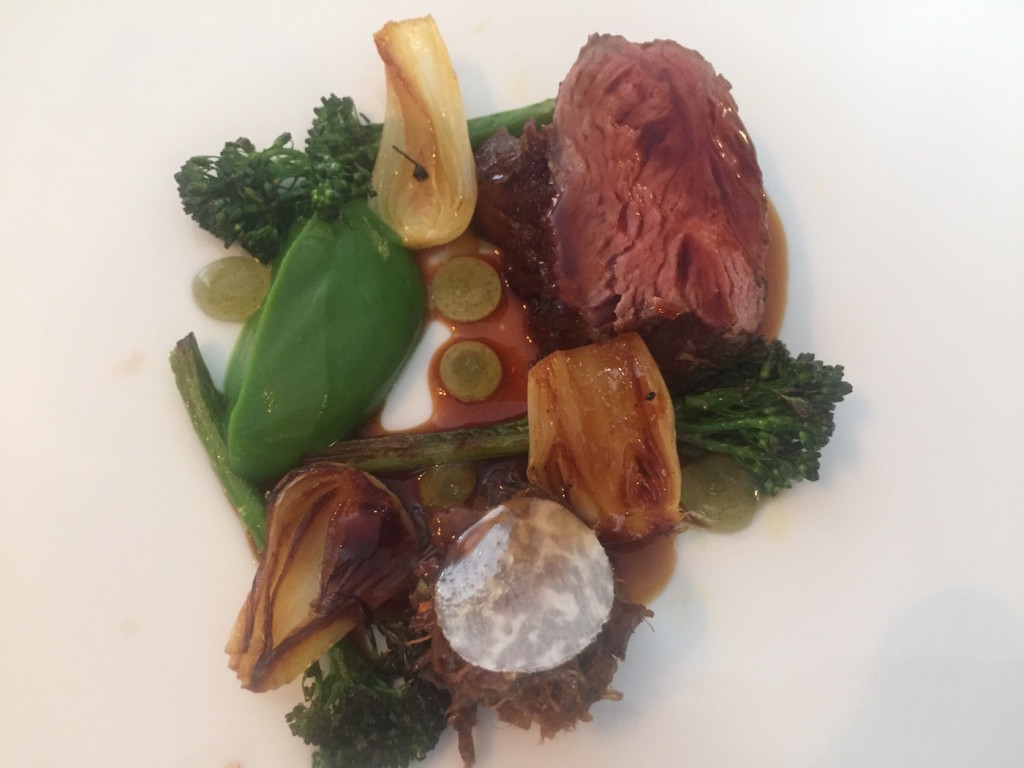 Service throughout the afternoon from the young team was perky, and despite a couple of hiccups, I couldn't help but be won over by their charm. Kenny has hired young across the board, and I think that's a smart move; never stuffy, never rushed and very approachable, especially for the potential first time high-end diner which I'm sure they're desperate to attract here.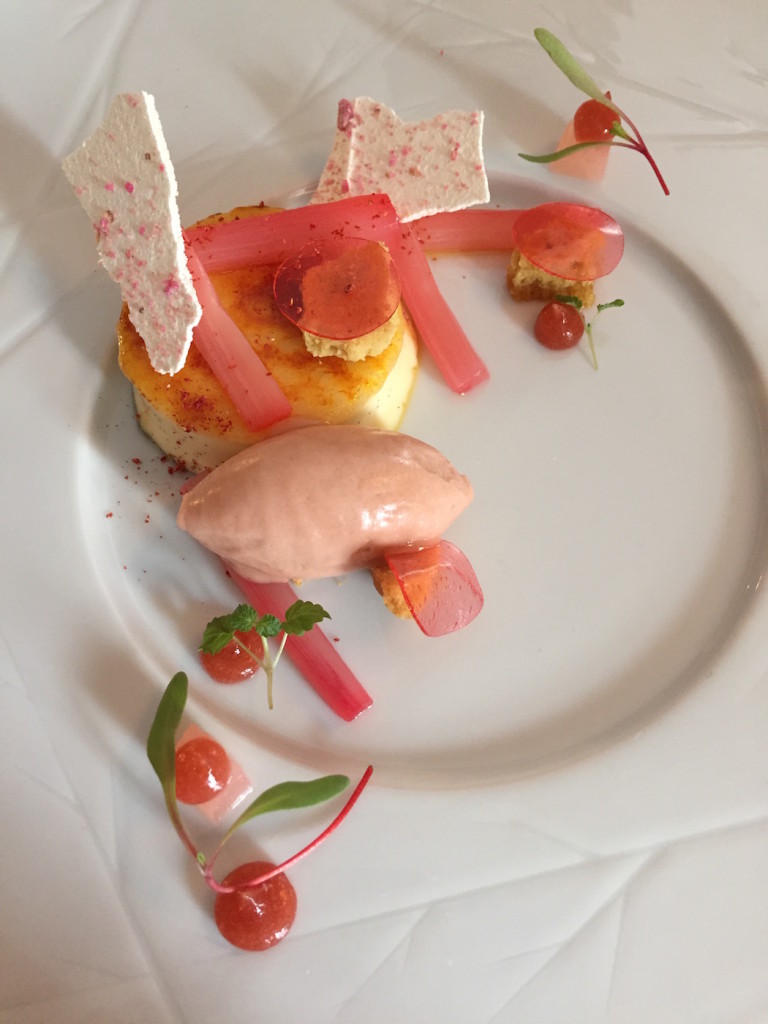 The next table over had a meagre-looking cheese board which put us off – especially at £12ea a pop, and while coffee was pretty forgettable (compared to the likes of the chemex at The Raby Hunt), chocolates made up for it with the fudge and take on a Snickers being particularly droolworthy.
Being last ones in after nigh-on three hours, we headed off for a night filled with many, many gins – high-fives to Tiger Hornsby, Glass House and Dacantus there, which were great, the latter serving tapas with their G&Ts.
Having read some slightly downbeat and defeatist reviews early on, I didn't really have the highest of hopes for House of Tides. But (perhaps following his good run on Masterchef) it seems head chef Danny Parker and the young team have got a bit of wind in their sails now, confident in service and the flavours they're delivering. It would have been such a shame to say that Newcastle's best chance of a destination restaurant in a long time was a bit of a dud, but thankfully, HoT is somewhere I've already recommended to tons of people, and can't wait to head back to when the menu rolls round to spring/summer ingredients. With any luck, they've set off the beginning of a tidal wave of class restaurants hitting the city.
Cheers, and welcome back Kenny ??.
Lunch for two with wine, cocktails, coffees: £165 (inc. 12.5% service charge)
Contact: houseoftides.co.uk
Food hygiene rating: Not yet rated