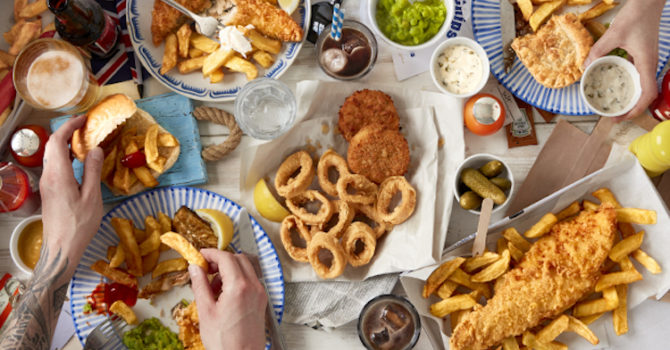 Does how you eat your fish and chips expose where you are from? hungryhouse.co.uk reckons so.

In a recent survey, they've found that choosing to smother your chips in curry sauce or religiously order cod over a battered sausage can actually determine where in Britain you are from. Me? I'm Midlands apparently – can't say I've ever ordered a mince pie and chips from a fish shop…
North East 30% will order a meaty pie to replace fish or add on as a cheeky extra
Scots are over cod with 1 in 3 now opting for skate
Midlands 82% will drown their chips in curry sauce while Londoners play safe with ketchup
Londoners prove they're sticklers for tradition sticking to cod and refusing to call it a chippy dinner
Research from the survey also reveals that despite being the nation's favourite dish, ordering habits vary from place to place in the UK; for example ⅔ of Londoners favour the classic Cod, in Scotland more than half of those surveyed regularly opt for Skate while West Country fisherman are out to catch Pollock, as 60% in the area prove it is now their catch of choice.
Ordering a side of chips is a must for everyone but what you smother them with also varies, unlike Londoners who once again stick with the North East piling on cheese and gravy and the Midlands firmly sticking to Curry sauce (73%) while Scotland sees 68% slapping on their unique Chippy sauce.
Not only do orders differ in each corner of the nation, but also the language you use to describe your fish & chips can determine where you're from. The study found a clear divide with Londoners and the South firmly sticking to the traditional "Fish 'n' Chips" while the more casual "Chippy" is most common in the the North.
As Scots know all too well there are many options when you want something extra, with 58% ordering battered sausage, while a Chunky Pie is favoured in the North East and specifically Newcastle, and in Wales 32% will choose to have a helping of Scraps. An extra item that that is loved by all corners of the nation continues to be a serving of mushy peas, with over 70% of Britons choosing to accompany their dish with the vibrant green edition.
FIsh and Chips has been a firm British favourite after the first shop opened their doors in 1860 to the 10,500 that can be found around the nation today. Indian restaurants take second place with roughly 9,000 in the UK.
"Fish and Chips has been a staple takeaway in people's homes for years and many are passionate about how they choose to enjoy it. I think our data really proves that this is a nostalgic cuisine with everyone religiously sticking to the traditions they grew up with. With these findings we'll continue to ensure we cater to everyone so they can have the perfect 'Fish'n'Chips' or 'Chippy' delivery with hungryhouse."

— Alice Mrongovius, hungryhouse.co.uk CEO
Whatdya reckon? Take the quiz yourself – I'm with the midlands – fish and chips with curry sauce, and for me, Longsands = 👌🏻
Newcastle Eats no longer supports comments directly on posts, instead, why not fire up the discussion on Twitter, Instagram, or email me directly.