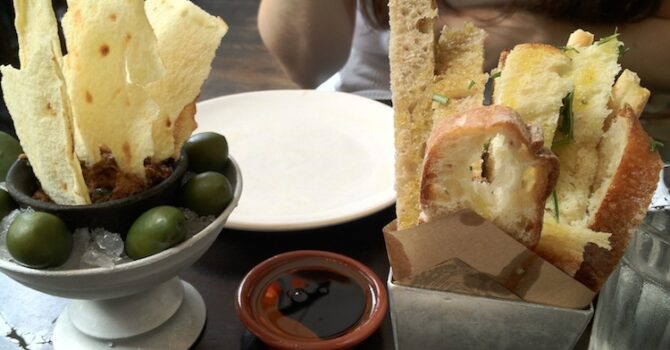 (For best effect, read while listening to this and drinking a mug of EV olive oil).
Oh Jamie.
UPDATE: Jamie's Italian is now CLOSED.
This is a tough one, because I'm not one of those who thinks you are a fat-tongued, mildly smug cockney who persistently nannies us all into eating more healthily. I mean, I quite like your TV shows, you're good at them. But something inside wants me to hate your restaurants, deride them as independent-crushing, copy & paste cash cows. Prejudices aside, I've been to few parts of your empire in different cities now, and annoyingly, they've all been pretty much "alright".
You've finally made it to Newcastle (NE1 7AL). Of course you have, even our waitress proudly told us how you used pedestrian tracking cameras to determine the footfall by the monument was 15,000 per day(!), so an ace (£££) little spot for you, really.
It's nowhere near as grand as the Manchester, or Scottish branches, but my god, it is enormous. For a sense of scale, I overheard the head chef call for table 98. Wow. Walking the looong trek to our table last week, your walls are adorned with your sets of wooden planks, cutlery, crockery, and of course, all of of your books. Buy, buy, buy. It's a bit bloody exhausting.
You can quickly see this is a restaurant/arm of a business operation which is highly honed, so it's all very, very cynical, but is it any good? It'd be easy to just say no, it's Zizzi/Prezzo/HighStreetChain#168 but a bit more "wicked", but some of the food is actually quite decent.
Pastas, antipasti, all things vaguely-Italian, and all the flourishes you'd see on 30 Minute Meals are all on the menu, and it all sounds very "pukka". The cocktails were great for the price (~£7), and though I've not yet ordered wine, many have said it's reasonably priced, given the quality.
So the food…well, they may or may not be "the world's best olives", but damn they are good. Served on ice, sweet, fruity, and just lovely, they're a world away from the sad little acidic snots often served in your Da Mimmo's, etc. I yearn for just a few more than the serving of six, but then the accompanying "music bread" and tapenade are equally delicious. The antipasto is much the same – though ridiculously served on one of Jamie's Planks™ which sits on two tins of tomatoes on a pretty small table. The sourcing of the ingredients is obviously pretty sharp, though you can just imagine the swathes of Italian land & suppliers Jamie & Gennaro have bought up, just to ship over Northern England to sell at a canny mark-up.
Your £6.85 plank for one yields four slivers of salami/mortadella/schiacciata & proscuitto, a golf ball sized buffalo mozzarella, a postage stamp of pecorino and salad&pickles. Again, it's annoyingly delicious, further punishing the lack of our very own Friends of Ham. Breads are equally fresh & well done, and as you'd expect, Jamie's patented EVOO douses everything. For your average Filippo Berio consumer though, it is very, very palatable.
The service is sickeningly slick – obviously the line in the training manual is "just be Jamie Oliver". If this is the case, the UK must be spawning a small army of mini-Jamie's because there are dozens of staff running about. Some people, will of course love all this "cheeky chappy" shenanigans.
The slick presentation extends to the food itself. Just as with his TV shows, things are dressed just so, pasta comes with panngrattato on the side, salads are "pimped" with many, many components. Again, think "30 Minute Meals", as much of the food even seems to be riding Jamie's health wagon. I imagine the vision was to "do" Italian chain restaurants better than anyone else, and you can imagine his smug little face, knowing he's done just that. There are nearly 40 branches now.
Given the complete lack of pizza effort, I would have thought that pasta would have been right at the forefront. Quick to cook, high mark-up, made fresh every day, just do it really well, but none of the many I've had have really blown me away. Not even cooked as al dente as I like it really. Serve it on as many daft plates as you like, the sausage parpadelle – dry, the rabbit cassarecce – uninspiring, and lamb ragus – just a bit lacking in oomph. About £10-12 each. We try some "famous" polenta chips which were texturally nice and crispy, but no amount of showering with parmesan and rosemary showering gives them a flavour of much more than wallpaper paste. I'll be damned if you want me to order "posh" (truffle), or "funky" (garlic) chips.
So a bit of a quandary really. Bit of a grumpy cynic like me? You will still enjoy the ride, but maybe through gritted teeth, knowing you're lining Jamie's bulging pockets.
Judging by the fact the place has been consistently heaving since opening though, I guess most of Newcastle will lap it up, especially if you love Mr. O and all that he does. The food really is good in places, but not to labour a point, we have some great independents doing similar stuff, and whom actually invest back into the city. Try Caffe Vivo for one. Something nags me inside though, knowing I'll be back at some point though…
Have you been? What did you think?
Contact: jamieoliver.com/italian/newcastle