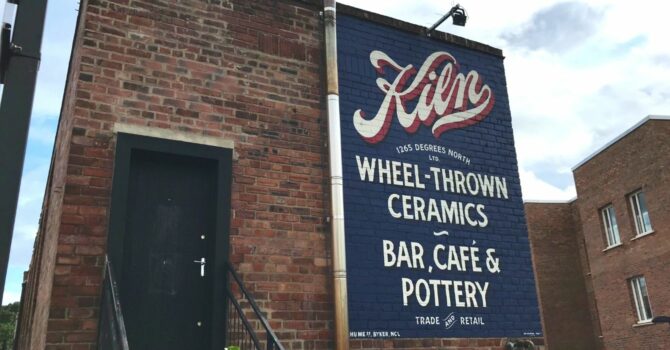 Lush little space.
As if everyone and their mam wasn't already bleating on about it, the Ouseburn is still literally Newcastle's up and coming little sister site. We even looked at buying in the modern Malings development, thinking forward to Ouseburn 2030 which will surely be a very different place. They're far too rich for what they are, but maybe knowing that we'd have Kiln Workshop & Kitchen (Hume Street, NE6 1LN) on our doorstep might have tipped the scales in favour of the little Newcastle 'burb. Have a look at my Ouseburn food & drink guide for more on the area.
Once you find it, Kiln is a really interesting space – working kiln and pottery first, with a tiny kitchen serving only ten or so dishes. Love them or hate them – there's communal tables, as well as a few cosier options – the couches by the fire are guaranteed to be taken, and it's always toasty inside. You've gotta commend them for growing their own veg outside too. Cute, and far too rare, though maybe it just doesn't get nicked round here.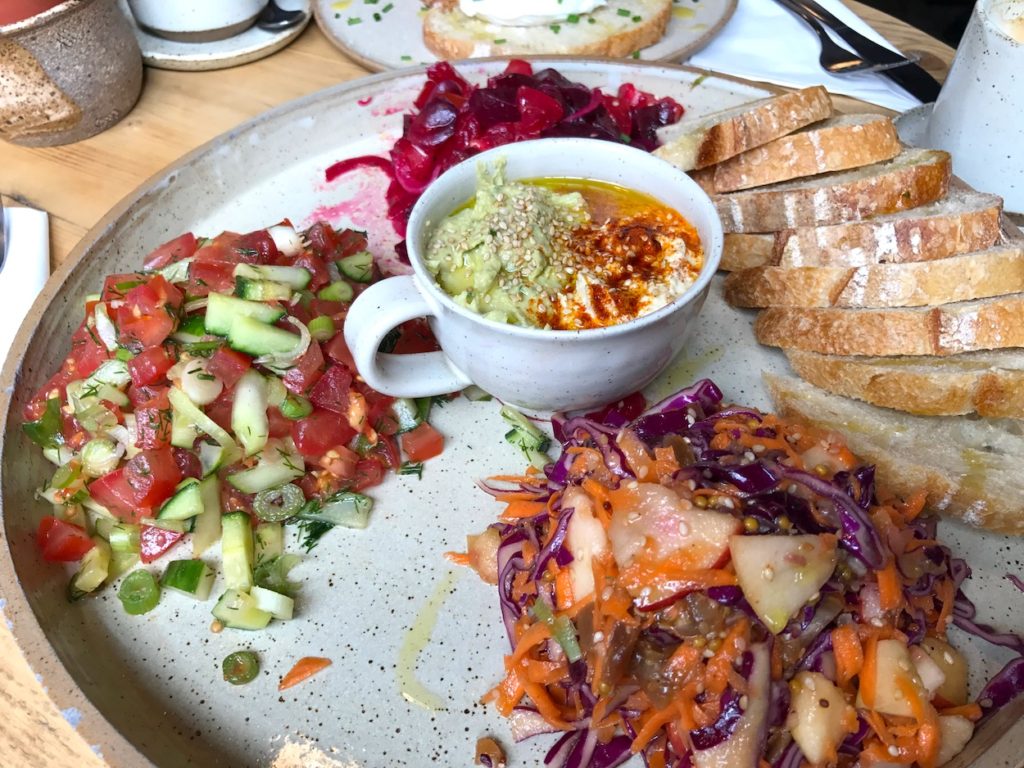 They make a ton of plates, mugs, dishes, pouring jugs, and other bits and bobs and it's all v desirable. They're not very hard sell on the pottery, but I hope they're doing some classes because the oh-so scandi-chic stuff the potters are knocking out would look right at home on my kitchen table. Anyway, the scran.
There's brunch type stuff, and then 2-3 more substantial plates. We bloody loved the hummus sharer (£14), which I imagine most people will fail to resist on a first visit. Two types of hummus, three salads (it's currently 2+ house pickles), and loads of bread. Special shout out for the bread – not sure who supplies it but it's a lovely light sourdough, and the hummus is a belter, rich and smooth.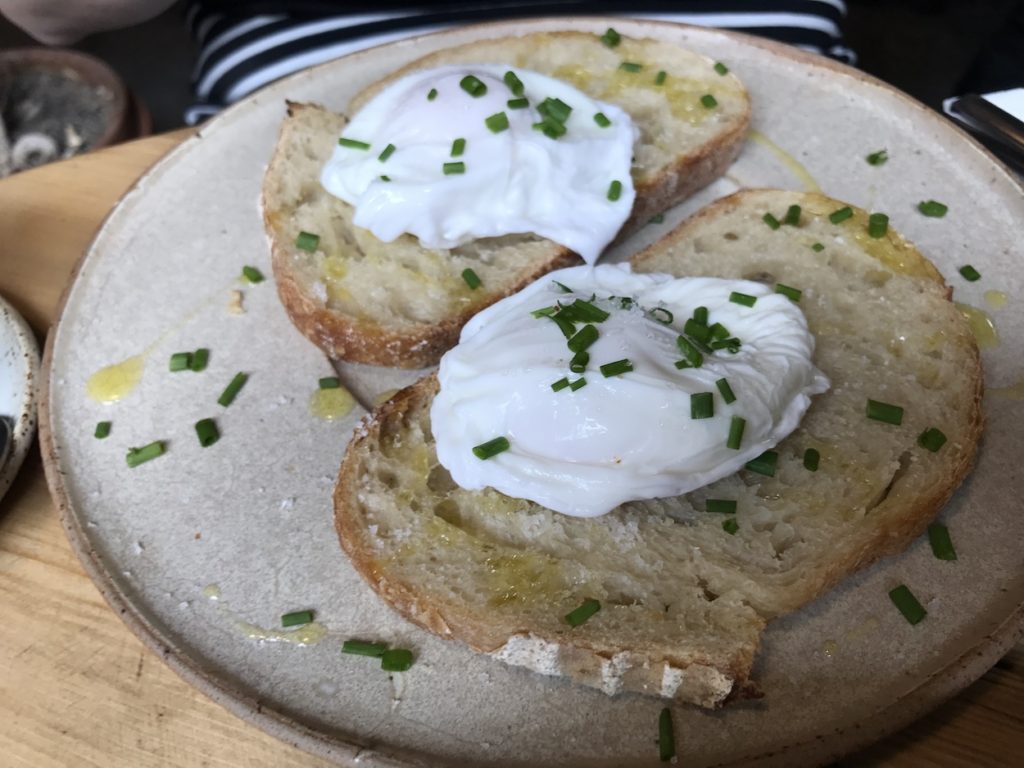 The salads, so simple, are a triumph. The type of thing you want to knock up at home, but just can't achieve with that mangy lettuce from the back of the fridge. Really fresh, with tons of herbs, you get loads, and yet you still just want to eat more of it.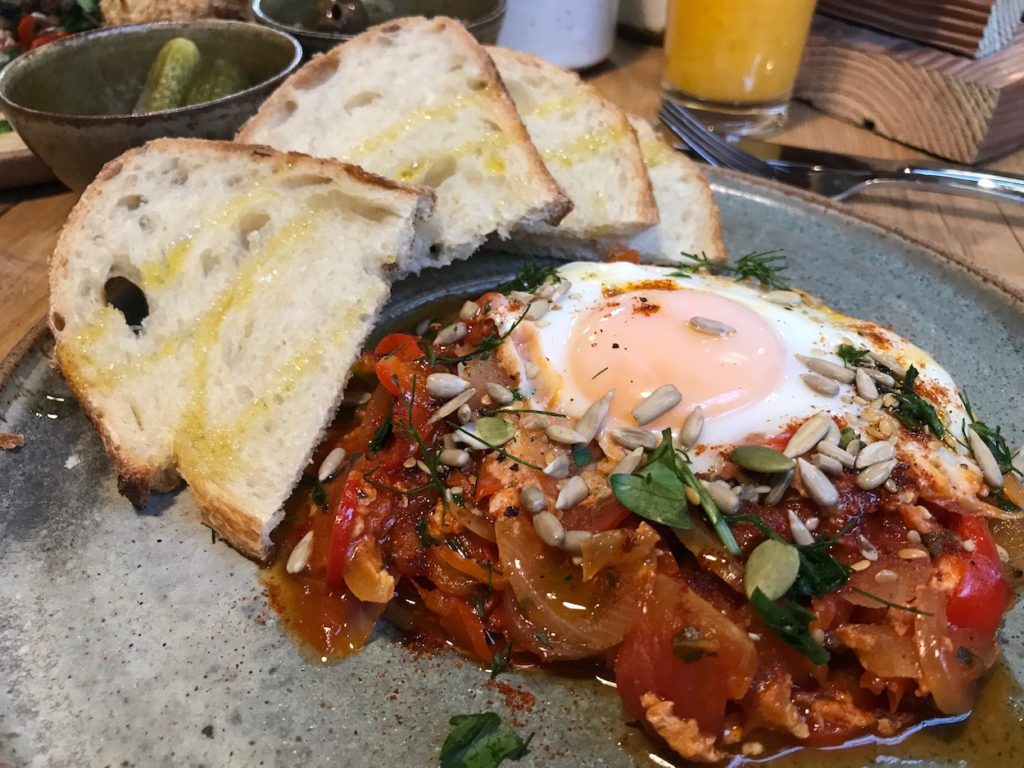 The rest of the brunch game is predictable strong – poachies on sourdough (£5) were bang on, and while the shakshuka wasn't my favourite (Kith & Kin still having that honour), it ticked the right sweet, light and healthy-ish boxes. You can get two good feeds with coffee for around twenty quid, so from that perspective, save a few pennies to spend on one of those pottery classes.
One of the best and simplest things I've eaten this month was this hug in a bowl beef and celeriac stew, exactly the type of food you want in November. Rich with porter from across the road, just about enough herby punch and chock full of meat that had obviously been cooked for a long time, I can't imagine who wouldn't like this type of comfort food. Except veggies – and actually the menu is without compromise, predominantly veggie/vegan.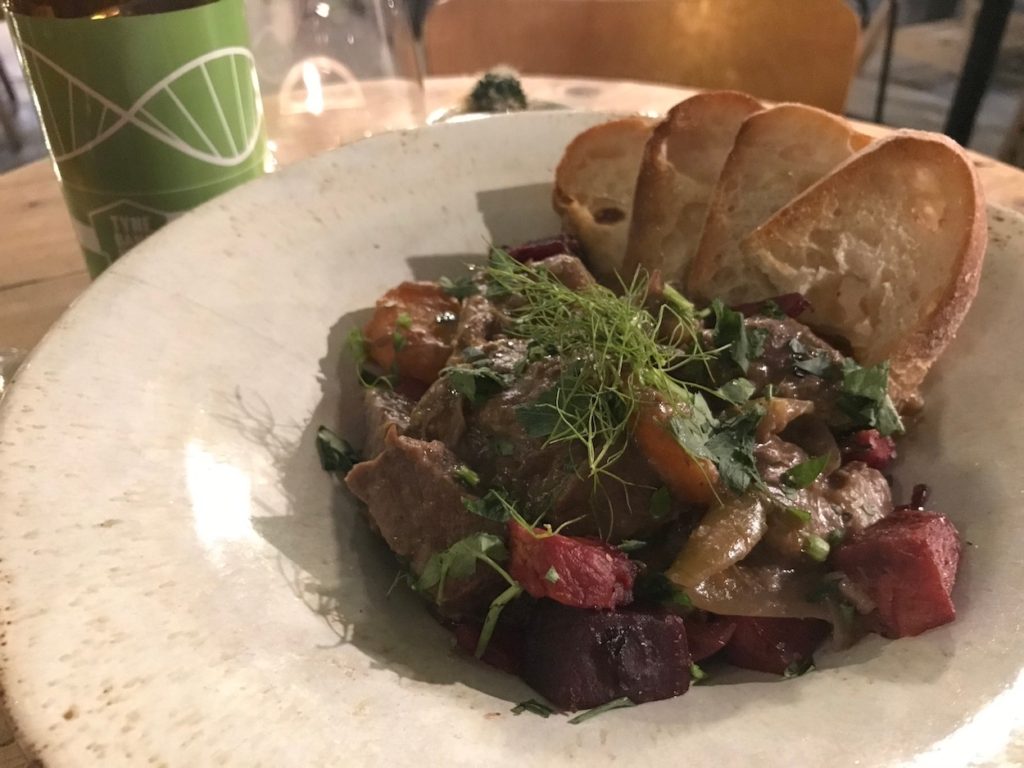 Elsewhere on the menu you've got a cheese toastie which i've no doubt is a winner, spanakopita, and a cake display which looks ace. Arancini here are baked as opposed to fried are the only "meh" just being nice, not lush.
With local sourcing being so easy in the Ouseburn – the coffee here is from, you guessed it, Ouseburn Coffee Company and is always excellent. So it's a bit of pisstake then, that Tyne Bank Brewery's own (also excellent) beers from literally across the road can fetch as much as £6 for a bottle, and not a rare or particularly high ABV either. Outside of a few missteps, the beer selection is unusually fab, though, with local heavy hitters, and gems from further afield too.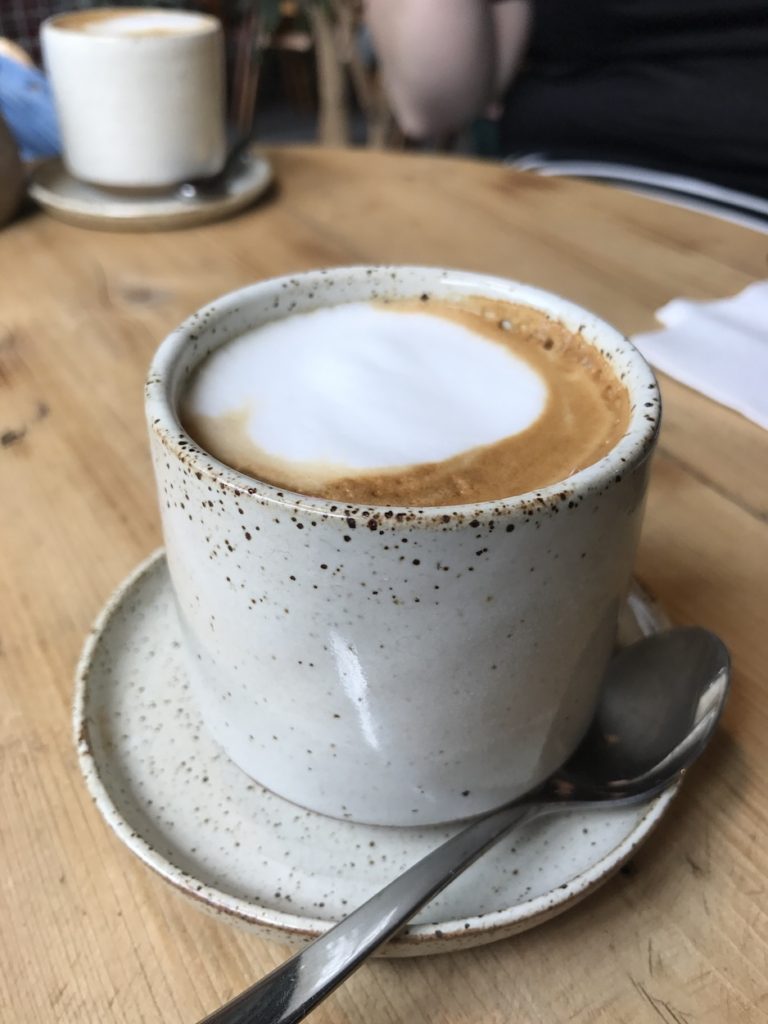 In today's world of Laundrettes, Alchemists and huge marketing & PR budgets shouting "LOOK HOW GREAT WE ARE*!", I only heard of Kiln via someone tweeting that they'd found great little hidden gem ages ago. There's no gimmicks here, just great earthenware, and a cracking little kitchen. Fab little place.
Contact: kiln.cafe
Food hygiene rating: Not yet rated