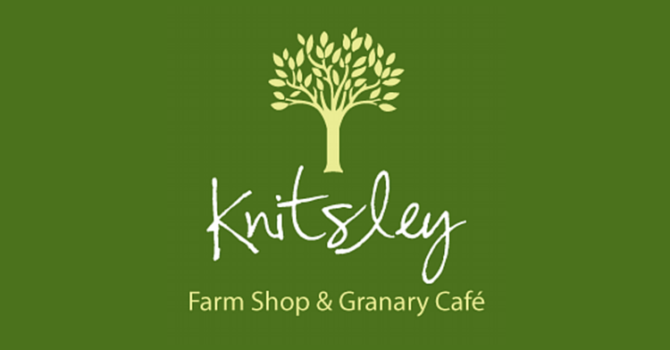 Some places take a bashing on this site – others are heaped with love, fondness and a plea for you to go and visit them. This one is the latter.

Knitsley Farm Shop (DH8 9EW), I'm sure you've seen me share some pics over on Instagram or Twitter, kinda does what it says on the tin. There's not really much else happening over Knitsley way, but a trek down through County Durham just to visit here is 100% worth a special trip. I mean yeah, it's a bit of a pain to get to – Google Maps says 31 minutes from Newcastle. But christ it's worth it.
As part of the mission to eat locally, sustainably, and generally feeling good about what I'm buying & eating, I've found too many "farm shops" selling ancient stuff, not delivering on taste, and generally being overpriced or just a bit shit. Knitsley Farm Shop is none of those things, just a simple diversification of a farm – done properly. They've obviously got some people in the kitchen who know what they are doing, and raise their produce to a high standard. It shows.
The Shop & Deli
So the non-farming part of the business is essentially in two parts – a restaurant/cafe, and a shop. It's a "proper" farm shop as well – old stone buildings just stuffed full with lovely bait. The veg, the cakes, the lengthy meat counter, vast selection of breads, it all just looks so appealing. I hope you've got your credit card (TIP: and your loyalty card!) ready ?.
They've received dozens of awards – have a gander on the wall behind the butcher's counter, which lists 'Farm Shop of the Year 2015' and 'Butchers of the Year 2014' as particularly noteworthy. They invested in a bakery in 2012 and it seems to have worked for them:
Among a decent go at a parisienne baguette, focaccia, crusty farmhouse, and can't-stop-eating-them flatbreads, is my personal fave the walnut loaf – rich, dark and speckled with chewy nuts. Remember what real bread tastes like? It's the kind that you can just lather up with some quality butter, and there is literally nowt better.
Confession time – I've been keeping these to myself, as I think it is quite probably my Favourite Thing To Eat 2015/16 – but get down on a weekend morning, and they sell hot pork, beef, sausage or bacon sandwiches for £3. "Just a sandwich" you say?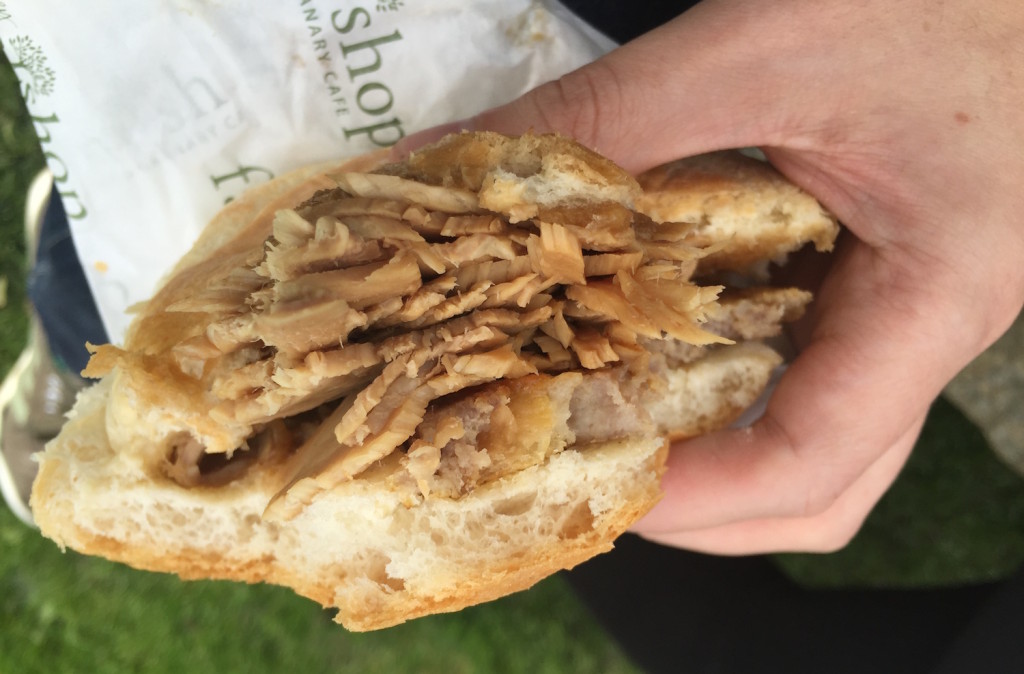 Not quite, this is A SANDWICH. With the pork, possibly my favourite, you get a good six, seven slices of their own pork, gravy dip, and a sliver of crackling to go with it. The beef is just as good, if not even better, it's just so good, and occasionally comes with (but just ask for) an extra pot of gravy for dipping. It's absolute turbo-gravy, it is so, so meaty.
The bacon and sausage sandwiches use the farm's own produce and would be great in their own right, but the pork and beef, I just can't enthuse about them enough. Get them with a coffee or brew and it is one of the best ways you can possibly spend four quid.
Along on the butchers counter, they're famous for their sausages. Many of these carry Great Taste awards, but my pick is the cumberland – they are huge and just lovely. Sausages tend to be one of the most disappointing food items – it's just too easy to get a bad one, but these never fail to deliver. Their black treacle cured bacon (yep) is another award winner.
Ask cheery and helpful butcher Neville what you're looking for, but any joints of beef, pork, lamb, huge chicken breasts, and steaks – you know they're all good, especially if you're used to… ? Tesco… type meat. Keep going along the meat counter until you hit another Great Thing, the pies and cured meats.
They change fairly often – think game pie in autumn, cottage pies, huge pasties, and slabs of quiche. Alongside those are made-on-the-farm pastrami, black pudding, an award-winning (awesome) brawn, all of which are definitely worth a taste. My hot tips though: 10/10 pavement-sized slabs of corned beef pie, and my "best in the NE" steak pie, usually still hot out of the oven. You've just gotta try it, it's perfect.
There's tons of cheeses from the region and beyond, and a similar selection of beers, wine and spirits. And sometimes, these bad boys:
Biggest eggs I've ever seen from @KnitsleyFarm ? pic.twitter.com/g9sgrzSrlx

— jeff (@newcastle_eats) 11 October 2015
Oh, then there's the patisserie. There's a large selection of cakes – mostly classics like tart au citron, a mega coffee & walnut gateaux, profiteroles… They're not all winners – the cheesecake is a bit average, too set, but mostly – take one home and scran with a cuppa and you're sorted for the day. When you consider how many places in town buy in shitty Brakes/3663 cakes, it's lovely to see cakes made with a bit of love that are simple but just put a smile on your face. Pastry in particular is very well made.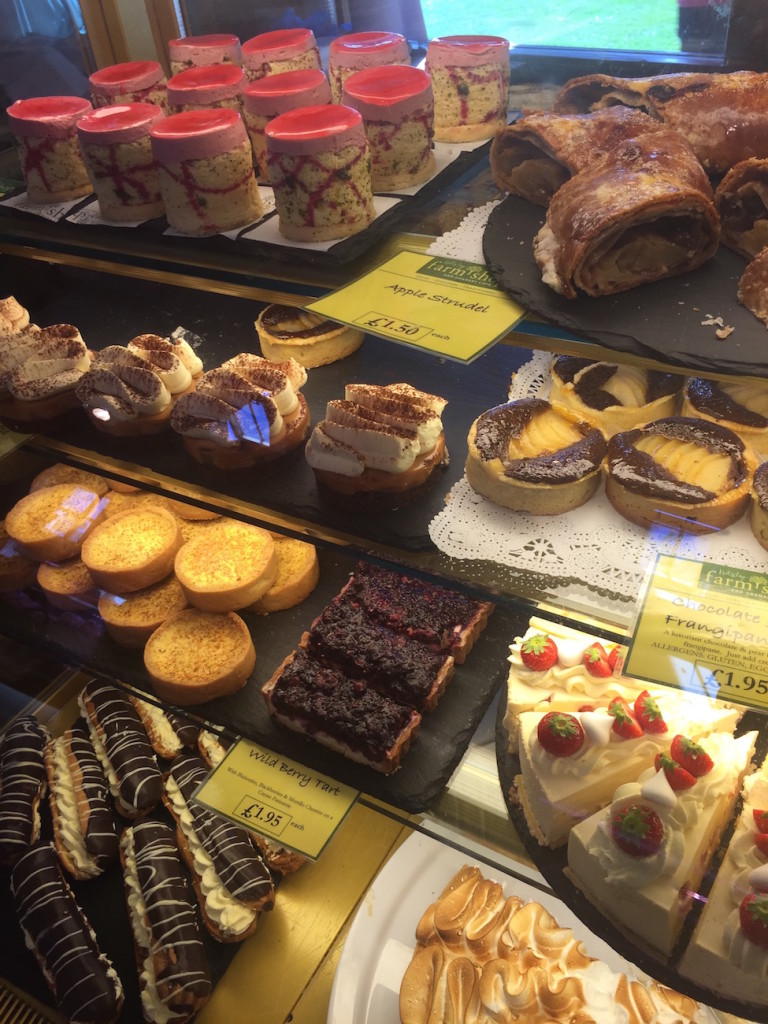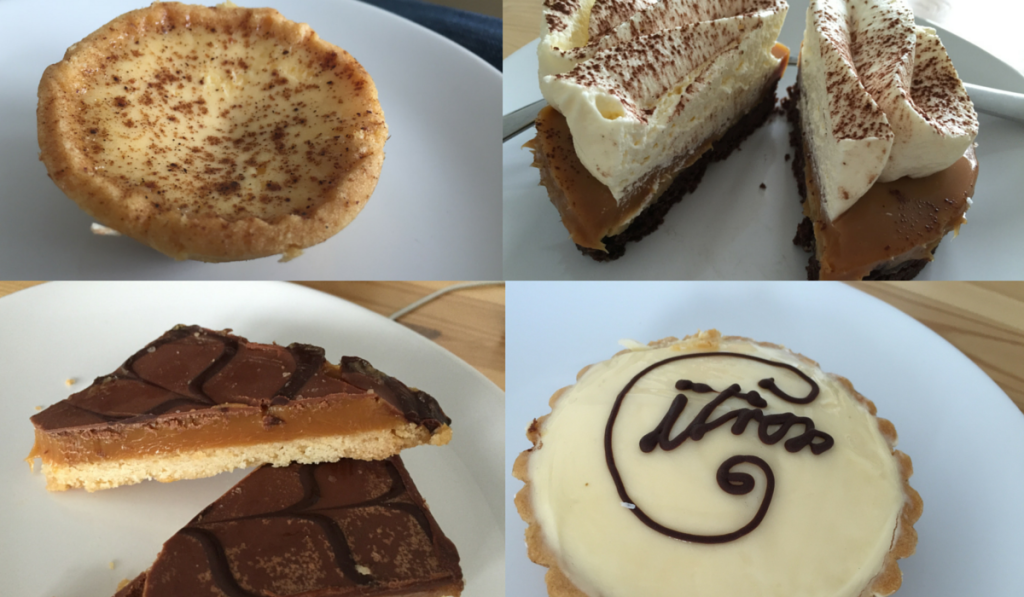 Restaurant/Cafe
Taking things home from the shop is one thing, having someone else to cook it for you is another.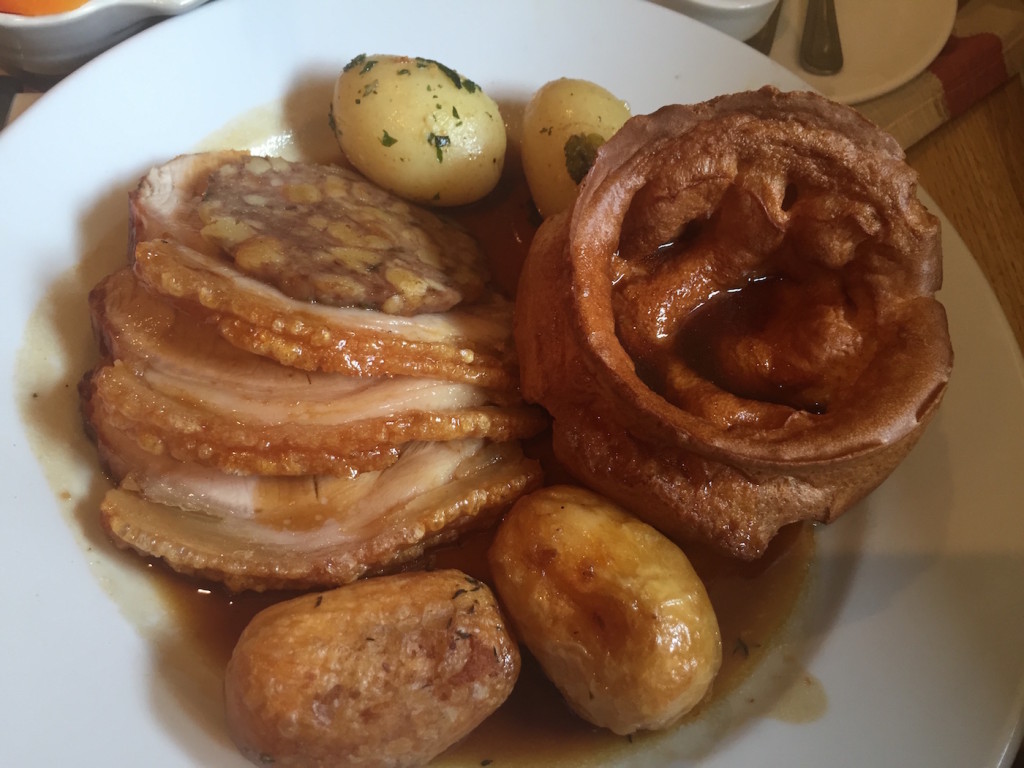 Now as much as I love a smart gastropub Sunday lunch, there's a definite romantic appeal of a farmhouse lunch, stone walls, and seeing the same field that your dinner was raised in through the timber-framed windows. Knitsley does one of the best Sunday lunches I can remember, and it's only eight/nine quid. Again, the meat is an obvious high point, it comes from the same farm and there's loads of it – but the rest of it is just as good. DEFINITELY ask for that extra pot of gravy on the side. It's like god's nectar. Picking flaws? I'd say roast and boiled tatties is maybe starchy overload, but since when is too much potato a bad thing? Yeah, exactly, stick some mash on there as well.
There's classic desserts – STP, B&B pudding etc. or just go for one of the massive scones with jam ??. You won't need to eat for a while.
More? It's also one of the best breakfasts around. Proper "farmhouse" bread – door-stop sized, those massive sausages I mentioned, well-poached eggs. Six/seven quid, easily as good as anything in NE1.
You might think I know someone at Knitsley, or have been paid for this, but honestly, it's rare to find something I just can't say enough good things about. It's generally busy on a weekend, but I can't see why it doesn't get the same amount of love that very distinctly average places get. I'm looking at you, Turtle Bay. Do yourself a favour and have a trek down – get a pork sandwich and steak pie for lunch, and some sausages, eggs, and a nice loaf for breakfast the next day. You're welcome.
Keep it up Knitsley Farm, you're the absolute best ?
Contact: knitsleyfarmshop.co.uk
Food hygiene rating: 4/5