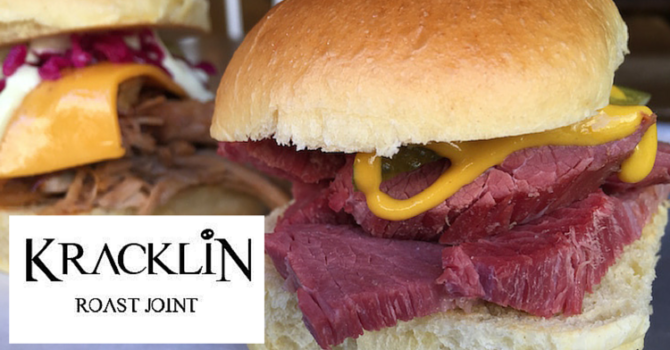 Kracklin' (NE1 6JE) opened late last year, purporting to offer high-end sandwiches packed full of meat. Who wouldn't get excited?
It comes from the team behind prior huge investments into The Waterline, and going further back, Cafe in the (Eldon) Garden, Hiya Honey, and Good2Go. Ten points for you if you remember all four, and what links them (it's insolvency). For their latest attempt, they've picked the old Godfather site, which never really had a good run.
Inside, it's refurb of the lazy kind , something I'm seeing more and more often – there's exposed brickwork and original flooring, and there's "I ain't paying for a render". Kracklin' is the latter. As a lover of local lingo, I was tickled by the "netty" sign, but really, you can see it's a hastily constructed toilet, residing partway into the kitchen. Hmm.
So the scran – it's recently got a salad, a soup, and a "protein box" (sigh), but the main focus is sandwiches. The whole roast joints on the counter are certainly inviting, as is the mountain of pork "kracklin," but then you see the menu itself, which lists the sandwiches at six-seven-eight quid. Which is quite a lot.
Long story short – look at the image below, and decide whether you'd be happy to spend £8 on it.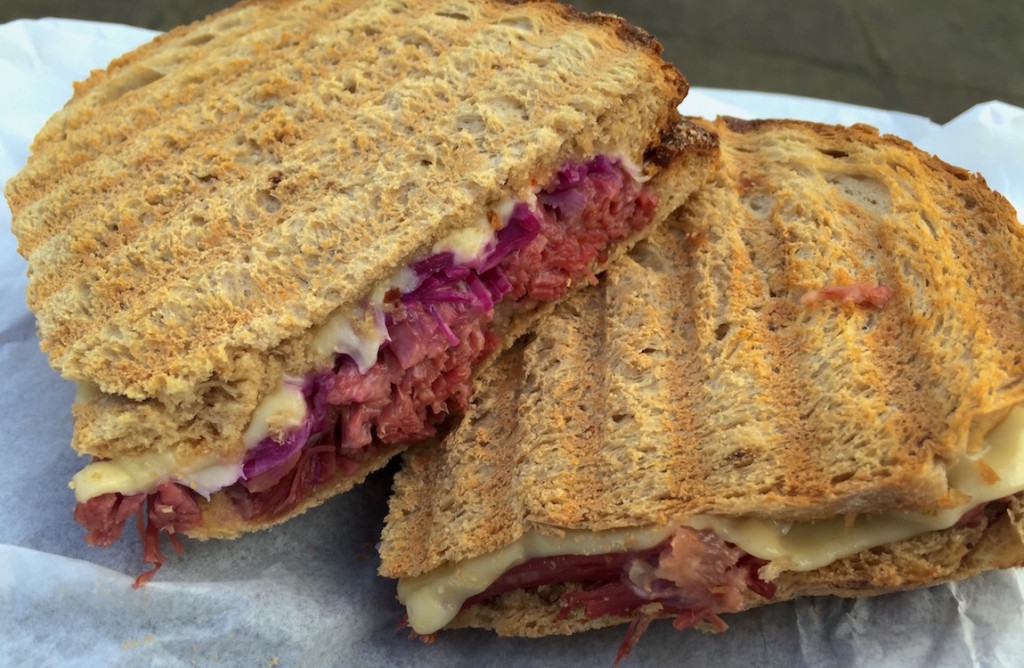 The Reubens – historic legend among sandwiches, and one of the true classics, is salt beef, swiss cheese, 1000 island and pickled cabbage. Meant to be on a good dark rye, but this was just….wholemeal.
And look, I know making salt beef is a huge labour intensive pain in arse, but are you seriously telling me it's worth more than two courses in many, many restaurants at lunch time? If you wanna benchmark sandwiches, The Feathers Inn does probably the best burger going, on the BBQ, for usually less than six quid.
Is it a good sandwich? Undoubtedly. Is it worth seven/eight quid, and will that be sustainable for a lunch trade? Doubt it. I had this sandwich for lunch this afternoon, and I can't really remember eating it, never mind feel I got the eight quid worth of joy I expected.
Much better was the porchetta – still seven quid – which had a solid handful of well cooked meat. It's doused in a really lovely punchy salsa verde which tamed some of the belly fat, though not nearly all of it. Yeah, fat=flavour, but you've gotta draw the line somewhere, and look at some of the cholesterol whoppers in there. I gobbled it up, but I can imagine some others "picking round".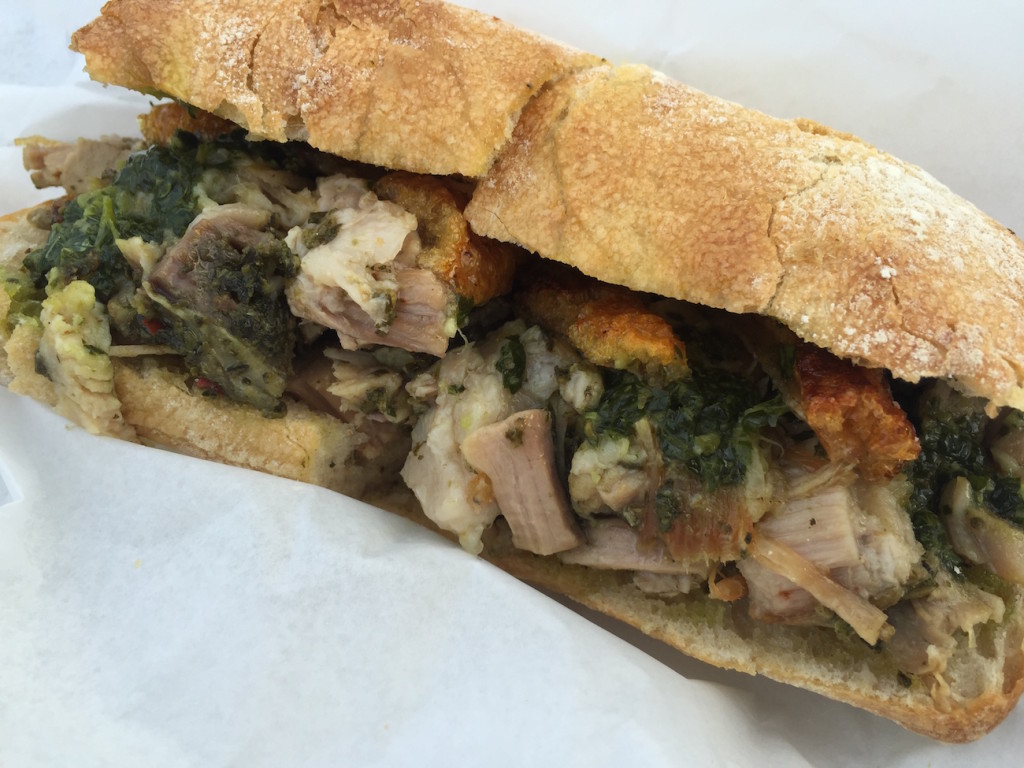 The signature kracklin' is pretty good, and shoving it in here gives this sandwich a bit of crunchy textural interest. Think it'd probably be suited to a different bread, though this is my pick of everything on the menu here, and probably the only I'd not hesitate to order again.
If you head over to the Facebook page, you can see a lot of comments re: pricing, so they've sensibly introduced a lunchtime special – choose any three sliders, including a couple of specials such as the meatball marinara, and ham with pease pud, with a San Pellegrino for a fiver. It's a lot more palatable, gives you a chance to try a few different things, but is oddly only available to sit-in.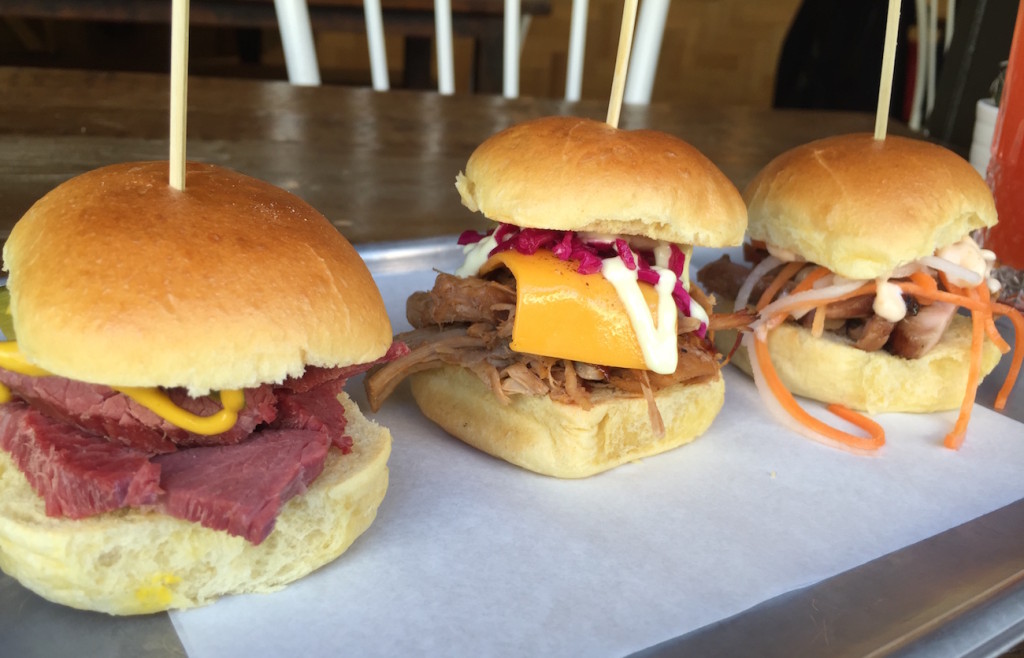 Far less successful was the grilled cheese (£5). Like any British person, I adore a cheese toastie – but you have to admit it's a poor cousin to the 'merican grilled cheese. That golden smoulder, the oozing cheese, the crispness of a good loaf – it had literally none of this.
Despite ordering for takeaway and waiting a good ~10 minutes, it just wasn't adorned with nearly enough love, or patience in the panini press leaving it soft, limp and not giving the cheeses enough time to form their holy dairy union. The chilli jam, I couldn't taste it. Very sads.
Even worse, the poutines – I've never been to Canada, but I've yearned for a proper poutines for a long time. For the uninitiated, poutine is essentially cheesey chips with gravy, and for being such a pinnacle of comfort food, I'm really surprised hasn't taken off over here in a big way. No, 3AM cheesy chips from Munchies isn't quite the same.
Make your own mind up on this one, but it wasn't quite what I expected ⬇️. I don't think Beyonce will be clamming for any while she visits Sunderland this year.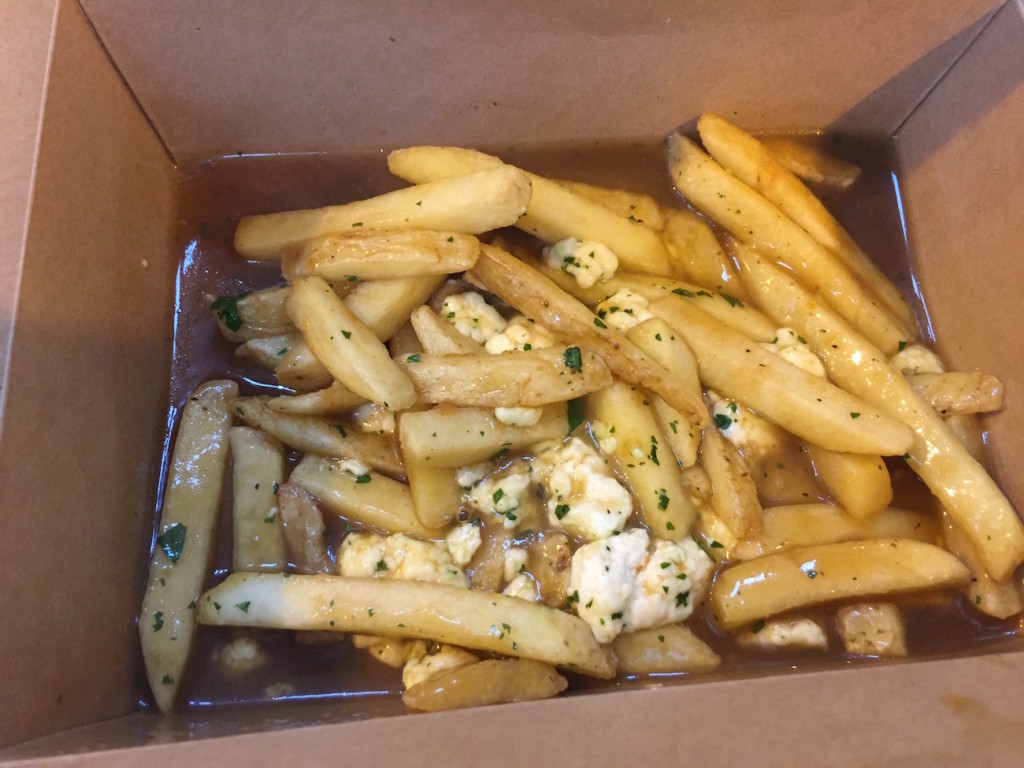 So, Kracklin' is an odd one, because in theory, it should be the best thing ever, a Newcastle Katz Deli, and there's definitely glimmers of a good product. The porchetta really hits the spot, the pulled pork/chicken were very tasty, but if you're charging that much for a sandwich – especially on a lunchtime, it had better be pretty damn good. Owner Georgia Marshall said in an interview recently "Newcastle has been crying out for something different". Right now, I don't think this is it.
Contact: via Facebook
Food hygiene rating: Not yet rated
Newcastle Eats no longer supports comments directly on posts, instead, why not fire up the discussion on Twitter, Instagram, or email me directly.