For once, "From Sichuan with Love" means something.
La Yuan (Gallowgate, NE1 4SG) is a new Chinese restaurant focussing on regional Sichuan food. The keen-eyed among you might have noticed that in six years of doing this blog, there's not been a single Chinese restaurant featured. Despite the whole Chinatown thing being just round the corner, La Yuan bucks the trend. When the restaurants on Stowell Street aren't busy changing hands/rebranding/closing down/turning into buffets…I try to avoid it.
La Yuan is a little different. Sure, they've fitted out the restaurant really quite nicely – clean lines and lighting, so it doesn't have that rough & ready feel of somewhere like Thai House. But it's ALL about the scran, and La Yuan delivers on that front too. It's another "want to try everything" menu which we're getting a few of lately in Newcastle. This is a Very Good Thing.
The trio of appetisers (£5) tickled the tastebuds – pickled veg, particularly the mooli carried a lip-tingling heat and that star anise moreish-ness. Both star anise and sichuan pepper hail from SW China and are two of my favourite spices, making this type of cooking right up my street.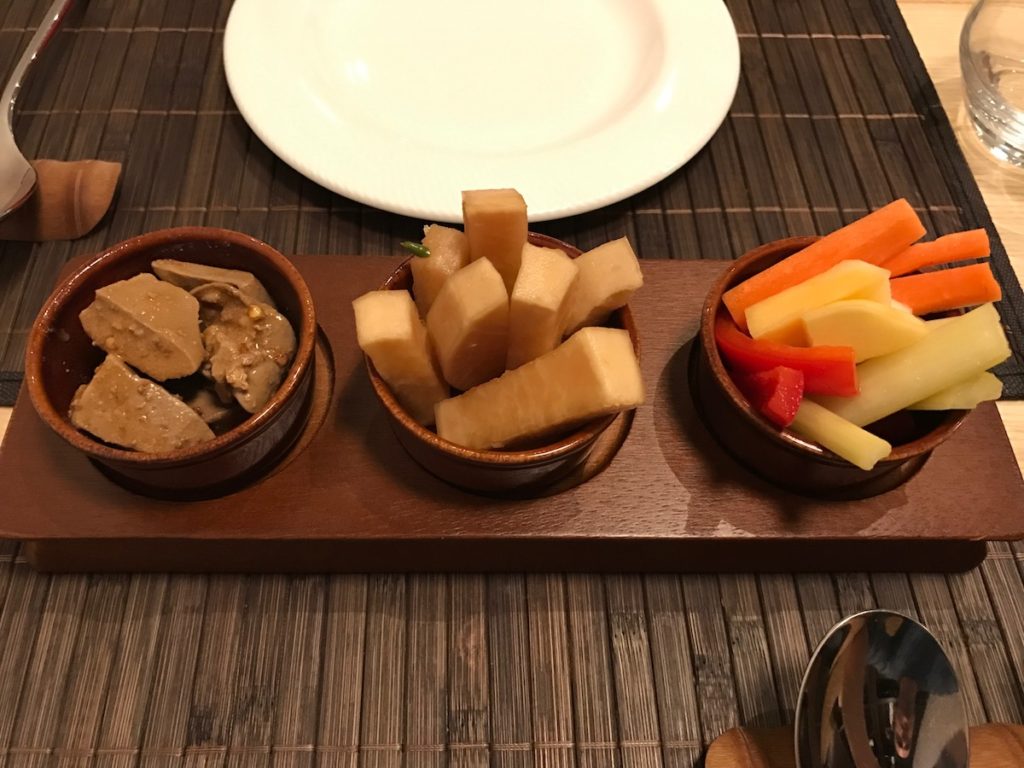 These scallops were great – £3 a pop, give me a plate full of these and I'd be happy. They must be steamed, soft and sweet, and sit on a roll of noodles. They're then loaded with a spoonful of caramelised garlic and onion. Really lovely stuff.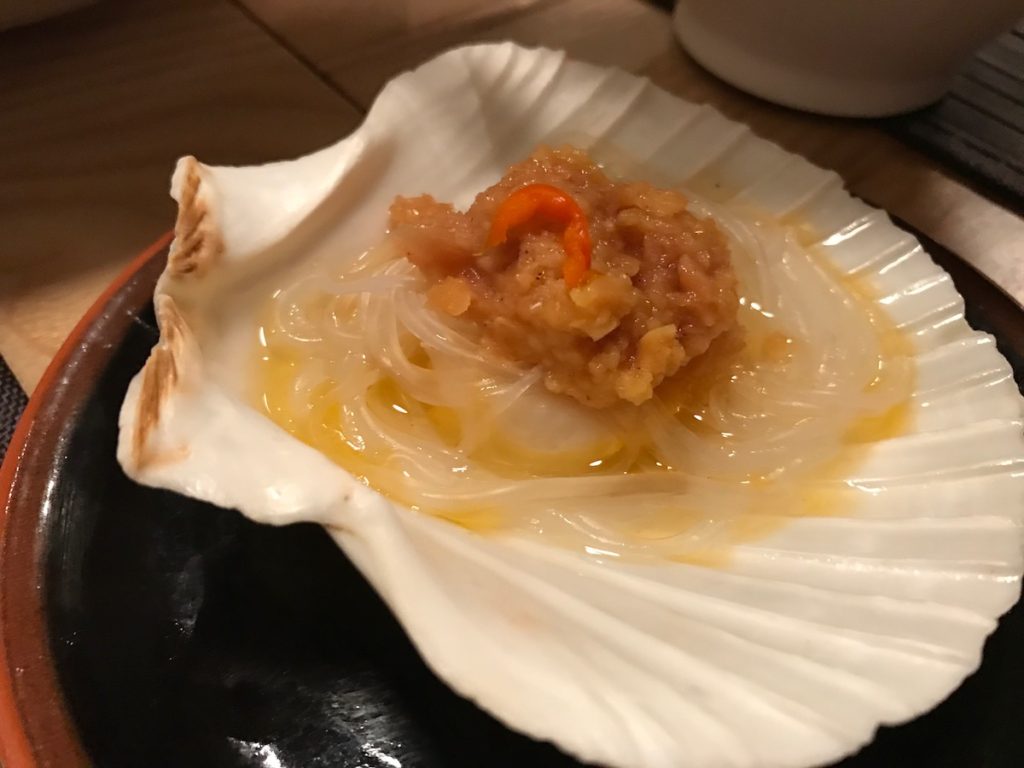 Elsewhere you've got steamed oysters with pickled chilli, a vinegary mushroom salad, and then some more adventurous choices – 'dressed jellyfish', anyone? Frozen spring rolls, and sweetcorn soup, this is not.
Mains are £10-12 and as I say, everything on the menu sounds like a winner. And it's not the Anglicised 'sugar and vinegar sauce on everything' version of a menu you'll get elsewhere… The "lychee fragrant" gung bao chicken – chicken thighs, with peanuts and chayote (some sort of Chinese melon) is the safe best seller. It was hard to pass on, but one for next time.
Went for this long lee soup (£14) – a type of fish which I think is what we would call carp? A humongous portion which could probably  feed two, with what must be half a whole fish in a light and healthy (so I'm told) broth. Addictive, punchy, slurp, slurp, slurp.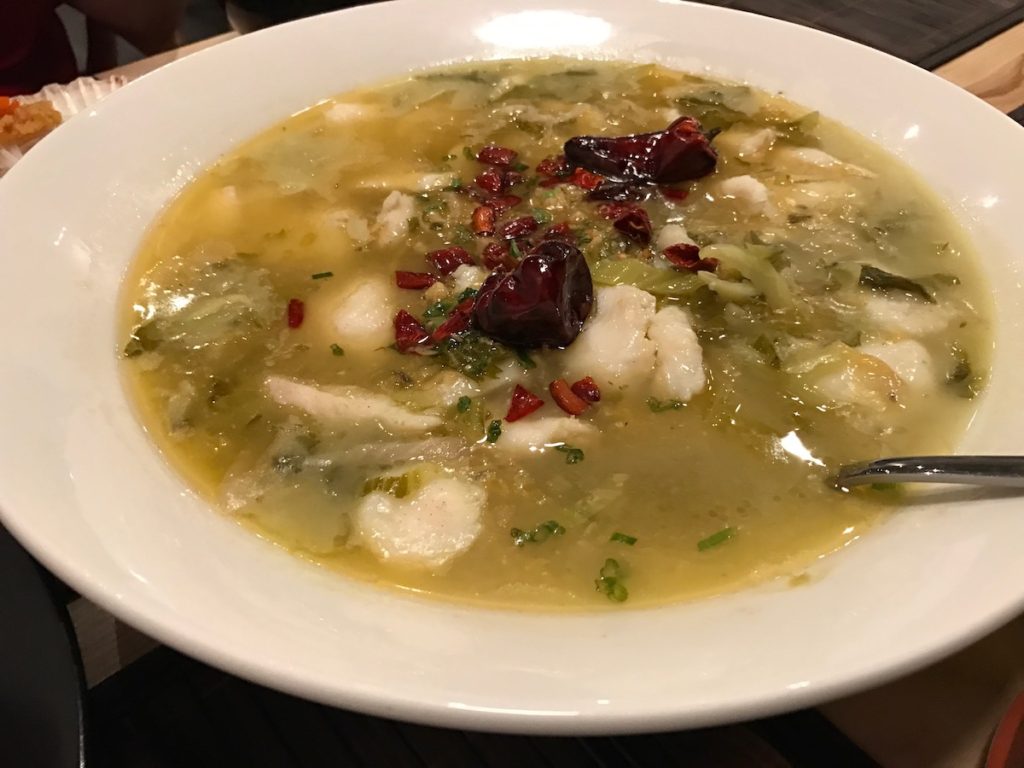 The hung shiao pork belly (£12, top) was the pick of the bunch for me. If there's anyone that can do belly pork, it's the Chinese. Fatty and succulent, and presumably cooked for about a day, it comes in an sticky but never cloying anise and sichuan peppercorn sauce. Sure, there's no crispy crackling, but comparing this to the similar dish I had at Chaophraya a few days prior, it's just got that authenticity and subtlety of flavour. Fried rice to share was £6 but generous.
1 1/2 courses left us rammed, so we finished on white peach/chrysanthemum teas, from a dedicated loose leaf menu. Uber light, served properly, it's something I wish everywhere would embrace rather than your usual sub-standard filter coffee. Elsewhere there's a not-that-interesting wine list, made up for by softies like the smoked plum juice I had.
To be fair, Asian food in Newcastle is looking up, with nifty little joints like Thai House Cafe popping up outta nowhere. Chinese New Year rocks on until Friday 10th Feb, then they've got a tempting-sounding lobster & seafood valentines menu coming up next week. It's a very rare Chinese recommendation from me, but give La Yuan a try 👍🏻
Contact: layuan.co.uk
Food hygiene rating: Not yet rated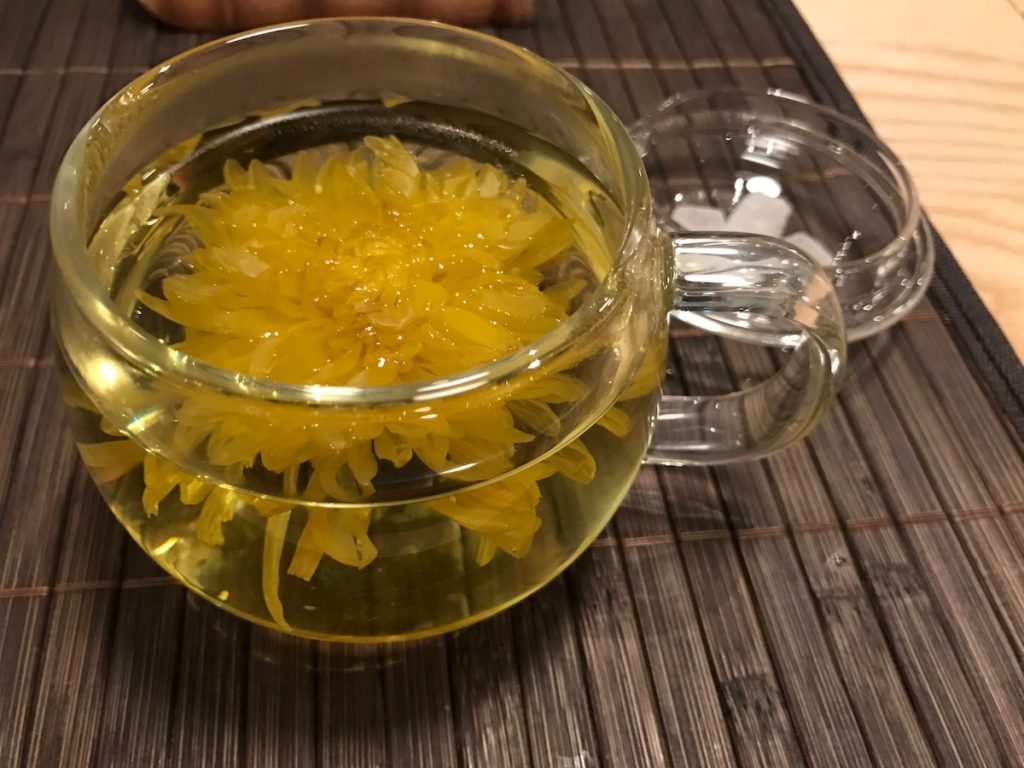 Newcastle Eats no longer supports comments directly on posts, instead, why not fire up the discussion on Twitter, Instagram, or email me directly.