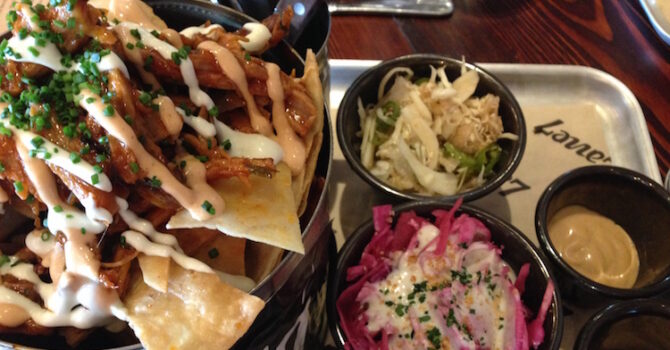 How can you not like Lane7?
If you've driven down St. James Boulevard (NE1 4BN) since Lane7 opened back in late-2013, you'll have surely nebbed in the window, seen how heaving it was, and thought hmm, better book my christmas party. They opened at a smart time, as apparently every single business in the world ever has been over for a work night out here.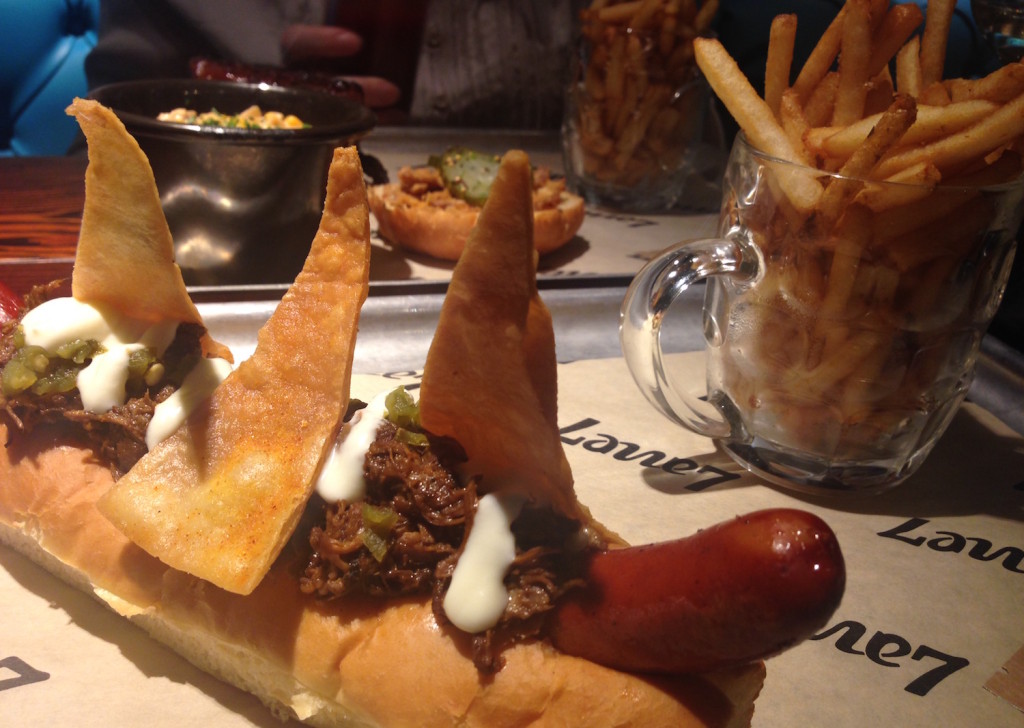 While "boutique bowling" is not a new concept elsewhere in the UK, up North we're still very much used to charva-central XS Superbowl and shite like that. Lane7 popped up and has been a game-changer really. I thought by now someone would highjacked the idea and opened a grown-up premium hipster artisan-food version of Metroland by now. No?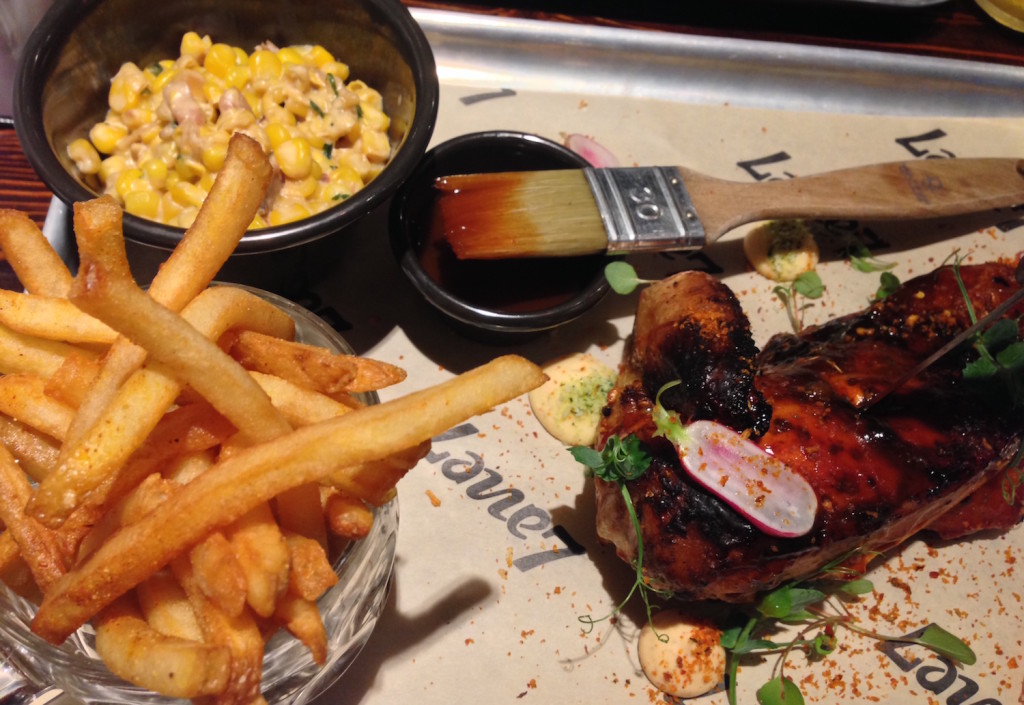 It's a massive space, think indoor carnival but with quality food. Unlike the carnival where you can kinda have fun just by walk round and taking it in, here you've gotta stump up your readies. Cannily, the first thing they'll encourage you to do is open a bar tab, and quickly get detached from your spending. We've been a couple of times, and with a few drinks each spent about £25ea, though the £100+ bill has been a thing a few times. Suppose if you compared it to a night out on the tiles…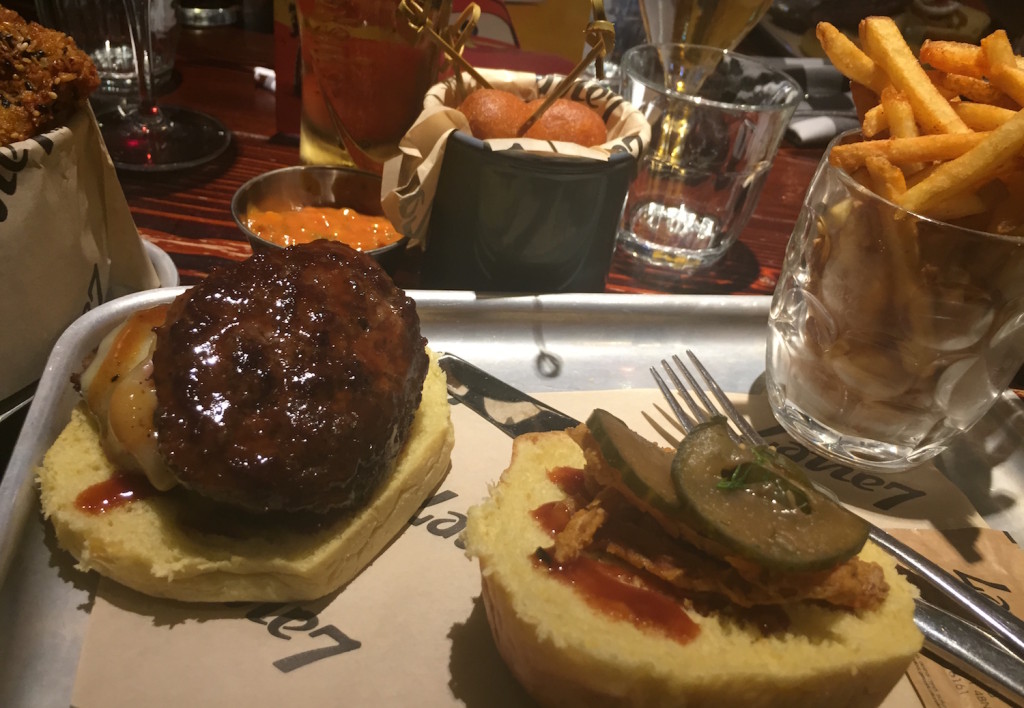 I'll not labour on about the multitude of activities available – the namesake bowling is (I know nothing about bowling) really cool, but comes with a predictably premium price (at least £6pp per game). The karaoke room does what it says on the tin, and is comparative to Tiger Tiger's Lucky Voice. Unless you can get in at an off-peak time though, (Sun-Weds) pool, and ping pong are priced way high: £12/hour. They must chuckle at their average spend per customer. They've also hit up the stateside phenomenon of beer pong – and though I've not really seen it elsewhere in Newcastle, playing a student game designed for quick Fosters consumption, isn't quite the same when your £5 pint splashes out the cup. There's also a Snaparazzi type photo-booth, to capture your groups hijinx. Wheeeee ?.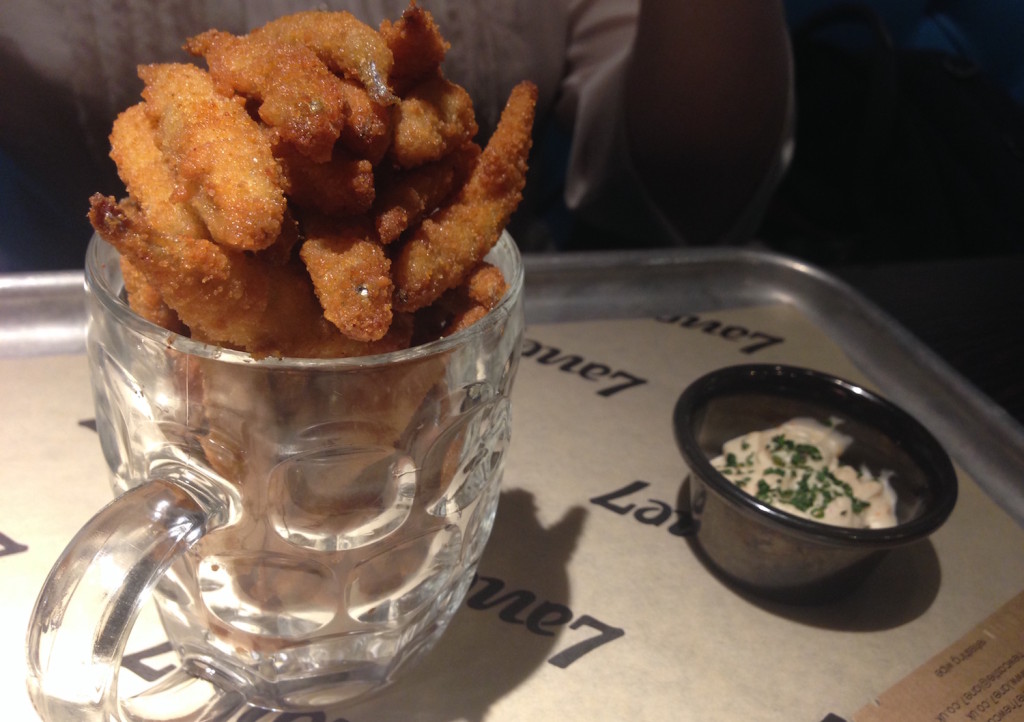 I don't know it's still the case, but the plan was to keep it interesting by rotating their basement activities every few months – we went along for mini golf (fun, different, pricey) and to watch the World Cup (complete with coolboxes of cans and buckets of fries, was that really last year?). Lots to do, anyway.
Branding has, I think, helped massively in Lane7's success. It's all canny as hell, from the deft social media to the ambigrammatic logo, and the Julie Chambers designed New York warehouse vibe. There's been huge investment, and it shows, basically.
Anyway, the food. As with everywhere else in town in 2013, it's all about the "dirty food", though surprisingly, it doesn't play second fiddle to the bowling etc. You could totally come here, just eat, and leave with a big smile on your face. We have done, several times. The food is awesome.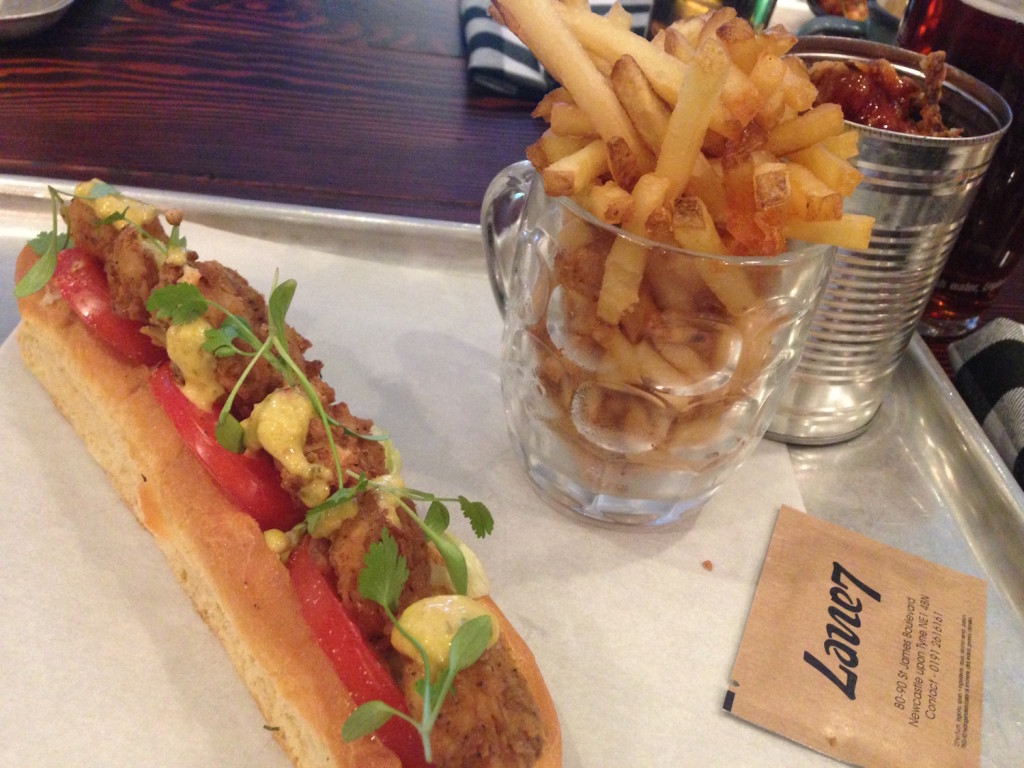 It should be, though, given head chef Chris Finnagan comes straight from well-regarded Causey Arch Inn, following stints at Le Manoir and other big guns. I don't know where the Michelin guide sits with "dirty food", but he's drawn up the kind of menu where everything just sounds good – bacon all owa the place, burgers, ribs, mayo, BBQ chicken, you get the gist. It's food you want to eat, and most of it seems to be done in a BGE. Please buy me one of those.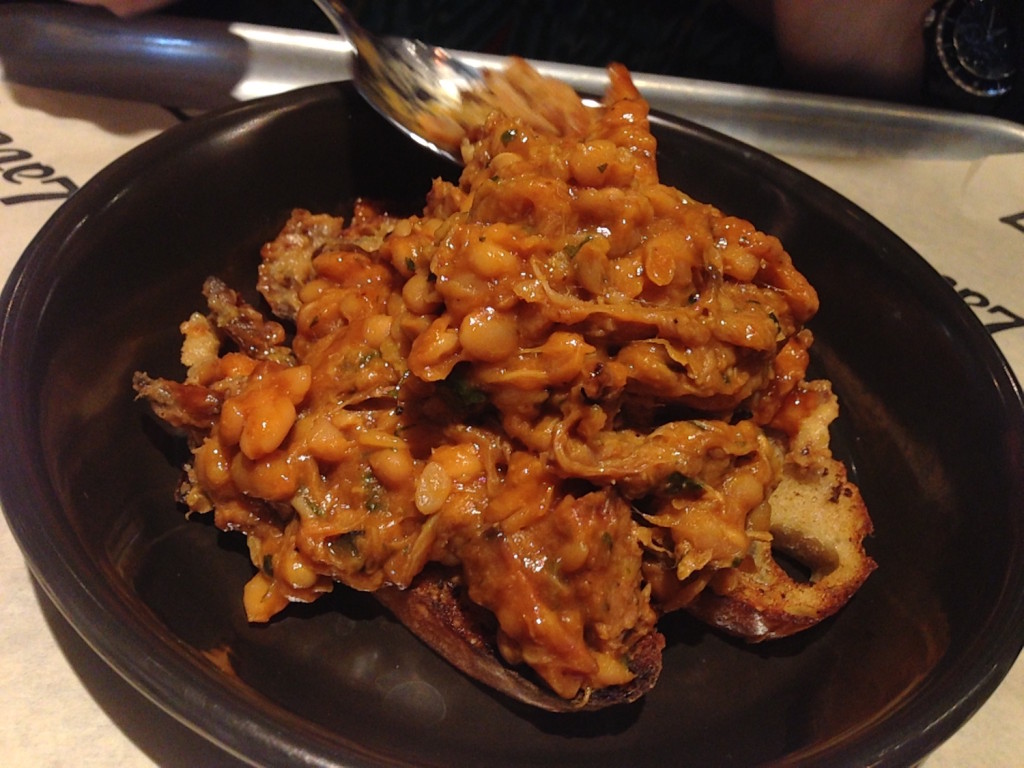 Menu highlights? Look at the top photo for signature dish of sorts. Made for 2, the"loose ends and trimmings" is a £35 selection box/bucket of everything to love about Lane7, and then some. Now retired but also a big favourite was the beans on toast (£6.50). Bloody lovely – smoky, sweet, rich, sown with pork, crispy onion bits, and chunks of hot dog. Literally, one of my Best Things To Eat In 2014™ – TRY THIS WHEN YOU CAN!
The mac & cheese – absurdly cheesy, and super rich was a struggle to finish as a main course. Especially when you have the creamed corn on the side – special mention for this: sweetcorn, cream, bacon. I swear my heart stopped a few times. Cornbread, whitebait, pulled pork – it's all familiar, but spot on.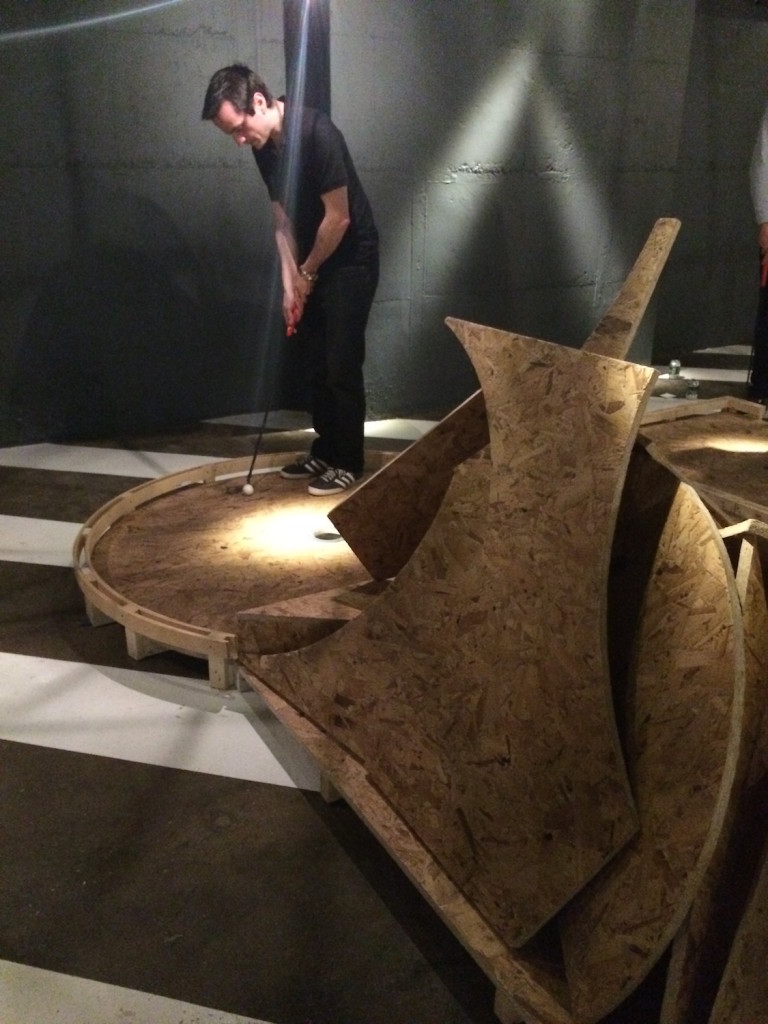 BBQ chicken – daft paintbrush aside, is truly succulent, just cooked. The BBQ sauce is a little saccharine, but the burnt crispy skin more than makes up for it. The BBQ cooking nearly always shines though. Fries, and their sweet potato equivalent come with everything, but there are other interesting sides – good slaws, burnt broccoli and more. Another fave – the chilli pimp dog studded with homemade nachos. Best hot dog in town? I keep trying to love the burger, but it's just not my favourite, a bit lacking in beefy punch for me. Also a miss were the corn dogs – really quite pricey for half a chopped up fried hot dog. Desserts? Never managed one yet!
Drinks have been smartly selected, with sound beer choices from around the world ~£3.50/pint, and alcoholic shakes priced just short of resentment. Service has always been friendly, people seem to like working here. You'll have a good time too, just watch out for that average order per person price sneaking up ?.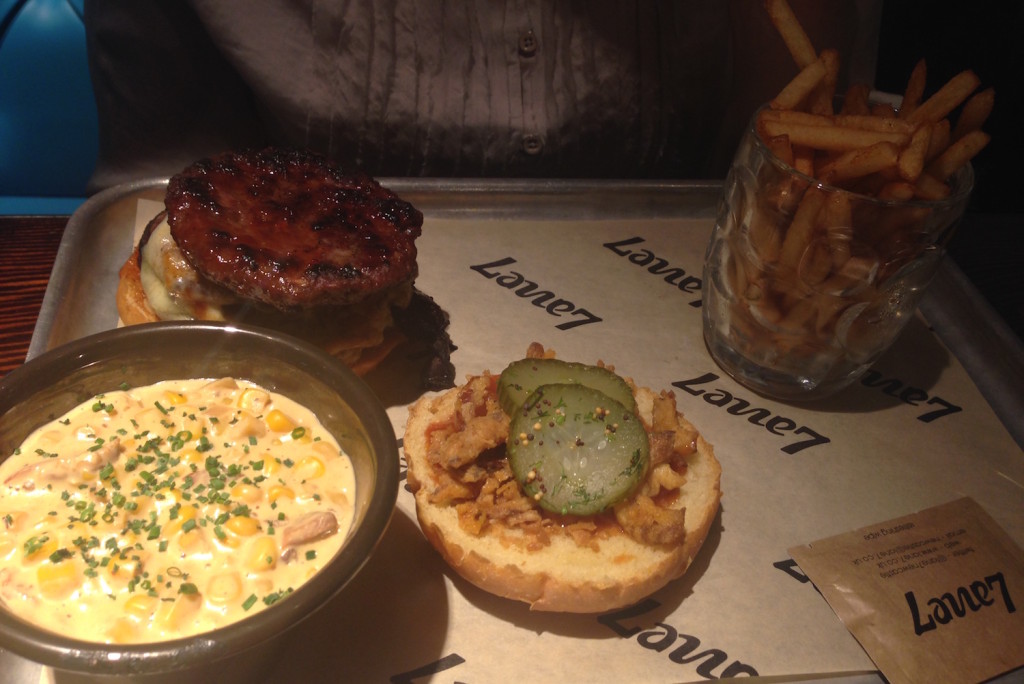 Interestingly, they've also just tackled the takeaway market with Hatch5. Literally a hatch in the kitchen wall, they're doing breakfast and lunch sandwiches. Bacon roll deal? I can't find it cheaper, anywhere.
Bacon roll and coffee: Two clams. That's all. pic.twitter.com/h6FFICBYUC

— Hatch5 (@Hatch5_) October 2, 2015
For now there's really nothing else like it in Newcastle. It's such an easy recommendation for a birthday/celebration/work/random night out, or of course, just for the food alone. If you're reading this looking for a Christmas party, I think you might be too late…
Apparently the plan is to roll this out to other cities, but I guess it's great to see Newcastle proving that such a concept works. Lane7, we salute you ??.
Contact: lane7.co.uk / 0191 261 6161
Food hygiene rating: 5/5