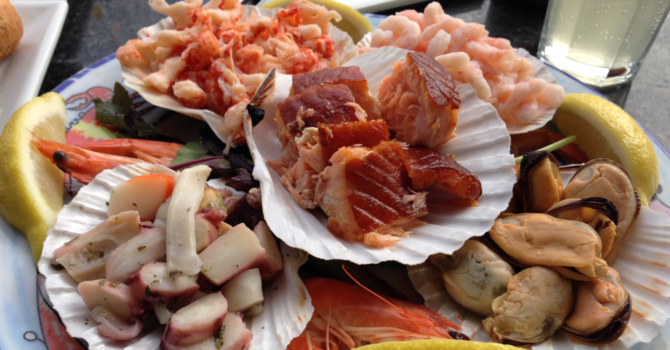 King of fish ?
As you mighta guessed, we don't often trek over to Sunderland – still not over last time. But there's always a diamond in the rough, so when we do, we always try and call in to Latimers Seafood Cafe (Whitburn Bents Rd, SR6 7NT). It's one of my favourite places to eat, and that's anywhere in the North East.
Latimer's is a true family-operated seafood deli/fishmongers/cafe and while others might say they're "passionate about fish" or other jargon, spiel, and general marketing bollocks, Latimers truly live it, every day. You'll never meet a guy more passionate about fish than owner Robert. The guy has literally got a smile on his face all day long, and you can see he just absolutely loves it. Such a nice guy too, it's hard not to feel his love about seafood when he's talking about it. If you get a chance to catch him at one of the food festivals demoing how to fillet a flatty, or peel a prawn, do check it out.
Latimers operates dually as a takeaway fish counter and cafe. If you're after something special, you will find it here – from cockles, crustaceans, to cod and everything in between, Latimer's will likely have it, as well as bone/scale/prep it for you as needed. There's a well stocked deli too, with treats like Neal's Yard crisp breads and Stokes sauces.
It's great – you'll find whatever you want, you know it's from North East boats, and it's fresh as can be. But then next door, there's a wee cafe where you can get something cooked for you.
There's a catch of the day, steamed en papillote with chips and mushy peas. Healthy/naked fish and chips. If you want a simple fresh fish that's not been faffed about with, you'll love it. It's about a tenner. Even feel good about yourself, given that it's not fried. Succulent, clean, tender flesh. Generally how seafood should be.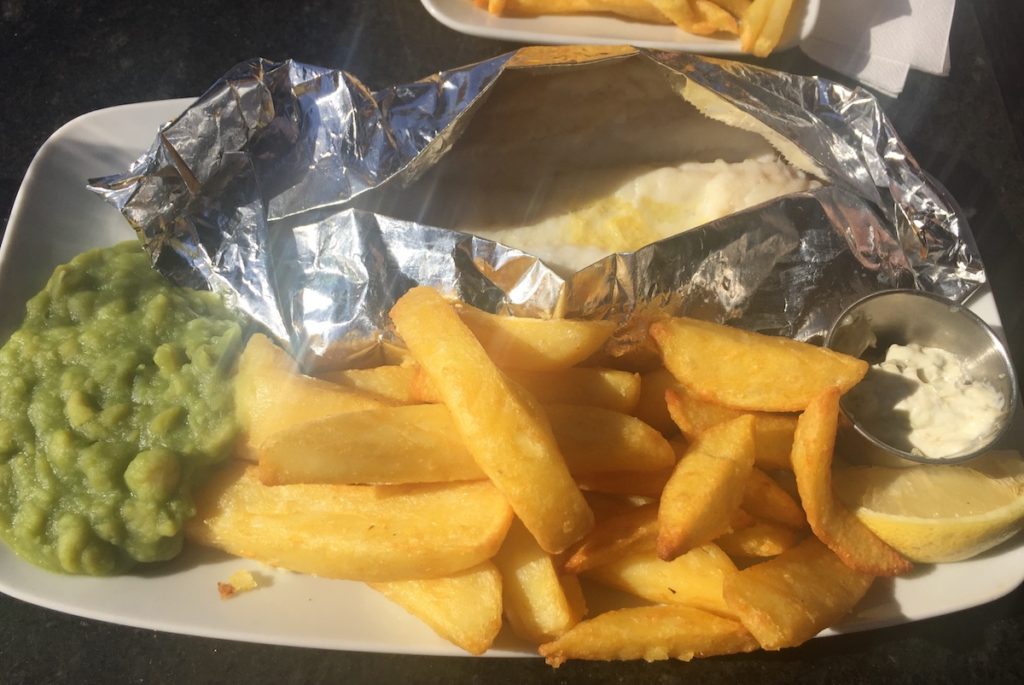 But the simplest choice, and what I'm here for every time is a seafood platter. There's some pre-selected for you, or just pay as much as you like as you work your way up from cockles and whelks, through beautiful langoustines to lobster. ~£3-5 per scallop shell full of goodness. Your eyes will be bigger than your belly, 'cos they're beautiful.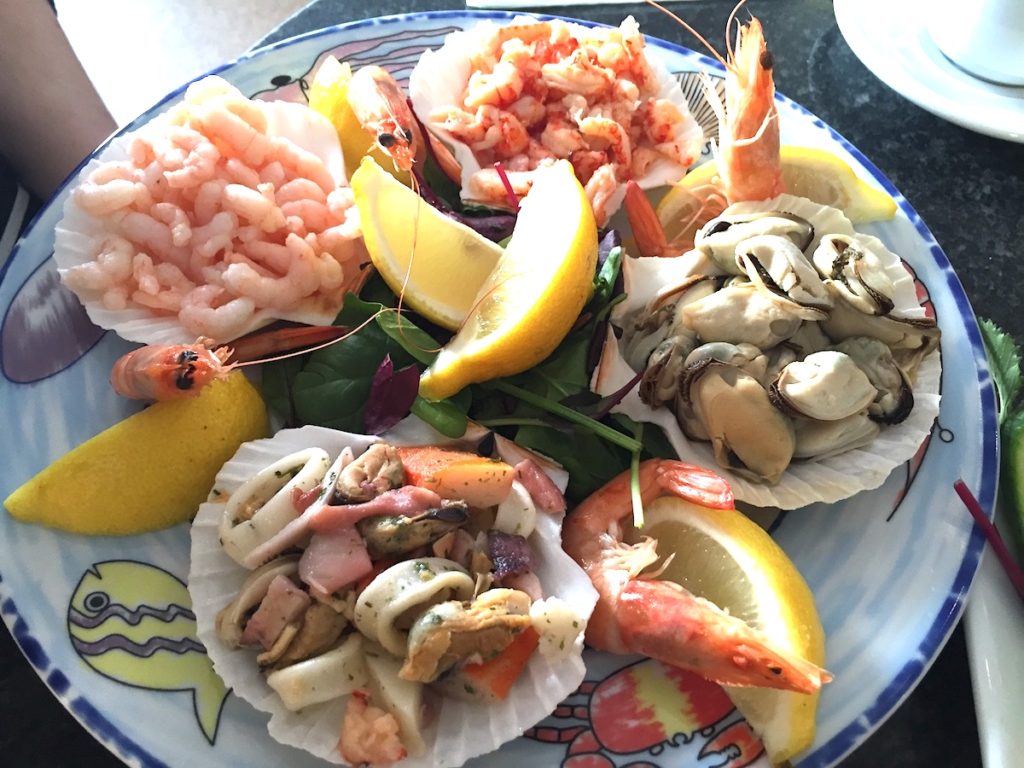 Latimers own hot smoked salmon (top) is one of my favourite things in the world. SO juicy and fatty, and just the right amount of smokiness. I absolutely love it and it could well be one of those thing I'd put in my last meal. That good. The (often local) langoustines are always fresh, sweet as you like, and make you think about why you don't eat lovely bait like this more often.
I mean, I love the similar-but-different Saltwater Fish Co. in Newcastle, but there's an even further level of simplicity here, and much like Riley's Fish Shack in Cullercoats, there's something romantic and irresistible about seafood by the sea. Sat on one of the sun trap tables outside, you're literally on the beach, in eyeshot of the North Sea. Something about that sea air and you can even forget you're in Sunderland – for a while.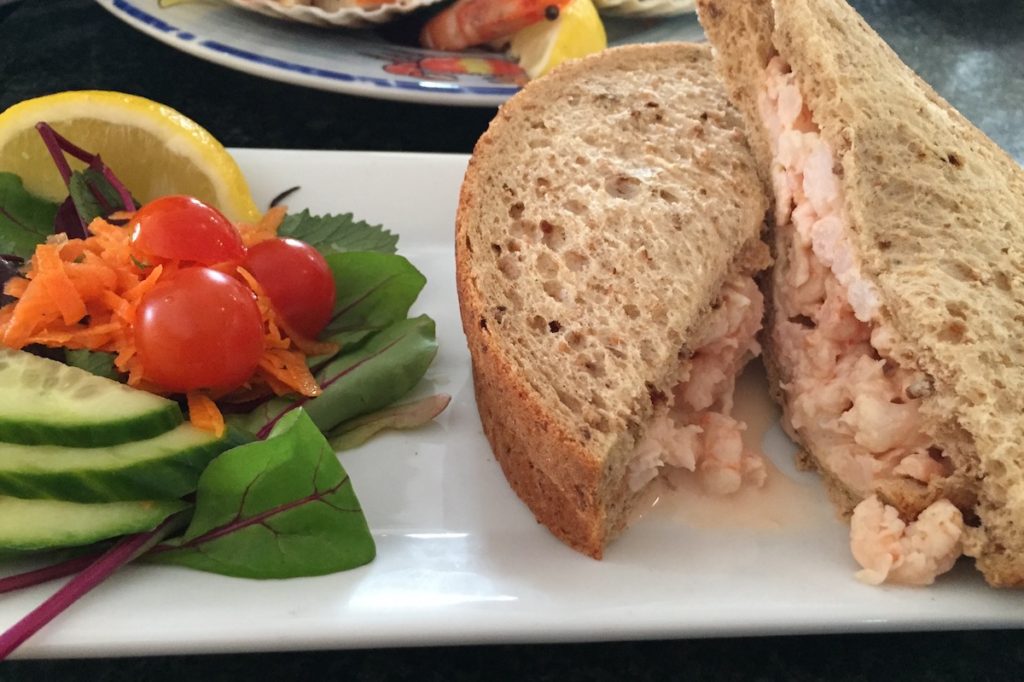 If you're not down for one of the platters, the rest of the menu will serve you just as well. Prawn sandwiches like they're supposed to be, stuffed full of the little blighters in just enough sweet and tart marie rose sauce, and a crab & whiskey soup that is rich, creamy, and a perfect 'hug in a mug' on a cold day. The drinks selection is largely an afterthought and side salads never escape being "just a garnish" which is a shame, but when the main event is that good, you kinda get it. Stick to things like the crab sandwich, absolutely chokka with sweet white and funky brown meats.
Another must-buy if they're on that day are the delectable smoked haddock pasties which are the perfect next-day lunch.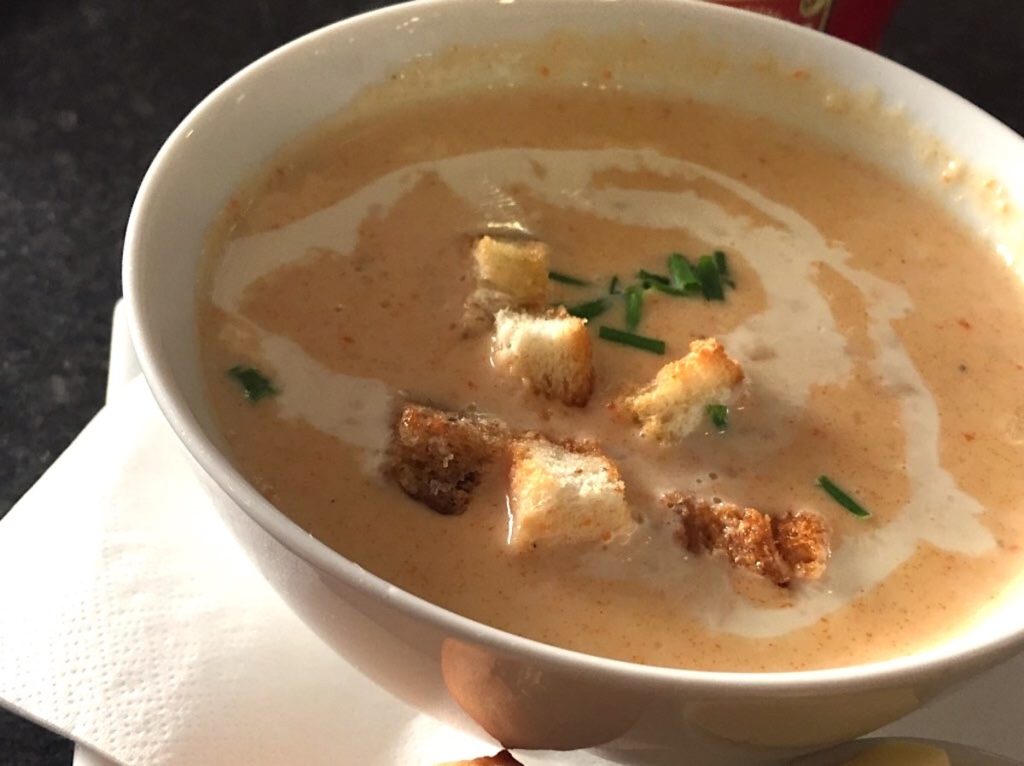 I can't say enough good things about Latimers. It's simple stuff, and aside from having to head over to Sunderland, it's got you sorted for simple seafood at its best.
Whether you've got an occasion you're cooking for – and need a fat steak of halibut, some spoots, or be the best host and just share one of those seafood platters with your guests, you're covered here for both food to go, and to enjoy right on the coast. Either way, fill your boots. One of my very favourite places in the North East, if only it were a just wish it was a little closer…
Contact: latimers.com
Food hygiene rating: 5/5