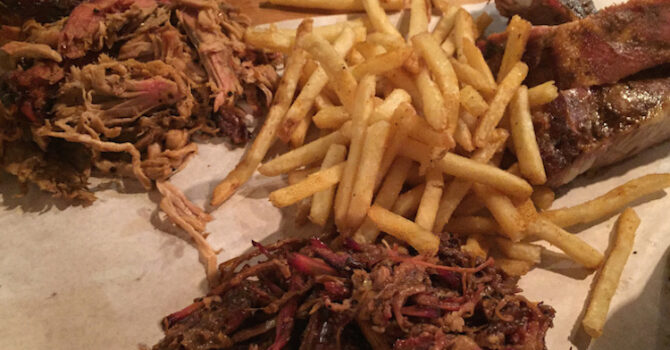 First in Newcastle but not necessarily the best.
I first encountered Longhorns Barbecue Smokehouse (to give its full name!) at the Boiler Shop Steamer, where they were putting out huge pulled pork and brisket sandwiches for a fiver (ah, when the Boiler Shop wasn't about undervalued tokens and entry prices…) and was hugely impressed. This was back when there wasn't a "smokehouse" or "real deal BBQ joint" opening every week in Newcastle.
Fast forward a few years – massively popular at every event they've ever done, and the guys have quickly opened a restaurant on Mosley Street. We've been a few times now, and, well…I think I prefer their "street food" to their "restaurant food".
The restaurant – slim, cramped, and a bit dingy really, doesn't take bookings. I get it, quick turnover of tables, blah blah blah, but it just doesn't work here and I've seen so many complaints about it. The venue is just too small, and almost every night, there's people queueing out onto the street. I've personally made a trip into town specifically to visit here, and been turned away, which is Chapter #1 in "How to Piss Off a Loyal Customer".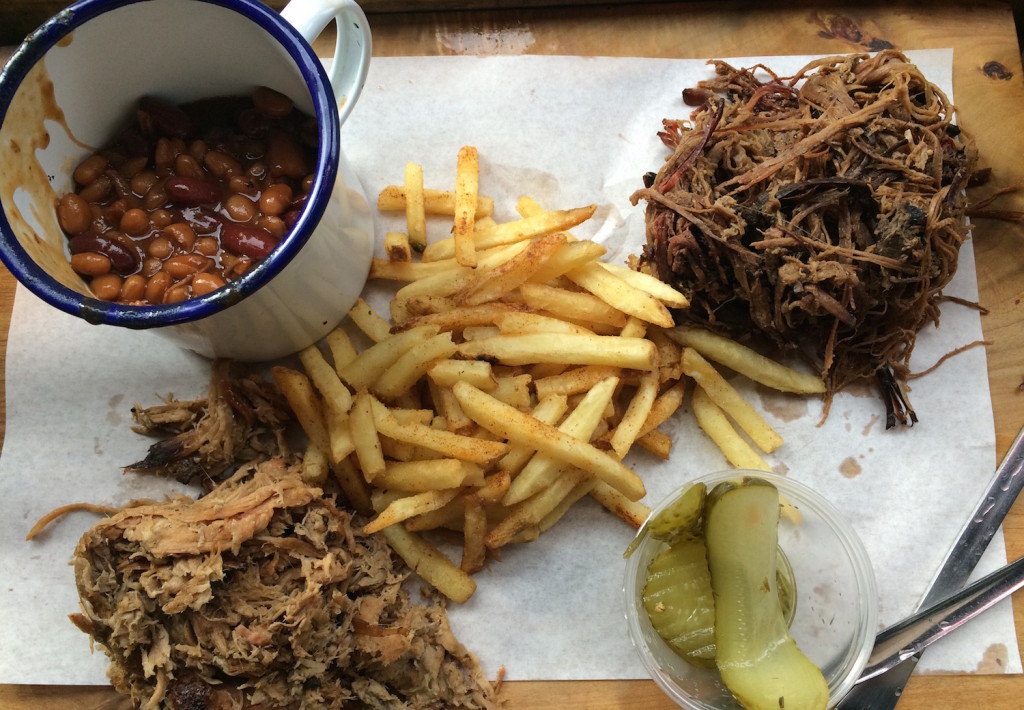 Twice, as a table of two, we've been seated on bar stools – uncomfortable pet hate of mine – in the front window, which means you get all of the passers by perving on your food – how much this will annoy you will vary. It's an "order at the bar" type affair too, which doesn't really help the chaotic nature of the service. Other miscellaneous annoying things – wooden cutlery – doesn't really bother me, but my god some people can't stand this. Everything comes on what is essentially a chopping board, and if you are lucky enough to get a window seat – the bloody thing is too wide for the counter (slow clap for the interior design team there). Drinks – well they have the absolutely brilliant Wylam Jakehead IPA, but it's a fiver a pint.
And of course, everything is served in those "Trendy in 2012" mason jars with handles. Just stop.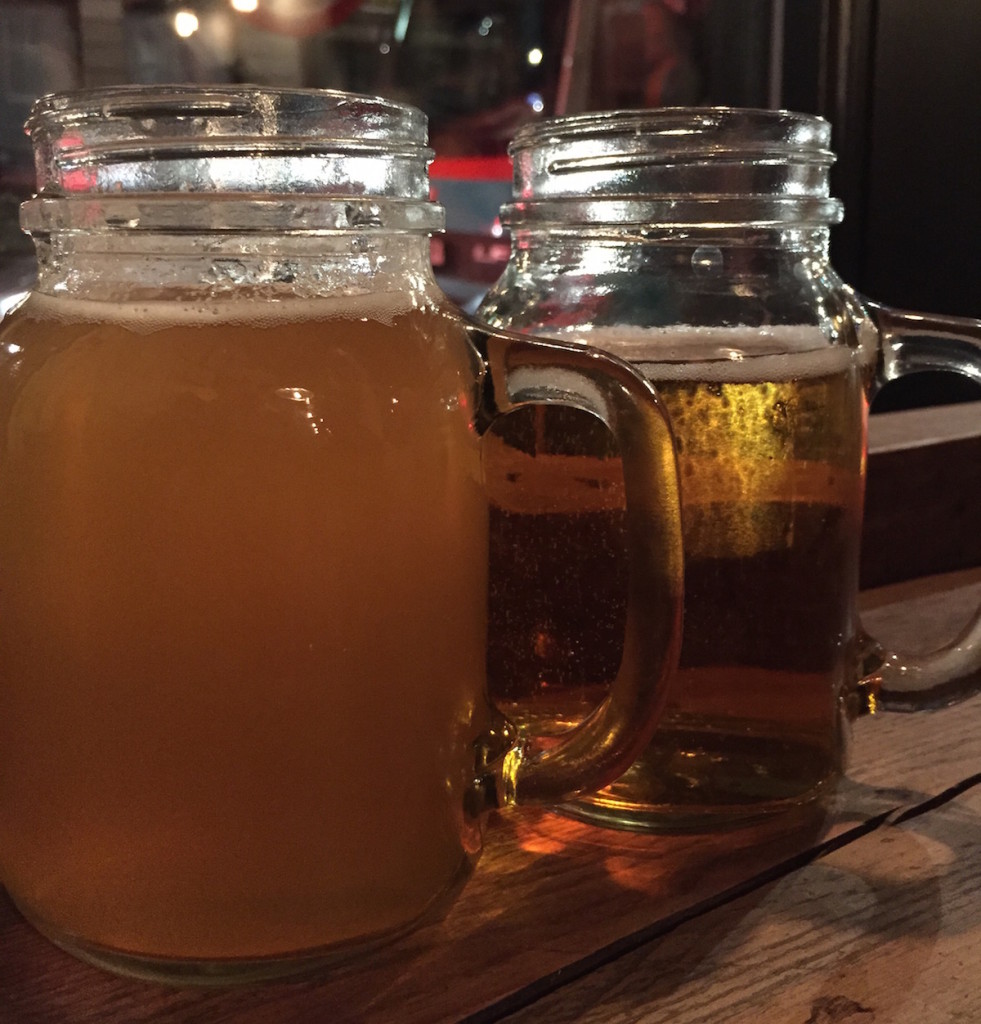 Anyway, the food.
I'd imagine judging from pics on social media that the old "two/three meats and two sides" is by far the most popular choice, which means you get a pick of pork ribs, chicken wings, "badass" brisket, spicy sausage, or "Memphis hog butt" , then fries, (cole)slaw, beans, chilli, gherkins, or pork scratching. It's great value. In fact, any and all of the mains are really good value. For a tenner/twelve quid, you cannot complain.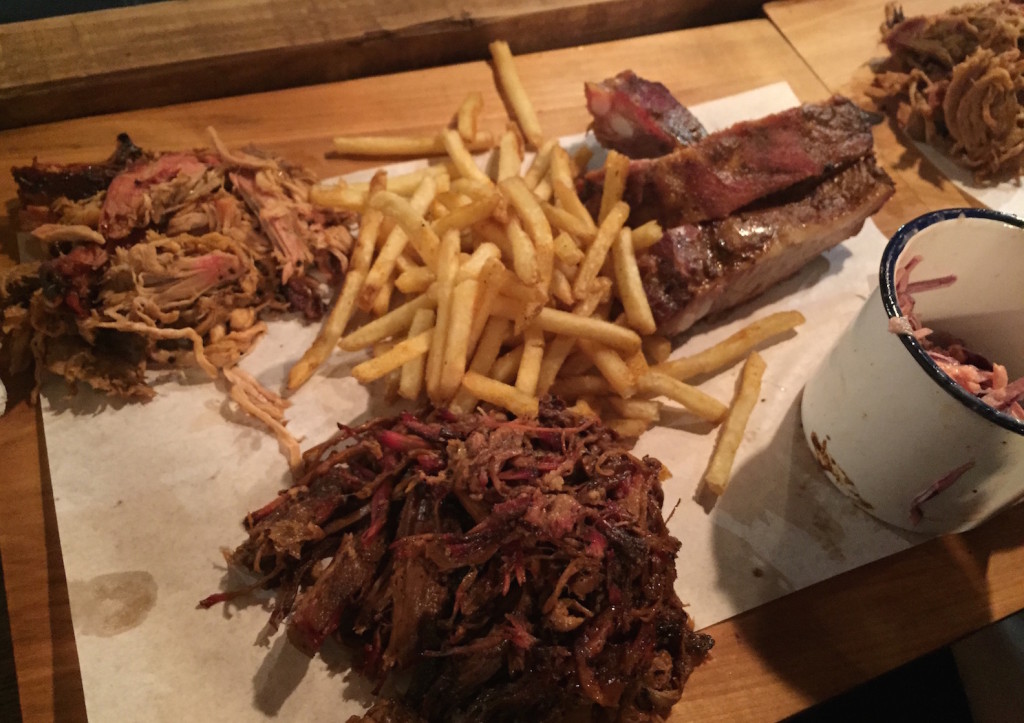 The (locally sourced) meats have a "true-BBQ" flavour – now I've not been to the deep South and so wouldn't really know how that tastes, but think smoke, deeply ingrained seasoning, and a good "bark". Shredding the brisket rather than slice it as it's traditionally served seems a bit lazy, and while the andouille sausage gets a big thumbs up from me, I've had much, much better ribs elsewhere. You get plenty of it all though.
Sides are also a mixed bag – the slaw,  mostly red onion, the beans have been a mixed bag, once really very good but stingily portioned, and once, plentiful but quite bland *shrugs*. I've also had the "Dirty Longhorn" (£10) which is a brioche roll topped with, hmmm, everything. There is a lot of meat under there.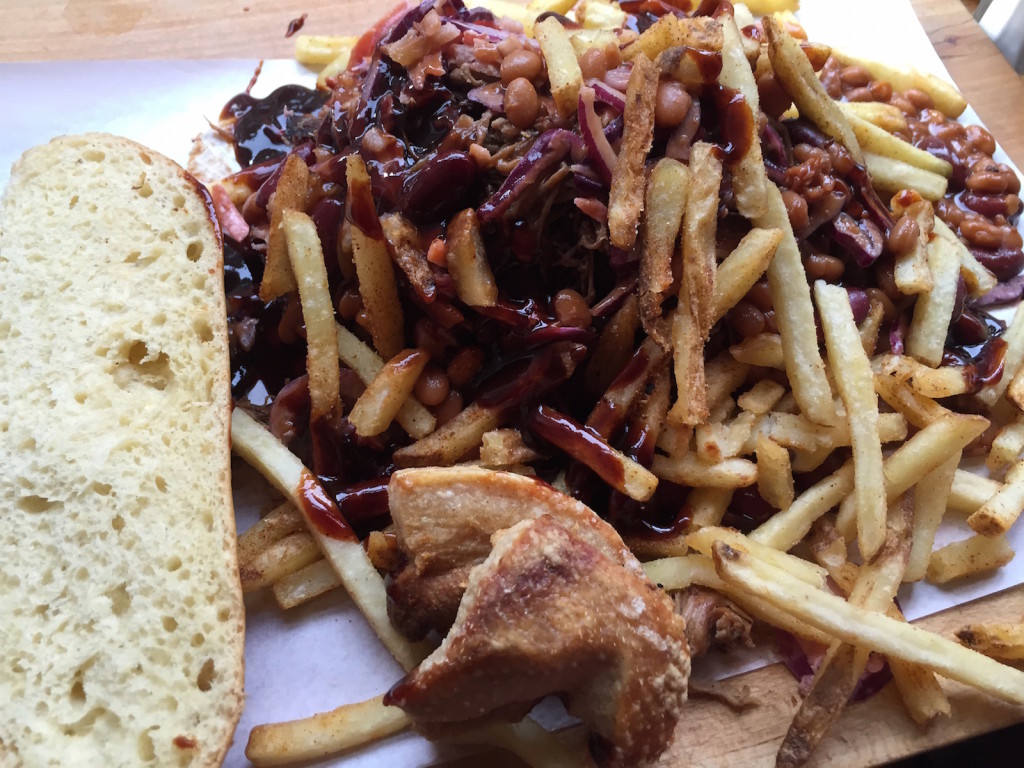 Gonna give you a 1/10 for presentation there boys. That's not to say it isn't delicious, because it definitely is. Decent fries, beans, all the meats, some proper yellow brioche in there somewhere. It's enough feed for the day, and you will probably enjoy every last morsel of it.
It's just I can't help but feel it could be better.
My biggest complaint, especially compared to their street food offering, is that the meats are just way too dry. The bodge seems to be drown everything in the BBQ sauce and hope no one will notice. I don't know if this is just too long under the hotlamp or what, but it's pretty disappointing. Also, the pork rind, I don't know how that was cooked, but it wasn't particularly porcine, and a bit like chewing styrofoam. The table sauces provided are canny – there's an very sweet BBQ one, a hotter chilli bottle, and some sort of salad cream/gherkins zingy number. £2 for five slivers of gherkin as a "side" though – nope.
They've been hugely popular, and already, the guys are opening a second location just off Osborne Road next month. I think this has all been a bit of a test, and I hope they take a lot of learnings from their first venture and step up their game a little bit. I for one, will definitely be there to see how it all pans out.
Contact: http://www.longhornsbbq.co.uk
Food hygiene rating: 5/5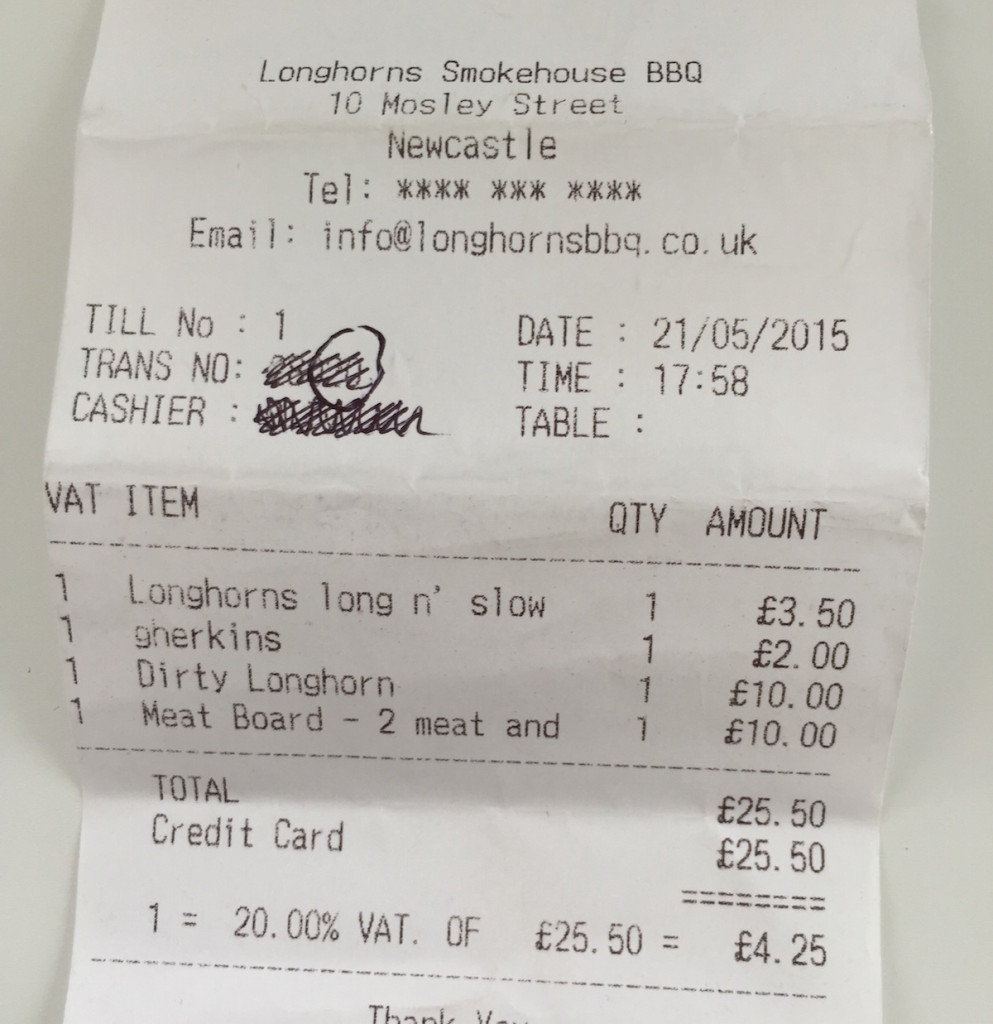 *drinks missed off bill by preoccupied waiter