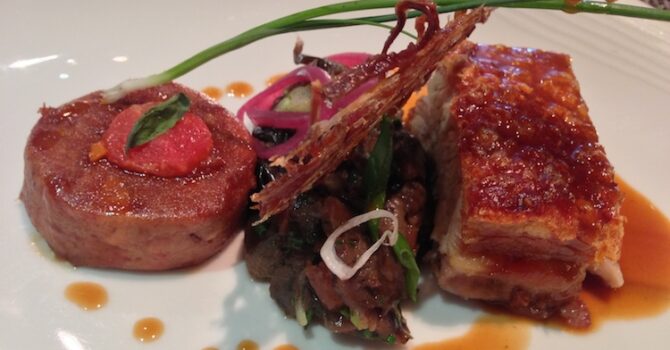 Not exactly a "Newcastle Eat", but special enough that it couldn't be ignored. I was treated to lunch at Tom Kitchin's flagship for my birthday last month, and what a treat it was…possibly the best lunch menu we've ever had, and great value too.
Definitely worth a trip North of the border for – it's now just a matter of when can we make it back for the full tasting menu. Absolutely superb from start to finish.
Pork shoulder & belly, crispy ear, confit aubergine & tomato stew.
Raspberry sorbet & coconut cake.
Crudites & cream cheese nibbles. 
Salmon raviolo, crab consomme.
Amuse bouche of tomato & summer veg water
Beautiful breads & tartan everywhere, including the bread basket.
Mackerel ceviche.
Hake, piperade – INCREDIBLE.
Lemon souffle, creme fraiche ice cream.
Fab petits fours & jasmine teas to finish.
Contact: thekitchin.com