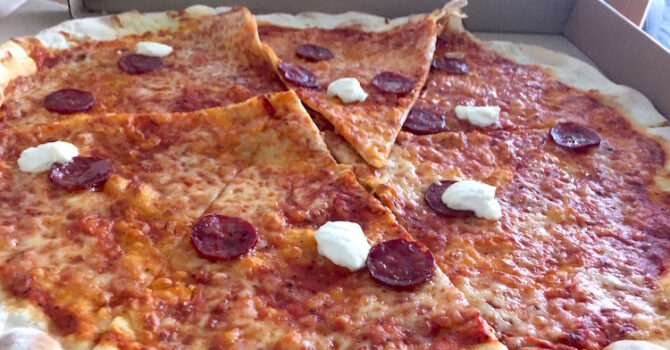 Update: Manny's closed after dispute with landlord in 2017 sometime.
From one of the guys that originally brought you Capology, who has now left that business to focus on building a pizza empire, Manny's Pizza Deli (NE1 8JN) brings us "a slice of New York to Newcastle". A two story affair in the old Subway unit on Ridley Place, there's a short menu of pizzas, to eat in or out, with an alcohol license too. We've went from having a load of terrible pizza places in Newcastle, to now having some quality pizza available now, so does town have room for another slice?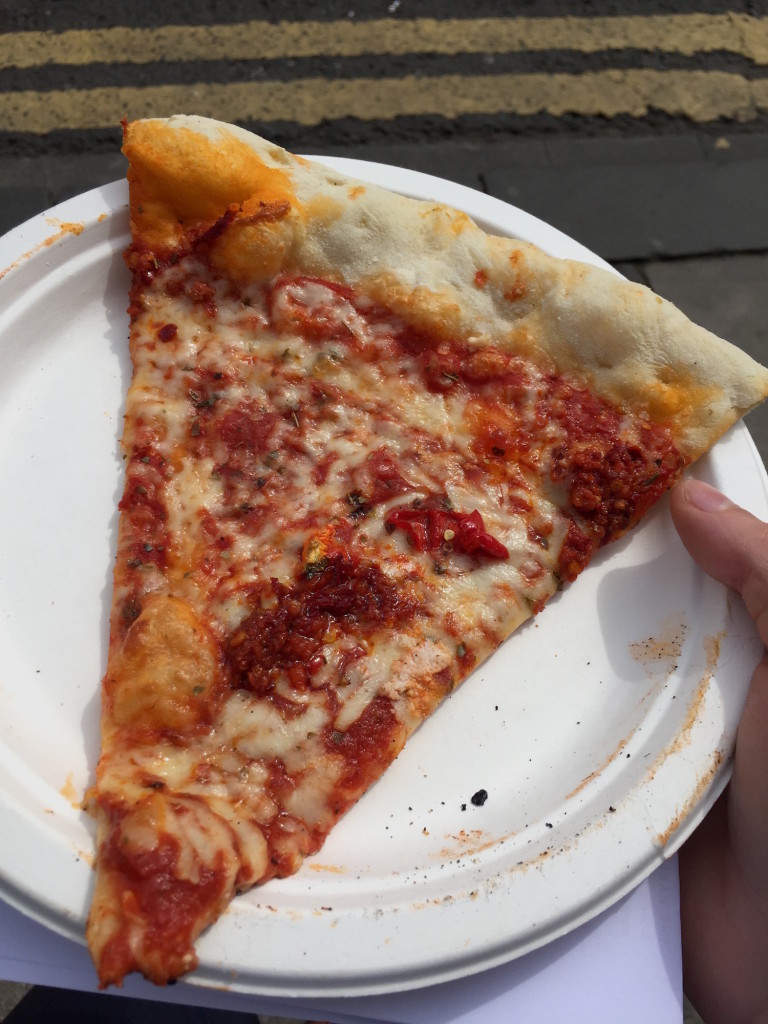 It's been cleverly branded – and heavily promoted. I went along on opening day, which was carnage behind the till and in the kitchen, and got a slice of "The Queens" – £4 at the time. Since then, the slices seem to have gotten bigger, and the prices smaller, which is definitely A Good Thing. I just couldn't see people stomaching those £££. Slices are now all £3.50, though for that, you could still get two wedges from Grainger Market favourite Slice. 
Theres the usual array of toppings – some good; soppressata, nduja, ricotta, and some less "authentic" – bolognese, chicken, TUNA. Theres also a breakfast pizza, and specials like dough balls, some salads, and some kind of bruschetta thing the other day. Desserts feature the five dollar shake – bang on the current exchange rate of £3.20, and brownies from the Pet Lamb girls. They're running almost-daily specials too, which give you a pizza, two softies, and two desserts plus – one-up on all the competitors – delivery for about £25. You decide if that's good value.
This weekend we ordered a 20″ pie, "The Bronx" – pepperoni, marinara sauce, mozzarella, ricotta and basil to take away, for eighteen – yes – eighteen quid.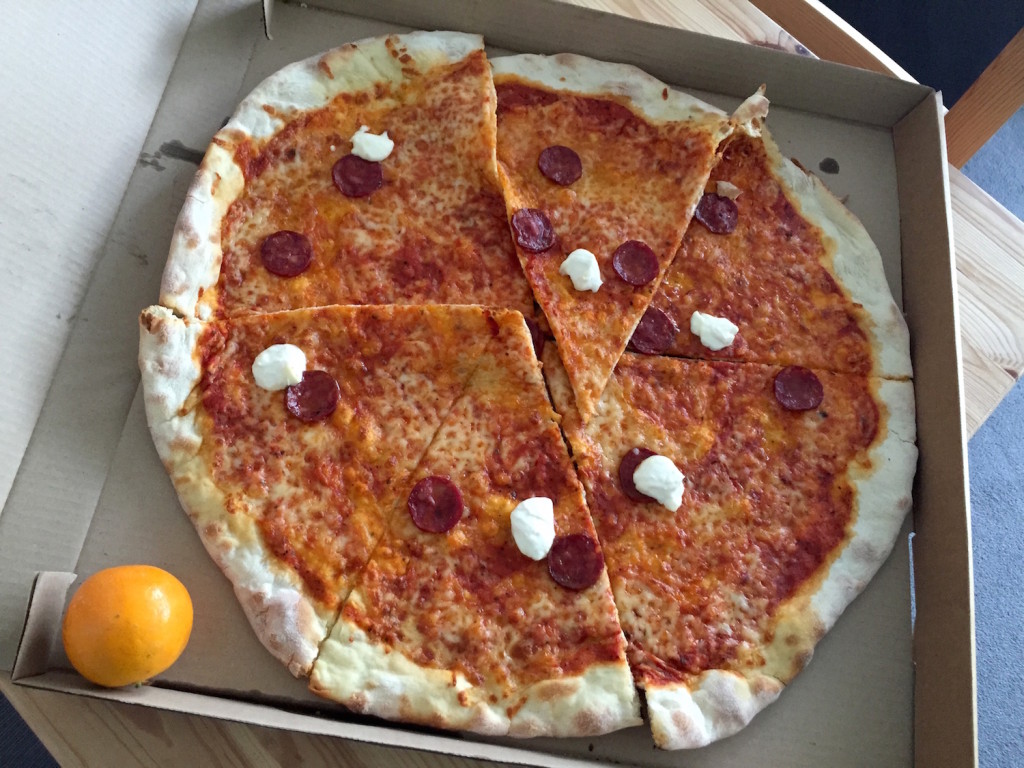 20″ is huge. That's a large orange for scale. In fact it doesn't even fit in the supersize Manny's Pizza branded box.
…where the shitting hell are the toppings…?
Tell me that doesn't look like one sad slice. That many toppings (and for a £4 premium over a plain pie) on that landmass of pizza is just tight. I wish I could say that the pepperoni and ricotta was so delicious that I picked them all off and snaffled them before taking this photo, but no, that's how it came. As for the basil – absent entirely.
The marinara sauce is a bit thin on the ground but has the requisite sweetness, and the quantity of cheese is juuust right when it's melted, but the crust – meant to be the best bit – is really weak, tasting more like flavourless Chorleywood stodge than say, Cal's Own's chewy, speckled and spongy sourdough benchmark.
So, it'll be popular regardless – all of the "Tup Tup Crew" are already raving about it on social media. For me, it's pizza, yes, one of the greatest foods man ever did dream up, but unless it was a late night drunken carb binge, I'll likely be dodging it and sticking with the best pizza in the NE – Cal's Own. You knew this was gonna say that, right?
Contact: http://mannys.pizza
Food hygiene rating: not yet rated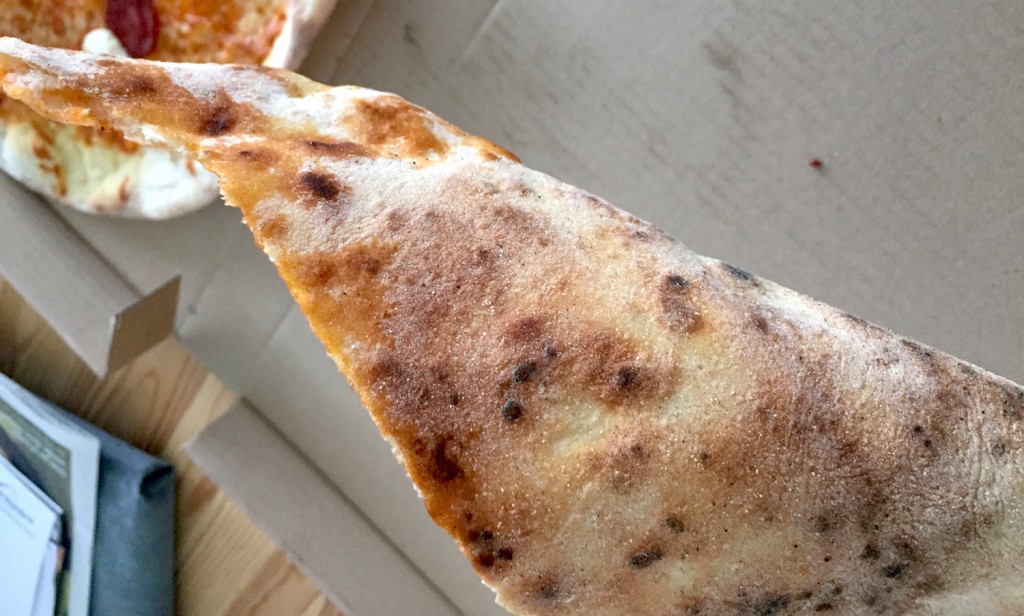 Edited 7/7/2015 to reflect changes to details re: owners. And some feedback on this post below.